Abstract
Cortical circuits process both sensory and motor information in animals performing perceptual tasks. However, it is still unclear how sensory inputs are transformed into motor signals in the cortex to initiate goal-directed actions. In this study, we found that a visual-to-motor inhibitory circuit in the anterior cingulate cortex (ACC) triggers precise action in mice performing visual Go/No-go tasks. Three distinct features of ACC neurons—visual amplitudes of sensory neurons, suppression times of motor neurons and network activity from other neurons—predicted response times of the mice. Moreover, optogenetic activation of visual inputs in the ACC, which drives fast-spiking sensory neurons, prompted task-relevant actions in mice by suppressing ACC motor neurons and disinhibiting downstream striatal neurons. Notably, when mice terminated actions in response to stop signals, both motor neuron and network activity increased. Collectively, our data demonstrate that visual inputs to the frontal cortex trigger gated feedforward inhibition to initiate goal-directed actions.
This is a preview of subscription content
Access options
Subscribe to Journal
Get full journal access for 1 year
$59.00
only $4.92 per issue
All prices are NET prices.
VAT will be added later in the checkout.
Tax calculation will be finalised during checkout.
Rent or Buy article
Get time limited or full article access on ReadCube.
from$8.99
All prices are NET prices.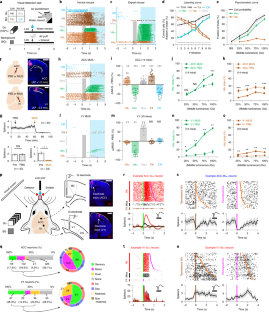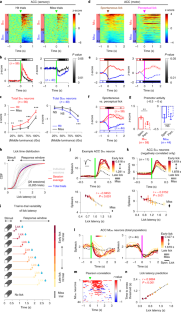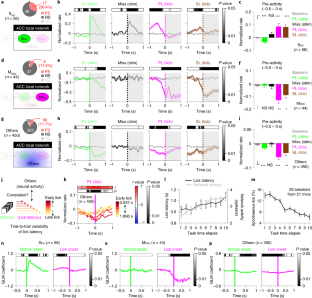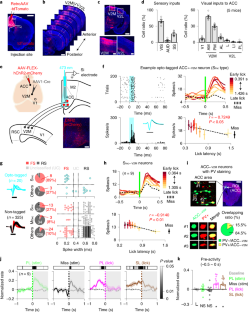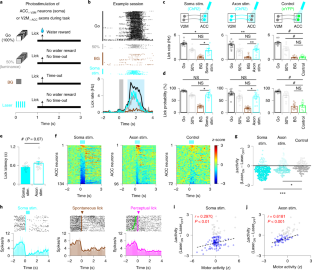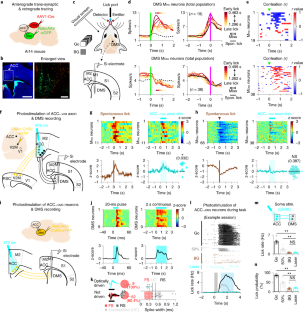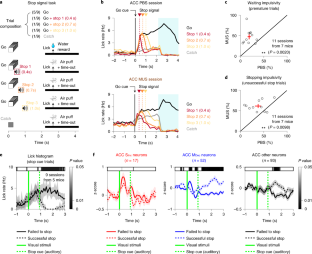 Data availability
All the representative data that support the main findings are publicly available at https://github.com/seungheelee1789/ACC_Kim. Further requests for data used in this study can be directed to the corresponding author (shlee1@kaist.ac.kr).
Code availability
All custom MATLAB codes to analyze and visualize the representative data that support the main findings are publicly available at https://github.com/seungheelee1789/ACC_Kim. Further requests for data used in this study can be directed to the corresponding author (shlee1@kaist.ac.kr).
References
1.

Crochet, S., Lee, S. H. & Petersen, C. C. H. Neural circuits for goal-directed sensorimotor transformations. Trends Neurosci. 42, 66–77 (2019).

2.

Pinto, L. & Dan, Y. Cell-type-specific activity in prefrontal cortex during goal-directed behavior. Neuron 87, 437–450 (2015).

3.

Li, N., Chen, T. W., Guo, Z. V., Gerfen, C. R. & Svoboda, K. A motor cortex circuit for motor planning and movement. Nature 519, 51–56 (2015).

4.

Murakami, M., Vicente, M. I., Costa, G. M. & Mainen, Z. F. Neural antecedents of self-initiated actions in secondary motor cortex. Nat. Neurosci. 17, 1574–1582 (2014).

5.

Hanes, D. P. & Schall, J. D. Neural control of voluntary movement initiation. Science 274, 427–430 (1996).

6.

Schall, J. D. Accumulators, neurons, and response time. Trends Neurosci. 42, 848–860 (2019).

7.

Purcell, B. A., Schall, J. D., Logan, G. D. & Palmeri, T. J. From salience to saccades: multiple-alternative gated stochastic accumulator model of visual search. J. Neurosci. 32, 3433–3446 (2012).

8.

Narayanan, N. S., Horst, N. K. & Laubach, M. Reversible inactivations of rat medial prefrontal cortex impair the ability to wait for a stimulus. Neuroscience 139, 865–876 (2006).

9.

Narayanan, N. S. & Laubach, M. Top-down control of motor cortex ensembles by dorsomedial prefrontal cortex. Neuron 52, 921–931 (2006).

10.

Muir, J. L., Everitt, B. J. & Robbins, T. W. The cerebral cortex of the rat and visual attentional function: dissociable effects of mediofrontal, cingulate, anterior dorsolateral, and parietal cortex lesions on a five-choice serial reaction time task. Cereb. Cortex 6, 470–481 (1996).

11.

Zhang, S. et al. Selective attention. Long-range and local circuits for top-down modulation of visual cortex processing. Science 345, 660–665 (2014).

12.

Leinweber, M., Ward, D. R., Sobczak, J. M., Attinger, A. & Keller, G. B. A sensorimotor circuit in mouse cortex for visual flow predictions. Neuron 95, 1420–1432 (2017).

13.

Carter, C. S. et al. Anterior cingulate cortex, error detection, and the online monitoring of performance. Science 280, 747–749 (1998).

14.

Shidara, M. & Richmond, B. J. Anterior cingulate: single neuronal signals related to degree of reward expectancy. Science 296, 1709–1711 (2002).

15.

Shenhav, A., Botvinick, M. M. & Cohen, J. D. The expected value of control: an integrative theory of anterior cingulate cortex function. Neuron 79, 217–240 (2013).

16.

Zhang, S. et al. Organization of long-range inputs and outputs of frontal cortex for top-down control. Nat. Neurosci. 19, 1733–1742 (2016).

17.

Ungerleider, L. G., Galkin, T. W., Desimone, R. & Gattass, R. Cortical connections of area V4 in the macaque. Cereb. Cortex 18, 477–499 (2008).

18.

Moore, T. & Armstrong, K. M. Selective gating of visual signals by microstimulation of frontal cortex. Nature 421, 370–373 (2003).

19.

Schall, J. D. Neuronal activity related to visually guided saccades in the frontal eye fields of rhesus monkeys: comparison with supplementary eye fields. J. Neurophysiol. 66, 559–579 (1991).

20.

Zingg, B. et al. AAV-mediated anterograde transsynaptic tagging: mapping corticocollicular input-defined neural pathways for defense behaviors. Neuron 93, 33–47 (2017).

21.

Pfeffer, C. K., Xue, M., He, M., Huang, Z. J. & Scanziani, M. Inhibition of inhibition in visual cortex: the logic of connections between molecularly distinct interneurons. Nat. Neurosci. 16, 1068–1076 (2013).

22.

Saunders, A. et al. Molecular diversity and specializations among the cells of the adult mouse brain. Cell 174, 1015–1030 e1016 (2018).

23.

Hintiryan, H. et al. The mouse cortico-striatal projectome. Nat. Neurosci. 19, 1100–1114 (2016).

24.

Terra, H. et al. Prefrontal cortical projection neurons targeting dorsomedial striatum control behavioral inhibition. Curr. Biol. 30, 4188–4200 (2020).

25.

Corbit, V. L., Manning, E. E., Gittis, A. H. & Ahmari, S. E. Strengthened inputs from secondary motor cortex to striatum in a mouse model of compulsive behavior. J. Neurosci. 39, 2965–2975 (2019).

26.

Lee, K. et al. Parvalbumin interneurons modulate striatal output and enhance performance during associative learning. Neuron 93, 1451–1463 (2017).

27.

Logan, G. D., Cowan, W. B. & Davis, K. A. On the ability to inhibit simple and choice reaction time responses: a model and a method. J. Exp. Psychol. Hum. Percept. Perform. 10, 276–291 (1984).

28.

D'Souza, R. D., Meier, A. M., Bista, P., Wang, Q. & Burkhalter, A. Recruitment of inhibition and excitation across mouse visual cortex depends on the hierarchy of interconnecting areas. eLife 5, e19332 (2016).

29.

Zagha, E., Ge, X. & McCormick, D. A. Competing neural ensembles in motor cortex gate goal-directed motor output. Neuron 88, 565–577 (2015).

30.

Fellows, L. K. & Farah, M. J. Is anterior cingulate cortex necessary for cognitive control? Brain 128, 788–796 (2005).

31.

de Lafuente, V. & Romo, R. Neuronal correlates of subjective sensory experience. Nat. Neurosci. 8, 1698–1703 (2005).

32.

Rho, H. J., Kim, J. H. & Lee, S. H. Function of selective neuromodulatory projections in the mammalian cerebral cortex: comparison between cholinergic and noradrenergic systems. Front. Neural Circuits 12, 47 (2018).

33.

Thiele, A. & Bellgrove, M. A. Neuromodulation of attention. Neuron 97, 769–785 (2018).

34.

Lee, S. H. & Dan, Y. Neuromodulation of brain states. Neuron 76, 209–222 (2012).

35.

Hu, H., Gan, J. & Jonas, P. Interneurons. Fast-spiking, parvalbumin+ GABAergic interneurons: from cellular design to microcircuit function. Science 345, 1255263 (2014).

36.

Ferguson, B. R. & Gao, W. J. PV interneurons: critical regulators of E/I balance for prefrontal cortex-dependent behavior and psychiatric disorders. Front. Neural Circuits 12, 37 (2018).

37.

Schall, J. D. Neural basis of deciding, choosing and acting. Nat. Rev. Neurosci. 2, 33–42 (2001).

38.

Maimon, G. & Assad, J. A. A cognitive signal for the proactive timing of action in macaque LIP. Nat. Neurosci. 9, 948–955 (2006).

39.

Woodman, G. F., Kang, M. S., Thompson, K. & Schall, J. D. The effect of visual search efficiency on response preparation: neurophysiological evidence for discrete flow. Psychol. Sci. 19, 128–136 (2008).

40.

Guo, Z. V. et al. Flow of cortical activity underlying a tactile decision in mice. Neuron 81, 179–194 (2014).

41.

Hu, F. et al. Prefrontal corticotectal neurons enhance visual processing through the superior colliculus and pulvinar thalamus. Neuron 104, 1141–1152 (2019).

42.

Li, B., Nguyen, T. P., Ma, C. & Dan, Y. Inhibition of impulsive action by projection-defined prefrontal pyramidal neurons. Proc. Natl Acad. Sci. USA 117, 17278–17287 (2020).

43.

Stuphorn, V. Neural mechanisms of response inhibition. Curr. Opin. Behav. Sci. 1, 64–71 (2015).

44.

Moeller, F. G., Barratt, E. S., Dougherty, D. M., Schmitz, J. M. & Swann, A. C. Psychiatric aspects of impulsivity. Am. J. Psychiatry 158, 1783–1793 (2001).

45.

Rubia, K. et al. Hypofrontality in attention deficit hyperactivity disorder during higher-order motor control: a study with functional MRI. Am. J. Psychiatry 156, 891–896 (1999).

46.

Jentsch, J. D. & Taylor, J. R. Impulsivity resulting from frontostriatal dysfunction in drug abuse: implications for the control of behavior by reward-related stimuli. Psychopharmacology (Berl). 146, 373–390 (1999).

47.

Morein-Zamir, S. & Robbins, T. W. Fronto-striatal circuits in response-inhibition: relevance to addiction. Brain Res. 1628, 117–129 (2015).

48.

Gut-Fayand, A. et al. Substance abuse and suicidality in schizophrenia: a common risk factor linked to impulsivity. Psychiatry Res. 102, 65–72 (2001).

49.

Dalley, J. W., Everitt, B. J. & Robbins, T. W. Impulsivity, compulsivity, and top-down cognitive control. Neuron 69, 680–694 (2011).

50.

Tervo, D. G. et al. A designer AAV variant permits efficient retrograde access to projection neurons. Neuron 92, 372–382 (2016).

51.

Song, Y. H. et al. A neural circuit for auditory dominance over visual perception. Neuron 93, 940–954 (2017).

52.

Song, J. H. et al. Precise mapping of single neurons by calibrated 3D reconstruction of brain slices reveals topographic projection in mouse visual cortex. Cell Rep. 31, 107682 (2020).

53.

Hazan, L., Zugaro, M. & Buzsaki, G. Klusters, NeuroScope, NDManager: a free software suite for neurophysiological data processing and visualization. J. Neurosci. Methods 155, 207–216 (2006).

54.

Kim, D. et al. Distinct roles of parvalbumin- and somatostatin-expressing interneurons in working memory. Neuron 92, 902–915 (2016).

55.

Kvitsiani, D. et al. Distinct behavioural and network correlates of two interneuron types in prefrontal cortex. Nature 498, 363–366 (2013).

56.

Steinmetz, N. A., Zatka-Haas, P., Carandini, M. & Harris, K. D. Distributed coding of choice, action and engagement across the mouse brain. Nature 576, 266–273 (2019).
Acknowledgements
We thank V. Stuphorn, D. Lee, M. W. Jung and all the other Lee lab members for helpful discussions. We also thank E. Wheeler for editorial assistance. This work was supported by grants to S.-H.L. from the National Research Foundation funded by the Korea Ministry of Science and ICT (2017M3C7A1030798, 2021R1A2C3012159 and 2021R1A4A2001803), the KAIST Global Singularity Program for 2020 and the ETRI grant (19ZS1500).
Ethics declarations
Competing interests
The authors declare no competing interests.
Additional information
Peer review information Nature Neuroscience thanks Alex Kwan, Jeremy Seamans, and the other, anonymous, reviewer(s) for their contribution to the peer review of this work.
Publisher's note Springer Nature remains neutral with regard to jurisdictional claims in published maps and institutional affiliations.
Supplementary information
Supplementary Tables 1–6.
Orofacial movements of task-performing mouse. Infrared imaging of four orofacial movements (pupil size, whisker movement, nose movement and licking) from a mouse performing the visual detection task. Colored boxes indicate ROIs measured for each orofacial movement (black for pupil size, magenta for whisking movement, red for nose movement and cyan for licking). White ellipse, pupil boundary; white cross, center of pupil; green vertical lines, onsets of visual stimuli; blue dots, licking.
About this article
Cite this article
Kim, JH., Ma, DH., Jung, E. et al. Gated feedforward inhibition in the frontal cortex releases goal-directed action. Nat Neurosci 24, 1452–1464 (2021). https://doi.org/10.1038/s41593-021-00910-9
Received:

Accepted:

Published:

Issue Date:
Further reading
Heather K. Ortega
Alex C. Kwan

Nature Neuroscience (2021)