Abstract
The long-range GABAergic input from the ventral tegmental area (VTA) to the nucleus accumbens (NAc) is relatively understudied, and therefore its role in reward processing has remained unknown. In the present study, we show, in both male and female mice, that long-range GABAergic projections from the VTA to the ventral NAc shell, but not to the dorsal NAc shell or NAc core, are engaged in reward and reinforcement behavior. We show that this GABAergic projection exclusively synapses on to cholinergic interneurons (CINs) in the ventral NAc shell, thereby serving a specialized function in modulating reinforced reward behavior through the inhibition of ventral NAc shell CINs. These findings highlight the diversity in the structural and functional topography of VTA GABAergic projections, and their neuromodulatory interactions across the dorsoventral gradient of the NAc shell. They also further our understanding of neuronal circuits that are directly implicated in neuropsychiatric conditions such as depression and addiction.
Your institute does not have access to this article
Relevant articles
Open Access articles citing this article.
Daisuke Sato

,

Michiko Narita

…

Minoru Narita

Molecular Brain Open Access 06 January 2022
Access options
Subscribe to Nature+
Get immediate online access to the entire Nature family of 50+ journals
Subscribe to Journal
Get full journal access for 1 year
$59.00
only $4.92 per issue
All prices are NET prices.
VAT will be added later in the checkout.
Tax calculation will be finalised during checkout.
Buy article
Get time limited or full article access on ReadCube.
$32.00
All prices are NET prices.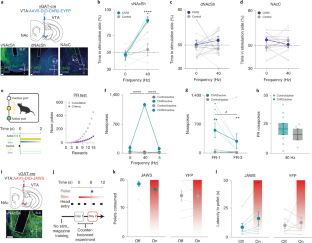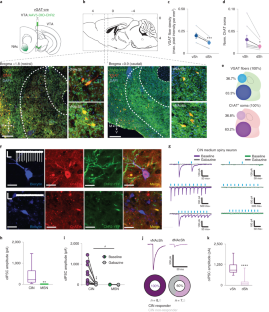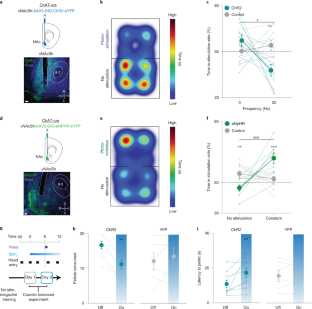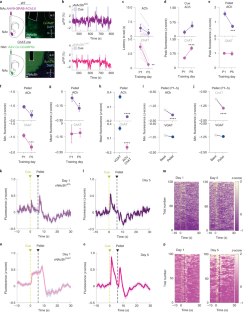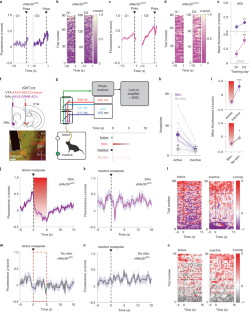 Data availability
The raw data that support the findings of the present study are available from the corresponding authors upon request.
References
Schultz, W. Dopamine reward prediction-error signalling: a two-component response. Nat. Rev. Neurosci. 17, 183–195 (2016).

Hamid, A. A. et al. Mesolimbic dopamine signals the value of work. Nat. Neurosci. 19, 117–126 (2016).

Salamone, J. D. & Correa, M. The mysterious motivational functions of mesolimbic dopamine. Neuron 76, 470–485 (2012).

Watabe-Uchida, M., Eshel, N. & Uchida, N. Neural circuitry of reward prediction error. Annu. Rev. Neurosci. 40, 373–394 (2017).

Koob, G. F. & Le Moal, M. Addiction and the brain antireward system. Annu Rev. Psychol. 59, 29–53 (2008).

Nestler, E. J. & Carlezon, W. A. Jr. The mesolimbic dopamine reward circuit in depression. Biol. Psychiatry 59, 1151–1159 (2006).

Ikemoto, S. & Bonci, A. Neurocircuitry of drug reward. Neuropharmacology 76, 329–341 (2014).

Morales, M. & Margolis, E. B. Ventral tegmental area: cellular heterogeneity, connectivity and behaviour. Nat. Rev. Neurosci. 18, 73–85 (2017).

Buck, S. A., Torregrossa, M. M., Logan, R. W. & Freyberg, Z. Roles of dopamine and glutamate co-release in the nucleus accumbens in mediating the actions of drugs of abuse. FEBS J. 288, 1462–1474 (2021).

Creed, M. C., Ntamati, N. R. & Tan, K. R. VTA GABA neurons modulate specific learning behaviors through the control of dopamine and cholinergic systems. Front. Behav. Neurosci. 8, 8 (2014).

Van Bockstaele, E. J. & Pickel, V. M. GABA-containing neurons in the ventral tegmental area project to the nucleus accumbens in rat brain. Brain Res. 682, 215–221 (1995).

Brown, M. T. C. et al. Ventral tegmental area GABA projections pause accumbal cholinergic interneurons to enhance associative learning. Nature 492, 452–456 (2012).

Breton, J. M. et al. Relative contributions and mapping of ventral tegmental area dopamine and GABA neurons by projection target in the rat. J. Comp. Neurol. 527, 916–941 (2019).

Beier, K. T. et al. Topological organization of ventral tegmental area connectivity revealed by viral–genetic dissection of input–output relations. Cell Rep. 26, 159–167.e6 (2019).

Lee, J., Finkelstein, J., Choi, J. Y. & Witten, I. B. Linking cholinergic interneurons, synaptic plasticity, and behavior during the extinction of a cocaine–context association. Neuron 90, 1071–1085 (2016).

Badrinarayan, A. et al. Aversive stimuli differentially modulate real-time dopamine transmission dynamics within the nucleus accumbens core and shell. J. Neurosci. 32, 15779–15790 (2012).

Al-Hasani, R. et al. Distinct subpopulations of nucleus accumbens dynorphin neurons drive aversion and reward. Neuron 87, 1063–1077 (2015).

Castro, D. C. & Bruchas, M. R. A motivational and neuropeptidergic hub: anatomical and functional diversity within the nucleus accumbens shell. Neuron 102, 529–552 (2019).

Reed, S. J. et al. Coordinated reductions in excitatory input to the nucleus accumbens underlie food consumption. Neuron 99, 1260–1273.e4 (2018).

Castro, D. C. & Berridge, K. C. Opioid hedonic hotspot in nucleus accumbens shell: mu, delta, and kappa maps for enhancement of sweetness 'liking' and 'wanting'. J. Neurosci. 34, 4239–4250 (2014).

de Jong, J. W. et al. A neural circuit mechanism for encoding aversive stimuli in the mesolimbic dopamine system. Neuron 101, 133–151.e7 (2019).

Gunaydin, L. A. et al. Natural neural projection dynamics underlying social behavior. Cell 157, 1535–1551 (2014).

Soden, M. E. et al. Anatomic resolution of neurotransmitter-specific projections to the VTA reveals diversity of GABAergic inputs. Nat. Neurosci. 23, 968–980 (2020).

Pontieri, F. E., Tanda, G. & Di Chiara, G. Intravenous cocaine, morphine, and amphetamine preferentially increase extracellular dopamine in the 'shell' as compared with the 'core' of the rat nucleus accumbens. Proc. Natl Acad. Sci. USA 92, 12304–12308 (1995).

Chen, B. T., Hopf, F. W. & Bonci, A. Synaptic plasticity in the mesolimbic system: therapeutic implications for substance abuse. Ann. NY Acad. Sci. 1187, 129–139 (2010).

Nestler, E. J. & Aghajanian, G. K. Molecular and cellular basis of addiction. Science 278, 58–63 (1997).

Hangya, B., Ranade, S. P., Lorenc, M. & Kepecs, A. Central cholinergic neurons are rapidly recruited by reinforcement feedback. Cell 162, 1155–1168 (2015).

Witten, I. B. et al. Cholinergic interneurons control local circuit activity and cocaine conditioning. Science 330, 1677–1681 (2010).

Jing, M. et al. An optimized acetylcholine sensor for monitoring in vivo cholinergic activity. Nat. Methods 17, 1139–1146 (2020).

Klapoetke, N. C. et al. Independent optical excitation of distinct neural populations. Nat. Methods 11, 338–346 (2014).

Berridge, K. C. & Robinson, T. E. What is the role of dopamine in reward: hedonic impact, reward learning, or incentive salience? Brain Res. Rev. 28, 309–369 (1998).

van Zessen, R., Phillips, J. L., Budygin, E. A. & Stuber, G. D. Activation of VTA GABA neurons disrupts reward consumption. Neuron 73, 1184–1194 (2012).

Rizzi, G., Li, Z., Hogrefe, N. & Tan, K. R. Lateral ventral tegmental area GABAergic and glutamatergic modulation of conditioned learning. Cell Rep. 34, 108867 (2021).

Lowes, D. C. et al. Ventral tegmental area GABA neurons mediate stress-induced blunted reward-seeking in mice. Nat. Commun. 12, 1–13 (2021).

Aosaki, T. et al. Responses of tonically active neurons in the primate's striatum undergo systematic changes during behavioral sensorimotor conditioning. J. Neurosci. 14, 3969–3984 (1994).

Apicella, P. Leading tonically active neurons of the striatum from reward detection to context recognition. Trends Neurosci. 30, 299–306 (2007).

Collins, A. L. & Saunders, B. T. Heterogeneity in striatal dopamine circuits: form and function in dynamic reward seeking. J. Neurosci. Res. 98, 1046–1069 (2020).

Shin, J. H., Adrover, M. F., Wess, J. & Alvarez, V. A. Muscarinic regulation of dopamine and glutamate transmission in the nucleus accumbens. Proc. Natl Acad. Sci. USA 112, 8124–8129 (2015).

Dorst, M. C. et al. Polysynaptic inhibition between striatal cholinergic interneurons shapes their network activity patterns in a dopamine-dependent manner. Nat. Commun. 11, 5113 (2020).

Lewis, R. G. et al. Dopaminergic control of striatal cholinergic interneurons underlies cocaine-induced psychostimulation. Cell Rep. 31, 107527 (2020).

Shin, J. H., Adrover, M. F. & Alvarez, V. A. Distinctive modulation of dopamine release in the nucleus accumbens shell mediated by dopamine and acetylcholine receptors. J. Neurosci. 37, 11166–11180 (2017).

Chuhma, N., Mingote, S., Moore, H. & Rayport, S. Dopamine neurons control striatal cholinergic neurons via regionally heterogeneous dopamine and glutamate signaling. Neuron 81, 901–912 (2014).

Zhang, Y.-F. & Cragg, S. J. Pauses in striatal cholinergic interneurons: what is revealed by their common themes and variations? Front. Syst. Neurosci. 11, 80 (2017).

Crespo, J. A., Stöckl, P., Zorn, K., Saria, A. & Zernig, G. Nucleus accumbens core acetylcholine is preferentially activated during acquisition of drug- vs food-reinforced behavior. Neuropsychopharmacology 33, 3213–3220 (2008).

Aitta-aho, T. et al. Accumbal cholinergic interneurons differentially influence motivation related to satiety signaling. eNeuro https://doi.org/10.1523/ENEURO.0328-16.2017 (2017).

Pratt, W. E. & Kelley, A. E. Nucleus accumbens acetylcholine regulates appetitive learning and motivation for food via activation of muscarinic receptors. Behav. Neurosci. 118, 730–739 (2004).

Nougaret, S. & Ravel, S. Modulation of tonically active neurons of the monkey striatum by events carrying different force and reward information. J. Neurosci. 35, 15214–15226 (2015).

Collins, A. L. et al. Dynamic mesolimbic dopamine signaling during action sequence learning and expectation violation. Sci. Rep. 6, 20231 (2016).

Cachope, R. et al. Selective activation of cholinergic interneurons enhances accumbal phasic dopamine release: setting the tone for reward processing. Cell Rep. 2, 33–41 (2012).

London, T. D. et al. Coordinated ramping of dorsal striatal pathways preceding food approach and consumption. J. Neurosci. 38, 3547–3558 (2018).

Threlfell, S. et al. Striatal dopamine release is triggered by synchronized activity in cholinergic interneurons. Neuron 75, 58–64 (2012).

Picciotto, M. R., Higley, M. J. & Mineur, Y. S. Acetylcholine as a neuromodulator: cholinergic signaling shapes nervous system function and behavior. Neuron 76, 116–129 (2012).

Dautan, D. et al. A major external source of cholinergic innervation of the striatum and nucleus accumbens originates in the brainstem. J. Neurosci. 34, 4509–4518 (2014).

Tashakori-Sabzevar, F. & Ward, R. D. Basal forebrain mediates motivational recruitment of attention by reward-associated cues. Front. Neurosci. 12, 786 (2018).

Ballinger, E., Ananth, M., Talmage, D. A. & Role, L. Basal forebrain cholinergic circuits and signaling in cognition and cognitive decline. Neuron 91, 1199–1218 (2016).

Koob, G. F. & Volkow, N. D. Neurocircuitry of addiction. Neuropsychopharmacology 35, 217–238 (2010).

Saunders, B. T. & Janak, P. H. Nucleus accumbens plasticity underlies multifaceted behavioral changes associated with addiction. Biol. Psychiatry 75, 92–93 (2014).

Scofield, M. D. et al. The nucleus accumbens: mechanisms of addiction across drug classes reflect the importance of glutamate homeostasis. Pharm. Rev. 68, 816–871 (2016).

Di Chiara, G. Nucleus accumbens shell and core dopamine: differential role in behavior and addiction. Behav. Brain Res 137, 75–114 (2002).

Hikida, T., Kitabatake, Y., Pastan, I. & Nakanishi, S. Acetylcholine enhancement in the nucleus accumbens prevents addictive behaviors of cocaine and morphine. Proc. Natl Acad. Sci. USA 100, 6169–6173 (2003).

Gonzales, K. K. & Smith, Y. Cholinergic interneurons in the dorsal and ventral striatum: anatomical and functional considerations in normal and diseased conditions. Ann. NY Acad. Sci. 1349, 1–45 (2015).

Warner-Schmidt, J. L. et al. Cholinergic interneurons in the nucleus accumbens regulate depression-like behavior. Proc. Natl Acad. Sci. USA 109, 11360–11365 (2012).

Cheng, J., Umschweif, G., Leung, J., Sagi, Y. & Greengard, P. HCN2 channels in cholinergic interneurons of nucleus accumbens shell regulate depressive behaviors. Neuron 101, 662–672.e5 (2019).

Sparta, D. R. et al. Construction of implantable optical fibers for long-term optogenetic manipulation of neural circuits. Nat. Protoc. 7, 12–23 (2012).

Parker, K. E. et al. A paranigral VTA nociceptin circuit that constrains motivation for reward. Cell 178, 653–671.e19 (2019).

McCall, J. G. et al. CRH engagement of the locus coeruleus noradrenergic system mediates stress-induced anxiety. Neuron 87, 605–620 (2015).

Siuda, E. R. et al. Spatiotemporal control of opioid signaling and behavior. Neuron 86, 923–935 (2015).

Kim, T. et al. Injectable, cellular-scale optoelectronics with applications for wireless optogenetics. Science 340, 211–216 (2013).
Acknowledgements
We thank all at M.R.B.'s lab and R.A.-H.'s lab, and J. McCall for their helpful insight and discussion throughout the preparation of the manuscript, and in particular C. Stander, L. Lawson, D. Blumenthal and A. Suko for their technical support. We thank our funding sources: NIH/NIDA K99/R00 DA038725 (to R.A.-H.), NIH/NIDA F31 DA051124 (to C.E.P), Addictions, Drug and Alcohol Institute (ADAI) Fellowship (to D.J.M), SCAN Design Fellowship (to S.E.S), Mary Gates Fellowship (to A.E.J), NARSAD Young Investigator Grant from the Brain and Behavior Research Foundation, grant no. 28243 (to R.A.-H.), NIH/NIMH K99/R00 MH109627 (to J.C.L) and NIH/NIDA R37 DA033396, P30 DA048736 (to M.R.B).
Ethics declarations
Competing interests
The authors declare no competing interests.
Additional information
Peer review information Nature Neuroscience thanks William Howe and the other, anonymous, reviewer(s) for their contribution to the peer review of this work.
Publisher's note Springer Nature remains neutral with regard to jurisdictional claims in published maps and institutional affiliations.
Supplementary information
About this article
Cite this article
Al-Hasani, R., Gowrishankar, R., Schmitz, G.P. et al. Ventral tegmental area GABAergic inhibition of cholinergic interneurons in the ventral nucleus accumbens shell promotes reward reinforcement. Nat Neurosci 24, 1414–1428 (2021). https://doi.org/10.1038/s41593-021-00898-2
Received:

Accepted:

Published:

Issue Date:

DOI: https://doi.org/10.1038/s41593-021-00898-2
Further reading
Daisuke Sato
Michiko Narita
Minoru Narita

Molecular Brain (2022)

Kena Wang
Hongbo Zhang
Jianbo Zhang

Journal of Molecular Neuroscience (2022)