Abstract
Cortical and subcortical circuitry are thought to play distinct roles in the generation of sleep oscillations and global state control, respectively. Here we silenced a subset of neocortical layer 5 pyramidal and archicortical dentate gyrus granule cells in male mice by ablating SNAP25. This markedly increased wakefulness and reduced rebound of electroencephalographic slow-wave activity after sleep deprivation, suggesting a role for the cortex in both vigilance state control and sleep homeostasis.
Relevant articles
Open Access articles citing this article.
Ziyue Wang

,

Xiang Fei

…

Min Xu

Nature Communications Open Access 12 November 2022

Stephen Thankachan

,

Chun Yang

…

Dmitry Gerashchenko

Scientific Reports Open Access 19 July 2022

Olivia J. Veatch

,

Diego R. Mazzotti

…

Allan I. Pack

Journal of Neurodevelopmental Disorders Open Access 24 June 2022
Access options
Subscribe to Nature+
Get immediate online access to Nature and 55 other Nature journal
Subscribe to Journal
Get full journal access for 1 year
$79.00
only $6.58 per issue
All prices are NET prices.
VAT will be added later in the checkout.
Tax calculation will be finalised during checkout.
Buy article
Get time limited or full article access on ReadCube.
$32.00
All prices are NET prices.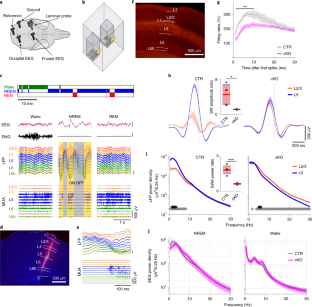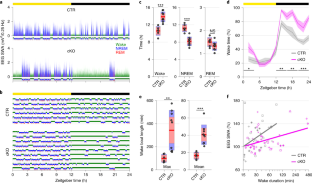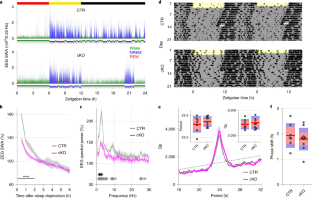 Data availability
A sample dataset with spectral data and sleep scoring results used to generate key analyses presented in this paper is available on Figshare (https://doi.org/10.6084/m9.figshare.14737569). Source data are provided with this paper. Raw data from electrophysiological and passive infrared recordings are available from the corresponding authors upon reasonable request.
References
Saper, C. B. & Fuller, P. M. Wake–sleep circuitry: an overview. Curr. Opin. Neurobiol. 44, 186–192 (2017).

Liu, D. & Dan, Y. A motor theory of sleep–wake control: arousal–action circuit. Annu. Rev. Neurosci. 42, 27–46 (2019).

Vyazovskiy, V. V. et al. Cortical firing and sleep homeostasis. Neuron 63, 865–878 (2009).

Borbély, A. A., Daan, S., Wirz-Justice, A. & Deboer, T. The two-process model of sleep regulation: a reappraisal. J. Sleep. Res. 25, 131–143 (2016).

Huber, R., Felice Ghilardi, M., Massimini, M. & Tononi, G. Local sleep and learning. Nature 430, 78–81 (2004).

Vyazovskiy, V. V. et al. Local sleep in awake rats. Nature 472, 443–447 (2011).

Krueger, J., Nguyen, J. T., Dykstra-Aiello, C. J. & Taishi, P. Local sleep. Sleep. Med. Rev. 43, 14–21 (2019).

Krone, L. B. & Vyazovskiy, V. V. Unresponsive or just asleep? do local slow waves in the perilesional cortex have a function? Brain 143, 3513–3515 (2020).

Beltramo, R. et al. Layer-specific excitatory circuits differentially control recurrent network dynamics in the neocortex. Nat. Neurosci. 16, 227–234 (2013).

Chauvette, S., Volgushev, M. & Timofeev, I. Origin of active states in local neocortical networks during slow sleep oscillation. Cereb. Cortex 20, 2660–2674 (2010).

Sanchez-Vives, M. V. & McCormick, D. A. Cellular and network mechanisms of rhytmic recurrent activity in neocortex. Nat. Neurosci. 3, 1027–1034 (2000).

Buzsáki, G. Theta oscillations in the hippocampus. Neuron 33, 325–340 (2002).

Boyce, R., Glasgow, S. D., Williams, S. & Adamantidis, A. Causal evidence for the role of REM sleep theta rhythm in contextual memory consolidation. Science 352, 812–816 (2016).

Sanchez-Vives, M. V., McCormick, D. A., Sanchez-Vives, M. V. & McCormick, D. A. Cellular and network mechanisms of rhythmic recurrent activity in neocortex. Nat. Neurosci. 3, 1027–1034 (2000).

Hoerder-Suabedissen, A. et al. Cell-specific loss of SNAP25 from cortical projection neurons allows normal development but causes subsequent neurodegeneration. Cereb. Cortex 29, 2148–2159 (2019).

Gerfen, C. R., Paletzki, R. & Heintz, N. GENSAT BAC cre-recombinase driver lines to study the functional organization of cerebral cortical and basal ganglia circuits. Neuron 80, 1368–1383 (2013).

Lefort, S., Tomm, C., Floyd Sarria, J.-C. & Petersen, C. C. H. The excitatory neuronal network of the C2 barrel column in mouse primary somatosensory cortex. Neuron 61, 301–316 (2009).

Vecchia, D. et al. Temporal sharpening of sensory responses by layer V in the mouse primary somatosensory cortex. Curr. Biol. 30, 1589–1599 (2020).

Washbourne, P. et al. Genetic ablation of the t-SNARE SNAP-25 distinguishes mechanisms of neuroexocytosis. Nat. Neurosci. 5, 19–26 (2002).

Funk, C. M., Honjoh, S., Rodriguez, A. V., Cirelli, C. & Tononi, G. Local slow waves in superficial layers of primary cortical areas during REM sleep. Curr. Biol. 26, 396–403 (2016).

Huber, R., Deboer, T. & Tobler, I. Effects of sleep deprivation on sleep and sleep EEG in three mouse strains: empirical data and simulations. Brain Res. 857, 8–19 (2000).

Franken, P., Dijk, D. J., Tobler, I. & Borbely, A. A. Sleep deprivation in rats: effects on EEG power spectra, vigilance states, and cortical temperature. Am. J. Physiol. 261, R198–R208 (1991).

Huber, R., Deboer, T. & Tobler, I. Topography of EEG dynamics after sleep deprivation in mice. J. Neurophysiol. 84, 1888–1893 (2000).

Albrecht, U. & Foster, R. G. Placing ocular mutants into a functional context: a chronobiological approach. Methods 28, 465–477 (2002).

Frank, M. G. & Heller, H. C. The function(s) of sleep. Handb. Exp. Pharmacol. 253, 3–34 (2019).

Morairty, S. R. et al. A role for cortical nNOS/NK1 neurons in coupling homeostatic sleep drive to EEG slow wave activity. Proc. Natl Acad. Sci. USA 110, 20272–20277 (2013).

Tossell, K. et al. Sleep deprivation triggers somatostatin neurons in prefrontal cortex to initiate nesting and sleep via the preoptic and lateral hypothalamus. Preprint at bioRxiv https://doi.org/10.1101/2020.07.01.179671 (2020).

Prasad, J. A., Carroll, B. J. & Sherman, S. M. Layer 5 corticofugal projections from diverse cortical areas: variations on a pattern of thalamic and extrathalamic targets. J. Neurosci. 40, 5785–5796 (2020).

Massimini, M., Huber, R., Ferrarelli, F., Hill, S. & Tononi, G. The sleep slow oscillation as a traveling wave. J. Neurosci. 24, 6862–6870 (2004).

Krone, L. et al. Top-down control of arousal and sleep: fundamentals and clinical implications. Sleep. Med. Rev. 31, 17–24 (2017).

Gent, T. C., Bandarabadi, M., Herrera, C. G. & Adamantidis, A. Thalamic dual control of sleep and wakefulness. Nat. Neurosci. 21, 974–984 (2018).

Hayashi, Y. et al. Cells of a common developmental origin regulate REM/non-REM sleep and wakefulness in mice. Science 350, 957–961 (2015).

Thomas, C. W., Guillaumin, M. C. C., McKillop, L. E., Achermann, P. & Vyazovskiy, V. V. Global sleep homeostasis reflects temporally and spatially integrated local cortical neuronal activity. Elife 9, e54148 (2020).

Sheroziya, M. & Timofeev, I. Global intracellular slow-wave dynamics of the thalamocortical system. J. Neurosci. 34, 8875–8893 (2014).

Verhage, M. et al. Synaptic assembly of the brain in the absence of neurotransmitter secretion. Science 287, 864–869 (2000).

Molnár, Z. et al. Normal development of embryonic thalamocortical connectivity in the absence of evoked synaptic activity. J. Neurosci. 22, 10313–10323 (2002).

Krueger, J. & Obál, F. A neuronal group theory of sleep function. J. Sleep. Res. 2, 63–69 (1993).

McKillop, L. E. et al. Effects of aging on cortical neural dynamics and local sleep homeostasis in mice. J. Neurosci. 38, 3911–3928 (2018).

Sakata, S. & Harris, K. D. Laminar structure of spontaneous and sensory-evoked population activity in auditory cortex. Neuron 64, 404–418 (2009).

Brown, L., Hasan, S., Foster, R. G. & Peirson, S. N. COMPASS: Continuous Open Mouse Phenotyping of Activity and Sleep Status. Wellcome Open Res. 1, 2 (2016).

Schmid, B., Helfrich-Förster, C. & Yoshii, T. A new ImageJ plug-in 'ActogramJ' for chronobiological analyses. J. Biol. Rhythms 26, 464–467 (2011).

Howell, G. T. & Lacroix, G. L. Decomposing interactions using GLM in combination with the COMPARE, LMATRIX and MMATRIX subcommands in SPSS. Tutorials Quant. Methods Psychol. 8, 1–22 (2012).

Howell, D. C. Statistical Methods for Psychology (Cengage Learning, 2012).

Achermann, P. & Borbély, A. A. Coherence analysis of the human sleep electroencephalogram. Neuroscience 85, 1195–1208 (1998).

Tabachnick, B. G. & Fidell, L. S. in International Encyclopedia of Statistical Science. (ed. Lovric, M.) 902–904 (Springer Berlin Heidelberg, 2011).

Magill, P. J. et al. Changes in functional connectivity within the rat striatopallidal axis during global brain activation in vivo. J. Neurosci. 26, 6318–6329 (2006).

Paxinos, G. & Franklin, K. B. J. The Mouse Brain in Stereotaxic Coordinates (Elsevier Academic Press, 2019).

Schindelin, J. et al. Fiji: an open-source platform for biological image analysis. Nat. Methods 9, 676–682 (2012).

Grant, E., Hoerder-Suabedissen, A. & Molnar, Z. The regulation of corticofugal fiber targeting by retinal inputs. Cereb. Cortex 26, 1336–1348 (2016).
Acknowledgements
We thank T. Jahans-Price and X. Wang for help with establishing the microlesion protocol; M. Sabanovic for advice on statistics and figure production; K. Parley for support in the histological procedures; all members of the laboratory of V.V.V. for kind help with surgery assistance, animal care and sleep deprivation. We are very grateful to E. Mann, University of Oxford, for advice on the laminar analysis and to A. van den Pol, Yale University, for the generous gift of rabbit anti-Hcrt antibody. This work was supported by the Wellcome Trust PhD studentships 203971/Z/16/Z (to L.B.K.) and 109059/Z/15/Z (to C.B.-D.). T.Y. was supported by The Uehara Memorial Foundation Overseas Postdoctoral Fellowships, and The Naito Grant for Studying Overseas and a Wellcome Trust grant (106174/Z/14/Z). M.C.K. was supported by a Berrow Foundation Lord Florey Scholarship. M.C.C.G. was supported by a Biotechnology and Biological Sciences Research Council (BBSRC) DTP grant (BB/J014427/1) and by a Clarendon Scholarship (provided by the University of Oxford). V.v.d.V. and L.E.M. were supported by Novo Nordisk Postdoctoral Fellowships run in partnership with the University of Oxford. L.E.M. was also supported by a Sir Paul Nurse Junior Research Fellowship at Linacre College, Oxford. S.N.P. and S.K.E.T. are funded by the BBSRC (grant no. BB/S015817/1). The laboratory of Z.M. received funding from the UK Medical Research Council (G00900901), the Royal Society, St John's College Research Centre, the Anatomical Society and Einstein Stiftung. Z.M. is an Einstein Visiting Fellow at Charité-Universitätsmedizin Berlin (host B. Eickholt for 2020–2024), and lead researcher at Oxford Martin School, University of Oxford. This work was further supported by a Wellcome Trust Strategic Award (098461/Z/12/Z), a John Fell OUP Research Fund grant (131/032) and Medical Research Council (UK) grants MR/N026039/1 and MR/S01134X/1.
Ethics declarations
Competing interests
The authors declare no competing interests.
Additional information
Peer review information Nature Neuroscience thanks Marcos Frank, Akihiro Yamanaka, and the other, anonymous, reviewer(s) for their contribution to the peer review of this work.
Publisher's note Springer Nature remains neutral with regard to jurisdictional claims in published maps and institutional affiliations.
Supplementary information
About this article
Cite this article
Krone, L.B., Yamagata, T., Blanco-Duque, C. et al. A role for the cortex in sleep–wake regulation. Nat Neurosci 24, 1210–1215 (2021). https://doi.org/10.1038/s41593-021-00894-6
Received:

Accepted:

Published:

Issue Date:

DOI: https://doi.org/10.1038/s41593-021-00894-6