Abstract
The behavioral strategies that mammals use to learn multi-step routes are unknown. In this study, we investigated how mice navigate to shelter in response to threats when the direct path is blocked. Initially, they fled toward the shelter and negotiated obstacles using sensory cues. Within 20 min, they spontaneously adopted a subgoal strategy, initiating escapes by running directly to the obstacle's edge. Mice continued to escape in this manner even after the obstacle had been removed, indicating use of spatial memory. However, standard models of spatial learning—habitual movement repetition and internal map building—did not explain how subgoal memories formed. Instead, mice used a hybrid approach: memorizing salient locations encountered during spontaneous 'practice runs' to the shelter. This strategy was also used during a geometrically identical food-seeking task. These results suggest that subgoal memorization is a fundamental strategy by which rodents learn efficient multi-step routes in new environments.
Access options
Subscribe to Journal
Get full journal access for 1 year
$59.00
only $4.92 per issue
All prices are NET prices.
VAT will be added later in the checkout.
Tax calculation will be finalised during checkout.
Rent or Buy article
Get time limited or full article access on ReadCube.
from$8.99
All prices are NET prices.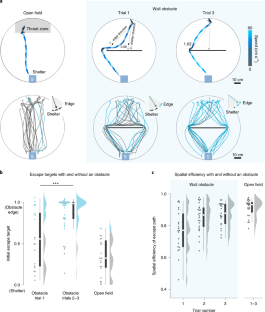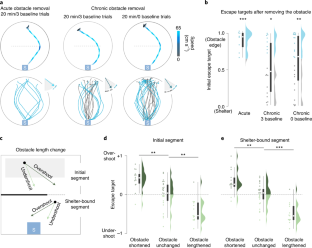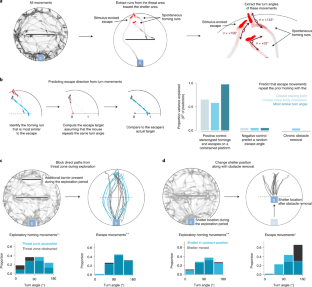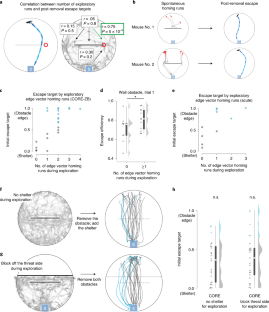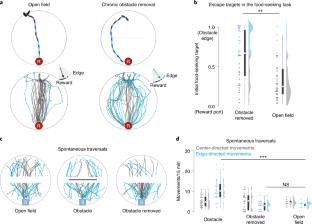 References
1.

Lima, S. L. & Dill, L. M. Behavioral decisions made under the risk of predation: a review and prospectus. Can. J. Zool. 68, 619–640 (1990).

2.

Drickamer, L. C. & Stuart, J. Peromyscus: snow tracking and possible cues used for navigation. Am. Midl. Nat. 111, 202–204 (1984).

3.

McMillan, B. R. & Kaufman, D. W. Travel path characteristics for free-living white-footed mice (Peromyscus leucopus). Can. J. Zool. 73, 1474–1478 (1995).

4.

Benhamou, S. An analysis of movements of the wood mouse Apodemus sylvaticus in its home range. Behav. Processes 22, 235–250 (1991).

5.

Thompson, S. D. Spatial utilization and foraging behavior of the desert woodrat, Neotoma lepida lepida. J. Mammal. 63, 570–581 (1982).

6.

Morris, R. G. M. Spatial localization does not require the presence of local cues. Learn. Motiv. 12, 239–260 (1981).

7.

Edvardsen, V., Bicanski, A. & Burgess, N. Navigating with grid and place cells in cluttered environments. Hippocampus 30, 220–232 (2020).

8.

Spiers, H. J. & Gilbert, S. J. Solving the detour problem in navigation: a model of prefrontal and hippocampal interactions. Front. Hum. Neurosci. 9, 125 (2015).

9.

Stachenfeld, K. L., Botvinick, M. M. & Gershman, S. J. The hippocampus as a predictive map. Nat. Neurosci. 20, 1643–1653 (2017).

10.

Tolman, E. C. Cognitive maps in rats and men. Psychol. Rev. 55, 189–208 (1948).

11.

O'Keefe, J. & Nadel, L. The Hippocampus as a Cognitive Map (Clarendon Press, 1978).

12.

Etienne, A. S. & Jeffery, K. J. Path integration in mammals. Hippocampus 14, 180–192 (2004).

13.

Restle, F. Discrimination of cues in mazes: a resolution of the 'place-vs.-response' question. Psychol. Rev. 64, 217–228 (1957).

14.

Sutherland, R. J. & Dyck, R. H. Place navigation by rats in a swimming pool. Can. J. Psychol. 38, 322–347 (1984).

15.

Hamilton, D. A., Rosenfelt, C. S. & Whishaw, I. Q. Sequential control of navigation by locale and taxon cues in the Morris water task. Behav. Brain Res. 154, 385–397 (2004).

16.

Cooper, Jr., W. E. & Blumstein, D. T., eds. Escaping from Predators: An Integrative View of Escape Decisions (Cambridge Univ. Press, 2015).

17.

Vale, R., Evans, D. A. & Branco, T. Rapid spatial learning controls instinctive defensive behavior in mice. Curr. Biol. 27, 1342–1349 (2017).

18.

Yilmaz, M. & Meister, M. Rapid innate defensive responses of mice to looming visual stimuli. Curr. Biol. 23, 2011–2015 (2013).

19.

Alyan, S. & Jander, R. Short-range homing in the house mouse, Mus musculus: stages in the learning of directions. Anim. Behav. 48, 285–298 (1994).

20.

Etienne, A. S., Teroni, E., Maurer, R., Portenier, V. & Saucy, F. Short-distance homing in a small mammal: the role of exteroceptive cues and path integration. Experientia 41, 122–125 (1985).

21.

Harrison, F. E., Reiserer, R. S., Tomarken, A. J. & McDonald, M. P. Spatial and nonspatial escape strategies in the Barnes maze. Learn. Mem. 13, 809–819 (2006).

22.

Ellard, C. G. & Eller, M. C. Spatial cognition in the gerbil: computing optimal escape routes from visual threats. Anim. Cogn. 12, 333–345 (2009).

23.

Collett, T. S. Do toads plan routes? A study of the detour behaviour of Bufo viridis. J. Comp. Physiol. 146, 261–271 (1982).

24.

Layne, J. E. Mechanisms of homing in the fiddler crab Uca rapax 1. Spatial and temporal characteristics of a system of small-scale navigation. J. Exp. Biol. 206, 4413–4423 (2003).

25.

McCreery, H. F., Dix, Z. A., Breed, M. D. & Nagpal, R. Collective strategy for obstacle navigation during cooperative transport by ants. J. Exp. Biol. 219, 3366–3375 (2016).

26.

Liu, A. et al. Mouse navigation strategies for odor source localization. Front. Neurosci. 14, 218 (2020).

27.

Wallace, D. G., Gorny, B. & Whishaw, I. Q. Rats can track odors, other rats, and themselves: implications for the study of spatial behavior. Behav. Brain Res. 131, 185–192 (2002).

28.

Burgess, N., Recce, M. & O'Keefe, J. A model of hippocampal function. Neural Netw. 7, 1065–1081 (1994).

29.

Schölkopf, B. & Mallot, H. A. View-based cognitive mapping and path planning. Adapt. Behav. 3, 311–348 (1995).

30.

Collett, T. S. Making learning easy: the acquisition of visual information during the orientation flights of social wasps. J. Comp. Physiol. A 177, 737–747 (1995).

31.

Mobbs, D., Headley, D. B., Ding, W. & Dayan, P. Space, time, and fear: survival computations along defensive circuits. Trends Cogn. Sci. 24, 228–241 (2020).

32.

Sutton, R. S., Precup, D. & Singh, S. Between MDPs and semi-MDPs: a framework for temporal abstraction in reinforcement learning. Artificial Intell. 112, 181–211 (1999).

33.

Jadhav, S. P., Kemere, C., German, P. W. & Frank, L. M. Awake hippocampal sharp-wave ripples support spatial memory. Science 336, 1454–1458 (2012).

34.

O'Keefe, J. & Recce, M. L. Phase relationship between hippocampal place units and the EEG theta rhythm. Hippocampus 3, 317–330 (1993).

35.

Wilson, M. & McNaughton, B. Reactivation of hippocampal ensemble memories during sleep. Science 265, 676–679 (1994).

36.

Doeller, C. F., King, J. A. & Burgess, N. Parallel striatal and hippocampal systems for landmarks and boundaries in spatial memory. Proc. Natl Acad. Sci. USA 105, 5915–5920 (2008).

37.

Packard, M., Hirsh, R. & White, N. Differential effects of fornix and caudate nucleus lesions on two radial maze tasks: evidence for multiple memory systems. J. Neurosci. 9, 1465–1472 (1989).

38.

Datta, S. R., Anderson, D. J., Branson, K., Perona, P. & Leifer, A. Computational neuroethology: a call to action. Neuron 104, 11–24 (2019).

39.

Krakauer, J. W., Ghazanfar, A. A., Gomez-Marin, A., MacIver, M. A. & Poeppel, D. Neuroscience needs behavior: correcting a reductionist bias. Neuron 93, 480–490 (2017).

40.

Mobbs, D., Trimmer, P. C., Blumstein, D. T. & Dayan, P. Foraging for foundations in decision neuroscience: insights from ethology. Nat. Rev. Neurosci. 19, 419–427 (2018).

41.

Bradski, G. The OpenCV Library. Dr. Dobb's Journal of Software Tools 120, 122–125 (2000).

42.

Mathis, A. et al. DeepLabCut: markerless pose estimation of user-defined body parts with deep learning. Nat. Neurosci. 21, 1281–1289 (2018).

43.

Pedregosa, F., Varoquaux, G., Gramfort, A., Michel, V. & Thirion, B. Scikit-learn: machine learning in Python. J. Mach. Learn. Res. 12, 2825–2830 (2011).
Acknowledgements
This work was funded by a Wellcome Senior Research Fellowship (214352/Z/18/Z) and by the Sainsbury Wellcome Centre Core Grant from the Gatsby Charitable Foundation and Wellcome (090843/F/09/Z) (T.B.) and the Sainsbury Wellcome Centre PhD Programme (P.S. and S.O.). We thank members of the Branco lab and T. Mrsic-Flogel for discussions; J. Rapela for advice on statistical analysis; T. Mrsic-Flogel, T. Behrens, C. Barry, M. Stephenson-Jones, Y. Isogai, C. Clopath, Y. L. Tan, F. Claudi, R. Vale and three anonymous reviewers for comments on the manuscript; the Sainsbury Wellcome Centre Neurobiological Research Facility and FabLabs for technical support; and K. Betsios for programming the data acquisition software.
Ethics declarations
Competing interests
The authors declare no competing interests.
Additional information
Peer review information Nature Neuroscience thanks Kiah Hardcastle, Mackenzie Mathis, and the other, anonymous, reviewer(s) for their contribution to the peer review of this work.
Publisher's note Springer Nature remains neutral with regard to jurisdictional claims in published maps and institutional affiliations.
Supplementary information
About this article
Cite this article
Shamash, P., Olesen, S.F., Iordanidou, P. et al. Mice learn multi-step routes by memorizing subgoal locations. Nat Neurosci 24, 1270–1279 (2021). https://doi.org/10.1038/s41593-021-00884-8
Received:

Accepted:

Published:

Issue Date:
Further reading
Nature Neuroscience (2021)