Abstract
The CNS is ensheathed by the meninges and cerebrospinal fluid, and recent findings suggest that these CNS-associated border tissues have complex immunological functions. Unlike myeloid lineage cells, lymphocytes in border compartments have yet to be thoroughly characterized. Based on single-cell transcriptomics, we here identified a highly location-specific composition and expression profile of tissue-resident leukocytes in CNS parenchyma, pia-enriched subdural meninges, dura mater, choroid plexus and cerebrospinal fluid. The dura layer of the meninges contained a large population of B cells under homeostatic conditions in mice and rats. Murine dura B cells exhibited slow turnover and long-term tissue residency, and they matured in experimental neuroinflammation. The dura also contained B lineage progenitors at the pro-B cell stage typically not found outside of bone marrow, without direct influx from the periphery or the skull bone marrow. This identified the dura as an unexpected site of B cell residence and potentially of development in both homeostasis and neuroinflammation.
Access options
Subscribe to Journal
Get full journal access for 1 year
$59.00
only $4.92 per issue
All prices are NET prices.
VAT will be added later in the checkout.
Tax calculation will be finalised during checkout.
Rent or Buy article
Get time limited or full article access on ReadCube.
from$8.99
All prices are NET prices.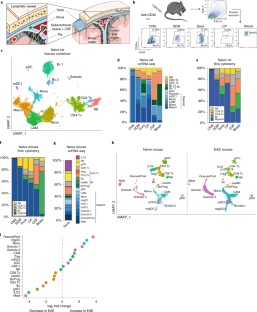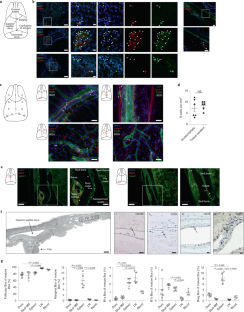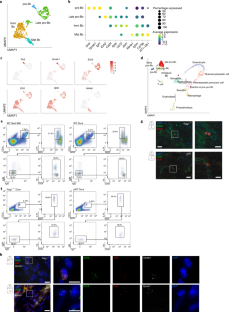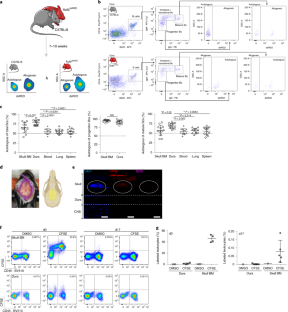 References
1.

Engelhardt, B., Vajkoczy, P. & Weller, R. O. The movers and shapers in immune privilege of the CNS. Nat. Immunol. 18, 123–131 (2017).

2.

Aspelund, A. et al. A dural lymphatic vascular system that drains brain interstitial fluid and macromolecules. J. Exp. Med. 212, 991–999 (2015).

3.

Louveau, A. et al. Structural and functional features of central nervous system lymphatic vessels. Nature 523, 337–341 (2015).

4.

Louveau, A. et al. CNS lymphatic drainage and neuroinflammation are regulated by meningeal lymphatic vasculature. Nat. Neurosci. 21, 1380–1391 (2018).

5.

Kivisakk, P. et al. Localizing central nervous system immune surveillance: meningeal antigen-presenting cells activate T cells during experimental autoimmune encephalomyelitis. Ann. Neurol. 65, 457–469 (2009).

6.

Chinnery, H. R., Ruitenberg, M. J. & McMenamin, P. G. Novel characterization of monocyte-derived cell populations in the meninges and choroid plexus and their rates of replenishment in bone marrow chimeric mice. J. Neuropathol. Exp. Neurol. 69, 896–909 (2010).

7.

Mundt, S. et al. Conventional DCs sample and present myelin antigens in the healthy CNS and allow parenchymal T cell entry to initiate neuroinflammation. Sci. Immunol. 4, eaau8380 (2019).

8.

Van Hove, H. et al. A single-cell atlas of mouse brain macrophages reveals unique transcriptional identities shaped by ontogeny and tissue environment. Nat. Neurosci. 22, 1021–1035 (2019).

9.

Jordão, M. J. C. et al. Single-cell profiling identifies myeloid cell subsets with distinct fates during neuroinflammation. Science 363, eaat7554 (2019).

10.

Steinert, E. M. et al. Quantifying memory CD8 T cells reveals regionalization of immunosurveillance. Cell 161, 737–749 (2015).

11.

Schafflick, D. et al. Integrated single cell analysis of blood and cerebrospinal fluid leukocytes in multiple sclerosis. Nat. Commun. 11, 247 (2020).

12.

Sayed, B. A., Christy, A. L., Walker, M. E. & Brown, M. A. Meningeal mast cells affect early T cell central nervous system infiltration and blood-brain barrier integrity through TNF: a role for neutrophil recruitment? J. Immunol. 184, 6891–6900 (2010).

13.

Sawant, K. V. et al. Chemokine CXCL1 mediated neutrophil recruitment: role of glycosaminoglycan interactions. Sci. Rep. 6, 33123 (2016).

14.

Howell, O. W. et al. Meningeal inflammation is widespread and linked to cortical pathology in multiple sclerosis. Brain 134, 2755–2771 (2011).

15.

Pröbstel, A.-K. et al. Gut microbiota–specific IgA+ B cells traffic to the CNS in active multiple sclerosis. Sci. Immunol. 5, eabc7191 (2020).

16.

Fitzpatrick, Z. et al. Gut-educated IgA plasma cells defend the meningeal venous sinuses. Nature 587, 472–476 (2020).

17.

Parker Harp, C. R. et al. Neutrophils promote VLA-4-dependent B cell antigen presentation and accumulation within the meninges during neuroinflammation. Proc. Natl Acad. Sci. USA 116, 24221–24230 (2019).

18.

Wilke, G., Steinhauser, G., Grün, J. & Berek, C. In silico subtraction approach reveals a close lineage relationship between follicular dendritic cells and BP3(hi) stromal cells isolated from SCID mice. Eur. J. Immunol. 40, 2165–2173 (2010).

19.

Heming, M. et al. Neurological manifestations of COVID-19 feature T cell exhaustion and dedifferentiated monocytes in cerebrospinal fluid. Immunity 54, 164–175.e6 (2021).

20.

Schaffer, S., Maul-Pavicic, A., Voll, R. E. & Chevalier, N. Optimized isolation of renal plasma cells for flow cytometric analysis. J. Immunol. Methods 474, 112628 (2019).

21.

Molnarfi, N. et al. MHC class II-dependent B cell APC function is required for induction of CNS autoimmunity independent of myelin-specific antibodies. J. Exp. Med. 210, 2921–2937 (2013).

22.

Kunis, G. et al. IFN-γ-dependent activation of the brain's choroid plexus for CNS immune surveillance and repair. Brain 136, 3427–3440 (2013).

23.

Louveau, A., Filiano, A. J. & Kipnis, J. Meningeal whole mount preparation and characterization of neural cells by flow cytometry. Curr. Protoc. Immunol. 121, e50 (2018).

24.

Ahn, J. H. et al. Meningeal lymphatic vessels at the skull base drain cerebrospinal fluid. Nature 572, 62–66 (2019).

25.

Tabula Muris Consortium et al. Single-cell transcriptomics of 20 mouse organs creates a Tabula Muris. Nature 562, 367–372 (2018).

26.

Han, X. et al. Mapping the mouse cell atlas by Microwell-seq. Cell 172, 1091–1107.e17 (2018).

27.

Bendall, S. C. et al. Single-cell trajectory detection uncovers progression and regulatory coordination in human B cell development. Cell 157, 714–725 (2014).

28.

Mombaerts, P. et al. RAG-1-deficient mice have no mature B and T lymphocytes. Cell 68, 869–877 (1992).

29.

Kitamura, D., Roes, J., Kühn, R. & Rajewsky, K. A B cell-deficient mouse by targeted disruption of the membrane exon of the immunoglobulin μ chain gene. Nature 350, 423–426 (1991).

30.

Wright, D. E., Wagers, A. J., Gulati, A. P., Johnson, F. L. & Weissman, I. L. Physiological migration of hematopoietic stem and progenitor cells. Science 294, 1933–1936 (2001).

31.

Cai, R. et al. Panoptic imaging of transparent mice reveals whole-body neuronal projections and skull–meninges connections. Nat. Neurosci. 22, 317–327 (2019).

32.

Herisson, F. et al. Direct vascular channels connect skull bone marrow and the brain surface enabling myeloid cell migration. Nat. Neurosci. 21, 1209–1217 (2018).

33.

Yao, H. et al. Leukaemia hijacks a neural mechanism to invade the central nervous system. Nature 560, 55–60 (2018).

34.

Roth, T. L. et al. Transcranial amelioration of inflammation and cell death after brain injury. Nature 505, 223–228 (2014).

35.

Grüneboom, A. et al. A network of trans-cortical capillaries as mainstay for blood circulation in long bones. Nat. Metab. 1, 236–250 (2019).

36.

Korin, B. et al. High-dimensional, single-cell characterization of the brain's immune compartment. Nat. Neurosci. 20, 1300–1309 (2017).

37.

Cepok, S. et al. Short-lived plasma blasts are the main B cell effector subset during the course of multiple sclerosis. Brain 128, 1667–1676 (2005).

38.

Machado-Santos, J. et al. The compartmentalized inflammatory response in the multiple sclerosis brain is composed of tissue-resident CD8+ T lymphocytes and B cells. Brain 141, 2066–2082 (2018).

39.

Magliozzi, R. et al. A gradient of neuronal loss and meningeal inflammation in multiple sclerosis. Ann. Neurol. 68, 477–493 (2010).

40.

Satoh-Takayama, N. et al. Bacteria-induced group 2 innate lymphoid cells in the stomach provide immune protection through induction of IgA. Immunity 52, 635–649.e4 (2020).

41.

Pegg, C. C., He, C., Stroink, A. R., Kattner, K. A. & Wang, C. X. Technique for collection of cerebrospinal fluid from the cisterna magna in rat. J. Neurosci. Methods 187, 8–12 (2010).

42.

Bowyer, J. F. et al. A visual description of the dissection of the cerebral surface vasculature and associated meninges and the choroid plexus from rat brain. J. Vis. Exp. 14, e4285 (2012).

43.

Korn, T. et al. Myelin-specific regulatory T cells accumulate in the CNS but fail to control autoimmune inflammation. Nat. Med. 13, 423–431 (2007).

44.

Satija, R., Farrell, J. A., Gennert, D., Schier, A. F. & Regev, A. Spatial reconstruction of single-cell gene expression data. Nat. Biotechnol. 33, 495–502 (2015).

45.

Hafemeister, C. & Satija, R. Normalization and variance stabilization of single-cell RNA-seq data using regularized negative binomial regression. Genome Biol. 20, 296 (2019).

46.

Korsunsky, I. et al. Fast, sensitive and accurate integration of single-cell data with Harmony. Nat. Methods 16, 1289–1296 (2019).

47.

Sun, H., Zhou, Y., Fei, L., Chen, H. & Guo, G. scMCA: a tool to define mouse cell types based on single-cell digital expression. Methods Mol. Biol. 1935, 91–96 (2019).

48.

Kuleshov, M. V. et al. Enrichr: a comprehensive gene set enrichment analysis web server 2016 update. Nucleic Acids Res. 44, W90–W97 (2016).

49.

Chen, E. Y. et al. Enrichr: interactive and collaborative HTML5 gene list enrichment analysis tool. BMC Bioinformatics 14, 128 (2013).

50.

Borcherding, N., Bormann, N. L. & Kraus, G. scRepertoire: an R-based toolkit for single-cell immune receptor analysis. F1000Res. 9, 47 (2020).

51.

Hillje, R., Pelicci, P. G. & Luzi, L. Cerebro: interactive visualization of scRNA-seq data. Bioinformatics 36, 2311–2313 (2020).
Acknowledgements
A.H. was funded by grant no. RTI2018-095497-B-I00 from Ministerio de Ciencia e Innovacion (MICINN). The CNIC is supported by MICINN and the Pro-CNIC Foundation, and is a Severo Ochoa Center of Excellence (MICINN award no. SEV-2015-0505). G.M.z.H. was supported by grants from the Deutsche Forschungsgemeinschaft (DFG; grant nos. ME4050/4-1 and ME4050/12-1) and DFG grant no. ME4050/8-1, under the frame of E-Rare-3, the ERA-Net for Research on Rare Diseases G.M.z.H. was also supported by the Heisenberg program of the DFG (grant no. ME4050/13-1), by the Grant for Multiple Sclerosis Innovation (Merck) and by a grant from the Ministerium für Innovation, Wissenschaft und Forschung (MIWF) des Landes Nordrhein-Westfalen. M. Heming and G.M.z.H. were supported by the Interdisciplinary Center for Clinical Research (IZKF) of the Medical Faculty of Münster (grant no. MzH3/020/20 to G.M.z.H. and grant no. SEED/016/21 to M. Heming). A.L. received funding from the European Research Council (ERC-StG grant no. 802305) and the DFG under Germany's Excellence Strategy (EXC 2145 SyNergy—grant ID 390857198) and grant no. LI-2534/5-1. Servier Medical Art, licensed under a Creative Common Attribution 3.0 Generic License (https://smart.servier.com/), was used for Figs. 1a and 4a,b, Extended Data Fig. 5b and Supplementary Figs. 14 and 15.
Ethics declarations
Competing interests
The authors declare no competing interests.
Additional information
Peer review information Nature Neuroscience thanks Maiken Nedergaard and the other, anonymous, reviewer(s) for their contribution to the peer review of this work.
Publisher's note Springer Nature remains neutral with regard to jurisdictional claims in published maps and institutional affiliations.
Supplementary information
About this article
Cite this article
Schafflick, D., Wolbert, J., Heming, M. et al. Single-cell profiling of CNS border compartment leukocytes reveals that B cells and their progenitors reside in non-diseased meninges. Nat Neurosci (2021). https://doi.org/10.1038/s41593-021-00880-y
Received:

Accepted:

Published: