Abstract
Dendritic spines, the postsynaptic compartments of excitatory neurotransmission, have different shapes classified from 'stubby' to 'mushroom-like'. Whereas mushroom spines are essential for adult brain function, stubby spines disappear during brain maturation. It is still unclear whether and how they differ in protein composition. To address this, we combined electron microscopy and quantitative biochemistry with super-resolution microscopy to annotate more than 47,000 spines for more than 100 synaptic targets. Surprisingly, mushroom and stubby spines have similar average protein copy numbers and topologies. However, an analysis of the correlation of each protein to the postsynaptic density mass, used as a marker of synaptic strength, showed substantially more significant results for the mushroom spines. Secretion and trafficking proteins correlated particularly poorly to the strength of stubby spines. This suggests that stubby spines are less likely to adequately respond to dynamic changes in synaptic transmission than mushroom spines, which possibly explains their loss during brain maturation.
Relevant articles
Open Access articles citing this article.
Xinyang Li

,

Yixin Li

…

Qionghai Dai

Nature Biotechnology Open Access 26 September 2022
Access options
Subscribe to Nature+
Get immediate online access to Nature and 55 other Nature journal
Subscribe to Journal
Get full journal access for 1 year
$79.00
only $6.58 per issue
All prices are NET prices.
VAT will be added later in the checkout.
Tax calculation will be finalised during checkout.
Buy article
Get time limited or full article access on ReadCube.
$32.00
All prices are NET prices.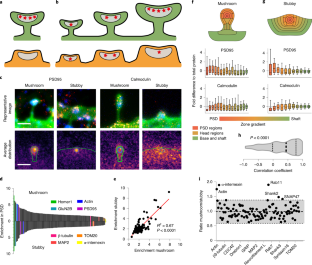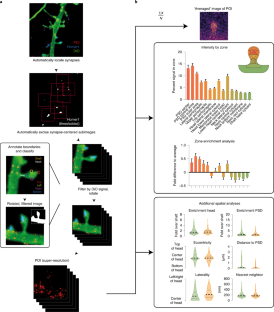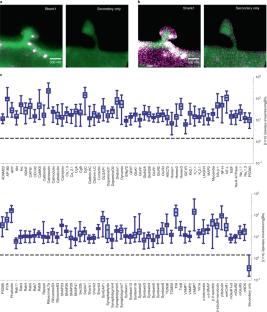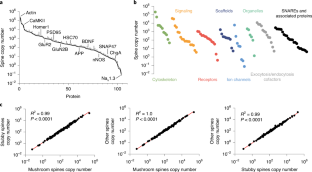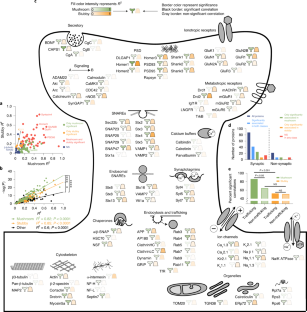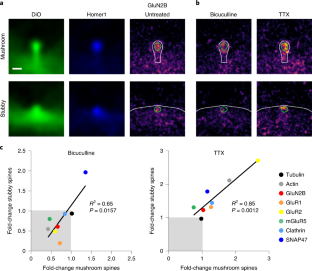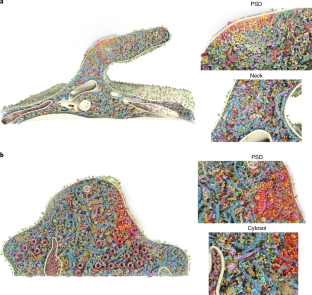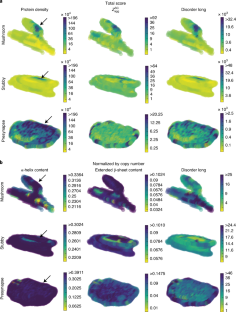 Data availability
The MS proteomics data have been deposited to the ProteomeXchange Consortium via the PRIDE partner repository with the dataset identifier PXD015308. Image data are available from the corresponding author upon reasonable request.
References
Humeau, Y. & Choquet, D. The next generation of approaches to investigate the link between synaptic plasticity and learning. Nat. Neurosci. 22, 1536–1543 (2019).

Bourne, J. N. & Harris, K. M. Balancing structure and function at hippocampal dendritic spines. Annu. Rev. Neurosci. 31, 47–67 (2008).

Forrest, M. P., Parnell, E. & Penzes, P. Dendritic structural plasticity and neuropsychiatric disease. Nat. Rev. Neurosci. 19, 215–234 (2018).

Berry, K. P. & Nedivi, E. Spine dynamics: are they all the same? Neuron 96, 43–55 (2017).

Harris, K. M., Jensen, F. E. & Tsao, B. Three-dimensional structure of dendritic spines and synapses in rat hippocampus (CA1) at postnatal day 15 and adult ages: implications for the maturation of synaptic physiology and long-term potentiation. J. Neurosci. 12, 2685–2705 (1992).

Spacek, J. & Harris, K. M. Three-dimensional organization of smooth endoplasmic reticulum in hippocampal CA1 dendrites and dendritic spines of the immature and mature rat. J. Neurosci. 17, 190–203 (1997).

Tønnesen, J., Katona, G., Rózsa, B. & Nägerl, U. V. Spine neck plasticity regulates compartmentalization of synapses. Nat. Neurosci. 17, 678–685 (2014).

Araya, R. Input transformation by dendritic spines of pyramidal neurons. Front. Neuroanat. https://doi.org/10.3389/fnana.2014.00141 (2014).

Nakahata, Y. & Yasuda, R. Plasticity of spine structure: local signaling, translation and cytoskeletal reorganization. Front. Synaptic Neurosci. 10, 29 (2018).

Biederer, T., Kaeser, P. S. & Blanpied, T. A. Transcellular nanoalignment of synaptic function. Neuron 96, 680–696 (2017).

Patriarchi, T., Buonarati, O. R. & Hell, J. W. Postsynaptic localization and regulation of AMPA receptors and Cav1.2 by β2 adrenergic receptor/PKA and Ca2+/CaMKII signaling. EMBO J. 37, e99771 (2018).

Papa, M., Bundman, M. C., Greenberger, V. & Segal, M. Morphological analysis of dendritic spine development in primary cultures of hippocampal neurons. J. Neurosci. 15, 1–11 (1995).

Kaech, S. & Banker, G. Culturing hippocampal neurons. Nat. Protoc. 1, 2406–2415 (2006).

Richter, K. N. et al. Glyoxal as an alternative fixative to formaldehyde in immunostaining and super‐resolution microscopy. EMBO J. https://doi.org/10.15252/embj.201695709 (2017).

Hruska, M., Henderson, N., Le Marchand, S. J., Jafri, H. & Dalva, M. B. Synaptic nanomodules underlie the organization and plasticity of spine synapses. Nat. Neurosci. https://doi.org/10.1038/s41593-018-0138-9 (2018).

Ikeda, K. & Bekkers, J. M. Counting the number of releasable synaptic vesicles in a presynaptic terminal. Proc. Natl Acad. Sci. USA 106, 2945–2950 (2009).

Schanzenbächer, C. T., Sambandan, S., Langer, J. D. & Schuman, E. M. Nascent proteome remodeling following homeostatic scaling at hippocampal synapses. Neuron 92, 358–371 (2016).

Schanzenbächer, C. T., Langer, J. D. & Schuman, E. M. Time- and polarity-dependent proteomic changes associated with homeostatic scaling at central synapses. eLife 7, e33322 (2018).

Ziv, N. E. & Brenner, N. Synaptic tenacity or lack thereof: spontaneous remodeling of synapses. Trends Neurosci. 41, 89–99 (2018).

Urban, N. T., Willig, K. I., Hell, S. W. & Nägerl, U. V. STED nanoscopy of actin dynamics in synapses deep inside living brain slices. Biophys. J. 101, 1277–1284 (2011).

Nägerl, U. V., Willig, K. I., Hein, B., Hell, S. W. & Bonhoeffer, T. Live-cell imaging of dendritic spines by STED microscopy. Proc. Natl Acad. Sci. USA 105, 18982–18987 (2008).

Willig, K. I. et al. Nanoscopy of filamentous actin in cortical dendrites of a living mouse. Biophys. J. 106, L01–L03 (2014).

Wegner, W. et al. In vivo mouse and live cell STED microscopy of neuronal actin plasticity using far-red emitting fluorescent proteins. Sci. Rep. 7, 11781 (2017).

Wegner, W., Mott, A. C., Grant, S. G. N., Steffens, H. & Willig, K. I. In vivo STED microscopy visualizes PSD95 sub-structures and morphological changes over several hours in the mouse visual cortex. Sci. Rep. 8, 219 (2018).

Turrigiano, G. G., Leslie, K. R., Desai, N. S., Rutherford, L. C. & Nelson, S. B. Activity-dependent scaling of quantal amplitude in neocortical neurons. Nature 391, 892–896 (1998).

Gallimore, A. R., Kim, T., Tanaka-Yamamoto, K. & De Schutter, E. Switching on depression and potentiation in the cerebellum. Cell Rep. 22, 722–733 (2018).

Freer, R. et al. Supersaturated proteins are enriched at synapses and underlie cell and tissue vulnerability in Alzheimer's disease. Heliyon https://doi.org/10.1016/j.heliyon.2019.e02589 (2019).

Wilhelm, B. G. et al. Composition of isolated synaptic boutons reveals the amounts of vesicle trafficking proteins. Science 344, 1023–1028 (2014).

Kirchhausen, T., Owen, D. & Harrison, S. C. Molecular structure, function, and dynamics of clathrin-mediated membrane traffic. Cold Spring Harb. Perspect. Biol. 6, a016725 (2014).

McMahon, H. T. & Boucrot, E. Molecular mechanism and physiological functions of clathrin-mediated endocytosis. Nat. Rev. Mol. Cell Biol. 12, 517–533 (2011).

Pearse, B. M. & Crowther, R. A. Structure and assembly of coated vesicles. Annu. Rev. Biophys. Biophys. Chem. 16, 49–68 (1987).

Blanpied, T. A., Scott, D. B. & Ehlers, M. D. Dynamics and regulation of clathrin coats at specialized endocytic zones of dendrites and spines. Neuron 36, 435–449 (2002).

Esteves da Silva, M. et al. Positioning of AMPA receptor-containing endosomes regulates synapse architecture. Cell Rep. 13, 933–943 (2015).

Shnyrova, A. V. et al. Geometric catalysis of membrane fission driven by flexible dynamin rings. Science 339, 1433–1436 (2013).

Zheng, K. et al. Time-resolved imaging reveals heterogeneous landscapes of nanomolar Ca2+ in neurons and astroglia. Neuron 88, 277–288 (2015).

Higley, M. J. & Sabatini, B. L. Calcium signaling in dendritic spines. Cold Spring Harb. Perspect. Biol. 4, a005686 (2012).

Park, B. J. et al. Calreticulin, a calcium-binding molecular chaperone, is required for stress response and fertility in Caenorhabditis elegans. Mol. Biol. Cell 12, 2835–2845 (2001).

Nakamura, K. et al. Functional specialization of calreticulin domains. J. Cell Biol. 154, 961–972 (2001).

Solovyova, N., Veselovsky, N., Toescu, E. C. & Verkhratsky, A. Ca2+ dynamics in the lumen of the endoplasmic reticulum in sensory neurons: direct visualization of Ca2+-induced Ca2+ release triggered by physiological Ca2+ entry. EMBO J. 21, 622–630 (2002).

Biever, A., Donlin-Asp, P. G. & Schuman, E. M. Local translation in neuronal processes. Curr. Opin. Neurobiol. 57, 141–148 (2019).

Dörrbaum, A. R., Kochen, L., Langer, J. D. & Schuman, E. M. Local and global influences on protein turnover in neurons and glia. eLife 7, e34202 (2018).

Riba, A. et al. Protein synthesis rates and ribosome occupancies reveal determinants of translation elongation rates. Proc. Natl Acad. Sci. USA 116, 15023–15032 (2019).

Alberghina, F. A. M., Sturani, E. & Gohlke, J. R. Levels and rates of synthesis of ribosomal ribonucleic acid, transfer ribonucleic acid, and protein in Neurospora crassa in different steady states of growth. J. Biol. Chem. 250, 4381–4388 (1975).

Forchhammer, J. & Lindahl, L. Growth rate of polypeptide chains as a function of the cell growth rate in a mutant of Escherichia coli 15. J. Mol. Biol. 55, 563–568 (1971).

Miller, S. et al. Disruption of dendritic translation of CaMKIIα impairs stabilization of synaptic plasticity and memory consolidation. Neuron 36, 507–519 (2002).

Richter, K. N. et al. Comparative synaptosome imaging: a semi-quantitative method to obtain copy numbers for synaptic and neuronal proteins. Sci. Rep. 8, 14838 (2018).

Zhu, F. et al. Architecture of the mouse brain synaptome. Neuron 99, 781–799.e10 (2018).

Ciryam, P., Tartaglia, G. G., Morimoto, R. I., Dobson, C. M. & Vendruscolo, M. Widespread aggregation and neurodegenerative diseases are associated with supersaturated proteins. Cell Rep. 5, 781–790 (2013).

Fornasiero, E. F. et al. Precisely measured protein lifetimes in the mouse brain reveal differences across tissues and subcellular fractions. Nat. Commun. 9, 4230 (2018).

Mandad, S. et al. The codon sequences predict protein lifetimes and other parameters of the protein life cycle in the mouse brain. Sci. Rep. 8, 16913 (2018).

Turrigiano, G. G. The self-tuning neuron: synaptic scaling of excitatory synapses. Cell 135, 422–435 (2008).

Matsuda, T. & Cepko, C. L. Controlled expression of transgenes introduced by in vivo electroporation. Proc. Natl Acad. Sci. USA 104, 1027–1032 (2007).

Schikorski, T. & Stevens, C. F. Quantitative ultrastructural analysis of hippocampal excitatory synapses. J. Neurosci. 17, 5858–5867 (1997).

Collins, M. O. et al. Molecular characterization and comparison of the components and multiprotein complexes in the postsynaptic proteome. J. Neurochem. 97, 16–23 (2006).

De Chaumont, F. et al. Icy: an open bioimage informatics platform for extended reproducible research. Nat. Methods 9, 690–696 (2012).

Olivo-Marin, J. C. Extraction of spots in biological images using multiscale products. Pattern Recognit. 35, 1989–1996 (2002).

Wishart, D. M. G. in Numerical Taxonomy (ed. Cole, A. J.) 282–311 (Academic Press, 1969).

Witkin, A. Scale-space filtering: a new approach to multi-scale description. In Proc. ICASSP '84. IEEE International Conference on Acoustics, Speech, and Signal Processing 9 150–153 (Institute of Electrical and Electronics Engineers, 1983).

Leung, Yee, Zhang, Jiang-She & Xu, Zong-Ben Clustering by scale-space filtering. IEEE Trans. Pattern Anal. Mach. Intell. 22, 1396–1410 (2000).

Leibrandt, R. & Günnemann, S. Gauss Shift: Density Attractor Clustering Faster than Mean Shift. In Proc. ECML-PKDD 2020: The European Conference on Machine Learning and Principles and Practice of Knowledge Discovery in Databases (ECML-PKDD) 14–18 (2020).

Fukunaga, K. & Hostetler, L. The estimation of the gradient of a density function, with applications in pattern recognition. IEEE Trans. Inf. Theory 21, 32–40 (1975).

Smith, P. K. et al. Measurement of protein using bicinchoninic acid. Anal. Biochem. 150, 76–85 (1985).

Schwanhäusser, B. et al. Global quantification of mammalian gene expression control. Nature 473, 337–342 (2011).

Jahn, R., Schiebler, W., Ouimet, C. & Greengard, P. A 38,000-dalton membrane protein (p38) present in synaptic vesicles. Proc. Natl Acad. Sci. USA 82, 4137–4141 (1985).

Bohil, A. B., Robertson, B. W. & Cheney, R. E. Myosin-X is a molecular motor that functions in filopodia formation. Proc. Natl Acad. Sci. USA 103, 12411–12416 (2006).

Cohen, L. S. & Studzinski, G. P. Correlation between cell enlargement and nucleic acid and protein content of hela cells in unbalanced growth produced by inhibitors of DNA synthesis. J. Cell. Physiol. 69, 331–339 (1967).

Krombach, F. et al. Cell size of alveolar macrophages: an interspecies comparison. Environ. Health Perspect. 105, 1261–1263 (1997).

Luby-Phelps, K. Cytoarchitecture and physical properties of cytoplasm: volume, viscosity, diffusion, intracellular surface area. Int. Rev. Cytol. 192, 189–221 (2000).

Puck, T. T., Marcus, P. I. & Cieciura, S. J. Clonal growth of mammalian cells in vitro; growth characteristics of colonies from single HeLa cells with and without a feeder layer. J. Exp. Med. 103, 273–283 (1956).

Zhao, L. et al. Intracellular water-specific MR of microbead-adherent cells: the HeLa cell intracellular water exchange lifetime. NMR Biomed. 21, 159–164 (2008).

Philips, R., Kodev, J., Therio, J. & Garcia, H. Physical Biology of the Cell (Garland Science, 2008).

Zou, M., Holloway, M., Carr, N. & Ju, T. Topology-constrained surface reconstruction from cross-sections. ACM Trans. Graph. https://doi.org/10.1145/2766976 (2015).

Roy, A., Kucukural, A. & Zhang, Y. I-TASSER: A unified platform for automated protein structure and function prediction. Nat. Protoc. https://doi.org/10.1038/nprot.2010.5 (2010).

Zhang, Y. I-TASSER server for protein 3D structure prediction. BMC Bioinformatics https://doi.org/10.1186/1471-2105-9-40 (2008).
Acknowledgements
We thank J. Lovric and M. von Elling-Tamen for help with the immunostaining experiments, as well as N. Hartelt and C. Schäfer for expert technical assistance. We thank N. Brose (Göttingen, Germany), V. Haucke (Berlin, Germany), R. Jahn (Göttingen, Germany), P. Jonas (Klosterneuburg, Austria) and V. Nägerl (Bordeaux, France) for advice on the initial manuscript. We would also like to thank E. Fornasiero for many fruitful discussions and comments on the manuscript. The work was supported by a grant to S.O.R. from the Deutsche Forschungsgemeinschaft (DFG; SFB1286/A3, RI 1967/11-1, RI 1967/10-1/NeuroNex; SFB1190/P09, and under Germany's Excellence Strategy - EXC 2067/1-390729940), by a grant to S.O.R. from Nieders Vorab (76251-12-6/19/ZN 3458), by a grant to S.O.R. from the German Ministry for Education and Research (13N15328/NG-FLIM), as well as by a grant to H.U. from the DFG (SFB1286/A8), and by a grant to T.S. (NIH grant R15NS095318).
Ethics declarations
Competing interests
The authors declare no competing interests.
Additional information
Peer review Information Nature Neuroscience thanks the anonymous reviewers for their contribution to the peer review of this work.
Publisher's note Springer Nature remains neutral with regard to jurisdictional claims in published maps and institutional affiliations.
Supplementary information
About this article
Cite this article
Helm, M.S., Dankovich, T.M., Mandad, S. et al. A large-scale nanoscopy and biochemistry analysis of postsynaptic dendritic spines. Nat Neurosci 24, 1151–1162 (2021). https://doi.org/10.1038/s41593-021-00874-w
Received:

Accepted:

Published:

Issue Date:

DOI: https://doi.org/10.1038/s41593-021-00874-w
This article is cited by
Stephanie A. Maynard
Jonas Ranft
Antoine Triller

Nature Reviews Neuroscience (2022)

Xinyang Li
Yixin Li
Qionghai Dai

Nature Biotechnology (2022)

Neuroscience Bulletin (2022)