Abstract
In classical theories of cerebellar cortex, high-dimensional sensorimotor representations are used to separate neuronal activity patterns, improving associative learning and motor performance. Recent experimental studies suggest that cerebellar granule cell (GrC) population activity is low-dimensional. To examine sensorimotor representations from the point of view of downstream Purkinje cell 'decoders', we used three-dimensional acousto-optic lens two-photon microscopy to record from hundreds of GrC axons. Here we show that GrC axon population activity is high dimensional and distributed with little fine-scale spatial structure during spontaneous behaviors. Moreover, distinct behavioral states are represented along orthogonal dimensions in neuronal activity space. These results suggest that the cerebellar cortex supports high-dimensional representations and segregates behavioral state-dependent computations into orthogonal subspaces, as reported in the neocortex. Our findings match the predictions of cerebellar pattern separation theories and suggest that the cerebellum and neocortex use population codes with common features, despite their vastly different circuit structures.
Access options
Subscribe to Nature+
Get immediate online access to Nature and 55 other Nature journal
Subscribe to Journal
Get full journal access for 1 year
$79.00
only $6.58 per issue
All prices are NET prices.
VAT will be added later in the checkout.
Tax calculation will be finalised during checkout.
Buy article
Get time limited or full article access on ReadCube.
$32.00
All prices are NET prices.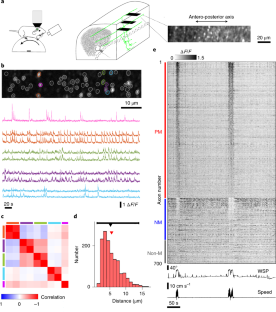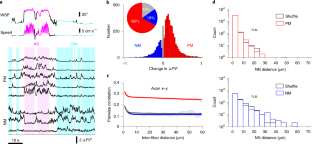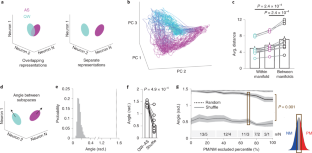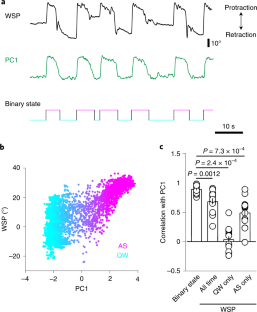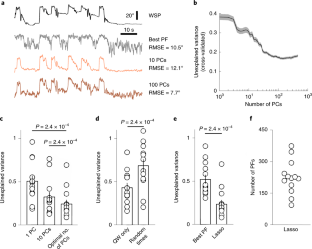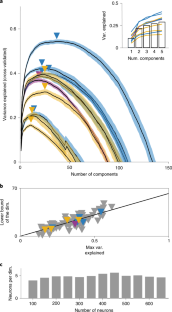 Data availability
Data presented in the main figures and in extended data figures are available in the data source files or on FigShare (https://doi.org/10.5522/04/14482977). Raw data are available upon reasonable request, owing to their size. Source data are provided with this paper.
References
Wolpert, D. M., Miall, R. C. & Kawato, M. Internal models in the cerebellum. Trends Cogn. Sci. 2, 338–347 (1998).

Brooks, J. X., Carriot, J. & Cullen, K. E. Learning to expect the unexpected: rapid updating in primate cerebellum during voluntary self-motion. Nat. Neurosci. 18, 1310–1317 (2015).

Raymond, J. L. & Medina, J. F. Computational principles of supervised learning in the cerebellum. Annu. Rev. Neurosci. 41, 233–253 (2018).

Kelly, R. M. & Strick, P. L. Cerebellar loops with motor cortex and prefrontal cortex of a nonhuman primate. J. Neurosci. 23, 8432–8444 (2003).

van Kan, P. L., Gibson, A. R. & Houk, J. C. Movement-related inputs to intermediate cerebellum of the monkey. J. Neurophysiol. 69, 74–94 (1993).

Arenz, A., Silver, R. A., Schaefer, A. T. & Margrie, T. W. The contribution of single synapses to sensory representation in vivo. Science 321, 977–980 (2008).

Proville, R. D. et al. Cerebellum involvement in cortical sensorimotor circuits for the control of voluntary movements. Nat. Neurosci. 17, 1233–1239 (2014).

Rancz, E. A. et al. High-fidelity transmission of sensory information by single cerebellar mossy fibre boutons. Nature 450, 1245–1248 (2007).

Chabrol, F. P., Arenz, A., Wiechert, M. T., Margrie, T. W. & DiGregorio, D. A. Synaptic diversity enables temporal coding of coincident multisensory inputs in single neurons. Nat. Neurosci. 18, 718–727 (2015).

Marr, D. A theory of cerebellar cortex. J. Physiol. 202, 437–470 (1969).

Albus, J. S. A theory of cerebellar function. Math. Biosci. 10, 25–61 (1971).

Cayco-Gajic, N. A. & Silver, R. A. Re-evaluating circuit mechanisms underlying pattern separation. Neuron 101, 584–602 (2019).

Cayco-Gajic, N. A., Clopath, C. & Silver, R. A. Sparse synaptic connectivity is required for decorrelation and pattern separation in feedforward networks. Nat. Commun. 8, 1116 (2017).

Litwin-Kumar, A., Harris, K. D., Axel, R., Sompolinsky, H. & Abbott, L. F. Optimal degrees of synaptic connectivity. Neuron 93, 1153–1164 (2017).

Fusi, S., Miller, E. K. & Rigotti, M. Why neurons mix: high dimensionality for higher cognition. Curr. Opin. Neurobiol. 37, 66–74 (2016).

Stringer, C., Pachitariu, M., Steinmetz, N., Carandini, M. & Harris, K. D. High-dimensional geometry of population responses in visual cortex. Nature 571, 361–365 (2019).

Rigotti, M. et al. The importance of mixed selectivity in complex cognitive tasks. Nature 497, 585–590 (2013).

Stringer, C. et al. Spontaneous behaviors drive multidimensional, brainwide activity. Science 364, 255 (2019).

Knogler, L. D., Markov, D. A., Dragomir, E. I., Štih, V. & Portugues, R. Sensorimotor representations in cerebellar granule cells in larval zebrafish are dense, spatially organized, and non-temporally patterned. Curr. Biol. 27, 1288–1302 (2017).

Wagner, M. J. et al. Shared cortex-cerebellum dynamics in the execution and learning of a motor task. Cell 177, 669–682 (2019).

Gao, P. & Ganguli, S. On simplicity and complexity in the brave new world of large-scale neuroscience. Curr. Opin. Neurobiol. 32, 148–155 (2015).

Chen, S., Augustine, G. J. & Chadderton, P. Serial processing of kinematic signals by cerebellar circuitry during voluntary whisking. Nat. Commun. 8, 232 (2017).

Shambes, G. M., Gibson, J. M. & Welker, W. Fractured somatotopy in granule cell tactile areas of rat cerebellar hemispheres revealed by micromapping. Brain Behav. Evol. 15, 94–140 (1978).

Giovannucci, A. et al. Cerebellar granule cells acquire a widespread predictive feedback signal during motor learning. Nat. Neurosci. 20, 727–734 (2017).

Ozden, I., Dombeck, D. A., Hoogland, T. M., Tank, D. W. & Wang, S. S.-H. Widespread state-dependent shifts in cerebellar activity in locomoting mice. PLoS ONE 7, e42650 (2012).

Rebola, N. et al. Distinct nanoscale calcium channel and synaptic vesicle topographies contribute to the diversity of synaptic function. Neuron 104, 693–710 (2019).

Nadella, K. M. N. S. et al. Random-access scanning microscopy for 3D imaging in awake behaving animals. Nat. Methods 13, 1001–1004 (2016).

Pichitpornchai, C., Rawson, J. A. & Rees, S. Morphology of parallel fibres in the cerebellar cortex of the rat: an experimental light and electron microscopic study with biocytin. J. Comp. Neurol. 342, 206–220 (1994).

Wilms, C. D. & Häusser, M. Reading out a spatiotemporal population code by imaging neighbouring parallel fibre axons in vivo. Nat. Commun. 6, 6464 (2015).

Gallego, J. A., Perich, M. G., Miller, L. E. & Solla, S. A. Neural manifolds for the control of movement. Neuron 94, 978–984 (2017).

Li, N., Daie, K., Svoboda, K. & Druckmann, S. Robust neuronal dynamics in premotor cortex during motor planning. Nature 532, 459–464 (2016).

Elsayed, G. F., Lara, A. H., Kaufman, M. T., Churchland, M. M. & Cunningham, J. P. Reorganization between preparatory and movement population responses in motor cortex. Nat. Commun. 7, 13239 (2016).

Lange, W. Cell number and cell density in the cerebellar cortex of man and some other mammals. Cell Tissue Res. 157, 115–124 (1975).

Chen, S., Augustine, G. J. & Chadderton, P. The cerebellum linearly encodes whisker position during voluntary movement. eLife 5, e10509 (2016).

Zhou, H. et al. Cerebellar modules operate at different frequencies. eLife 3, e02536 (2014).

De Zeeuw, C. I. Bidirectional learning in upbound and downbound microzones of the cerebellum. Nat. Rev. Neurosci. 22, 92–110 (2021).

Krakauer, J. W., Ghazanfar, A. A., Gomez-Marin, A., MacIver, M. A. & Poeppel, D. Neuroscience needs behavior: correcting a reductionist bias. Neuron 93, 480–490 (2017).

Musall, S., Urai, A. E., Sussillo, D. & Churchland, A. K. Harnessing behavioral diversity to understand neural computations for cognition. Curr. Opin. Neurobiol. 58, 229–238 (2019).

Silver, R. A. Neuronal arithmetic. Nat. Rev. Neurosci. 11, 474–489 (2010).

Walter, J. T. & Khodakhah, K. The linear computational algorithm of cerebellar Purkinje cells. J. Neurosci. 26, 12861–12872 (2006).

Brunel, N., Hakim, V., Isope, P., Nadal, J.-P. & Barbour, B. Optimal information storage and the distribution of synaptic weights: perceptron versus Purkinje cell. Neuron 43, 745–757 (2004).

Valera, A. M. et al. Stereotyped spatial patterns of functional synaptic connectivity in the cerebellar cortex. eLife 5, e09862 (2016).

Suvrathan, A., Payne, H. L. & Raymond, J. L. Timing rules for synaptic plasticity matched to behavioral function. Neuron 92, 959–967 (2016).

Ito, M. Control of mental activities by internal models in the cerebellum. Nat. Rev. Neurosci. 9, 304–313 (2008).

Vyas, S. et al. Neural population dynamics underlying motor learning transfer. Neuron 97, 1177–1186 (2018).

Gao, Z. et al. A cortico-cerebellar loop for motor planning. Nature 563, 113–116 (2018).

Chabrol, F. P., Blot, A. & Mrsic-Flogel, T. D. Cerebellar contribution to preparatory activity in motor neocortex. Neuron 103, 506–519 (2019).

Peters, A. J., Lee, J., Hedrick, N. G., O'Neil, K. & Komiyama, T. Reorganization of corticospinal output during motor learning. Nat. Neurosci. 20, 1133–1141 (2017).

Person, A. L. Corollary discharge signals in the cerebellum. Biol. Psychiatry Cogn. Neurosci. Neuroimaging 4, 813–819 (2019).

Semedo, J. D., Zandvakili, A., Machens, C. K., Yu, B. M. & Kohn, A. Cortical areas interact through a communication subspace. Neuron 102, 249–259 (2019).

Chen, T.-W. et al. Ultrasensitive fluorescent proteins for imaging neuronal activity. Nature 499, 295–300 (2013).

Huang, C.-C. et al. Convergence of pontine and proprioceptive streams onto multimodal cerebellar granule cells. eLife 2, e00400 (2013).

Nunzi, M. G., Russo, M. & Mugnaini, E. Vesicular glutamate transporters VGLUT1 and VGLUT2 define two subsets of unipolar brush cells in organotypic cultures of mouse vestibulocerebellum. Neuroscience 122, 359–371 (2003).

Hioki, H. et al. Differential distribution of vesicular glutamate transporters in the rat cerebellar cortex. Neuroscience 117, 1–6 (2003).

Kirkby, P. A., Srinivas Nadella, K. M. N. & Silver, R. A. A compact acousto-optic lens for 2D and 3D femtosecond based 2-photon microscopy. Opt. Express 18, 13721–13745 (2010).

Fernández-Alfonso, T. et al. Monitoring synaptic and neuronal activity in 3D with synthetic and genetic indicators using a compact acousto-optic lens two-photon microscope. J. Neurosci. Methods 222, 69–81 (2014).

Griffiths, V. A. et al. Real-time 3D movement correction for two-photon imaging in behaving animals. Nat. Methods 17, 741–748 (2020).

Guizar-Sicairos, M., Thurman, S. T. & Fienup, J. R. Efficient subpixel image registration algorithms. Opt. Lett. 33, 156–158 (2008).

Mathis, A. et al. DeepLabCut: markerless pose estimation of user-defined body parts with deep learning. Nat. Neurosci. 21, 1281–1289 (2018).

Sofroniew, N. J., Cohen, J. D., Lee, A. K. & Svoboda, K. Natural whisker-guided behavior by head-fixed mice in tactile virtual reality. J. Neurosci. 34, 9537–9550 (2014).

Hill, D. N., Curtis, J. C., Moore, J. D. & Kleinfeld, D. Primary motor cortex reports efferent control of vibrissa motion on multiple timescales. Neuron 72, 344–356 (2011).

Jelitai, M., Puggioni, P., Ishikawa, T., Rinaldi, A. & Duguid, I. Dendritic excitation–inhibition balance shapes cerebellar output during motor behaviour. Nat. Commun. 7, 13722 (2016).

Pnevmatikakis, E. A. et al. Simultaneous denoising, deconvolution, and demixing of calcium imaging data. Neuron 89, 285–299 (2016).

Zhou, P. et al. Efficient and accurate extraction of in vivo calcium signals from microendoscopic video data. eLife 7, e28728 (2018).

Pachitariu, M. et al. Suite2p: beyond 10,000 neurons with standard two-photon microscopy. Preprint at bioRxiv https://doi.org/10.1101/061507 (2017).

Björck, Ȧke & Golub, G. H. Numerical methods for computing angles between linear subspaces. Math. Comput. 27, 579–594 (1973).

Owen, A. B. & Perry, P. O. Bi-cross-validation of the SVD and the nonnegative matrix factorization. Ann. Appl. Stat. 3, 564–594 (2009).
Acknowledgements
This project was supported by the Wellcome Trust (095667 and 203048) and the Agence Nationale de la Recherche (ANR-17-EURE-0017). R.A.S. is supported by a Wellcome Trust Principal Research Fellowship. F.L. was supported by a postdoctoral Fondation Fyssen fellowship, a Marie Curie fellowship (Project No 331710, FP7 program) and the Wellcome Trust (203048). F.L. is now funded by the Centre National de la Recherche Scientifique. H.G. was funded by the Wellcome Trust PhD program (203734). We acknowledge the GENIE Program and the Janelia Research Campus of Howard Hughes Medical Institute for making the GCaMP6 material available. We thank A. Hantmann (Janelia Research Campus) for providing the Slc17a7-Cre transgenic mice and A. Litwin-Kumar, T. Otis, K. D. Harris, D. Attwell, L. Justus, T. J. Younts, A. Valera, J. S. Rothman and T. Fernandez Alfonso for their comments on the manuscript.
Ethics declarations
Competing interests
R.A.S. is a named inventor on patents owned by UCL Business relating to linear and non-linear acousto-optic lens 3D laser scanning technology. The remaining authors declare no competing financial interests.
Additional information
Peer review information Nature Neuroscience thanks the anonymous reviewers for their contribution to the peer review of this work.
Publisher's note Springer Nature remains neutral with regard to jurisdictional claims in published maps and institutional affiliations.
Supplementary information
About this article
Cite this article
Lanore, F., Cayco-Gajic, N.A., Gurnani, H. et al. Cerebellar granule cell axons support high-dimensional representations. Nat Neurosci 24, 1142–1150 (2021). https://doi.org/10.1038/s41593-021-00873-x
Received:

Accepted:

Published:

Issue Date:

DOI: https://doi.org/10.1038/s41593-021-00873-x
This article is cited by
Tri M. Nguyen
Logan A. Thomas
Wei-Chung Allen Lee

Nature (2023)