Abstract
Context-based sensorimotor routing is a hallmark of executive control. Pharmacological inactivations in rats have implicated the midbrain superior colliculus (SC) in this process. But what specific role is this, and what circuit mechanisms support it? Here we report a subset of rat SC neurons that instantiate a specific link between the representations of context and motor choice. Moreover, these neurons encode animals' choice far earlier than other neurons in the SC or in the frontal cortex, suggesting that their neural dynamics lead choice computation. Optogenetic inactivations revealed that SC activity during context encoding is necessary for choice behavior, even while that choice behavior is robust to inactivations during choice formation. Searches for SC circuit models matching our experimental results identified key circuit predictions while revealing some a priori expected features as unnecessary. Our results reveal circuit mechanisms within the SC that implement response inhibition and context-based vector inversion during executive control.
Relevant articles
Open Access articles citing this article.
Shinichiro Kira

,

Houman Safaai

…

Christopher D. Harvey

Nature Communications Open Access 14 April 2023

Ivan Voitov

&

Thomas D. Mrsic-Flogel

Nature Open Access 27 July 2022

Xing-feng Mao

,

Shuai-shuai Wang

&

Feng Han

Signal Transduction and Targeted Therapy Open Access 08 June 2022
Access options
Access Nature and 54 other Nature Portfolio journals
Get Nature+, our best-value online-access subscription
$29.99 / 30 days
cancel any time
Subscribe to this journal
Receive 12 print issues and online access
$209.00 per year
only $17.42 per issue
Rent or buy this article
Prices vary by article type
from$1.95
to$39.95
Prices may be subject to local taxes which are calculated during checkout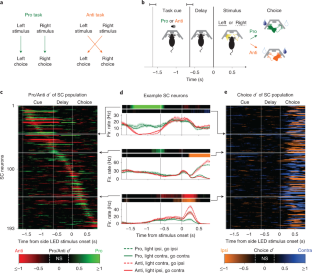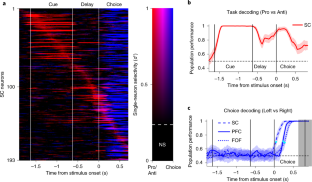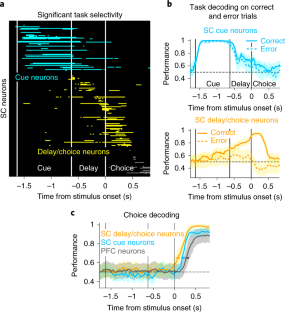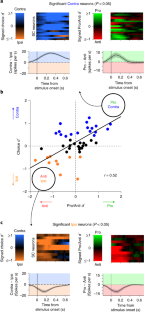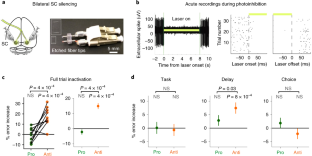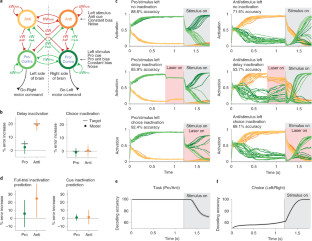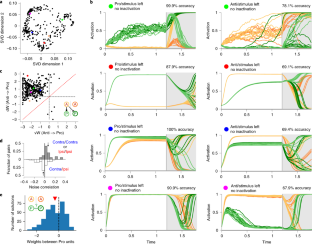 References
Miller, E. K. & Cohen, J. D. An integrative theory of prefrontal cortex function. Annu. Rev. Neurosci. 24, 167–202 (2001).

Hallett, P. E. Primary and secondary saccades to goals defined by instructions. Vis. Res. 18, 1279–1296 (1978).

Duan, C. A., Erlich, J. C. & Brody, C. D. Requirement of prefrontal and midbrain regions for rapid executive control of behavior in the rat. Neuron 86, 1491–1503 (2015).

Weiler, J. & Heath, M. Task-switching in oculomotor control: unidirectional switch-cost when alternating between pro- and antisaccades. Neurosci. Lett. 530, 150–154 (2012).

Munoz, D. P. & Everling, S. Look away: the anti-saccade task and the voluntary control of eye movement. Nat. Rev. Neurosci. 5, 218–228 (2004).

Everling, S. & Fischer, B. The antisaccade: a review of basic research and clinical studies. Neuropsychologia 36, 885–899 (1998).

Hutton, S. B. & Ettinger, U. The antisaccade task as a research tool in psychopathology: a critical review. Psychophysiology 43, 302–313 (2006).

Lo, C.-C. & Wang, X.-J. Conflict resolution as near-threshold decision-making: a spiking neural circuit model with two-stage competition for antisaccadic task. PLoS Comput. Biol. 12, e1005081 (2016).

Everling, S. & Johnston, K. Control of the superior colliculus by the lateral prefrontal cortex. Philos. Trans. R. Soc. Lond. B Biol. Sci. 368, 20130068 (2013).

Felsen, G. & Mainen, Z. F. Neural substrates of sensory-guided locomotor decisions in the rat superior colliculus. Neuron 60, 137–148 (2008).

Sparks, D. L. & Hartwich-Young, R. The deep layers of the superior colliculus. Rev. Oculomot. Res. 2, 213–255 (1989).

Wurtz, R. H. & Goldberg, M. E. Activity of superior colliculus in behaving monkey. 3. Cells discharging before eye movements. J. Neurophysiol. 35, 575–586 (1972).

Evans, D. A., Stempel, A. V., Vale, R. & Branco, T. Cognitive control of escape behaviour. Trends Cogn. Sci. 23, 334–348 (2019).

Gandhi, N. J. & Katnani, H. A. Motor functions of the superior colliculus. Annu. Rev. Neurosci. 34, 205–231 (2011).

Robinson, D. A. Eye movements evoked by collicular stimulation in the alert monkey. Vis. Res. 12, 1795–1808 (1972).

Johnston, K., Koval, M. J., Lomber, S. G. & Everling, S. Macaque dorsolateral prefrontal cortex does not suppress saccade-related activity in the superior colliculus. Cereb. Cortex 24, 1373–1388 (2014).

Basso, M. A. & May, P. J. Circuits for action and cognition: a view from the superior colliculus. Annu Rev. Vis. Sci. 3, 197–226 (2017).

Wolf, A. B. et al. An integrative role for the superior colliculus in selecting targets for movements. J. Neurophysiol. 114, 2118–2131 (2015).

Krauzlis, R. J., Lovejoy, L. P. & Zénon, A. Superior colliculus and visual spatial attention. Annu. Rev. Neurosci. 36, 165–182 (2013).

Crapse, T. B., Lau, H. & Basso, M. A. A role for the superior colliculus in decision criteria. Neuron 97, 181–194.e6 (2018).

Horwitz, G. D., Batista, A. P. & Newsome, W. T. Representation of an abstract perceptual decision in macaque superior colliculus. J. Neurophysiol. 91, 2281–2296 (2004).

Duan, C. A. et al. A cortico-collicular pathway for motor planning in a memory-dependent perceptual decision task. Nat. Commun. 12, 2727 (2021).

Schmitt, L. I. et al. Thalamic amplification of cortical connectivity sustains attentional control. Nature 545, 219–223 (2017).

Erlich, J. C., Bialek, M. & Brody, C. D. A cortical substrate for memory-guided orienting in the rat. Neuron 72, 330–343 (2011).

Kopec, C. D., Erlich, J. C., Brunton, B. W., Deisseroth, K. & Brody, C. D. Cortical and subcortical contributions to short-term memory for orienting movements. Neuron 88, 367–377 (2015).

Felsen, G. & Mainen, Z. F. Midbrain contributions to sensorimotor decision making. J. Neurophysiol. 108, 135–147 (2012).

Everling, S., Dorris, M. C., Klein, R. M. & Munoz, D. P. Role of primate superior colliculus in preparation and execution of anti-saccades and pro-saccades. J. Neurosci. 19, 2740–2754 (1999).

Rigotti, M. et al. The importance of mixed selectivity in complex cognitive tasks. Nature 497, 585–590 (2013).

Mante, V., Sussillo, D., Shenoy, K. V. & Newsome, W. T. Context-dependent computation by recurrent dynamics in prefrontal cortex. Nature 503, 78–84 (2013).

Pagan, M., Urban, L. S., Wohl, M. P. & Rust, N. C. Signals in inferotemporal and perirhinal cortex suggest an untangling of visual target information. Nat. Neurosci. 16, 1132–1139 (2013).

Hanks, T. D. et al. Distinct relationships of parietal and prefrontal cortices to evidence accumulation. Nature 520, 220–223 (2015).

Prinz, A. A., Bucher, D. & Marder, E. Similar network activity from disparate circuit parameters. Nat. Neurosci. 7, 1345–1352 (2004).

Fisher, D., Olasagasti, I., Tank, D. W., Aksay, E. R. F. & Goldman, M. S. A modeling framework for deriving the structural and functional architecture of a short-term memory microcircuit. Neuron 79, 987–1000 (2013).

Bittner, S. R. et al. Interrogating theoretical models of neural computation with deep inference. Preprint at bioRxiv https://doi.org/10.1101/837567 (2019).

Dean, P., Mitchell, I. J. & Redgrave, P. Contralateral head movements produced by microinjection of glutamate into superior colliculus of rats: evidence for mediation by multiple output pathways. Neuroscience 24, 491–500 (1988).

May, P. J. The mammalian superior colliculus: laminar structure and connections. Prog. Brain Res. 151, 321–378 (2006).

Machens, C. K., Romo, R. & Brody, C. D. Flexible control of mutual inhibition: a neural model of two-interval discrimination. Science 307, 1121–1124 (2005).

Cutsuridis, V., Smyrnis, N., Evdokimidis, I. & Perantonis, S. A neural model of decision-making by the superior colliculus in an antisaccade task. Neural Netw. 20, 690–704 (2007).

Wong, K.-F. & Wang, X.-J. A recurrent network mechanism of time integration in perceptual decisions. J. Neurosci. 26, 1314–1328 (2006).

Steinmetz, N. A., Zatka-Haas, P., Carandini, M. & Harris, K. D. Distributed coding of choice, action and engagement across the mouse brain. Nature 576, 266–273 (2019).

Uylings, H. B. M., Groenewegen, H. J. & Kolb, B. Do rats have a prefrontal cortex? Behav. Brain Res. 146, 3–17 (2003).

Seamans, J. K., Lapish, C. C. & Durstewitz, D. Comparing the prefrontal cortex of rats and primates: insights from electrophysiology. Neurotox. Res. 14, 249–262 (2008).

Everling, S. & DeSouza, J. F. X. Rule-dependent activity for prosaccades and antisaccades in the primate prefrontal cortex. J. Cogn. Neurosci. 17, 1483–1496 (2005).

Johnston, K. & Everling, S. Monkey dorsolateral prefrontal cortex sends task-selective signals directly to the superior colliculus. J. Neurosci. 26, 12471–12478 (2006).

Zénon, A. & Krauzlis, R. J. Attention deficits without cortical neuronal deficits. Nature 489, 434–437 (2012).

McPeek, R. M. & Keller, E. L. Deficits in saccade target selection after inactivation of superior colliculus. Nat. Neurosci. 7, 757–763 (2004).

Sahibzada, N., Dean, P. & Redgrave, P. Movements resembling orientation or avoidance elicited by electrical stimulation of the superior colliculus in rats. J. Neurosci. 6, 723–733 (1986).

Dean, P., Redgrave, P. & Westby, G. W. Event or emergency? Two response systems in the mammalian superior colliculus. Trends Neurosci. 12, 137–147 (1989).

Aschauer, D. F., Kreuz, S. & Rumpel, S. Analysis of transduction efficiency, tropism and axonal transport of AAV serotypes 1, 2, 5, 6, 8 and 9 in the mouse brain. PLoS ONE 8, e76310 (2013).

Franceschi, G. & Solomon, S. G. Visual response properties of neurons in the superficial layers of the superior colliculus of awake mouse. J. Physiol. 596, 6307–6332 (2018).

Pagan, M. & Rust, N. C. Dynamic target match signals in perirhinal cortex can be explained by instantaneous computations that act on dynamic input from inferotemporal cortex. J. Neurosci. 34, 11067–11084 (2014).

Tibshirani, R. J. & Efron, B. An introduction to the bootstrap. Monogr. Stat. Appl. Probab. 57, 1–436 (1993).

Goldman, M. S. Memory without feedback in a neural network. Neuron 93, 715 (2017).

Murphy, B. K. & Miller, K. D. Balanced amplification: a new mechanism of selective amplification of neural activity patterns. Neuron 61, 635–648 (2009).

Schaub, M. T., Billeh, Y. N., Anastassiou, C. A., Koch, C. & Barahona, M. Emergence of slow-switching assemblies in structured neuronal networks. PLoS Comput. Biol. 11, e1004196 (2015).
Acknowledgements
We thank K. Osorio and J. Teran for animal and laboratory support. This work was funded by the Howard Hughes Medical Institute. C.A.D. was supported by a Howard Hughes Medical Institute predoctoral fellowship. C.A.D. and M.P. are supported by a Simons Collaboration on the Global Brain postdoctoral fellowship.
Ethics declarations
Competing interests
The authors declare no competing interests.
Additional information
Peer review information Nature Neuroscience thanks Gidon Felsen and the other, anonymous, reviewer(s) for their contribution to the peer review of this work.
Publisher's note Springer Nature remains neutral with regard to jurisdictional claims in published maps and institutional affiliations.
Supplementary information
Supplementary Methods and Supplementary Figs. 1–10.
About this article
Cite this article
Duan, C.A., Pagan, M., Piet, A.T. et al. Collicular circuits for flexible sensorimotor routing. Nat Neurosci 24, 1110–1120 (2021). https://doi.org/10.1038/s41593-021-00865-x
Received:

Accepted:

Published:

Issue Date:

DOI: https://doi.org/10.1038/s41593-021-00865-x