Abstract
Advanced technologies for controlled delivery of light to targeted locations in biological tissues are essential to neuroscience research that applies optogenetics in animal models. Fully implantable, miniaturized devices with wireless control and power-harvesting strategies offer an appealing set of attributes in this context, particularly for studies that are incompatible with conventional fiber-optic approaches or battery-powered head stages. Limited programmable control and narrow options in illumination profiles constrain the use of existing devices. The results reported here overcome these drawbacks via two platforms, both with real-time user programmability over multiple independent light sources, in head-mounted and back-mounted designs. Engineering studies of the optoelectronic and thermal properties of these systems define their capabilities and key design considerations. Neuroscience applications demonstrate that induction of interbrain neuronal synchrony in the medial prefrontal cortex shapes social interaction within groups of mice, highlighting the power of real-time subject-specific programmability of the wireless optogenetic platforms introduced here.
Relevant articles
Open Access articles citing this article.
Yixin Wu

,

Mingzheng Wu

…

John A. Rogers

Nature Communications Open Access 22 September 2022

Xumin Gao

,

Pengzhan Liu

…

Yongjin Wang

Communications Engineering Open Access 07 July 2022

Masaharu Ohashi

,

Yoshihiro Takahashi

…

Takumi Fujiwara

Scientific Reports Open Access 21 May 2022
Access options
Access Nature and 54 other Nature Portfolio journals
Get Nature+, our best-value online-access subscription
$29.99 per month
cancel any time
Subscribe to this journal
Receive 12 print issues and online access
$189.00 per year
only $15.75 per issue
Rent or buy this article
Get just this article for as long as you need it
$39.95
Prices may be subject to local taxes which are calculated during checkout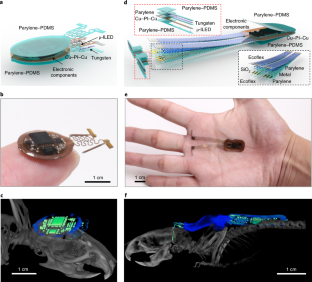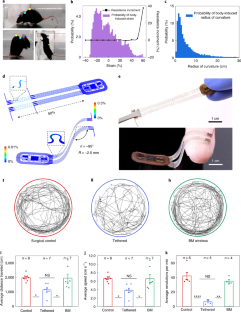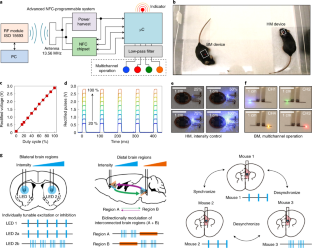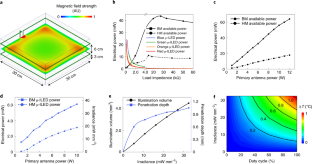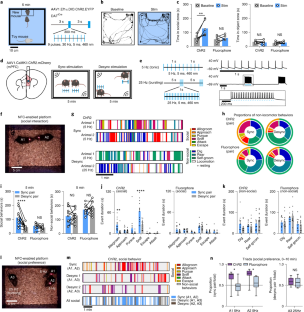 References
Bassett, D. S. & Sporns, O. Network neuroscience. Nat. Neurosci. 20, 353–364 (2017).

Klapoetke, N. C. et al. Independent optical excitation of distinct neural populations. Nat. Methods 11, 338–346 (2014).

Boyden, E. S., Zhang, F., Bamberg, E., Nagel, G. & Deisseroth, K. Millisecond-timescale, genetically targeted optical control of neural activity. Nat. Neurosci. 8, 1263–1268 (2005).

Deisseroth, K. Optogenetics. Nat. Methods 8, 26–29 (2011).

Yizhar, O., Fenno, L. E., Davidson, T. J., Mogri, M. & Deisseroth, K. Optogenetics in neural systems. Neuron 71, 9–34 (2011).

Park, S. et al. One-step optogenetics with multifunctional flexible polymer fibers. Nat. Neurosci. 20, 612–619 (2017).

Montgomery, K. L. et al. Wirelessly powered, fully internal optogenetics for brain, spinal and peripheral circuits in mice. Nat. Methods 12, 969–974 (2015).

Shin, G. et al. Flexible near-field wireless optoelectronics as subdermal implants for broad applications in optogenetics. Neuron 93, 509–521 (2017).

Gutruf, P. & Rogers, J. A. Implantable, wireless device platforms for neuroscience research. Curr. Opin. Neurobiol. 50, 42–49 (2017).

Gutruf, P. et al. Fully implantable optoelectronic systems for battery-free, multimodal operation in neuroscience research. Nat. Electron. 1, 652–660 (2018).

Park, S. I. L. et al. Soft, stretchable, fully implantable miniaturized optoelectronic systems for wireless optogenetics. Nat. Biotechnol. 33, 1280–1286 (2015).

Gold, B. T. & Buckner, R. L. Common prefrontal regions coactivate with dissociable posterior regions during controlled semantic and phonological tasks. Neuron 35, 803–812 (2002).

Crossley, N. A. et al. Cognitive relevance of the community structure of the human brain functional coactivation network. Proc. Natl Acad. Sci. USA 110, 11583–11588 (2013).

Marlin, B. J., Mitre, M., D'amour, J. A., Chao, M. V. & Froemke, R. C. Oxytocin enables maternal behaviour by balancing cortical inhibition. Nature 520, 499–504 (2015).

Capelli, P., Pivetta, C., Soledad Esposito, M. & Arber, S. Locomotor speed control circuits in the caudal brainstem. Nature 551, 373–377 (2017).

Hitchcott, P. K., Quinn, J. J. & Taylor, J. R. Bidirectional modulation of goal-directed actions by prefrontal cortical dopamine. Cereb. Cortex 17, 2820–2827 (2007).

Tye, K. M. et al. Amygdala circuitry mediating reversible and bidirectional control of anxiety. Nature 471, 358–362 (2011).

Ma, T. et al. Bidirectional and long-lasting control of alcohol-seeking behavior by corticostriatal LTP and LTD. Nat. Neurosci. 21, 373–383 (2018).

Pashaie, R. et al. Optogenetic brain interfaces. IEEE Rev. Biomed. Eng. 7, 3–30 (2014).

Gunaydin, L. A. et al. Natural neural projection dynamics underlying social behavior. Cell 157, 1535–1551 (2014).

Yizhar, O. Optogenetic insights into social behavior function. Biol. Psychiatry 71, 1075–1080 (2012).

Mathis, A. et al. DeepLabCut: markerless pose estimation of user-defined body parts with deep learning. Nat. Neurosci. 21, 1281–1289 (2018).

Zhang, Y. et al. Experimental and theoretical studies of serpentine microstructures bonded to prestrained elastomers for stretchable electronics. Adv. Funct. Mater. 24, 2028–2037 (2014).

Scott, W. W. ASM Specialty Handbook: Copper and Copper Alloys (ASM International, 2001).

Lu, L. et al. Wireless optoelectronic photometers for monitoring neuronal dynamics in the deep brain. Proc. Natl Acad. Sci. USA 115, E1374–E1383 (2018).

Morales, M. & Margolis, E. B. Ventral tegmental area: cellular heterogeneity, connectivity and behaviour. Nat. Rev. Neurosci. 18, 73–85 (2017).

Lammel, S., Lim, B. K. & Malenka, R. C. Reward and aversion in a heterogeneous midbrain dopamine system. Neuropharmacology 76, 351–359 (2014).

Tsai, H.-C. et al. Phasic firing in dopaminergic neurons is sufficient for behavioral conditioning. Science 324, 1080–1084 (2009).

Kingsbury, L. et al. Correlated neural activity and encoding of behavior across brains of socially interacting animals. Cell 178, 429–446 (2019).

Kingsbury, L. & Hong, W. A multi-brain framework for social interaction. Trends Neurosci. 43, 651–666 (2020).

Yun, K., Watanabe, K. & Shimojo, S. Interpersonal body and neural synchronization as a marker of implicit social interaction. Sci. Rep. 2, 959 (2012).

Toppi, J. et al. Investigating cooperative behavior in ecological settings: an EEG hyperscanning study. PLoS ONE 11, e0154236 (2016).

Jia, Y. et al. A mm-sized free-floating wirelessly powered implantable optical stimulation device. IEEE Trans. Biomed. Circuits Syst. 13, 608–618 (2018).

Lee, S. Y. et al. 22.7 A programmable wireless EEG monitoring SoC with open/closed-loop optogenetic and electrical stimulation for epilepsy control. In 2019 IEEE International Solid-State Circuits Conference 372–374 (IEEE, 2019).

Montague, P. R. et al. Hyperscanning: simultaneous fMRI during linked social interactions. Neuroimage 16, 1159–1164 (2002).

Hasson, U., Ghazanfar, A. A., Galantucci, B., Garrod, S. & Keysers, C. Brain-to-brain coupling: a mechanism for creating and sharing a social world. Trends Cogn. Sci. 16, 114–121 (2012).

Liu, T. & Pelowski, M. A new research trend in social neuroscience: towards an interactive-brain neuroscience. Psych. J. 3, 177–188 (2014).

Zhang, W. & Yartsev, M. M. Correlated neural activity across the brains of socially interacting bats. Cell 178, 413–428 (2019).

Bazrafkan, S. & Kazemi, K. Modeling time resolved light propagation inside a realistic human head model. J. Biomed. Phys. Eng. 4, 49–60 (2014).

Stujenske, J. M., Spellman, T. & Gordon, J. A. Modeling the spatiotemporal dynamics of light and heat propagation for in vivo optogenetics. Cell Rep. 12, 525–534 (2015).

Aronov, D. & Fee, M. S. Analyzing the dynamics of brain circuits with temperature: design and implementation of a miniature thermoelectric device. J. Neurosci. Methods 197, 32–47 (2011).

Schindelin, J. et al. Fiji: an open-source platform for biological-image analysis. Nat. Methods 9, 676–682 (2012).

Xiao, L., Priest, M. F., Nasenbeny, J., Lu, T. & Kozorovitskiy, Y. Biased oxytocinergic modulation of midbrain dopamine systems. Neuron 95, 368–384 (2017).

Xiao, L., Priest, M. F. & Kozorovitskiy, Y. Oxytocin functions as a spatiotemporal filter for excitatory synaptic inputs to VTA dopamine neurons. eLife 7, e33892 (2018).

Wu, M., Minkowicz, S., Dumrongprechachan, V., Hamilton, P. & Kozorovitskiy, Y. Ketamine rapidly enhances glutamate-evoked dendritic spinogenesis in medial prefrontal cortex through dopaminergic mechanisms. Biol. Psychiatry https://doi.org/10.1016/j.biopsych.2020.12.022 (2021).

Rodriguez, A. et al. ToxTrac: a fast and robust software for tracking organisms. Methods Ecol. Evol. 9, 460–464 (2018).

Friard, O. & Gamba, M. BORIS: a free, versatile open-source event-logging software for video/audio coding and live observations. Methods Ecol. Evol. 7, 1325–1330 (2016).

Broom, L. et al. A translational approach to capture gait signatures of neurological disorders in mice and humans. Sci. Rep. 7, 3225 (2017).
Acknowledgements
This work used the Northwestern University Micro/Nano Fabrication Facility, which is partially supported by the Soft and Hybrid Nanotechnology Experimental Resource (NSF ECCS-1542205), the Materials Research Science and Engineering Center (DMR-1720139), the State of Illinois and Northwestern University. Research reported in this publication was supported by the National Institute of Mental Health of the National Institutes of Health under award number R44MH114944 (to NeuroLux Inc.). This work was funded by NINDS R01NS106953 to R.W.G. and the Medical Scientist Training Program grant T32GM07200 and NINDS NRSA 5F31NS103472-02 to J.G.G.-R. Surgical and imaging work was performed by the Developmental Therapeutics Core and the Center for Advanced Molecular Imaging at Northwestern University, which are generously supported by NCI CCSG P30 CA060553 awarded to the Robert H. Lurie Comprehensive Cancer Center. Histology services were provided by the Northwestern University Mouse Histology and Phenotyping Laboratory, which is supported by NCI P30 CA060553 awarded to the Robert H. Lurie Comprehensive Cancer Center. From the US Army Medical Research Institute of Chemical Defense, we thank J. Abraham for his assistance with graphics, T. Shih for sharing his laboratory space and A. Collazo Martinez for laboratory support. C.H.G. is supported by the LUCI program, sponsored by the Basic Research Office, Office of Under Secretary of Defense for Research and Engineering. Y.K. is supported by the NIH (R01MH117111 and R01NS107539), a Rita Allen Foundation Scholar Award, the Searle Scholar Award and a Beckman Young Investigator Award. M.W. is supported as an affiliate fellow of the NIH (T32 AG20506), and S. Minkowicz is supported by the NSF GRFP (DGE-1842165). V.D. is a predoctoral fellow of the American Heart Association (19PRE34380056). Z.R.D. is supported by NIH DP2OD026143, a Whitehall Foundation grant and the Dana Foundation. Z.X. acknowledges support from the National Natural Science Foundation of China (grant no. 12072057) and Fundamental Research Funds for the Central Universities (grant no. DUT20RC(3)032). Y.H. acknowledges support from the NSF (CMMI1635443).
Ethics declarations
Competing interests
R.W.G., A.B. and J.A.R. are cofounders in a company, Neurolux, Inc., that offers related technology products to the neuroscience community.
Additional information
Peer review information Nature Neuroscience thanks Avishek Adhikari, Ada Poon, and the other, anonymous, reviewer(s) for their contribution to the peer review of this work.
Publisher's note Springer Nature remains neutral with regard to jurisdictional claims in published maps and institutional affiliations.
Supplementary information
Rights and permissions
Springer Nature or its licensor holds exclusive rights to this article under a publishing agreement with the author(s) or other rightsholder(s); author self-archiving of the accepted manuscript version of this article is solely governed by the terms of such publishing agreement and applicable law.
About this article
Cite this article
Yang, Y., Wu, M., Vázquez-Guardado, A. et al. Wireless multilateral devices for optogenetic studies of individual and social behaviors. Nat Neurosci 24, 1035–1045 (2021). https://doi.org/10.1038/s41593-021-00849-x
Received:

Accepted:

Published:

Issue Date:

DOI: https://doi.org/10.1038/s41593-021-00849-x