Abstract
Functional circuits consist of neurons with diverse axonal projections and gene expression. Understanding the molecular signature of projections requires high-throughput interrogation of both gene expression and projections to multiple targets in the same cells at cellular resolution, which is difficult to achieve using current technology. Here, we introduce BARseq2, a technique that simultaneously maps projections and detects multiplexed gene expression by in situ sequencing. We determined the expression of cadherins and cell-type markers in 29,933 cells and the projections of 3,164 cells in both the mouse motor cortex and auditory cortex. Associating gene expression and projections in 1,349 neurons revealed shared cadherin signatures of homologous projections across the two cortical areas. These cadherins were enriched across multiple branches of the transcriptomic taxonomy. By correlating multigene expression and projections to many targets in single neurons with high throughput, BARseq2 provides a potential path to uncovering the molecular logic underlying neuronal circuits.
This is a preview of subscription content
Access options
Subscribe to Nature+
Get immediate online access to the entire Nature family of 50+ journals
Subscribe to Journal
Get full journal access for 1 year
$59.00
only $4.92 per issue
All prices are NET prices.
VAT will be added later in the checkout.
Tax calculation will be finalised during checkout.
Buy article
Get time limited or full article access on ReadCube.
$32.00
All prices are NET prices.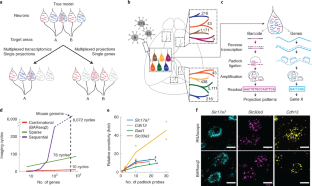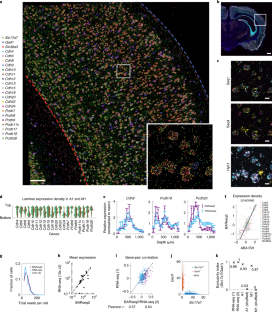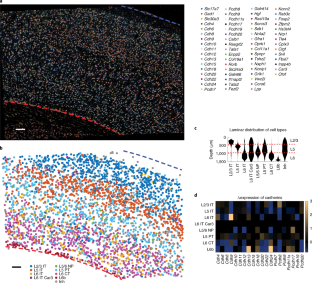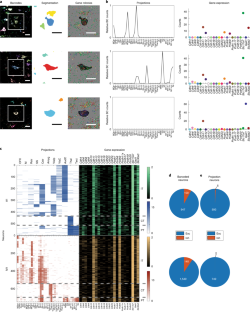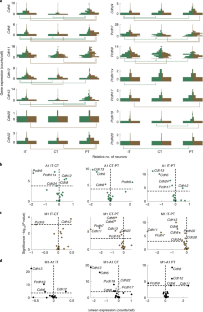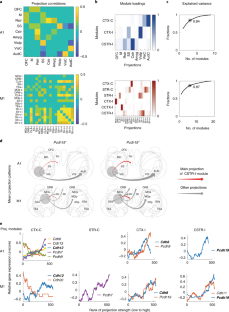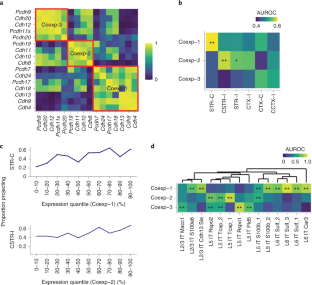 References
Winnubst, J. et al. Reconstruction of 1,000 projection neurons reveals new cell types and organization of long-range connectivity in the mouse brain. Cell 179, 268–281 (2019).

Muñoz-Castañeda, R. et al. Cellular anatomy of the mouse primary motor cortex. Preprint at bioRxiv https://doi.org/10.1101/2020.10.02.323154 (2020).

Tasic, B. et al. Shared and distinct transcriptomic cell types across neocortical areas. Nature 563, 72–78 (2018).

Zeisel, A. et al. Molecular architecture of the mouse nervous system. Cell 174, 999–1014 (2018).

Han, Y. et al. The logic of single-cell projections from visual cortex. Nature 556, 51–56 (2018).

Chen, X. et al. High-throughput mapping of long-range neuronal projection using in situ sequencing. Cell 179, 772–786 (2019).

Kim, D. W. et al. Multimodal analysis of cell types in a hypothalamic node controlling social behavior. Cell 179, 713–728 (2019).

Economo, M. N. et al. Distinct descending motor cortex pathways and their roles in movement. Nature 563, 79–84 (2018).

Zhang, M. et al. Molecular, spatial and projection diversity of neurons in primary motor cortex revealed by in situ single-cell transcriptomics. Preprint at bioRxiv https://doi.org/10.1101/2020.06.04.105700 (2020).

Ke, R. et al. In situ sequencing for RNA analysis in preserved tissue and cells. Nat. Methods 10, 857–860 (2013).

Qian, X. et al. Probabilistic cell typing enables fine mapping of closely related cell types in situ. Nat. Methods 17, 101–106 (2020).

Kebschull, J. M. et al. High-throughput mapping of single-neuron projections by sequencing of barcoded RNA. Neuron 91, 975–987 (2016).

Huang, L. et al. BRICseq bridges brain-wide interregional connectivity to neural activity and gene expression in single animals. Cell 182, 177–188 (2020).

Chen, K. H., Boettiger, A. N., Moffitt, J. R., Wang, S. & Zhuang, X. RNA imaging. Spatially resolved, highly multiplexed RNA profiling in single cells. Science 348, aaa6090 (2015).

Raj, A., van den Bogaard, P., Rifkin, S. A., van Oudenaarden, A. & Tyagi, S. Imaging individual mRNA molecules using multiple singly labeled probes. Nat. Methods 5, 877–879 (2008).

Hayano, Y. et al. The role of T-cadherin in axonal pathway formation in neocortical circuits. Development 141, 4784–4793 (2014).

Friedman, L. G. et al. Cadherin-8 expression, synaptic localization, and molecular control of neuronal form in prefrontal corticostriatal circuits. J. Comp. Neurol. 523, 75–92 (2015).

Paul, A. et al. Transcriptional architecture of synaptic communication delineates GABAergic neuron identity. Cell 171, 522–539 (2017).

Matsunaga, E., Nambu, S., Oka, M. & Iriki, A. Complex and dynamic expression of cadherins in the embryonic marmoset cerebral cortex. Dev. Growth Differ. 57, 474–483 (2015).

Redies, C. Cadherins and the formation of neural circuitry in the vertebrate CNS. Cell Tissue Res. 290, 405–413 (1997).

Lein, E. S. et al. Genome-wide atlas of gene expression in the adult mouse brain. Nature 445, 168–176 (2007).

Terakawa, Y. W., Inoue, Y. U., Asami, J., Hoshino, M. & Inoue, T. A sharp cadherin-6 gene expression boundary in the developing mouse cortical plate demarcates the future functional areal border. Cereb. Cortex 23, 2293–2308 (2013).

Yao, Z. et al. An integrated transcriptomic and epigenomic atlas of mouse primary motor cortex cell types. Preprint at bioRxiv https://doi.org/10.1101/2020.02.29.970558 (2020).

Fros, J. J. & Pijlman, G. P. Alphavirus infection: Host cell shut-off and inhibition of antiviral responses. Viruses https://doi.org/10.3390/v8060166 (2016).

Klingler, E. et al. Single-cell molecular connectomics of intracortically projecting neurons. Preprint at bioRxiv https://doi.org/10.1101/378760 (2018).

Wang, Y. et al. Complete single-neuron reconstruction reveals morphological diversity in molecularly defined claustral and cortical neuron types. Preprint at bioRxiv https://doi.org/10.1101/675280 (2019).

Harris, K. D. & Shepherd, G. M. The neocortical circuit: themes and variations. Nat. Neurosci. 18, 170–181 (2015).

Duan, X., Krishnaswamy, A., De la Huerta, I. & Sanes, J. R. Type II cadherins guide assembly of a direction-selective retinal circuit. Cell 158, 793–807 (2014).

Friedman, L. G., Benson, D. L. & Huntley, G. W. Cadherin-based transsynaptic networks in establishing and modifying neural connectivity. Curr. Top. Dev. Biol. 112, 415–465 (2015).

Jontes, J. D. The cadherin superfamily in neural circuit assembly. Cold Spring Harb. Perspect. Biol. 10, a029306 (2018).

Langfelder, P., Zhang, B. & Horvath, S. Defining clusters from a hierarchical cluster tree: the Dynamic Tree Cut package for R. Bioinformatics 24, 719–720 (2008).

Lee, D. D. & Seung, H. S. Learning the parts of objects by nonnegative matrix factorization. Nature 401, 788–791 (1999).

Ballouz, S., Verleyen, W. & Gillis, J. Guidance for RNA-seq coexpression network construction and analysis: safety in numbers. Bioinformatics 31, 2123–2130 (2015).

Crow, M., Paul, A., Ballouz, S., Huang, Z. J. & Gillis, J. Exploiting single-cell expression to characterize coexpression replicability. Genome Biol. 17, 101 (2016).

Chen, X., Sun, Y. C., Church, G. M., Lee, J. H. & Zador, A. M. Efficient in situ barcode sequencing using padlock probe-based BaristaSeq. Nucleic Acids Res. 46, e22 (2018).

Shah, S., Lubeck, E., Zhou, W. & Cai, L. In situ transcription profiling of single cells reveals spatial organization of cells in the mouse hippocampus. Neuron 92, 342–357 (2016).

Chen, S. et al. BARcode DEmixing through Non-negative Spatial Regression (BarDensr). PLoS Comput. Biol. 17, e1008256 (2021).

Ding, J. et al. Systematic comparison of single-cell and single-nucleus RNA-sequencing methods. Nat. Biotechnol. 38, 737–746 (2020).

Harris, K. D. et al. Classes and continua of hippocampal CA1 inhibitory neurons revealed by single-cell transcriptomics. PLoS Biol. 16, e2006387 (2018).

Duan, X. et al. Cadherin combinations recruit dendrites of distinct retinal neurons to a shared interneuronal scaffold. Neuron 99, 1145–1154 (2018).

Li, H. et al. Classifying Drosophila olfactory projection neuron subtypes by single-cell RNA sequencing. Cell 171, 1206–1220 (2017).

Custo Greig, L. F., Woodworth, M. B., Galazo, M. J., Padmanabhan, H. & Macklis, J. D. Molecular logic of neocortical projection neuron specification, development and diversity. Nat. Rev. Neurosci. 14, 755–769 (2013).

Bagri, A. et al. Slit proteins prevent midline crossing and determine the dorsoventral position of major axonal pathways in the mammalian forebrain. Neuron 33, 233–248 (2002).

Shu, T., Sundaresan, V., McCarthy, M. M. & Richards, L. J. Slit2 guides both precrossing and postcrossing callosal axons at the midline in vivo. J. Neurosci. 23, 8176–8184 (2003).

Yoshida, Y. Semaphorin signaling in vertebrate neural circuit assembly. Front Mol. Neurosci. 5, 71 (2012).

Berns, D. S., DeNardo, L. A., Pederick, D. T. & Luo, L. Teneurin-3 controls topographic circuit assembly in the hippocampus. Nature 554, 328–333 (2018).

Zador, A. M. et al. Sequencing the connectome. PLoS Biol. 10, e1001411 (2012).

Peikon, I. D. et al. Using high-throughput barcode sequencing to efficiently map connectomes. Nucleic Acids Res. 45, e115 (2017).

Marblestone, A. H., et al Rosetta brains: a strategy for molecularly-annotated connectomics. Preprint at arXiv https://arxiv.org/abs/1404.5103 (2014).

Eng, C. L. et al. Transcriptome-scale super-resolved imaging in tissues by RNA seqFISH. Nature 568, 235–239 (2019).

Oh, S. W. et al. A mesoscale connectome of the mouse brain. Nature 508, 207–214 (2014).

Edelstein, A. D. et al. Advanced methods of microscope control using μManager software. J. Biol. Methods 1, e10 (2014).

Lee, J. H. et al. Highly multiplexed subcellular RNA sequencing in situ. Science 343, 1360–1363 (2014).

Evangelidis, G. D. & Psarakis, E. Z. Parametric image alignment using enhanced correlation coefficient maximization. IEEE Trans. Pattern Anal. Mach. Intell. 30, 1858–1865 (2008).

Stringer, C., Wang, T., Michaelos, M. & Pachitariu, M. Cellpose: a generalist algorithm for cellular segmentation. Nat. Methods 18, 100–106 (2021).

Rock, C., Zurita, H., Wilson, C. & Apicella, A. J. An inhibitory corticostriatal pathway. Elife 5, e15890 (2016).

Benjamini, Y. & Hochberg, Y. Controlling the false discovery rate: a practical and powerful approach to multiple testing. J. R. Stat. Soc. Ser. B Methodol. 57, 289–300 (1995).
Acknowledgements
The authors thank members of the MAPseq core facility, H. Zhan, Y. Li and N. Gemmill, for MAPseq data production; K. Matho and Z. J. Huang for dissection coordinates in motor cortex; H. Zhan, L. Yuan, H. L. Gilbert, K. Matho, J. Kebschull and D. Fürth for useful discussions; and W. Wadolowski, B. Burbach, K. Lucere and E. Fong for technical support. This work was supported by the National Institutes of Health (5RO1NS073129, 5RO1DA036913, RF1MH114132 and U01MH109113 to A.M.Z; R01MH113005 and R01LM012736 to J.G.; and U19MH114821 to A.M.Z. and J.G.), the Brain Research Foundation (BRF-SIA-2014-03 to A.M.Z.), IARPA MICrONS (D16PC0008 to A.M.Z.), Paul Allen Distinguished Investigator Award (to A.M.Z.), Simons Foundation (350789 to X.C.), Chan Zuckerberg Initiative (2017-0530 ZADOR/ALLEN INST (SVCF) SUB to A.M.Z.) and Robert Lourie award (to A.M.Z.). This work was additionally supported by the Assistant Secretary of Defense for Health Affairs endorsed by the Department of Defense, through the FY18 PRMRP Discovery Award Program (W81XWH1910083 to X.C.) Opinions, interpretations, conclusions and recommendations are those of the authors and are not necessarily endorsed by the U.S. Army. In conducting research using animals, the investigators adhered to the laws of the United States and regulations of the Department of Agriculture.
Ethics declarations
Competing interests
A.M.Z. is a founder and equity owner of Cajal Neuroscience and a member of its scientific advisory board. The remaining authors declare no competing interests.
Additional information
Peer review information Nature Neuroscience thanks Kenneth Harris and the other, anonymous, reviewer(s) for their contribution to the peer review of this work.
Publisher's note Springer Nature remains neutral with regard to jurisdictional claims in published maps and institutional affiliations.
Supplementary information
Supplementary Fig. 1 and Supplementary Tables 1–3.
The sequences of primers, probes and GII codes used in the study.
About this article
Cite this article
Sun, YC., Chen, X., Fischer, S. et al. Integrating barcoded neuroanatomy with spatial transcriptional profiling enables identification of gene correlates of projections. Nat Neurosci 24, 873–885 (2021). https://doi.org/10.1038/s41593-021-00842-4
Received:

Accepted:

Published:

Issue Date:

DOI: https://doi.org/10.1038/s41593-021-00842-4