Abstract
Cognition depends on integrating sensory percepts with the memory of recent stimuli. However, the distributed nature of neural coding can lead to interference between sensory and memory representations. Here, we show that the brain mitigates such interference by rotating sensory representations into orthogonal memory representations over time. To study how sensory inputs and memories are represented, we recorded neurons from the auditory cortex of mice as they implicitly learned sequences of sounds. We found that the neural population represented sensory inputs and the memory of recent stimuli in two orthogonal dimensions. The transformation of sensory information into a memory was facilitated by a combination of 'stable' neurons, which maintained their selectivity over time, and 'switching' neurons, which inverted their selectivity over time. Together, these neural responses rotated the population representation, transforming sensory inputs into memory. Theoretical modeling showed that this rotational dynamic is an efficient mechanism for generating orthogonal representations, thereby protecting memories from sensory interference.
Relevant articles
Open Access articles citing this article.
Jonathan Schaffner

,

Sherry Dongqi Bao

…

Rafael Polania

Nature Human Behaviour Open Access 27 April 2023

Kenneth W. Latimer

&

David J. Freedman

Nature Communications Open Access 23 February 2023
Access options
Access Nature and 54 other Nature Portfolio journals
Get Nature+, our best-value online-access subscription
$29.99 / 30 days
cancel any time
Subscribe to this journal
Receive 12 print issues and online access
$209.00 per year
only $17.42 per issue
Rent or buy this article
Prices vary by article type
from$1.95
to$39.95
Prices may be subject to local taxes which are calculated during checkout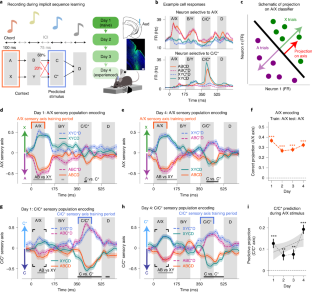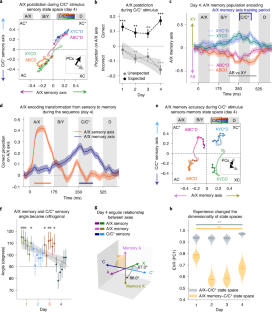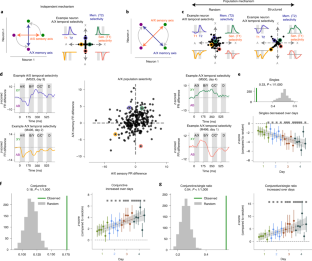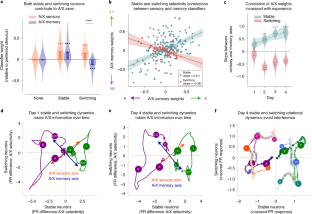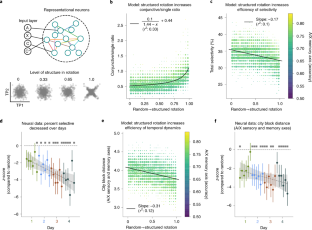 Data availability
The data that support each main figure are included as source data. Original data are available upon reasonable request. Source data are provided with this paper.
Code availability
The code supporting the implementation and analysis of the neural network model is available on our lab GitHub repository (www.github.com/buschman-lab). As the model was analyzed in the same way as the neural data, the same analysis code can be applied to neural data.
References
Summerfield, C. & de Lange, F. P. Expectation in perceptual decision making: neural and computational mechanisms. Nat. Rev. Neurosci. 15, 745–756 (2014).

Kiyonaga, A., Scimeca, J. M., Bliss, D. P. & Whitney, D. Serial dependence across perception, attention, and memory. Trends Cogn. Sci. 21, 493–497 (2017).

de Lange, F. P., Heilbron, M. & Kok, P. How do expectations shape perception? Trends Cogn. Sci. 22, 764–779 (2018).

Fiser, A. et al. Experience-dependent spatial expectations in mouse visual cortex. Nat. Neurosci. 19, 1658–1664 (2016).

Jaramillo, S. & Zador, A. M. The auditory cortex mediates the perceptual effects of acoustic temporal expectation. Nat. Neurosci. 14, 246–251 (2011).

Chun, M. M. & Jiang, Y. Contextual cueing: implicit learning and memory of visual context guides spatial attention. Cogn. Psychol. 36, 28–71 (1998).

Dehaene, S., Meyniel, F., Wacongne, C., Wang, L. & Pallier, C. The neural representation of sequences: from transition probabilities to algebraic patterns and linguistic trees. Neuron 88, 2–19 (2015).

Carandini, M. & Heeger, D. J. Normalization as a canonical neural computation. Nat. Rev. Neurosci. 13, 51–62 (2012).

Buschman, T. J., Siegel, M., Roy, J. E. & Miller, E. K. Neural substrates of cognitive capacity limitations. Proc. Natl Acad. Sci. USA 108, 11252–11255 (2011).

Sprague, T. C., Ester, E. F. & Serences, J. T. Reconstructions of information in visual spatial working memory degrade with memory load. Curr. Biol. 24, 2174–2180 (2014).

Bouchacourt, F. & Buschman, T. J. A flexible model of working memory. Neuron 103, 147–160.e8 (2019).

White, O. L., Lee, D. D. & Sompolinsky, H. Short-term memory in orthogonal neural networks. Phys. Rev. Lett. 92, 148102 (2004).

Botvinick, M. M. & Plaut, D. C. Short-term memory for serial order: a recurrent neural network model. Psychol. Rev. 113, 201–233 (2006).

Rigotti, M. et al. The importance of mixed selectivity in complex cognitive tasks. Nature 497, 585–590 (2013).

Sakai, K. & Miyashita, Y. Neural organization for the long-term memory of paired associates. Nature 354, 152–155 (1991).

Miyashita, Y. & Chang, H. S. Neuronal correlate of pictorial short-term memory in the primate temporal cortex. Nature 331, 68–70 (1988).

Gavornik, J. P. & Bear, M. F. Learned spatiotemporal sequence recognition and prediction in primary visual cortex. Nat. Neurosci. 17, 732–737 (2014).

Li, N. & DiCarlo, J. J. Unsupervised natural experience rapidly alters invariant object representation in visual cortex. Science 321, 1502–1507 (2008).

Maheu, M., Dehaene, S. & Meyniel, F. Brain signatures of a multiscale process of sequence learning in humans. eLife 8, e41541 (2019).

Kim, R., Seitz, A., Feenstra, H. & Shams, L. Testing assumptions of statistical learning: is it long-term and implicit? Neurosci. Lett. 461, 145–149 (2009).

Yakovlev, V., Fusi, S., Berman, E. & Zohary, E. Inter-trial neuronal activity in inferior temporal cortex: a putative vehicle to generate long-term visual associations. Nat. Neurosci. 1, 310–317 (1998).

Griniasty, M., Tsodyks, M. V. & Amit, D. J. Conversion of temporal correlations between stimuli to spatial correlations between attractors. Neural Comput. 5, 1–17 (1993).

Amit, D., Brunel, N. & Tsodyks, M. Correlations of cortical Hebbian reverberations: theory versus experiment. J. Neurosci. 14, 6435–6445 (1994).

den Ouden, H. E. M., Friston, K. J., Daw, N. D., McIntosh, A. R. & Stephan, K. E. A dual role for prediction error in associative learning. Cereb. Cortex 19, 1175–1185 (2009).

Eagleman, D. M. Motion integration and postdiction in visual awareness. Science 287, 2036–2038 (2000).

Aru, J., Tulver, K. & Bachmann, T. It's all in your head: expectations create illusory perception in a dual-task setup. Conscious. Cogn. 65, 197–208 (2018).

Choi, H. & Scholl, B. J. Perceiving causality after the fact: postdiction in the temporal dynamics of causal perception. Perception 35, 385–399 (2006).

Fischer, J. & Whitney, D. Serial dependence in visual perception. Nat. Neurosci. 17, 738–743 (2014).

Elsayed, G. F., Lara, A. H., Kaufman, M. T., Churchland, M. M. & Cunningham, J. P. Reorganization between preparatory and movement population responses in motor cortex. Nat. Commun. 7, 13239 (2016).

Itskov, P. M., Vinnik, E. & Diamond, M. E. Hippocampal representation of touch-guided behavior in rats: persistent and independent traces of stimulus and reward location. PLoS ONE 6, e16462 (2011).

Levine, J. H. et al. Data-driven phenotypic dissection of AML reveals progenitor-like cells that correlate with prognosis. Cell 162, 184–197 (2015).

Rigotti, M., Ben Dayan Rubin, D. D., Wang, X.-J. & Fusi, S. Internal representation of task rules by recurrent dynamics: the importance of the diversity of neural responses. Front. Comput. Neurosci. 4, 24 (2010).

Olshausen, B. A. & Field, D. J. Sparse coding of sensory inputs. Curr. Opin. Neurobiol. 14, 481–487 (2004).

Rust, N. C. & DiCarlo, J. J. Balanced increases in selectivity and tolerance produce constant sparseness along the ventral visual stream. J. Neurosci. 32, 10170–10182 (2012).

Bassett, D. S. & Sporns, O. Network neuroscience. Nat. Neurosci. 20, 353–364 (2017).

Murray, J. D. et al. Stable population coding for working memory coexists with heterogeneous neural dynamics in prefrontal cortex. Proc. Natl Acad. Sci. USA 114, 394–399 (2017).

Stokes, M. G. et al. Dynamic coding for cognitive control in prefrontal cortex. Neuron 78, 364–375 (2013).

Freedman, D. J., Riesenhuber, M., Poggio, T. & Miller, E. K. Visual categorization and the primate prefrontal cortex: neurophysiology and behavior. J. Neurophysiol. 88, 929–941 (2002).

Fuster, J. M. & Alexander, G. E. Neuron activity related to short-term memory. Science 173, 652–654 (1971).

Warden, M. R. & Miller, E. K. The representation of multiple objects in prefrontal neuronal delay activity. Cereb. Cortex 17, i41–i50 (2007).

Spaak, E., Watanabe, K., Funahashi, S. & Stokes, M. G. Stable and dynamic coding for working memory in primate prefrontal cortex. J. Neurosci. 37, 6503–6516 (2017).

Miller, P. & Wang, X.-J. Inhibitory control by an integral feedback signal in prefrontal cortex: a model of discrimination between sequential stimuli. Proc. Natl Acad. Sci. USA 103, 201–206 (2006).

Postle, B. R. The cognitive neuroscience of visual short-term memory. Curr. Opin. Behav. Sci. 1, 40–46 (2015).

Chaudhuri, R. & Fiete, I. Computational principles of memory. Nat. Neurosci. 19, 394–403 (2016).

Meyers, E. M. Dynamic population coding and its relationship to working memory. J. Neurophysiol. 120, 2260–2268 (2018).

Riley, M. R. & Constantinidis, C. Role of prefrontal persistent activity in working memory. Front. Syst. Neurosci. 9, 181 (2016).

Perez, F. & Granger, B. E. IPython: a system for interactive scientific computing. Comput. Sci. Eng. 9, 21–29 (2007).

Millman, K. J. & Aivazis, M. Python for scientists and engineers. Comput. Sci. Eng. 13, 9–12 (2011).

Oliphant, T. E. Python for scientific computing. Comput. Sci. Eng. 9, 10–20 (2007).

Pedregosa, F. et al. Scikit-learn: machine learning in Python. J. Mach. Learn. Res. 12, 2825–2830 (2011).

Walt, S., van der Colbert, S. C. & Varoquaux, G. The NumPy Array: a structure for efficient numerical computation. Comput. Sci. Eng. 13, 22–30 (2011).

McKinney, W. Data structures for statistical computing in Python. Proc. 9th Python Sci. Conf. 445, 56–61 (2010).

Hunter, J. D. Matplotlib: a 2D graphics environment. Comput. Sci. Eng. 9, 90–95 (2007).

Manly, B. Randomization, Bootstrap and Monte Carlo Methods in Biology (Chapman & Hall/CRC, 1997).

Nicosia, V., Mangioni, G., Carchiolo, V. & Malgeri, M. Extending the definition of modularity to directed graphs with overlapping communities. J. Stat. Mech. Theory Exp. 2009, P03024 (2009).

Blondel, V. D., Guillaume, J.-L., Lambiotte, R. & Lefebvre, E. Fast unfolding of communities in large networks. J. Stat. Mech. Theory Exp. 2008, P10008 (2008).

Rousseeuw, P. J. Silhouettes: a graphical aid to the interpretation and validation of cluster analysis. J. Comput. Appl. Math. 20, 53–65 (1987).

McInnes, L., Healy, J. & Melville, J. UMAP: uniform manifold approximation and projection for dimension reduction. Preprint at arXiv https://arxiv.org/abs/1802.03426 (2018).

Beyer, K., Goldstein, J., Ramakrishnan, R. & Shaft, U. in Database Theory—ICDT'99 (eds Beeri, C. & Buneman, P.) 217–235 (Springer, 1999).

Wasmuht, D. F., Spaak, E., Buschman, T. J., Miller, E. K. & Stokes, M. G. Intrinsic neuronal dynamics predict distinct functional roles during working memory. Nat. Commun. 9, 3499 (2018).
Acknowledgements
The authors thank C. MacDowell, M. Panichello, C. Jahn, F. Bouchacourt, P. Hoyos and S. Henrickson for their detailed feedback during the writing of this manuscript. We also thank B. Briones for helping with histology and B. Morea for helping with surgery. We thank the Princeton Laboratory Animal Resources staff for their support. This work was supported by NIMH R01MH115042, ONR N000141410681 and NIH DP2EY025446 to T.J.B.
Ethics declarations
Competing interests
The authors declare no competing interests.
Additional information
Peer review information Nature Neuroscience thanks Omri Barak and the other, anonymous, reviewer(s) for their contribution to the peer review of this work.
Publisher's note Springer Nature remains neutral with regard to jurisdictional claims in published maps and institutional affiliations.
Supplementary information
Supplementary Tables 1–4 and Supplementary Figs. 1–7.
About this article
Cite this article
Libby, A., Buschman, T.J. Rotational dynamics reduce interference between sensory and memory representations. Nat Neurosci 24, 715–726 (2021). https://doi.org/10.1038/s41593-021-00821-9
Received:

Accepted:

Published:

Issue Date:

DOI: https://doi.org/10.1038/s41593-021-00821-9