Abstract
In humans, tissue injury and depression can both cause pain hypersensitivity, but whether this involves distinct circuits remains unknown. Here, we identify two discrete glutamatergic neuronal circuits in male mice: a projection from the posterior thalamic nucleus (POGlu) to primary somatosensory cortex glutamatergic neurons (S1Glu) mediates allodynia from tissue injury, whereas a pathway from the parafascicular thalamic nucleus (PFGlu) to anterior cingulate cortex GABA-containing neurons to glutamatergic neurons (ACCGABA→Glu) mediates allodynia associated with a depression-like state. In vivo calcium imaging and multi-tetrode electrophysiological recordings reveal that POGlu and PFGlu populations undergo different adaptations in the two conditions. Artificial manipulation of each circuit affects allodynia resulting from either tissue injury or depression-like states, but not both. Our study demonstrates that the distinct thalamocortical circuits POGlu→S1Glu and PFGlu→ACCGABA→Glu subserve allodynia associated with tissue injury and depression-like states, respectively, thus providing insights into the circuit basis of pathological pain resulting from different etiologies.
Relevant articles
Open Access articles citing this article.
Yi Yan

,

Mengye Zhu

…

Tao Liu

Neuroscience Bulletin Open Access 20 December 2022

Xiu-Xiu Liu

,

Xing-Hui Chen

…

Ying-Mei Lu

Signal Transduction and Targeted Therapy Open Access 01 June 2022

Shin-ichiro Hiraga

,

Takahide Itokazu

…

Toshihide Yamashita

Inflammation and Regeneration Open Access 03 May 2022
Access options
Access Nature and 54 other Nature Portfolio journals
Get Nature+, our best-value online-access subscription
$29.99 per month
cancel any time
Subscribe to this journal
Receive 12 print issues and online access
$189.00 per year
only $15.75 per issue
Rent or buy this article
Get just this article for as long as you need it
$39.95
Prices may be subject to local taxes which are calculated during checkout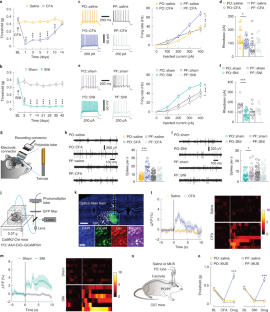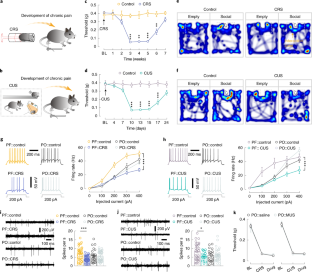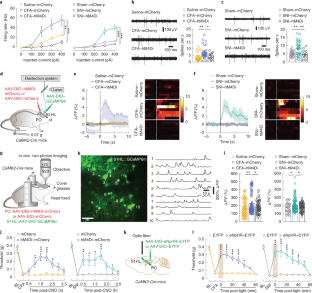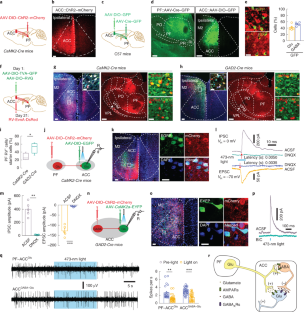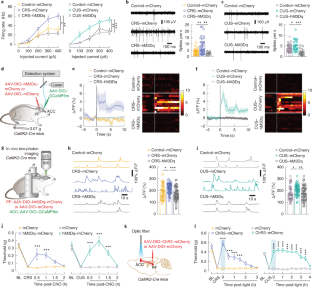 Data availability
The data that support the findings of this study are available from the corresponding author (Z.Z.) upon request.
References
von Hehn, C. A., Baron, R. & Woolf, C. J. Deconstructing the neuropathic pain phenotype to reveal neural mechanisms. Neuron 73, 638–652 (2012).

Woolf, C. J. & Ma, Q. Nociceptors—noxious stimulus detectors. Neuron 55, 353–364 (2007).

Scholz, J. & Woolf, C. J. Can we conquer pain? Nat. Neurosci. 5, 1062–1067 (2002).

Tracey, I., Woolf, C. J. & Andrews, N. A. Composite pain biomarker signatures for objective assessment and effective treatment. Neuron 101, 783–800 (2019).

Limjunyawong, N. & Dong, X. Spicy immunity: pain to gain. Immunity 51, 426–428 (2019).

Eisenberger, N. I. The pain of social disconnection: examining the shared neural underpinnings of physical and social pain. Nat. Rev. Neurosci. 13, 421–434 (2012).

Gilam, G., Gross, J. J., Wager, T. D., Keefe, F. J. & Mackey, S. C. What is the relationship between pain and emotion? Bridging constructs and communities. Neuron 107, 17–21 (2020).

Bair, M. J., Robinson, R. L., Katon, W. & Kroenke, K. Depression and pain comorbidity: a literature review. Arch. Intern. Med. 163, 2433–2445 (2003).

Calvo, M. et al. The genetics of neuropathic pain from model organisms to clinical application. Neuron 104, 637–653 (2019).

Colloca, L. et al. Neuropathic pain. Nat. Rev. Dis. Primers 3, 17002 (2017).

Saab, C. Y. Pain-related changes in the brain: diagnostic and therapeutic potentials. Trends Neurosci. 35, 629–637 (2012).

Corder, G. et al. An amygdalar neural ensemble that encodes the unpleasantness of pain. Science 363, 276–281 (2019).

Huang, J. et al. A neuronal circuit for activating descending modulation of neuropathic pain. Nat. Neurosci. 22, 1659–1668 (2019).

Gungor, N. Z. & Johansen, J. A chronic pain in the ACC. Neuron 102, 903–905 (2019).

Bliss, T. V., Collingridge, G. L., Kaang, B. K. & Zhuo, M. Synaptic plasticity in the anterior cingulate cortex in acute and chronic pain. Nat. Rev. Neurosci. 17, 485–496 (2016).

Disner, S. G., Beevers, C. G., Haigh, E. A. & Beck, A. T. Neural mechanisms of the cognitive model of depression. Nat. Rev. Neurosci. 12, 467–477 (2011).

Miller, O. H., Bruns, A., Ben Ammar, I., Mueggler, T. & Hall, B. J. Synaptic regulation of a thalamocortical circuit controls depression-related behavior. Cell Rep. 20, 1867–1880 (2017).

Nestler, E. J. et al. Neurobiology of depression. Neuron 34, 13–25 (2002).

Zhou, W. et al. A neural circuit for comorbid depressive symptoms in chronic pain. Nat. Neurosci. 22, 1649–1658 (2019).

Zhu, X. et al. A central amygdala input to the parafascicular nucleus controls comorbid pain in depression. Cell Rep. 29, 3847–3858.e5 (2019).

Bushnell, M. C., Ceko, M. & Low, L. A. Cognitive and emotional control of pain and its disruption in chronic pain. Nat. Rev. Neurosci. 14, 502–511 (2013).

Wolff, M. & Vann, S. D. The cognitive thalamus as a gateway to mental representations. J. Neurosci. 39, 3–14 (2019).

Basbaum, A. I., Bautista, D. M., Scherrer, G. & Julius, D. Cellular and molecular mechanisms of pain. Cell 139, 267–284 (2009).

Yin, W. et al. A central amygdala–ventrolateral periaqueductal gray matter pathway for pain in a mouse model of depression-like behavior. Anesthesiology 132, 1175–1196 (2020).

Navratilova, E. & Porreca, F. Reward and motivation in pain and pain relief. Nat. Neurosci. 17, 1304–1312 (2014).

Wager, T. D. et al. Placebo-induced changes in fMRI in the anticipation and experience of pain. Science 303, 1162–1167 (2004).

Yen, C. T. & Lu, P. L. Thalamus and pain. Acta Anaesthesiol. Taiwan 51, 73–80 (2013).

Obata, H. Analgesic mechanisms of antidepressants for neuropathic pain. Int. J. Mol. Sci. 18, 2483 (2017).

Bravo, L., Llorca-Torralba, M., Berrocoso, E. & Mico, J. A. Monoamines as drug targets in chronic pain: focusing on neuropathic pain. Front. Neurosci. 13, 1268 (2019).

Liu, Y. et al. Touch and tactile neuropathic pain sensitivity are set by corticospinal projections. Nature 561, 547–550 (2018).

Benson, D. L., Isackson, P. J., Hendry, S. H. & Jones, E. G. Differential gene expression for glutamic acid decarboxylase and type II calcium-calmodulin-dependent protein kinase in basal ganglia, thalamus, and hypothalamus of the monkey. J. Neurosci. 11, 1540–1564 (1991).

Barthas, F. et al. The anterior cingulate cortex is a critical hub for pain-induced depression. Biol. Psychiatry 77, 236–245 (2015).

Vogt, B. A. Pain and emotion interactions in subregions of the cingulate gyrus. Nat. Rev. Neurosci. 6, 533–544 (2005).

Tan, L. L. et al. A pathway from midcingulate cortex to posterior insula gates nociceptive hypersensitivity. Nat. Neurosci. 20, 1591–1601 (2017).

Singer, T. et al. Empathy for pain involves the affective but not sensory components of pain. Science 303, 1157–1162 (2004).

Rainville, P., Duncan, G. H., Price, D. D., Carrier, B. & Bushnell, M. C. Pain affect encoded in human anterior cingulate but not somatosensory cortex. Science 277, 968–971 (1997).

Singh, A. et al. Mapping cortical integration of sensory and affective pain pathways. Curr. Biol. 30, 1703–1715.e5 (2020).

Ahrlund-Richter, S. et al. A whole-brain atlas of monosynaptic input targeting four different cell types in the medial prefrontal cortex of the mouse. Nat. Neurosci. 22, 657–668 (2019).

Mandelbaum, G. et al. Distinct cortical–thalamic–striatal circuits through the parafascicular nucleus. Neuron 102, 636–652.e7 (2019).

Henckens, M. J., Deussing, J. M. & Chen, A. Region-specific roles of the corticotropin-releasing factor–urocortin system in stress. Nat. Rev. Neurosci. 17, 636–651 (2016).

Jiang, Z., Rajamanickam, S. & Justice, N. J. CRF signaling between neurons in the paraventricular nucleus of the hypothalamus (PVN) coordinates stress responses. Neurobiol. Stress 11, 100192 (2019).

Ahissar, E. & Oram, T. Thalamic relay or cortico-thalamic processing? Old question, new answers. Cereb. Cortex 25, 845–848 (2015).

Audette, N. J., Bernhard, S. M., Ray, A., Stewart, L. T. & Barth, A. L. Rapid plasticity of Higher-Order thalamocortical inputs during sensory learning. Neuron 103, 277–291 e274 (2019).

Meda, K. S. et al. Microcircuit mechanisms through which mediodorsal thalamic input to anterior cingulate cortex exacerbates pain-related aversion. Neuron 102, 944–959.e3 (2019).

Han, S., Soleiman, M. T., Soden, M. E., Zweifel, L. S. & Palmiter, R. D. Elucidating an affective pain circuit that creates a threat memory. Cell 162, 363–374 (2015).

Kuner, R. & Kuner, T. Cellular circuits in the brain and their modulation in acute and chronic pain. Physiol. Rev. 101, 213–258 (2021).

Meerwijk, E. L. & Weiss, S. J. Toward a unifying definition: response to 'The concept of mental pain'. Psychother. Psychosom. 83, 62–63 (2014).

Price, D. D. Psychological and neural mechanisms of the affective dimension of pain. Science 288, 1769–1772 (2000).

Li, B. et al. Synaptic potentiation onto habenula neurons in the learned helplessness model of depression. Nature 470, 535–539 (2011).

Ahrens, S. et al. A central extended amygdala circuit that modulates anxiety. J. Neurosci. 38, 5567–5583 (2018).

Lei, Y. et al. SIRT1 in forebrain excitatory neurons produces sexually dimorphic effects on depression-related behaviors and modulates neuronal excitability and synaptic transmission in the medial prefrontal cortex. Mol. Psychiatry 25, 1094–1111 (2020).

Xu, H. et al. A disinhibitory microcircuit mediates conditioned social fear in the prefrontal cortex. Neuron 102, 668–682.e5 (2019).

Lodato, S. & Arlotta, P. Generating neuronal diversity in the mammalian cerebral cortex. Annu. Rev. Cell Dev. Biol. 31, 699–720 (2015).

Li, M. et al. Computational classification approach to profile neuron subtypes from brain activity mapping data. Sci. Rep. 5, 12474 (2015).

Wang, Y. et al. Direct septum–hippocampus cholinergic circuit attenuates seizure through driving somatostatin inhibition. Biol. Psychiatry 87, 843–856 (2020).

Kim, J. et al. Rapid, biphasic CRF neuronal responses encode positive and negative valence. Nat. Neurosci. 22, 576–585 (2019).

Schindelin, J. et al. Fiji: an open-source platform for biological-image analysis. Nat. Methods 9, 676–682 (2012).

Giovannucci, A. et al. CaImAn an open source tool for scalable calcium imaging data analysis. eLife 8, e38173 (2019).

Stephenson-Jones, M. et al. Opposing contributions of GABAergic and glutamatergic ventral pallidal neurons to motivational behaviors. Neuron 105, 921–933.e5 (2020).
Acknowledgements
We thank X. Yu and Y. Yang for providing Ai14 (RCL-tdT) mice. We thank F. Xu and J.-N. Zhou for technical support. This work was supported by the National Natural Science Foundation of China (grants 81870877, 91849119 and 32025017), the Collaborative Innovation Program of Hefei Science Center, CAS (2019HSC-CIP003), the Fundamental Research Funds for the Central Universities (WK9110000059 and WK2070210004) and the Scientific Research of BSKY from Anhui Medical University (XJ201809).
Ethics declarations
Competing interests
The authors declare no competing interests.
Additional information
Peer review information Nature Neuroscience thanks Gerald Zamponi and the other, anonymous, reviewer(s) for their contribution to the peer review of this work.
Publisher's note Springer Nature remains neutral with regard to jurisdictional claims in published maps and institutional affiliations.
Supplementary information
About this article
Cite this article
Zhu, X., Tang, HD., Dong, WY. et al. Distinct thalamocortical circuits underlie allodynia induced by tissue injury and by depression-like states. Nat Neurosci 24, 542–553 (2021). https://doi.org/10.1038/s41593-021-00811-x
Received:

Accepted:

Published:

Issue Date:

DOI: https://doi.org/10.1038/s41593-021-00811-x