Abstract
Dopamine prediction error responses are essential components of universal learning mechanisms. However, it is unknown whether individual dopamine neurons reflect the shape of reward distributions. Here, we used symmetrical distributions with differently weighted tails to investigate how the frequency of rewards and reward prediction errors influence dopamine signals. Rare rewards amplified dopamine responses, even when conventional prediction errors were identical, indicating a mechanism for learning the complexities of real-world incentives.
This is a preview of subscription content
Access options
Subscribe to Nature+
Get immediate online access to the entire Nature family of 50+ journals
Subscribe to Journal
Get full journal access for 1 year
$59.00
only $4.92 per issue
All prices are NET prices.
VAT will be added later in the checkout.
Tax calculation will be finalised during checkout.
Buy article
Get time limited or full article access on ReadCube.
$32.00
All prices are NET prices.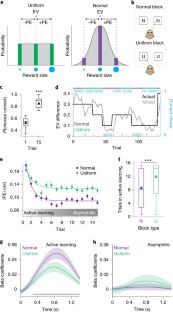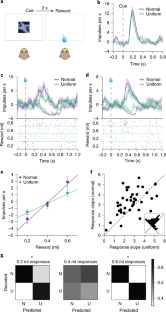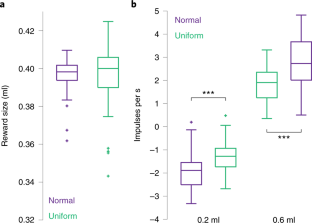 Data availability
The data that support the findings of this study are available from the corresponding author upon request.
Code availability
The code used to analyze these data are available from the corresponding author upon request.
References
Stauffer, W. R. The biological and behavioral computations that influence dopamine responses. Curr. Opin. Neurobiol. 49, 123–131 (2018).

Enomoto, K. et al. Dopamine neurons learn to encode the long-term value of multiple future rewards. Proc. Natl Acad. Sci. USA 108, 15462–15467 (2011).

Sutton, R. & Barto, A. Reinforcement Learning: An Introduction (MIT Press, 1998).

d'Acremont, M. & Bossaerts, P. Neural mechanisms behind identification of leptokurtic noise and adaptive behavioral response. Cereb. Cortex 26, 1818–1830 (2016).

Diederen, K. M. J. & Schultz, W. Scaling prediction errors to reward variability benefits error-driven learning in humans. J. Neurophysiol. 114, 1628–1640 (2015).

Nassar, M. R., Wilson, R. C., Heasly, B. & Gold, J. I. An approximately Bayesian delta-rule model explains the dynamics of belief updating in a changing environment. J. Neurosci. 30, 12366–12378 (2010).

Krajbich, I., Armel, C. & Rangel, A. Visual fixations and the computation and comparison of value in simple choice. Nat. Neurosci. 13, 1292–1298 (2010).

Tobler, P. N., Fiorillo, C. D. & Schultz, W. Adaptive coding of reward value by dopamine neurons. Science 307, 1642–1645 (2005).

Mnih, V. et al. Human-level control through deep reinforcement learning. Nature 518, 529–533 (2015).

Silver, D. et al. Mastering the game of Go with deep neural networks and tree search. Nature 529, 484–489 (2016).

Bellemare, M. G., Dabney, W. & Munos, R. A distributional perspective on reinforcement learning. Proc. Mach. Learn. Res. 70, 449–458 (2017).

Dabney, W. et al. A distributional code for value in dopamine-based reinforcement learning. Nature 577, 671–675 (2020).

Stauffer, W. R., Lak, A. & Schultz, W. Dopamine reward prediction error responses reflect marginal utility. Curr. Biol. 24, 2491–2500 (2014).

Gershman, S. J. A unifying probabilistic view of associative learning. PLoS Comput. Biol. 11, e1004567 (2015).

Babayan, B. M., Uchida, N. & Gershman, S. J. Belief state representation in the dopamine system. Nat. Commun. 9, 1891 (2018).

Lak, A., Stauffer, W. R. & Schultz, W. Dopamine neurons learn relative chosen value from probabilistic rewards. eLife 5, e18044 (2016).

Morrens, J., Aydin, Ç., Janse van Rensburg, A., Esquivelzeta Rabell, J. & Haesler, S. Cue-evoked dopamine promotes conditioned responding during learning. Neuron 106, 142–153.e147 (2020).

Preuschoff, K., Marius't Hart, B. & Einhauser, W. Pupil dilation signals surprise: evidence for noradrenaline's role in decision making. Front. Neurosci. 5, 115 (2011).

Schultz, W. Neuronal reward and decision signals: from theories to data. Physiol. Rev. 95, 853–951 (2015).

Vijayraghavan, S., Wang, M., Birnbaum, S. G., Williams, G. V. & Arnsten, A. F. Inverted-U dopamine D1 receptor actions on prefrontal neurons engaged in working memory. Nat. Neurosci. 10, 376–384 (2007).

Van Slooten, J. C., Jahfari, S., Knapen, T. & Theeuwes, J. How pupil responses track value-based decision-making during and after reinforcement learning. PLoS Comput. Biol. 14, e1006632 (2018).

de Hollander, G. & Knapen, T. nideconv v0.1.0 (2017); https://nideconv.readthedocs.io/en/latest/

Loe, P. R., Whitsel, B. L., Dreyer, D. A. & Metz, C. B. Body representation in ventrobasal thalamus of macaque: a single-unit analysis. J. Neurophysiol. 40, 1339–1355 (1977).

Guyenet, P. G. & Aghajanian, G. K. Antidromic identification of dopaminergic and other output neurons of the rat substantia nigra. Brain Res. 150, 69–84 (1978).

Batista, A. P. et al. Cortical neural prosthesis performance improves when eye position is monitored. IEEE Trans. Neural Syst. Rehabil. Eng. 16, 24–31 (2008).
Acknowledgements
We thank A. Bostan for comments and discussion, and J. Breter for animal care and enrichment. This work was supported by the National Institutes of Health (NIMH) grant DP2MH113095 to W.R.S.
Ethics declarations
Competing interests
The authors declare no competing interests.
Additional information
Peer review information Nature Neuroscience thanks the anonymous reviewers for their contribution to the peer review of this work.
Publisher's note Springer Nature remains neutral with regard to jurisdictional claims in published maps and institutional affiliations.
Supplementary information
About this article
Cite this article
Rothenhoefer, K.M., Hong, T., Alikaya, A. et al. Rare rewards amplify dopamine responses. Nat Neurosci 24, 465–469 (2021). https://doi.org/10.1038/s41593-021-00807-7
Received:

Accepted:

Published:

Issue Date:

DOI: https://doi.org/10.1038/s41593-021-00807-7
Further reading
Colin W. Hoy
Sheila C. Steiner
Robert T. Knight

Communications Biology (2021)