Abstract
Human stem-cell-derived models provide the promise of accelerating our understanding of brain disorders, but not knowing whether they possess the ability to mature beyond mid- to late-fetal stages potentially limits their utility. We leveraged a directed differentiation protocol to comprehensively assess maturation in vitro. Based on genome-wide analysis of the epigenetic clock and transcriptomics, as well as RNA editing, we observe that three-dimensional human cortical organoids reach postnatal stages between 250 and 300 days, a timeline paralleling in vivo development. We demonstrate the presence of several known developmental milestones, including switches in the histone deacetylase complex and NMDA receptor subunits, which we confirm at the protein and physiological levels. These results suggest that important components of an intrinsic in vivo developmental program persist in vitro. We further map neurodevelopmental and neurodegenerative disease risk genes onto in vitro gene expression trajectories to provide a resource and webtool (Gene Expression in Cortical Organoids, GECO) to guide disease modeling.
Relevant articles
Open Access articles citing this article.
Lance A. Mulder

,

Josse A. Depla

…

Renata Vieira de Sá

Stem Cell Research & Therapy Open Access 15 April 2023

Sarah L. Higginbottom

,

Eva Tomaskovic-Crook

&

Jeremy M. Crook

Cancer and Metastasis Reviews Open Access 01 April 2023

Wendiao Zhang

,

Jiamei Jiang

…

Qingtuan Meng

Molecular Psychiatry Open Access 06 December 2022
Access options
Access Nature and 54 other Nature Portfolio journals
Get Nature+, our best-value online-access subscription
$29.99 / 30 days
cancel any time
Subscribe to this journal
Receive 12 print issues and online access
$189.00 per year
only $15.75 per issue
Rent or buy this article
Get just this article for as long as you need it
$39.95
Prices may be subject to local taxes which are calculated during checkout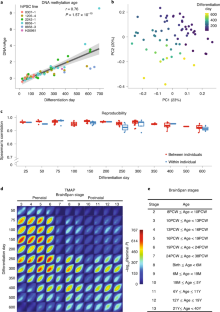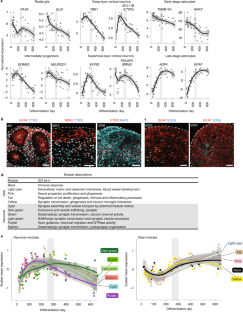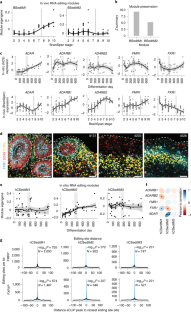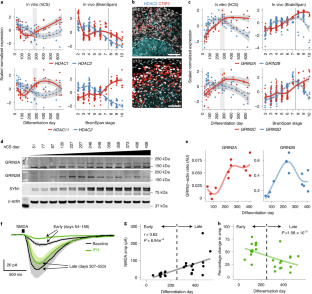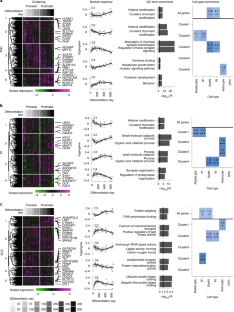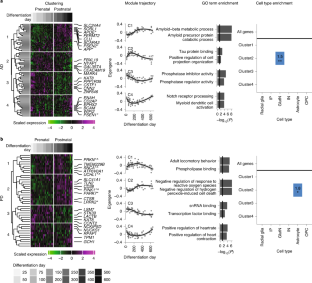 References
Pasca, S. P. The rise of three-dimensional human brain cultures. Nature 553, 437–445 (2018).

Mertens, J., Marchetto, M. C., Bardy, C. & Gage, F. H. Evaluating cell reprogramming, differentiation and conversion technologies in neuroscience. Nat. Rev. Neurosci. 17, 424–437 (2016).

Lancaster, M. A. et al. Cerebral organoids model human brain development and microcephaly. Nature 501, 373–379 (2013).

Qian, X. et al. Brain-region-specific organoids using mini-bioreactors for modeling ZIKV exposure. Cell 165, 1238–1254 (2016).

Pasca, A. M. et al. Functional cortical neurons and astrocytes from human pluripotent stem cells in 3D culture. Nat. Methods 12, 671–678 (2015).

Sloan, S. A. et al. Human astrocyte maturation captured in 3D cerebral cortical spheroids derived from pluripotent stem cells. Neuron 95, 779–790 e776 (2017).

Camp, J. G. et al. Human cerebral organoids recapitulate gene expression programs of fetal neocortex development. Proc. Natl Acad. Sci. USA 112, 15672–15677 (2015).

Amiri, A., et al. Transcriptome and epigenome landscape of human cortical development modeled in organoids. Science 362, eaat6720 (2018).

Quadrato, G. et al. Cell diversity and network dynamics in photosensitive human brain organoids. Nature 545, 48–53 (2017).

Trevino, A. E., et al. Chromatin accessibility dynamics in a model of human forebrain development. Science 367, eaay1645 (2020).

Yoon, S. J. et al. Reliability of human cortical organoid generation. Nat. Methods 16, 75–78 (2019).

Horvath, S. DNA methylation age of human tissues and cell types. Genome Biol. 14, R115 (2013).

McEwen, L. M. et al. Systematic evaluation of DNA methylation age estimation with common preprocessing methods and the Infinium MethylationEPIC BeadChip array. Clin. Epigenetics 10, 123 (2018).

Horvath, S. et al. Epigenetic clock for skin and blood cells applied to Hutchinson Gilford progeria syndrome and ex vivo studies. Aging (Albany NY) 10, 1758–1775 (2018).

Stein, J. L. et al. A quantitative framework to evaluate modeling of cortical development by neural stem cells. Neuron 83, 69–86 (2014).

Li, M., et al. Integrative functional genomic analysis of human brain development and neuropsychiatric risks. Science 362, eaat7615 (2018).

Kang, H. J. et al. Spatio-temporal transcriptome of the human brain. Nature 478, 483–489 (2011).

Khan, T. A., et al. Neuronal defects in a human cellular model of 22q11.2 deletion syndrome. Nat. Med. 26, 1888–1898 (2020).

Pollen, A. A. et al. Establishing cerebral organoids as models of human-specific brain evolution. Cell 176, 743–756.e717 (2019).

Bhaduri, A., et al. Cell stress in cortical organoids impairs molecular subtype specification. Nature 578,142–148 (2020).

Polioudakis, D. et al. A single-cell transcriptomic atlas of human neocortical development during mid-gestation. Neuron 103, 785–801.e788 (2019).

Birey, F. et al. Assembly of functionally integrated human forebrain spheroids. Nature 545, 54–59 (2017).

Marton, R. M., et al. Differentiation and maturation of oligodendrocytes in human three-dimensional neural cultures. Nat. Neurosci. 22, 484–491 (2019).

Hwang, T. et al. Dynamic regulation of RNA editing in human brain development and disease. Nat. Neurosci. 19, 1093–1099 (2016).

Sanjana, N. E., Levanon, E. Y., Hueske, E. A., Ambrose, J. M. & Li, J. B. Activity-dependent A-to-I RNA editing in rat cortical neurons. Genetics 192, 281–287 (2012).

Tran, S. S. et al. Widespread RNA editing dysregulation in brains from autistic individuals. Nat. Neurosci. 22, 25–36 (2019).

Morris, M. J., Karra, A. S. & Monteggia, L. M. Histone deacetylases govern cellular mechanisms underlying behavioral and synaptic plasticity in the developing and adult brain. Behav. Pharmacol. 21, 409–419 (2010).

Sheng, M., Cummings, J., Roldan, L. A., Jan, Y. N. & Jan, L. Y. Changing subunit composition of heteromeric NMDA receptors during development of rat cortex. Nature 368, 144–147 (1994).

Watanabe, M., Inoue, Y., Sakimura, K. & Mishina, M. Developmental changes in distribution of NMDA receptor channel subunit mRNAs. Neuroreport 3, 1138–1140 (1992).

Liu, H., Hu, Q., Kaufman, A., D'Ercole, A. J. & Ye, P. Developmental expression of histone deacetylase 11 in the murine brain. J. Neurosci. Res. 86, 537–543 (2008).

Le Magueresse, C. & Monyer, H. GABAergic interneurons shape the functional maturation of the cortex. Neuron 77, 388–405 (2013).

Wyllie, D. J., Livesey, M. R. & Hardingham, G. E. Influence of GluN2 subunit identity on NMDA receptor function. Neuropharmacology 74, 4–17 (2013).

Galluzzi, L., Yamazaki, T. & Kroemer, G. Linking cellular stress responses to systemic homeostasis. Nat. Rev. Mol. Cell Biol. 19, 731–745 (2018).

Nowakowski, T. J. et al. Spatiotemporal gene expression trajectories reveal developmental hierarchies of the human cortex. Science 358, 1318–1323 (2017).

Sunwoldt, J., Bosche, B., Meisel, A. & Mergenthaler, P. Neuronal culture microenvironments determine preferences in bioenergetic pathway use. Front. Mol. Neurosci. 10, 305 (2017).

Ma, E. H. et al. Metabolic profiling using stable isotope tracing reveals distinct patterns of glucose utilization by physiologically activated CD8(+) T cells. Immunity 51, 856–870 e855 (2019).

Gaspard, N. et al. An intrinsic mechanism of corticogenesis from embryonic stem cells. Nature 455, 351–357 (2008).

Shen, Q. et al. The timing of cortical neurogenesis is encoded within lineages of individual progenitor cells. Nat. Neurosci. 9, 743–751 (2006).

Zhang, W., Qu, J., Liu, G. H. & Belmonte, J. C. I. The ageing epigenome and its rejuvenation. Nat. Rev. Mol. Cell Biol. 21, 137–150 (2020).

Raj, B. & Blencowe, B. J. Alternative splicing in the mammalian nervous system: recent insights into mechanisms and functional roles. Neuron 87, 14–27 (2015).

Sohal, V. S. & Rubenstein, J. L. R. Excitation–inhibition balance as a framework for investigating mechanisms in neuropsychiatric disorders. Mol. Psychiatry 24, 1248–1257 (2019).

Mosser, C. A., Baptista, S., Arnoux, I. & Audinat, E. Microglia in CNS development: shaping the brain for the future. Prog. Neurobiol. 149–150, 1–20 (2017).

Lin, Y. T. et al. APOE4 causes widespread molecular and cellular alterations associated with Alzheimer's disease phenotypes in human iPSC-derived brain cell types. Neuron 98, 1294 (2018).

Cakir, B. et al. Engineering of human brain organoids with a functional vascular-like system. Nat. Methods 16, 1169–1175 (2019).

Balik, A., Penn, A. C., Nemoda, Z. & Greger, I. H. Activity-regulated RNA editing in select neuronal subfields in hippocampus. Nucleic Acids Res. 41, 1124–1134 (2013).

Paşca, S. P. et al. Using iPSC-derived neurons to uncover cellular phenotypes associated with Timothy syndrome. Nat. Med. 17, 1657–1662 (2011).

Dobin, A. et al. STAR: ultrafast universal RNA-seq aligner. Bioinformatics 29, 15–21 (2013).

Li, B. & Dewey, C. N. RSEM: accurate transcript quantification from RNA-Seq data with or without a reference genome. BMC Bioinf. 12, 323 (2011).

Oldham, M. C., Langfelder, P. & Horvath, S. Network methods for describing sample relationships in genomic datasets: application to Huntington's disease. BMC Syst. Biol. 6, 63 (2012).

McKenna, A. et al. The genome analysis Toolkit: a MapReduce framework for analyzing next-generation DNA sequencing data. Genome Res. 20, 1297–1303 (2010).

Purcell, S. et al. PLINK: a tool set for whole-genome association and population-based linkage analyses. Am. J. Hum. Genet. 81, 559–575 (2007).

Leek, J. T., Johnson, W. E., Parker, H. S., Jaffe, A. E. & Storey, J. D. The sva package for removing batch effects and other unwanted variation in high-throughput experiments. Bioinformatics 28, 882–883 (2012).

Cleveland, W. S. & Devlin, S. J. Locally weighted regression: an approach to regression analysis by local fitting. J. Am. Stat. Assoc. 83, 596–610 (1988).

Wickham, H. ggplot2: Elegant Graphics for Data Analysis (Springer, 2016).

Liao, Y., Smyth, G. K. & Shi, W. featureCounts: an efficient general purpose program for assigning sequence reads to genomic features. Bioinformatics 30, 923–930 (2014).

Plaisier, S. B., Taschereau, R., Wong, J. A. & Graeber, T. G. Rank-rank hypergeometric overlap: identification of statistically significant overlap between gene-expression signatures. Nucleic Acids Res. 38, e169 (2010).

Robinson, M. D., McCarthy, D. J. & Smyth, G. K. edgeR: a Bioconductor package for differential expression analysis of digital gene expression data. Bioinformatics 26, 139–140 (2010).

Ritchie, M. E. et al. limma powers differential expression analyses for RNA-sequencing and microarray studies. Nucleic Acids Res. 43, e47 (2015).

Triche, T. J. Jr., Weisenberger, D. J., Van Den Berg, D., Laird, P. W. & Siegmund, K. D. Low-level processing of Illumina Infinium DNA Methylation BeadArrays. Nucleic Acids Res. 41, e90 (2013).

Korotkevich, G., Sukhov, V. & Sergushichev, A. Fast gene set enrichment analysis. Preprint at bioRxiv https://doi.org/10.1101/060012 (2019).

Langfelder, P., Luo, R., Oldham, M. C. & Horvath, S. Is my network module preserved and reproducible? PLoS Comput. Biol. 7, e1001057 (2011).

Langfelder, P. & Horvath, S. WGCNA: an R package for weighted correlation network analysis. BMC Bioinformatics 9, 559 (2008).

Sloan, S. A., Andersen, J., Pasca, A. M., Birey, F. & Pasca, S. P. Generation and assembly of human brain region-specific three-dimensional cultures. Nat. Protoc. 13, 2062–2085 (2018).

Cribari-Neto, F. & Zeileis, A. Beta regression in R. J. Stat. Softw. 34, 1–24 (2010).

Kim, D., Langmead, B. & Salzberg, S. L. HISAT: a fast spliced aligner with low memory requirements. Nat. Methods 12, 357–360 (2015).

Bahn, J. H. et al. Accurate identification of A-to-I RNA editing in human by transcriptome sequencing. Genome Res. 22, 142–150 (2012).

Lee, J. H., Ang, J. K. & Xiao, X. Analysis and design of RNA sequencing experiments for identifying RNA editing and other single-nucleotide variants. RNA 19, 725–732 (2013).

Porath, H. T., Carmi, S. & Levanon, E. Y. A genome-wide map of hyper-edited RNA reveals numerous new sites. Nat. Commun. 5, 4726 (2014).

Parikshak, N. N., et al. Genome-wide changes in lncRNA, splicing, and regional gene expression patterns in autism. Nature 540, 423–427 (2016).

Wu, Y. E., Parikshak, N. N., Belgard, T. G. & Geschwind, D. H. Genome-wide, integrative analysis implicates microRNA dysregulation in autism spectrum disorder. Nat. Neurosci. 19, 1463–1476 (2016).

Nishikura, K. A-to-I editing of coding and non-coding RNAs by ADARs. Nat. Rev. Mol. Cell Biol. 17, 83–96 (2016).

Parikshak, N. N. et al. Integrative functional genomic analyses implicate specific molecular pathways and circuits in autism. Cell 155, 1008–1021 (2013).

Wang, D., et al. Comprehensive functional genomic resource and integrative model for the human brain. Science 362, eaat8464 (2018).

Jansen, I. E. et al. Genome-wide meta-analysis identifies new loci and functional pathways influencing Alzheimer's disease risk. Nat. Genet. 51, 404–413 (2019).

Cacace, R., Sleegers, K. & Van Broeckhoven, C. Molecular genetics of early-onset Alzheimer's disease revisited. Alzheimers Dement. 12, 733–748 (2016).

Chang, D. et al. A meta-analysis of genome-wide association studies identifies 17 new Parkinson's disease risk loci. Nat. Genet. 49, 1511–1516 (2017).

Farrer, M. J. Genetics of Parkinson disease: paradigm shifts and future prospects. Nat. Rev. Genet. 7, 306–318 (2006).

Chen, J. A. et al. Joint genome-wide association study of progressive supranuclear palsy identifies novel susceptibility loci and genetic correlation to neurodegenerative diseases. Mol. Neurodegener. 13, 41 (2018).

Greaves, C. V. & Rohrer, J. D. An update on genetic frontotemporal dementia. J. Neurol. 266, 2075–2086 (2019).

Yu, G., Wang, L. G., Han, Y. & He, Q. Y. clusterProfiler: an R package for comparing biological themes among gene clusters. OMICS 16, 284–287 (2012).

Skene, N. G. & Grant, S. G. Identification of vulnerable cell types in major brain disorders using single cell transcriptomes and expression weighted cell type enrichment. Front. Neurosci. 10, 16 (2016).
Acknowledgements
We acknowledge experimental support from members of the Pasca Lab at Stanford University: A. M. Pasca, N. Huber, T. Khan, F. Birey, A. Puno, L. Li and T. Li., and members of the Pasca lab and Geschwind lab for helpful discussions and support, including A. Elkins for setting up the GECO web browser. This work was supported by a Distinguished Investigator Award from the Paul G. Allen Frontiers Group (to D.H.G.); by grants from California Institute of Regenerative Medicine (CIRM) and the National Institute of Mental Health Convergent Neuroscience Consortium (U01 MH115745) (to D.H.G. and S.P.P.), the Stanford Human Brain Organogenesis Program in the Wu Tsai Neuroscience Institute (to S.P.P.), Stanford Bio-X (to S.P.P.), the Stanford Wu Tsai Neuroscience Institute Big Idea Grant (to S.P.P.), the Kwan Funds (to S.P.P.), the Senkut Research Fund (to S.P.P.), the Autism Science Foundation (ASF) and the Brain and Behavior Research Foundation Young Investigator award (Brain & Behavior Research Foundation) (to A.G.). S.P.P. is a New York Stem Cell Foundation (NYSCF) Robertson Stem Cell Investigator and a Chan Zuckerberg Initiative (CZI) Ben Barres Investigator.
Ethics declarations
Competing interests
S.P.P. is listed on a patent held by Stanford University that covers the generation of region-specific brain organoids (US patent 62/477,858). All other authors declare no competing interests.
Additional information
Peer review information Nature Neuroscience thanks Kristen Brennand and the other, anonymous, reviewer(s) for their contribution to the peer review of this work.
Publisher's note Springer Nature remains neutral with regard to jurisdictional claims in published maps and institutional affiliations.
Supplementary information
Supplementary Tables 1–5.
About this article
Cite this article
Gordon, A., Yoon, SJ., Tran, S.S. et al. Long-term maturation of human cortical organoids matches key early postnatal transitions. Nat Neurosci 24, 331–342 (2021). https://doi.org/10.1038/s41593-021-00802-y
Received:

Accepted:

Published:

Issue Date:

DOI: https://doi.org/10.1038/s41593-021-00802-y