Abstract
Neurodegeneration occurring in multiple sclerosis (MS) contributes to the progression of disability. It is therefore important to identify and neutralize the mechanisms that promote neurodegeneration in MS. Here, we report that oxidized phosphatidylcholines (OxPCs) found in MS lesions, previously identified as end-product markers of oxidative stress, are potent drivers of neurodegeneration. Cultured neurons and oligodendrocytes were killed by OxPCs, and this was ameliorated by microglia. After OxPC injection, mouse spinal cords developed focal demyelinating lesions with prominent axonal loss. The depletion of microglia that accumulated in OxPC lesions exacerbated neurodegeneration. Single-cell RNA sequencing of lesioned spinal cords identified unique subsets of TREM2high mouse microglia responding to OxPC deposition. TREM2 was detected in human MS lesions, and TREM2−/− mice exhibited worsened OxPC lesions. These results identify OxPCs as potent neurotoxins and suggest that enhancing microglia-mediated OxPC clearance via TREM2 could help prevent neurodegeneration in MS.
Your institute does not have access to this article
Relevant articles
Open Access articles citing this article.
Dorsa Moezzi

,

Yifei Dong

…

V. Wee Yong

Scientific Reports Open Access 26 July 2022

Chuanwang Tong

&

Senyang Cao

Scientific Reports Open Access 22 June 2022
Access options
Subscribe to Nature+
Get immediate online access to the entire Nature family of 50+ journals
Subscribe to Journal
Get full journal access for 1 year
$59.00
only $4.92 per issue
All prices are NET prices.
VAT will be added later in the checkout.
Tax calculation will be finalised during checkout.
Buy article
Get time limited or full article access on ReadCube.
$32.00
All prices are NET prices.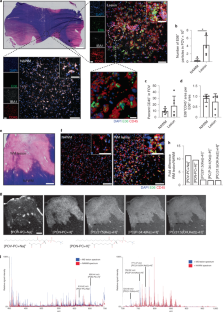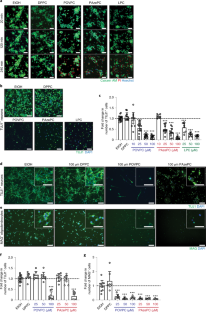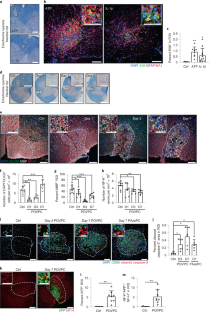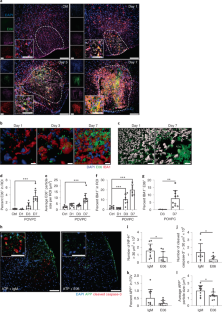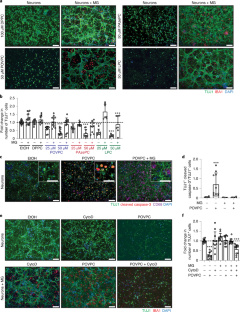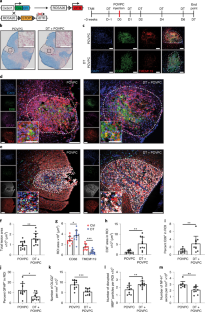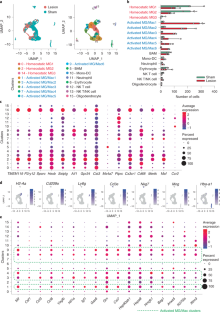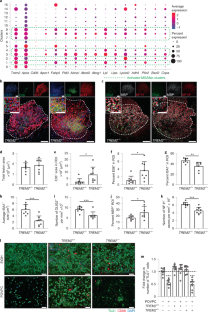 Data availability
The data that support the findings of this study are available from the corresponding author upon request. There are no restrictions on data availability. The scRNA-seq data comparing cells from the spinal cord of PBS- and PAzePC-injected mice are available at the NCBI Sequence Read Archive with the BioProject accession number PRJNA648663. Mass peaks were identified by experimental m/z searches of the LIPID Metabolites and Pathway Strategies In Silico Structural Database (resource available at https://www.lipidmaps.org/resources/databases/lmissd/search.php).
Code availability
The code for sc-RNAseq analysis can be found in Supplementary Software 1 (scRNA-seq analysis file).
References
Lassmann, H. Multiple sclerosis pathology. Cold Spring Harb. Perspect. Med. https://doi.org/10.1101/cshperspect.a028936 (2018).

Dong, Y. & Yong, V. W. When encephalitogenic T cells collaborate with microglia in multiple sclerosis. Nat. Rev. Neurol. 15, 704–717 (2019).

Rawji, K. S. et al. Deficient surveillance and phagocytic activity of myeloid cells within demyelinated lesions in aging mice visualized by ex vivo live multiphoton imaging. J. Neurosci. 38, 1973–1988 (2018).

Bongarzone, E. R., Pasquini, J. M. & Soto, E. F. Oxidative damage to proteins and lipids of CNS myelin produced by in vitro generated reactive oxygen species. J. Neurosci. Res. 41, 213–221 (1995).

Sun, X. et al. Neutralization of oxidized phospholipids ameliorates non-alcoholic steatohepatitis. Cell Metab. 31, 189–206 (2019).

Que, X. et al. Oxidized phospholipids are proinflammatory and proatherogenic in hypercholesterolaemic mice. Nature 558, 301–306 (2018).

Zanoni, I. et al. An endogenous caspase-11 ligand elicits interleukin-1 release from living dendritic cells. Science 352, 1232–1236 (2016).

Di Gioia, M. et al. Endogenous oxidized phospholipids reprogram cellular metabolism and boost hyperinflammation. Nat. Immunol. 21, 42–53 (2020).

Imai, Y. et al. Identification of oxidative stress and Toll-like receptor 4 signaling as a key pathway of acute lung injury. Cell 133, 235–249 (2008).

Haider, L. et al. Oxidative damage in multiple sclerosis lesions. Brain 134, 1914–1924 (2011).

Kanter, J. L. et al. Lipid microarrays identify key mediators of autoimmune brain inflammation. Nat. Med. 12, 138–143 (2006).

Qin, J., Goswami, R., Balabanov, R. & Dawson, G. Oxidized phosphatidylcholine is a marker for neuroinflammation in multiple sclerosis brain. J. Neurosci. Res. 85, 977–984 (2007).

Prinz, M., Jung, S. & Priller, J. Microglia biology: one century of evolving concepts. Cell 179, 292–311 (2019).

Li, Q. & Barres, B. A. Microglia and macrophages in brain homeostasis and disease. Nat. Rev. Immunol. 18, 225–242 (2018).

Poliani, P. L. et al. TREM2 sustains microglial expansion during aging and response to demyelination. J. Clin. Invest. 125, 2161–2170 (2015).

Wang, Y. M. et al. TREM2 lipid sensing sustains the microglial response in an Alzheimer's disease model. Cell 160, 1061–1071 (2015).

Nugent, A. A. et al. TREM2 regulates microglial cholesterol metabolism upon chronic phagocytic challenge. Neuron 105, 837–854 (2019).

Coraci, I. S. et al. CD36, a class B scavenger receptor, is expressed on microglia in Alzheimer's disease brains and can mediate production of reactive oxygen species in response to β-amyloid fibrils. Am. J. Pathol. 160, 101–112 (2002).

Neumann, J. et al. Microglia cells protect neurons by direct engulfment of invading neutrophil granulocytes: a new mechanism of CNS immune privilege. J. Neurosci. 28, 5965–5975 (2008).

Szalay, G. et al. Microglia protect against brain injury and their selective elimination dysregulates neuronal network activity after stroke. Nat. Commun. 7, 11499 (2016).

Plemel, J. R. et al. Microglia response following acute demyelination is heterogenous and limits infiltrating macrophage dispersion. Sci. Adv. 15, eaay6324 (2020).

Chou, M. Y. et al. Oxidation-specific epitopes are dominant targets of innate natural antibodies in mice and humans. J. Clin. Invest. 119, 1335–1349 (2009).

Palinski, W. et al. Cloning of monoclonal autoantibodies to epitopes of oxidized lipoproteins from apolipoprotein E-deficient mice. Demonstration of epitopes of oxidized low density lipoprotein in human plasma. J. Clin. Invest. 98, 800–814 (1996).

Plemel, J. R. et al. Mechanisms of lysophosphatidylcholine-induced demyelination: a primary lipid disrupting myelinopathy. Glia 66, 327–347 (2018).

Keough, M. B. et al. An inhibitor of chondroitin sulfate proteoglycan synthesis promotes central nervous system remyelination. Nat. Commun. 7, 11312 (2016).

Schliwa, M. Action of cytochalasin D on cytoskeletal networks. J. Cell Biol. 92, 79–91 (1982).

Oliveira, C. A., Kashman, Y. & Mantovani, B. Effects of latrunculin A on immunological phagocytosis and macrophage spreading-associated changes in the F-actin/G-actin content of the cells. Chem. Biol. Interact. 100, 141–153 (1996).

Keren-Shaul, H. et al. A unique microglia type associated with restricting development of Alzheimer's disease. Cell 169, 1276–1290 (2017).

Hammond, T. R. et al. Single-cell RNA sequencing of microglia throughout the mouse lifespan and in the injured brain reveals complex cell-state changes. Immunity 50, 253–271 (2019).

Jordao, M. J. C. et al. Single-cell profiling identifies myeloid cell subsets with distinct fates during neuroinflammation. Science 363, eaat7554 (2019).

Gao, D. et al. Structural basis for the recognition of oxidized phospholipids in oxidized low density lipoproteins by class B scavenger receptors CD36 and SR-BI. J. Biol. Chem. 285, 4447–4454 (2010).

Qin, J. D., Testai, F. D., Dawson, S., Kilkus, J. & Dawson, G. Oxidized phosphatidylcholine formation and action in oligodendrocytes. J. Neurochem. 110, 1388–1399 (2009).

Stemmer, U. et al. Toxicity of oxidized phospholipids in cultured macrophages. Lipids Health Dis. 11, 110 (2012).

Bhatia, T. N. et al. Astrocytes do not forfeit their neuroprotective roles after surviving intense oxidative stress. Front. Mol. Neurosci. 12, 87 (2019).

Loidl, A., Sevcsik, E., Riesenhuber, G., Deigner, H. P. & Hermetter, A. Oxidized phospholipids in minimally modified low density lipoprotein induce apoptotic signaling via activation of acid sphingomyelinase in arterial smooth muscle cells. J. Biol. Chem. 278, 32921–32928 (2003).

Skundric, D. S., Cai, J., Cruikshank, W. W. & Gveric, D. Production of IL-16 correlates with CD4+ Th1 inflammation and phosphorylation of axonal cytoskeleton in multiple sclerosis lesions. J. Neuroinflammation 3, 13 (2006).

Pande, A. H., Kar, S. & Tripathy, R. K. Oxidatively modified fatty acyl chain determines physicochemical properties of aggregates of oxidized phospholipids. Biochim. Biophys. Acta 1798, 442–452 (2010).

Chang, M. K., Binder, C. J., Torzewski, M. & Witztum, J. L. C-reactive protein binds to both oxidized LDL and apoptotic cells through recognition of a common ligand: phosphorylcholine of oxidized phospholipids. Proc. Natl Acad. Sci. USA 99, 13043–13048 (2002).

Bergmark, C. et al. A novel function of lipoprotein [a] as a preferential carrier of oxidized phospholipids in human plasma. J. Lipid Res. 49, 2230–2239 (2008).

Leibundgut, G. et al. Determinants of binding of oxidized phospholipids on apolipoprotein (a) and lipoprotein (a). J. Lipid Res. 54, 2815–2830 (2013).

Palavra, F. et al. New markers of early cardiovascular risk in multiple sclerosis patients: oxidized-LDL correlates with clinical staging. Dis. Markers 34, 341–348 (2013).

Soilu-Hanninen, M. et al. High sensitivity measurement of CRP and disease progression in multiple sclerosis. Neurology 65, 153–155 (2005).

Romero, F. et al. A pneumocyte–macrophage paracrine lipid axis drives the lung toward fibrosis. Am. J. Respir. Cell Mol. Biol. 53, 74–86 (2015).

Bieghs, V. et al. Trapping of oxidized LDL in lysosomes of Kupffer cells is a trigger for hepatic inflammation. Liver Int. 33, 1056–1061 (2013).

Benedek, G. et al. MIF and D-DT are potential disease severity modifiers in male MS subjects. Proc. Natl Acad. Sci. USA 114, E8421–E8429 (2017).

van der Poel, M. et al. Transcriptional profiling of human microglia reveals grey–white matter heterogeneity and multiple sclerosis-associated changes. Nat. Commun. 10, 1139 (2019).

Andersson, A. et al. Pivotal advance: HMGB1 expression in active lesions of human and experimental multiple sclerosis. J. Leukoc. Biol. 84, 1248–1255 (2008).

Vercellino, M. et al. Progranulin expression in brain tissue and cerebrospinal fluid levels in multiple sclerosis. Mult. Scler. 17, 1194–1201 (2011).

Ma, J. et al. Microglial cystatin F expression is a sensitive indicator for ongoing demyelination with concurrent remyelination. J. Neurosci. Res. 89, 639–649 (2011).

Takahashi, K., Prinz, M., Stagi, M., Chechneva, O. & Neumann, H. TREM2-transduced myeloid precursors mediate nervous tissue debris clearance and facilitate recovery in an animal model of multiple sclerosis. PLoS Med. 4, e124 (2007).

Polman, C. H. et al. Diagnostic criteria for multiple sclerosis: 2010 revisions to the McDonald criteria. Ann. Neurol. 69, 292–302 (2011).

Dhaeze, T. et al. CD70 defines a subset of proinflammatory and CNS-pathogenic TH1/TH17 lymphocytes and is overexpressed in multiple sclerosis. Cell. Mol. Immunol. 16, 652–665 (2019).

Kuhlmann, T. et al. An updated histological classification system for multiple sclerosis lesions. Acta. Neuropathol. 133, 13–24 (2017).

Caughlin, S., Park, D. H., Yeung, K. K., Cechetto, D. F. & Whitehead, S. N. Sublimation of DAN matrix for the detection and visualization of gangliosides in rat brain tissue for MALDI imaging mass spectrometry. J. Vis. Exp. 121, 55254 (2017).

Butler, A., Hoffman, P., Smibert, P., Papalexi, E. & Satija, R. Integrating single-cell transcriptomic data across different conditions, technologies, and species. Nat. Biotechnol. 36, 411–420 (2018).

Sloka, S., Zhornitsky, S., Silva, C., Metz, L. M. & Yong, V. W. 1,25-Dihydroxyvitamin D3 protects against immune-mediated killing of neurons in culture and in experimental autoimmune encephalomyelitis. PLoS ONE 10, e0144084 (2015).

Mishra, M. K. et al. Laquinimod reduces neuroaxonal injury through inhibiting microglial activation. Ann. Clin. Transl Neurol. 1, 409–422 (2014).

Cua, R. C. et al. Overcoming neurite-inhibitory chondroitin sulfate proteoglycans in the astrocyte matrix. Glia 61, 972–984 (2013).

Lau, L. W. et al. Chondroitin sulfate proteoglycans in demyelinated lesions impair remyelination. Ann. Neurol. 72, 419–432 (2012).
Acknowledgements
We thank C. Silva, R. Chan, the Hotchkiss Brain Institute Advanced Microscopy Platform Facility and the Centre for Health Genomics and Informatics Bioinformatics Core, University of Calgary, for technical help. The authors' research is supported by operating grants from the Alberta Innovates Health Solutions CRIO Team program, the MS Society of Canada and the Canadian Institutes of Health Research. Y.D. acknowledges postdoctoral fellowship support from the Canadian Institutes of Health Research and Alberta MS Collaboration. S.G. acknowledges postdoctoral fellowship support from the Harley N. Hotchkiss Postdoctoral Fellowship. D.K.K. received postdoctoral funding from Alberta Innovates—Health Solutions, the Multiple Sclerosis Society of Canada (MSSOC) and the Eyes High Scholars program of the University of Calgary. B.M.L. and D.B. gratefully acknowledge studentships from the Alberta Graduate Excellence Scholarship and the Canadian Institutes of Health Research (CIHR) Canada Graduate Scholarships, respectively. W.P. acknowledges CGS-M scholarship support from CIHR. S.Z. holds a joint fellowship from the Fonds de Recherche en Santé du Québec and the MSSOC. This work was funded by operating grants from the MSSOC and CIHR to V.W.Y. (grant number 3527 and FDN 167270, respectively) and A.P. (grant number 3188 and PJT166056, respectively). S.N.W. acknowledges funding support for this research from the Natural Sciences and Engineering Research Council of Canada (RGPIN-2019-04742) and Canada First Research Excellence Fund BrainsCAN Accelerator Award (44531). V.W.Y. and A.P. acknowledge salary support from the Canada Research Chair (Tier 1) program.
Ethics declarations
Competing interests
The authors declare no competing interests.
Additional information
Peer review information Nature Neuroscience thanks the anonymous reviewers for their contribution to the peer review of this work.
Publisher's note Springer Nature remains neutral with regard to jurisdictional claims in published maps and institutional affiliations.
Supplementary information
About this article
Cite this article
Dong, Y., D'Mello, C., Pinsky, W. et al. Oxidized phosphatidylcholines found in multiple sclerosis lesions mediate neurodegeneration and are neutralized by microglia. Nat Neurosci 24, 489–503 (2021). https://doi.org/10.1038/s41593-021-00801-z
Received:

Accepted:

Published:

Issue Date:

DOI: https://doi.org/10.1038/s41593-021-00801-z