Abstract
Oxytocin (OT) orchestrates social and emotional behaviors through modulation of neural circuits. In the central amygdala, the release of OT modulates inhibitory circuits and, thereby, suppresses fear responses and decreases anxiety levels. Using astrocyte-specific gain and loss of function and pharmacological approaches, we demonstrate that a morphologically distinct subpopulation of astrocytes expresses OT receptors and mediates anxiolytic and positive reinforcement effects of OT in the central amygdala of mice and rats. The involvement of astrocytes in OT signaling challenges the long-held dogma that OT acts exclusively on neurons and highlights astrocytes as essential components for modulation of emotional states under normal and chronic pain conditions.
Relevant articles
Open Access articles citing this article.
Mai Iwasaki

,

Arthur Lefevre

…

Alexandre Charlet

Nature Communications Open Access 24 February 2023

Huan-Jun Lu

&

Yong-Jing Gao

Neuroscience Bulletin Open Access 14 November 2022

Woo-Hyun Cho

,

Kyungchul Noh

…

Sung Joong Lee

Nature Communications Open Access 07 November 2022
Access options
Access Nature and 54 other Nature Portfolio journals
Get Nature+, our best-value online-access subscription
$29.99 / 30 days
cancel any time
Subscribe to this journal
Receive 12 print issues and online access
$209.00 per year
only $17.42 per issue
Rent or buy this article
Prices vary by article type
from$1.95
to$39.95
Prices may be subject to local taxes which are calculated during checkout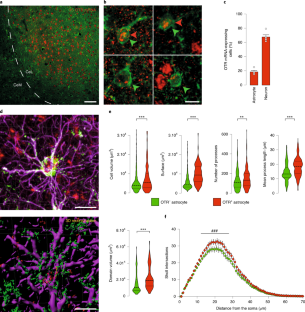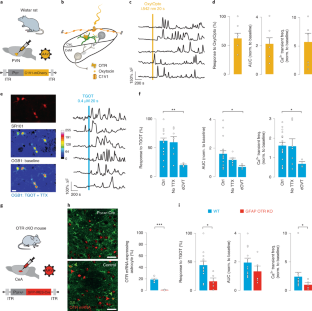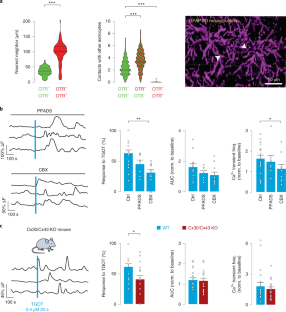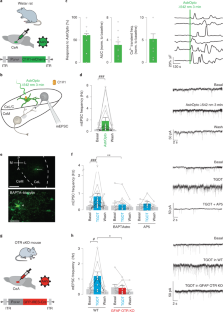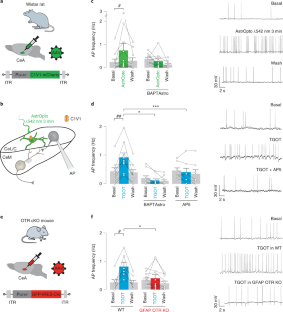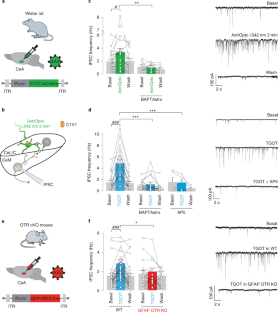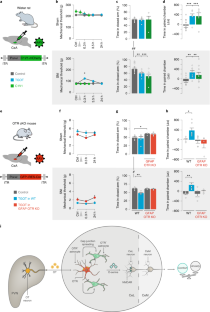 Data and code availability
Python code (used for ex vivo calcium imaging data analysis) can be found in Supplementary Software. All data that support the findings of this study are available from the corresponding authors upon reasonable request.
References
Lee, H.-J., Macbeth, A. H., Pagani, J. H. & Young, W. S. Oxytocin: the great facilitator of life. Prog. Neurobiol. 88, 127–151 (2009).

Knobloch, H. S. et al. Evoked axonal oxytocin release in the central amygdala attenuates fear response. Neuron 73, 553–566 (2012).

Chini, B., Verhage, M. & Grinevich, V. The action radius of oxytocin release in the mammalian CNS: from single vesicles to behavior. Trends Pharmacol. Sci. 38, 982–991 (2017).

Mitre, M. et al. A distributed network for social cognition enriched for oxytocin receptors. J. Neurosci. 36, 2517–2535 (2016).

Yoshida, M. et al. Evidence that oxytocin exerts anxiolytic effects via oxytocin receptor expressed in serotonergic neurons in mice. J. Neurosci. 29, 2259–2271 (2009).

Theodosis, D. T. Oxytocin-secreting neurons: a physiological model of morphological neuronal and glial plasticity in the adult hypothalamus. Front. Neuroendocrinol. 23, 101–135 (2002).

Pacholko, A. G., Wotton, C. A. & Bekar, L. K. Astrocytes—the ultimate effectors of long-range neuromodulatory networks? Front. Cell. Neurosci. 14, 1–12 (2020).

Huber, D., Veinante, P. & Stoop, R. Vasopressin and oxytocin excite distinct neuronal populations in the central amygdala. Science 308, 245–248 (2005).

Viviani, D. et al. Oxytocin selectively gates fear responses through distinct outputs from the central amygdala. Science 333, 104–107 (2011).

Han, R. T. et al. Long-term isolation elicits depression and anxiety-related behaviors by reducing oxytocin-induced GABAergic transmission in central amygdala. Front. Mol. Neurosci. 11, 246 (2018).

Neugebauer, V., Li, W., Bird, G. C. & Han, J. S. The amygdala and persistent pain. Neuroscientist 10, 221–234 (2004).

Tye, K. M. et al. Amygdala circuitry mediating reversible and bidirectional control of anxiety. Nature 471, 358–362 (2011).

Ji, R.-R., Donnelly, C. R. & Nedergaard, M. Astrocytes in chronic pain and itch. Nat. Rev. Neurosci. 20, 667–685 (2019).

Poisbeau, P., Grinevich, V. & Charlet, A. Oxytocin signaling in pain: cellular, circuit, system, and behavioral levels. Curr. Top. Behav. Neurosci. 35, 193–211 (2018).

Martin-Fernandez, M. et al. Synapse-specific astrocyte gating of amygdala-related behavior. Nat. Neurosci. 20, 1540–1548 (2017).

Althammer, F. et al. Three-dimensional morphometric analysis reveals time-dependent structural changes in microglia and astrocytes in the central amygdala and hypothalamic paraventricular nucleus of heart failure rats. J. Neuroinflammation 17, 221 (2020).

Yizhar, O. et al. Neocortical excitation/inhibition balance in information processing and social dysfunction. Nature 477, 171–178 (2011).

Lee, H. J., Caldwell, H. K., Macbeth, A. H., Tolu, S. G. & Young, W. S. A conditional knockout mouse line of the oxytocin receptor. Endocrinology 149, 3256–3263 (2008).

Wallraff, A. et al. The impact of astrocytic gap junctional coupling on potassium buffering in the hippocampus. J. Neurosci. 26, 5438–5447 (2006).

Papouin, T., Dunphy, J. M., Tolman, M., Dineley, K. T. & Haydon, P. G. Septal cholinergic neuromodulation tunes the astrocyte-dependent gating of hippocampal NMDA receptors to wakefulness. Neuron 94, 840–854 (2017).

Robin, L. M. et al. Astroglial CB1 receptors determine synaptic D-serine availability to enable recognition memory. Neuron 98, 935–944 (2018).

Corkrum, M., Rothwell, P. E., Thomas, M. J., Kofuji, P. & Araque, A. Opioid-mediated astrocyte-neuron signaling in the nucleus accumbens. Cells 8, 586 (2019).

Li, Y. et al. Identity of endogenous NMDAR glycine site agonist in amygdala is determined by synaptic activity level. Nat. Commun. 4, 1760 (2013).

Decosterd, I. & Woolf, C. J. Spared nerve injury: an animal model of persistent peripheral neuropathic pain. Pain 87, 149–158 (2000).

Thompson, J. M. & Neugebauer, V. Amygdala plasticity and pain. Pain Res. Manag. 2017, 8296501 (2017).

Sieberg, C. B. et al. Neuropathic pain drives anxiety behavior in mice, results consistent with anxiety levels in diabetic neuropathy patients. Pain Rep. 3, e651 (2018).

László, K. et al. Positive reinforcing effect of oxytocin microinjection in the rat central nucleus of amygdala. Behav. Brain Res. 296, 279–285 (2016).

Goodin, B. R., Ness, T. J. & Robbins, M. T. Oxytocin - a multifunctional analgesic for chronic deep tissue pain. Curr. Pharm. Des. 21, 906–913 (2015).

Gravati, M. et al. Dual modulation of inward rectifier potassium currents in olfactory neuronal cells by promiscuous G protein coupling of the oxytocin receptor. J. Neurochem. 114, 1424–1435 (2010).

Breton, J.-D. et al. Oxytocin-induced antinociception in the spinal cord is mediated by a subpopulation of glutamatergic neurons in lamina I–II which amplify GABAergic inhibition. Mol. Pain 4, 19 (2008).

Angulo, M. C., Kozlov, A. S., Charpak, S. & Audinat, E. Glutamate released from glial cells synchronizes neuronal activity in the hippocampus. J. Neurosci. 24, 6920–6927 (2004).

Fellin, T. et al. Neuronal synchrony mediated by astrocytic glutamate through activation of extrasynaptic NMDA receptors. Neuron 43, 729–743 (2004).

Corkrum, M. et al. Dopamine-evoked synaptic regulation in the nucleus accumbens requires astrocyte activity. Neuron 105, 1036–1047.e5 (2020).

Ma, Z., Stork, T., Bergles, D. E. & Freeman, M. R. Neuromodulators signal through astrocytes to alter neural circuit activity and behaviour. Nature 539, 428–432 (2016).

Pestana, F., Edwards-Faret, G., Belgard, T. G., Martirosyan, A. & Holt, M. G. No longer underappreciated: the emerging concept of astrocyte heterogeneity in neuroscience. Brain Sci. 10, 1–21 (2020).

Khakh, B. S. & Deneen, B. The emerging nature of astrocyte diversity. Annu. Rev. Neurosci. 42, 187–207 (2019).

Grinevich, V. & Neumann, I. D. Brain oxytocin: how puzzle stones from animal studies translate into psychiatry. Mol. Psychiatry 26, 265–279 (2021).

Quintana, D. S. et al. Advances in the field of intranasal oxytocin research: lessons learned and future directions for clinical research. Mol. Psychiatry 26, 80–91 (2021).

Kirsch, P. et al. Oxytocin modulates neural circuitry for social cognition and fear in humans. J. Neurosci. 25, 11489–11493 (2005).

Takata, N. et al. Optogenetic astrocyte activation evokes BOLD fMRI response with oxygen consumption without neuronal activity modulation. Glia 66, 2013–2023 (2018).

Figley, C. R. & Stroman, P. W. The role(s) of astrocytes and astrocyte activity in neurometabolism, neurovascular coupling, and the production of functional neuroimaging signals. Eur. J. Neurosci. 33, 577–588 (2011).

Kastanenka, K. V. et al. A roadmap to integrate astrocytes into systems neuroscience. Glia 68, 5–26 (2019).

Poskanzer, K. E. & Yuste, R. Astrocytes regulate cortical state switching in vivo. Proc. Natl Acad. Sci. USA 2016, 1–10 (2016).

Kjaerby, C., Rasmussen, R., Andersen, M. & Nedergaard, M. Does global astrocytic calcium signaling participate in awake brain state transitions and neuronal circuit function? Neurochem. Res. 42, 1810–1822 (2017).

Fenoy, A. J., Goetz, L., Chabardès, S. & Xia, Y. Deep brain stimulation: are astrocytes a key driver behind the scene? CNS Neurosci. Ther. 20, 191–201 (2014).

Monai, H. & Hirase, H. Astrocytes as a target of transcranial direct current stimulation (tDCS) to treat depression. Neurosci. Res. 126, 15–21 (2018).

Mills, S. E. E., Nicolson, K. P. & Smith, B. H. Chronic pain: a review of its epidemiology and associated factors in population-based studies. Br. J. Anaesth. 123, e273–e283 (2019).

Woo, A. K. Depression and anxiety in pain. Rev. Pain 4, 8–12 (2010).

Oliveira, J. F., Sardinha, V. M., Guerra-Gomes, S., Araque, A. & Sousa, N. Do stars govern our actions? Astrocyte involvement in rodent behavior. Trends Neurosci. 38, 535–549 (2015).

Rouach, N., Koulakoff, A., Abudara, V., Willecke, K. & Giaume, C. Astroglial metabolic networks sustain hippocampal synaptic transmission. Science 322, 1551–1555 (2008).

Pannasch, U. et al. Astroglial networks scale synaptic activity and plasticity. Proc. Natl Acad. Sci. USA 108, 8467–8472 (2011).

Theis, M. et al. Accelerated hippocampal spreading depression and enhanced locomotory activity in mice with astrocyte-directed inactivation of connexin43. J. Neurosci. 23, 766–776 (2003).

Teubner, B. et al. Connexin30 (Gjb6)-deficiency causes severe hearing impairment and lack of endocochlear potential. Hum. Mol. Genet. 12, 13–21 (2003).

Shigetomi, E. et al. Imaging calcium microdomains within entire astrocyte territories and endfeet with GCaMPs expressed using adeno-associated viruses. J. Gen. Physiol. 141, 633–647 (2013).

Ting, J. T. et al. Preparation of acute brain slices using an optimized N-methyl-D-glucamine protective recovery method. J. Vis. Exp. (132), 53825 (2018).

Serrano, A., Haddjeri, N., Lacaille, J., Robitaille, R. & Centre-ville, S. GABAergic network activation of glial cells underlies hippocampal heterosynaptic depression. J. Neurosci. 26, 5370–5382 (2006).

Jourdain, P. et al. Glutamate exocytosis from astrocytes controls synaptic strength. Nat. Neurosci. 10, 331–339 (2007).

Ikegaya, Y., Le Bon-Jego, M. & Yuste, R. Large-scale imaging of cortical network activity with calcium indicators. Neurosci. Res. 52, 132–138 (2005).

Shigetomi, E., Bowser, D. N., Sofroniew, M. V. & Khakh, B. S. Two forms of astrocyte calcium excitability have distinct effects on NMDA receptor-mediated slow inward currents in pyramidal neurons. J. Neurosci. 28, 6659–6663 (2008).

Anlauf, E. & Derouiche, A. Glutamine synthetase as an astrocytic marker: its cell type and vesicle localization. Front. Endocrinol. 4, 144 (2013).

Luis-Delgado, O. E. et al. Calibrated forceps: a sensitive and reliable tool for pain and analgesia studies. J. Pain 7, 32–39 (2006).

Walf, A. A. & Frye, C. A. The use of the elevated plus maze as an assay of anxiety-related behavior in rodents. Nat. Protoc. 2, 322–328 (2007).

King, T. et al. Unmasking the tonic-aversive state in neuropathic pain. Nat. Neurosci. 12, 1364–1366 (2009).

Virtanen, P. et al. SciPy 1.0: fundamental algorithms for scientific computing in Python. Nat. Methods 17, 261–272 (2020).

Zeisel, A. et al. Cell types in the mouse cortex and hippocampus revealed by single-cell RNA-seq. Science 347, 1138–1142 (2015).

Batiuk, M. Y. et al. Identification of region-specific astrocyte subtypes at single cell resolution. Nat. Commun. 11, 1220 (2020).

Kofuji, P. & Araque, A. G-protein-coupled receptors in astrocyte–neuron communication. Neuroscience https://doi.org/10.1016/j.neuroscience.2020.03.025 (2020).

Octeau, J. C. et al. Transient, consequential increases in extracellular potassium ions accompany channelrhodopsin2 excitation. Cell Rep. 27, 2249–2261 (2019).

Reeves, A. M. B., Shigetomi, E. & Khakh, B. S. Bulk loading of calcium indicator dyes to study astrocyte physiology: key limitations and improvements using morphological maps. J. Neurosci. 31, 9353–9358 (2011).
Acknowledgements
This work was supported by the Centre National de la Recherche Scientifique contract UPR3212, the Université de Strasbourg contract UPR3212, IASP Early Career Research grant 2012, FP7 Career Integration grant 334455, Initiative of Excellence (IDEX) Attractiveness grant 2013, IDEX Interdisciplinary grant 2015, University of Strasbourg Institute for Advanced Study (USIAS) fellowship 2014-15, Foundation Fyssen research grant 2015, NARSAD Young Investigator grant 24821, ANR JCJC grant 19-CE16-0011-0 (to A.C.), ANR-DFG grant GR 3619/701 (to A.C. and V.G.), Alexander von Humboldt fellowship (to D.H.), Seed grant from DFG within the Collaborative Center SFB 1158 and Fyssen Foundation fellowship (to A.L.); DFG grants GR 3619/13-1, GR 3619/15-1 and GR 3619/16-1 (to V.G.); SFB 1158 (to C.P., J.S. and V.G.), SNSF-DFG grant GR 3619/8-1 (to R.S. and V.G.), the Fritz Thyssen Foundation (to V.G.), DFG Postdoctoral Fellowship AL 2466/1-1 (to F.A.), the Alexander von Humboldt Foundation (to D.H.), the Fyssen Foundation and PROCOP grant and SFB1158 seed grant for young scientists (to A.L.), post-doctoral fellowship from the Fund for Scientific Research Flanders (12V7519N) (to J.W.), Russian Science Foundation RSF (17-75-10061) and the subsidy allocated to the Kazan Federal University for the State Assignment, no. 0671-2020-0059 (to A.R.), the intramural research program of the NIMH (ZIAMH002498) (to W.S.Y.), National Institutes of Health grants R01NS094640 and R01HL090948, SFB/TRR 152 and ERC-CoG-772395 (to J.E.S.), the European Research Council (Consolidator Grant no. 683154) and the European Union's Horizon 2020 Research and Innovation Program (Marie Sklodowska-Curie Innovative Training Networks, grant no. 722053, EU-GliaPhD) (to N.R.). The authors thank V. Lelièvre for in situ hybridization advice; R. Goutagny for in vivo optogenetics assistance; F. Magara for anxiety behavior advice; B. Kurpiers and the Interdisciplinary Neurobehavioral Core Facility of Heidelberg University for experiments performed there; S. Reibel and the Chronobiotron UMS 3415 for all animal care; and T. Splettstoesser (www.scistyle.com) for help with the preparation of Fig. 7.
Ethics declarations
Competing interests
The authors declare no competing interests.
Additional information
Peer review information Nature Neuroscience thanks Thomas Papouin, Gertrudis Perea, and the other, anonymous, reviewer(s) for their contribution to the peer review of this work.
Publisher's note Springer Nature remains neutral with regard to jurisdictional claims in published maps and institutional affiliations.
Supplementary information
Tables 1–7: Numerical values and statistical analysis of data presented in Figs.1–7 and Extended Data Figs. 1–7. Table 8: List of reagents used in this study
Calcium imaging analysis using Python code
About this article
Cite this article
Wahis, J., Baudon, A., Althammer, F. et al. Astrocytes mediate the effect of oxytocin in the central amygdala on neuronal activity and affective states in rodents. Nat Neurosci 24, 529–541 (2021). https://doi.org/10.1038/s41593-021-00800-0
Received:

Accepted:

Published:

Issue Date:

DOI: https://doi.org/10.1038/s41593-021-00800-0