Abstract
Imaging neuronal networks provides a foundation for understanding the nervous system, but resolving dense nanometer-scale structures over large volumes remains challenging for light microscopy (LM) and electron microscopy (EM). Here we show that X-ray holographic nano-tomography (XNH) can image millimeter-scale volumes with sub-100-nm resolution, enabling reconstruction of dense wiring in Drosophila melanogaster and mouse nervous tissue. We performed correlative XNH and EM to reconstruct hundreds of cortical pyramidal cells and show that more superficial cells receive stronger synaptic inhibition on their apical dendrites. By combining multiple XNH scans, we imaged an adult Drosophila leg with sufficient resolution to comprehensively catalog mechanosensory neurons and trace individual motor axons from muscles to the central nervous system. To accelerate neuronal reconstructions, we trained a convolutional neural network to automatically segment neurons from XNH volumes. Thus, XNH bridges a key gap between LM and EM, providing a new avenue for neural circuit discovery.
Access options
Subscribe to Journal
Get full journal access for 1 year
$209.00
only $17.42 per issue
All prices are NET prices.
VAT will be added later in the checkout.
Rent or Buy article
Get time limited or full article access on ReadCube.
from$8.99
All prices are NET prices.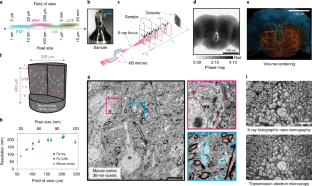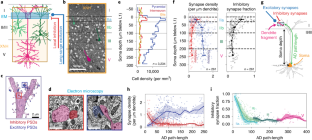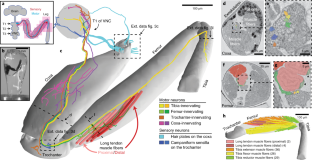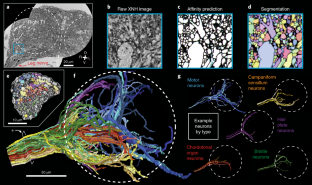 Data and materials availability
Software and code availability
References
1.

Denk, W., Briggman, K. L. & Helmstaedter, M. Structural neurobiology: missing link to a mechanistic understanding of neural computation. Nat. Rev. Neurosci. 13, 351–358 (2012).

2.

Xu, C. S. et al. Enhanced FIB-SEM systems for large-volume 3D imaging. eLife. 6, e25916 (2017).

3.

Lee, W.-C. A. et al. Anatomy and function of an excitatory network in the visual cortex. Nature 532, 1–18 (2016).

4.

Zheng, Z. et al. A complete electron microscopy volume of the brain of adult Drosophila melanogaster. Cell 174, 730–743 (2018).

5.

Hell, S. W. Far-field optical nanoscopy. Science 316, 1153–1158 (2007).

6.

Huang, B., Bates, M. & Zhuang, X. Super-resolution fluorescence microscopy. Annu. Rev. Biochem. 78, 993–1016 (2009).

7.

Chen, F., Tillberg, P. W. & Boyden, E. S. Expansion microscopy. Science 347, 543–548 (2015).

8.

Gao, R. et al. Cortical column and whole-brain imaging with molecular contrast and nanoscale resolution. Science 363, eaau8302 (2019).

9.

Mizutani, R., Saiga, R., Takeuchi, A., Uesugi, K. & Suzuki, Y. Three-dimensional network of Drosophila brain hemisphere. J. Struct. Biol. 184, 271–279 (2013).

10.

Schulz, G. et al. High-resolution tomographic imaging of a human cerebellum: comparison of absorption and grating-based phase contrast. J. R. Soc. Interface 7, 1665–1676 (2010).

11.

Weitkamp, T. et al. X-ray phase imaging with a grating interferometer. Opt. Express 13, 6296 (2005).

12.

Pfeiffer, F. et al. High-resolution brain tumor visualization using three-dimensional X-ray phase contrast tomography. Phys. Med. Biol. 52, 6923–6930 (2007).

13.

Shahmoradian, S. H. et al. Three-dimensional imaging of biological tissue by cryo X-ray ptychography. Sci. Rep. 7, 6291 (2017).

14.

Dierolf, M. et al. Ptychographic X-ray computed tomography at the nanoscale. Nature 467, 436–439 (2010).

15.

Dyer, E. L. et al. Quantifying mesoscale neuroanatomy using X-ray microtomography. eNeuro 4, ENEURO.0195-17.2017 (2017).

16.

Fonseca, M. et al. High-resolution synchrotron-based X-ray microtomography as a tool to unveil the three-dimensional neuronal architecture of the brain. Sci. Rep. 8, 12074 (2018).

17.

Khimchenko, A. et al. Hard X-ray nanoholotomography: large-scale, label-free, 3D neuroimaging beyond optical limit. Adv. Sci. 5, 1700694 (2018).

18.

Massimi, L. et al. Exploring Alzheimer's disease mouse brain through X-ray phase contrast tomography: from the cell to the organ. Neuroimage 184, 490–495 (2019).

19.

Töpperwien, M., van der Meer, F., Stadelmann, C. & Salditt, T. Three-dimensional virtual histology of human cerebellum by X-ray phase-contrast tomography. Proc. Natl Acad. Sci. USA 115, 6940–6945 (2018).

20.

Cedola, A. et al. X-ray phase contrast tomography reveals early vascular alterations and neuronal loss in a multiple sclerosis model. Sci. Rep. 7, 5890 (2017).

21.

Cloetens, P. et al. Holotomography: quantitative phase tomography with micrometer resolution using hard synchrotron radiation x rays. Appl. Phys. Lett. 75, 2912–2914 (1999).

22.

Ng, J. et al. Genetically targeted 3D visualisation of Drosophila neurons under electron microscopy and X-ray microscopy using miniSOG. Sci. Rep. 6, 38863 (2016).

23.

da Silva, J. C. et al. Efficient concentration of high-energy x-rays for diffraction-limited imaging resolution. Optica 4, 492 (2017).

24.

Hubert, M. et al. Efficient correction of wavefront inhomogeneities in X-ray holographic nanotomography by random sample displacement. Appl. Phys. Lett. 112, 203704 (2018).

25.

Harauz, G. & van Heel, M. Exact filters for general geometry three dimensional reconstruction. Optik 73, 146–156 (1986).

26.

Spruston, N. Pyramidal neurons: dendritic structure and synaptic integration. Nat. Rev. Neurosci. 9, 206–221 (2008).

27.

Karimi, A., Odenthal, J., Drawitsch, F., Boergens, K. M. & Helmstaedter, M. Cell-type specific innervation of cortical pyramidal cells at their apical dendrites. eLife 9, e46876 (2020).

28.

Maniates-Selvin, J. T. et al. Reconstruction of motor control circuits in adult Drosophila using automated transmission electron microscopy. Preprint at https://www.biorxiv.org/content/10.1101/2020.01.10.902478v1 (2020).

29.

Harvey, C. D., Coen, P. & Tank, D. W. Choice-specific sequences in parietal cortex during a virtual-navigation decision task. Nature 484, 62–68 (2012).

30.

Peters, A., Palay, S. L. & Webster, H. deF. The Fine Structure of the Nervous System: Neurons and Their Supporting Cells (Oxford University Press, 1991).

31.

Mamiya, A., Gurung, P. & Tuthill, J. C. Neural coding of leg proprioception in Drosophila. Neuron 100, 636–650 (2018).

32.

Tuthill, J. C. & Wilson, R. I. Mechanosensation and adaptive motor control in insects. Curr. Biol. 26, R1022–R1038 (2016).

33.

Tuthill, J. C. & Wilson, R. I. Parallel transformation of tactile signals in central circuits of Drosophila. Cell 164, 1046–1059 (2016).

34.

Merritt, D. J. & Murphey, R. K. Projections of leg proprioceptors within the CNS of the fly Phormia in relation to the generalized insect ganglion. J. Comp. Neurol. 322, 16–34 (1992).

35.

Desai, B. S., Chadha, A. & Cook, B. The stum gene is essential for mechanical sensing in proprioceptive neurons. Science 343, 1256–1259 (2014).

36.

Perge, J. A., Niven, J. E., Mugnaini, E., Balasubramanian, V. & Sterling, P. Why do axons differ in caliber? J. Neurosci. 32, 626–638 (2012).

37.

Faisal, A. A. & Laughlin, S. B. Stochastic simulations on the reliability of action potential propagation in thin axons. PLoS Comput. Biol. 3, 0783–0795 (2007).

38.

Soler, C., Daczewska, M., Da Ponte, J. P., Dastugue, B. & Jagla, K. Coordinated development of muscles and tendons of the Drosophila leg. Development 131, 6041–6051 (2004).

39.

Azevedo, A. W. et al. A size principle for recruitment of Drosophila leg motor neurons. eLife 9, e56754 (2020).

40.

Baek, M. & Mann, R. S. Lineage and birth date specify motor neuron targeting and dendritic architecture in adult Drosophila. J. Neurosci. 29, 6904–6916 (2009).

41.

Funke, J. et al. Large scale image segmentation with structured loss based deep learning for connectome reconstruction. IEEE Trans. Pattern Anal. Mach. Intell. 41, 1669–1680 (2019).

42.

Brierley, D. J., Rathore, K., VijayRaghavan, K. & Williams, D. W. Developmental origins and architecture of Drosophila leg motoneurons. J. Comp. Neurol. 520, 1629–1649 (2012).

43.

Tsubouchi, A. et al. Topological and modality-specific representation of somatosensory information in the fly brain. Science 358, 615–623 (2017).

44.

Januszewski, M. & Jain, V. Segmentation-enhanced CycleGAN. Preprint at bioRxiv https://www.biorxiv.org/content/10.1101/548081v1 (2019).

45.

Schneider-Mizell, C. M. et al. Quantitative neuroanatomy for connectomics in Drosophila. eLife 5, 1133–1145 (2016).

46.

Chiang, A.-S. et al. Three-dimensional reconstruction of brain-wide wiring networks in Drosophila at single-cell resolution. Curr. Biol. 21, 1–11 (2011).

47.

Hildebrand, D. G. C. et al. Whole-brain serial-section electron microscopy in larval zebrafish. Nature 545, 345–349 (2017).

48.

Momose, A., Takeda, T., Itai, Y. & Hirano, K. Phase-contrast X-ray computed tomography for observing biological soft tissues. Nat. Med. 2, 473–475 (1996).

49.

Denk, W. & Horstmann, H. Serial block-face scanning electron microscopy to reconstruct three-dimensional tissue nanostructure. PLoS Biol. 2, e329 (2004).

50.

Diaz, A. et al. Three-dimensional mass density mapping of cellular ultrastructure by ptychographic X-ray nanotomography. J. Struct. Biol. 192, 461–469 (2015).

51.

Hua, Y., Laserstein, P. & Helmstaedter, M. Large-volume en-bloc staining for electron microscopy-based connectomics. Nat. Commun. 6, 7923 (2015).

52.

Zhang, Q., Lee, W.-C. A., Paul, D. L. & Ginty, D. D. Multiplexed peroxidase-based electron microscopy labeling enables simultaneous visualization of multiple cell types. Nat. Neurosci. 22, 828–839 (2019).

53.

Du, M. & Jacobsen, C. Relative merits and limiting factors for x-ray and electron microscopy of thick, hydrated organic materials. Ultramicroscopy 184, 293–309 (2018).

54.

Lam, S. S. et al. Directed evolution of APEX2 for electron microscopy and proximity labeling. Nat. Methods 12, 51–54 (2015).

55.

Berg, S. et al. ilastik: interactive machine learning for (bio)image analysis. Nat. Methods 16, 1226–1232 (2019).

56.

Villar, F. et al. Nanopositioning for the ESRF ID16A nano-imaging beamline. Synchrotron Radiat. N. 31, 9–14 (2018).

57.

Labiche, J.-C. et al. Invited article: the fast readout low noise camera as a versatile x-ray detector for time resolved dispersive extended x-ray absorption fine structure and diffraction studies of dynamic problems in materials science, chemistry, and catalysis. Rev. Sci. Instrum. 78, 091301 (2007).

58.

Mokso, R., Cloetens, P., Maire, E., Ludwig, W. & Buffière, J.-Y. Nanoscale zoom tomography with hard x rays using Kirkpatrick–Baez optics. Appl. Phys. Lett. 90, 144104 (2007).

59.

Yu, B. et al. Evaluation of phase retrieval approaches in magnified X-ray phase nano computerized tomography applied to bone tissue. Opt. Express 26, 11110 (2018).

60.

Cloetens, P., Barrett, R., Baruchel, J. E., Guigay, J.-P. & Schlenker, M. Phase objects in synchrotron radiation hard x-ray imaging. J. Phys. D: Appl. Phys. 29, 133–146 (1996).

61.

Paganin, D., Mayo, S. C., Gureyev, T. E., Miller, P. R. & Wilkins, S. W. Simultaneous phase and amplitude extraction from a single defocused image of a homogeneous object. J. Microsc. 206, 33–40 (2002).

62.

Mirone, A., Brun, E., Gouillart, E., Tafforeau, P. & Kieffer, J. The PyHST2 hybrid distributed code for high speed tomographic reconstruction with iterative reconstruction and a priori knowledge capabilities. Nucl. Instrum. Methods Phys. Res. Sect. B Beam Interact. Mater. At. 324, 41–48 (2014).

63.

van Heel, M. & Schatz, M. Fourier shell correlation threshold criteria. J. Struct. Biol. 151, 250–262 (2005).

64.

Saalfeld, S., Cardona, A., Hartenstein, V. & Tomancak, P. CATMAID: collaborative annotation toolkit for massive amounts of image data. Bioinformatics 25, 1984–1986 (2009).

65.

Yushkevich, P. A. et al. User-guided 3D active contour segmentation of anatomical structures: significantly improved efficiency and reliability. Neuroimage 31, 1116–1128 (2006).

66.

Graham, B. J. et al. High-throughput transmission electron microscopy with automated serial sectioning. Preprint at bioRxiv https://www.biorxiv.org/content/10.1101/657346v1.full (2019).

67.

Bogovic, J. A., Hanslovsky, P., Wong, A. & Saalfeld, S. Robust registration of calcium images by learned contrast synthesis. In Proc. 13th International Symposium on Biomedical Imaging 1123–1126 (Institute of Electrical and Electronics Engineers, 2016).

68.

Hörl, D. et al. BigStitcher: reconstructing high-resolution image datasets of cleared and expanded samples. Nat. Methods 16, 870–874 (2019).

69.

Peters, A. & Kara, D. A. The neuronal composition of area 17 of rat visual cortex. I. The pyramidal cells. J. Comp. Neurol. 234, 218–241 (1985).

70.

Peters, A. & Kara, D. A. The neuronal composition of area 17 of rat visual cortex. II. The nonpyramidal cells. J. Comp. Neurol. 234, 242–263 (1985).
Acknowledgements
The authors thank T. Pedersen for pre-processing and alignment of image data; R. Xu, T. Pedersen and L. DeCoursey for neuron tracing; J. Shin, W.-W. Lou, M. Liu, Y. Hu and R. Xu for manual annotation of ground truth segmentation for CNN training; J. da Silva for providing code and assistance for FSC measurements; N. Perrimon, M. Pecot and H. Lacin for providing fly lines; R. Fetter and A. Thompson for sample preparation advice; P. Li and V. Jain for access to and support with Armitage software; Y. Hu and M. Osman for contributing code for segmentation accuracy measurements; R. Wilson and H. Somhegyi for discussion and advice; C. Harvey, R. Born, J. Moffitt and R. Wilson for comments on the manuscript; and BossDB (W. Gray-Roncal, D. Xenes and B. Webster) and WebKnossos (N. Rzepka) for hosting image data on public repositories. The authors acknowledge ESRF for granting beamtime for the experiments: LS2705, LS2845, IHLS2928, IHLS3121, IHHC3498, IHMA7 and IHLS3004. This work was supported by the National Institutes of Health (R01NS108410) and awards from the Edward R. and Anne G. Lefler Center and the Goldenson Family to W.C.A.L. A.P. has received funding from the European Research Council under the European Union's Horizon 2020 Research and Innovation Programme (grant no. 852455).
Ethics declarations
Competing interests
W.C.A.L. declares the following competing interest: Harvard University filed a patent application regarding GridTape (WO2017184621A1) on behalf of the inventors, including W.C.A.L., and negotiated licensing agreements with interested partners. GridTape EM imaging was used for results in Fig. 2.
Additional information
Publisher's note Springer Nature remains neutral with regard to jurisdictional claims in published maps and institutional affiliations.
Supplementary information
About this article
Cite this article
Kuan, A.T., Phelps, J.S., Thomas, L.A. et al. Dense neuronal reconstruction through X-ray holographic nano-tomography. Nat Neurosci 23, 1637–1643 (2020). https://doi.org/10.1038/s41593-020-0704-9
Received:

Accepted:

Published:

Issue Date:
Further reading
Hung Tri Tran

,

Esther H. R. Tsai

,

Amanda J. Lewis

,

Tim Moors

,

J. G. J. M. Bol

,

Iman Rostami

,

Ana Diaz

,

Allert J. Jonker

,

Manuel Guizar-Sicairos

,

Joerg Raabe

,

Henning Stahlberg

,

Wilma D. J. van de Berg

,

Mirko Holler

&

Sarah H. Shahmoradian

Frontiers in Neuroscience (2020)

Nature Methods (2020)