Abstract
Understanding the mechanisms of neural computation and learning will require knowledge of the underlying circuitry. Because it is difficult to directly measure the wiring diagrams of neural circuits, there has long been an interest in estimating them algorithmically from multicell activity recordings. We show that even sophisticated methods, applied to unlimited data from every cell in the circuit, are biased toward inferring connections between unconnected but highly correlated neurons. This failure to 'explain away' connections occurs when there is a mismatch between the true network dynamics and the model used for inference, which is inevitable when modeling the real world. Thus, causal inference suffers when variables are highly correlated, and activity-based estimates of connectivity should be treated with special caution in strongly connected networks. Finally, performing inference on the activity of circuits pushed far out of equilibrium by a simple low-dimensional suppressive drive might ameliorate inference bias.
Relevant articles
Open Access articles citing this article.
Barbara Feulner

,

Matthew G. Perich

…

Claudia Clopath

Nature Communications Open Access 02 September 2022

Weidong Cai

,

Srikanth Ryali

…

Vinod Menon

Nature Communications Open Access 29 June 2021

Daisuke Endo

,

Ryota Kobayashi

…

Shigeru Shinomoto

Scientific Reports Open Access 08 June 2021
Access options
Subscribe to Nature+
Get immediate online access to the entire Nature family of 50+ journals
Subscribe to Journal
Get full journal access for 1 year
$99.00
only $8.25 per issue
All prices are NET prices.
VAT will be added later in the checkout.
Tax calculation will be finalised during checkout.
Buy article
Get time limited or full article access on ReadCube.
$32.00
All prices are NET prices.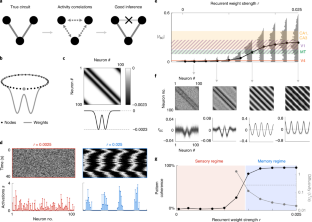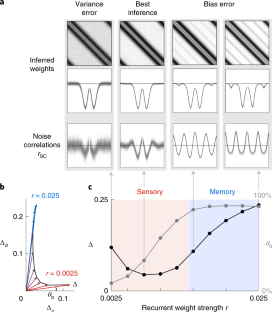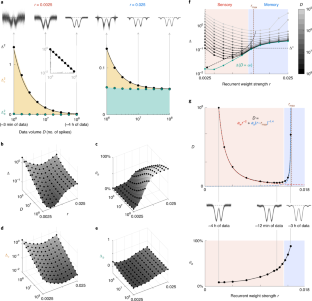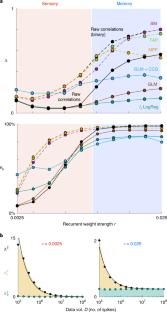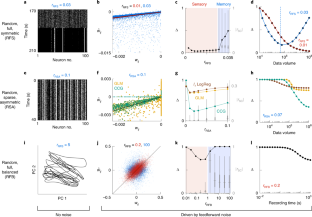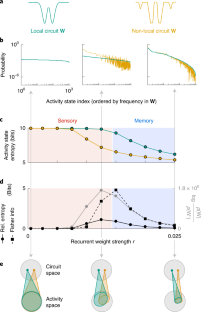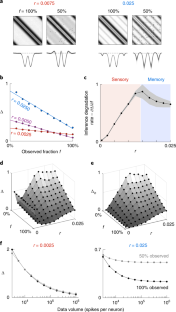 Data and code availability
The data and code that support the findings of this study are available from the corresponding author upon reasonable request.
References
Burns, R., et al. The Open Connectome Project data cluster: scalable analysis and vision for high-throughput neuroscience. In Proceedings of the 25th International Conference on Scientific and Statistical Database Management, 1–11 (Association for Computing Machinery, 2013).

Xu, C. S. et al. A connectome of the adult Drosophila central brain. Preprint at bioRxiv https://doi.org/10.1101/2020.01.21.911859 (2020).

Helmstaedter, M. et al. Connectomic reconstruction of the inner plexiform layer in the mouse retina. Nature 500, 168 (2013).

Takemura, S.-Y. et al. A visual motion detection circuit suggested by Drosophila connectomics. Nature 500, 175–181 (2013).

Lee, W.-C. A. et al. Anatomy and function of an excitatory network in the visual cortex. Nature 532, 370–374 (2016).

Pillow, J. W. et al. Spatio-temporal correlations and visual signalling in a complete neuronal population. Nature 454, 995–999 (2008).

Schneidman, E., Berry, M. J., Segev, R. & Bialek, W. Weak pairwise correlations imply strongly correlated network states in a neural population. Nature 440, 1007–1012 (2006).

Friston, K. J. Functional and effective connectivity: a review. Brain Connect. 1, 13–36 (2011).

Pakman, A., Huggins, J., Smith, C. & Paninski, L. Fast state-space methods for inferring dendritic synaptic connectivity. J. Comput. Neurosci. 36, 415–443 (2014).

Ravikumar, P. et al. High-dimensional Ising model selection using l1-regularized logistic regression. Ann. Stat. 38, 1287–1319 (2010).

Nelder, J. A. & Wedderburn, R. W. M. Generalized linear models. J. R. Stat. Soc. Series A 135, 370–384 (1972).

Truccolo, W., Eden, U. T., Fellows, M. R., Donoghue, J. P. & Brown, E. N. A point process framework for relating neural spiking activity to spiking history, neural ensemble, and extrinsic covariate effects. J. Neurophysiol. 93, 1074–1089 (2005).

Shlens, J. et al. The structure of multi-neuron firing patterns in primate retina. J. Neurosci. 26, 8254–8266 (2006).

Pillow, J. W. and Latham, P. E. Neural characterization in partially observed populations of spiking neurons. In Advances in Neural Information Processing Systems 1161–1168 (NIPS, 2008).

Mishchencko, Y., Vogelstein, J. T. & Paninski, L. A Bayesian approach for inferring neuronal connectivity from calcium fluorescent imaging data. Ann. Appl. Stat. 5, 1229–1261 (2011).

Ramirez, A. D. & Paninski, L. Fast inference in generalized linear models via expected log-likelihoods. J. Comput. Neurosci. 36, 215–234 (2014).

Nykamp, D. Q. Revealing pairwise coupling in linear–nonlinear networks. SIAM J. Appl. Math. 65, 2005–2032 (2005).

Soudry, D. et al. Efficient "shotgun" inference of neural connectivity from highly sub-sampled activity data. PLoS Comput. Biol. 11, e1004464 (2015).

Kulkarni, J. E. & Paninski, L. Common-input models for multiple neural spike-train data. Network 18, 375–407 (2007).

Vidne, M. et al. Modeling the impact of common noise inputs on the network activity of retinal ganglion cells. J. Comput. Neurosci. 33, 97–121 (2012).

Brinkman, B. A. W., Rieke, F., Shea-Brown, E. & Buice, M. A. Predicting how and when hidden neurons skew measured synaptic interactions. PLoS Comput. Biol. 14, e1006490 (2018).

Dunn, B. & Battistin, C. The appropriateness of ignorance in the inverse kinetic ising model. J. Phys. A Math. Theor. 50, 124002 (2017).

Mehler, D. M. A. and Kording, K. P. The lure of causal statements: rampant mis-inference of causality in estimated connectivity. Preprint at arXiv https://arxiv.org/abs/1812.03363 (2018).

Burak, Y. & Fiete, I. R. Accurate path integration in continuous attractor network models of grid cells. PLoS Comput. Biol. 5, e1000291 (2009).

Gutnisky, D. A. & Dragoi, V. Adaptive coding of visual information in neural populations. Nature 452, 220–224 (2008).

Poort, J. & Roelfsema, P. R. Noise correlations have little influence on the coding of selective attention in area V1. Cereb. Cortex 19, 543–553 (2009).

Samonds, J. M., Potetz, B. R. & Lee, T. S. Cooperative and competitive interactions facilitate stereo computations in macaque primary visual cortex. J. Neurosci. 29, 15780–15795 (2009).

Cohen, M. R. & Maunsell, J. H. R. Attention improves performance primarily by reducing interneuronal correlations. Nat. Neurosci. 12, 1594 (2009).

Mitchell, J. F., Sundberg, K. A. & Reynolds, J. H. Spatial attention decorrelates intrinsic activity fluctuations in macaque area v4. Neuron 63, 879–888 (2009).

Huang, X. & Lisberger, S. G. Noise correlations in cortical area MT and their potential impact on trial-by-trial variation in the direction and speed of smooth-pursuit eye movements. J. Neurophysiol. 101, 3012–3030 (2009).

Cohen, M. R. & Newsome, W. T. Context-dependent changes in functional circuitry in visual area MT. Neuron 60, 162–173 (2008).

Zohary, E., Shadlen, M. N. & Newsome, W. T. Correlated neuronal discharge rate and its implications for psychophysical performance. Nature 370, 140 (1994).

Bair, W., Zohary, E. & Newsome, W. T. Correlated firing in macaque visual area MT: time scales and relationship to behavior. J. Neurosci. 21, 1676–1697 (2001).

Kemere, C., Carr, M. F., Karlsson, M. P. & Frank, L. M. Rapid and continuous modulation of hippocampal network state during exploration of new places. PLoS ONE 8, e73114 (2013).

Burak, Y. & Fiete, I. R. Fundamental limits on persistent activity in networks of noisy neurons. Proc. Natl Acad. Sci. USA 109, 17645–17650 (2012).

Mastromatteo, I. & Marsili, M. On the criticality of inferred models. J. Stat. Mech. 2011, P10012 (2011).

Barahona, F. On the computational complexity of Ising spin glass models. J. Phys. A Math. Gen. 15, 3241 (1982).

Sohl-Dickstein, J., Battaglino, P. B. & DeWeese, M. R. New method for parameter estimation in probabilistic models: minimum probability flow. Phys. Rev. Lett. 107, 220601 (2011).

Thouless, D. J., Anderson, P. W. & Palmer, R. G. Solution of 'Solvable model of a spin glass'. Philos. Mag. 35, 593–601 (1977).

Roudi, Y., Tyrcha, J. & Hertz, J. Ising model for neural data: model quality and approximate methods for extracting functional connectivity. Phys. Rev. E 79, 051915 (2009).

Sessak, V. & Monasson, R. Small-correlation expansions for the inverse Ising problem. J. Phys. A Math. Theor. 42, 055001 (2009).

Lee, S.-I., Lee, H., Abbeel, P. & Ng, A. Y. Efficient L1 regularized logistic regression. In The Twenty-First National Conference on Artificial Intelligence 6, 401–408 (Association for the Advancement of Artificial Intelligence, 2006).

Sompolinsky, H., Crisanti, A. & Sommers, H.-J. Chaos in random neural networks. Phys. Rev. Lett. 61, 259 (1988).

Widrow, B. & Hoff, M. E. Adaptive switching circuits. Technical Report No. 1553-1. https://apps.dtic.mil/dtic/tr/fulltext/u2/241531.pdf (Office of Naval Research, 1960).

Williams, R. J. Simple statistical gradient-following algorithms for connectionist reinforcement learning. Mach. Learn. 8, 229–256 (1992).

Fiete, I. R. & Seung, H. S. Gradient learning in spiking neural networks by dynamic perturbation of conductances. Phys. Rev. Lett. 97, 048104 (2006).

Shababo, B., Paige, B., Pakman, A. & Paninski, L. Bayesian inference and online experimental design for mapping neural microcircuits. In Advances in Neural Information Processing Systems 1304–1312 (NIPS, 2013).

Aronov, D., Veit, L., Goldberg, J. H. & Fee, M. S. Two distinct modes of forebrain circuit dynamics underlie temporal patterning in the vocalizations of young songbirds. J. Neurosci. 31, 16353–16368 (2011).

Casadiego, J., Nitzan, M., Hallerberg, S. & Timme, M. Model-free inference of direct network interactions from nonlinear collective dynamics. Nat. Commun. 8, 2192 (2017).

Widloski, J., Marder, M. P. & Fiete, I. R. Inferring circuit mechanisms from sparse neural recording and global perturbation in grid cells. eLife 7, e33503 (2018).

West, M., Harrison, P. J. & Helio, S. M. Dynamic generalized linear models and bayesian forecasting. J. Am. Stat. Assoc. 80, 73–83 (1985).

Federico, R.-T. The Bethe approximation for solving the inverse Ising problem: a comparison with other inference methods. J. Stat. Mech. 2012, P08015 (2012).

Nemenman, I., Shafee, F. & Bialek, W. Entropy and inference, revisited. In Advances in Neural Information Processing Systems 471–478 (NIPS, 2002).

Paninski, L. Estimating entropy on m bins given fewer than m samples. IEEE Trans. Inf. Theory 50, 2200–2203 (2004).

Jeffreys, H. An invariant form for the prior probability in estimation problems. Proc. Roy. Soc. Lond. Math. Phys. Sci. 186, 453–461 (1946).
Acknowledgements
We thank R. Chaudhuri, B. Gerçek, I. Kanitscheider, T. Taillefumier, D. Schwab, M. Bethge and P. Dayan for helpful discussions. This project was funded in part by the ONR, the Howard Hughes Medical Institute through the Faculty Scholars Program and the Simons Collaboration on the Global Brain through the Simons Foundation.
Ethics declarations
Competing interests
The authors declare no competing interests.
Additional information
Publisher's note Springer Nature remains neutral with regard to jurisdictional claims in published maps and institutional affiliations.
Supplementary information
About this article
Cite this article
Das, A., Fiete, I.R. Systematic errors in connectivity inferred from activity in strongly recurrent networks. Nat Neurosci 23, 1286–1296 (2020). https://doi.org/10.1038/s41593-020-0699-2
Received:

Accepted:

Published:

Issue Date:

DOI: https://doi.org/10.1038/s41593-020-0699-2