Abstract
Time perception and prediction errors are essential for everyday life. We hypothesized that their putative shared circuitry in the striatum might enable these two functions to interact. We show that positive and negative prediction errors bias time perception by increasing and decreasing perceived time, respectively. Imaging and behavioral modeling identify this interaction to occur in the putamen. Depending on context, this interaction may have beneficial or adverse effects.
Access options
Subscribe to Journal
Get full journal access for 1 year
$59.00
only $4.92 per issue
All prices are NET prices.
VAT will be added later in the checkout.
Tax calculation will be finalised during checkout.
Rent or Buy article
Get time limited or full article access on ReadCube.
from$8.99
All prices are NET prices.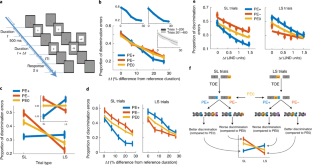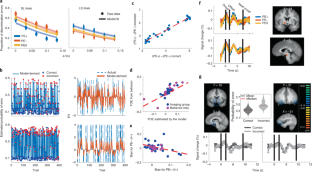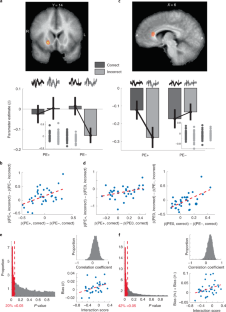 Data availability
All data supporting the findings of this study are available from the corresponding author upon reasonable request.
Code availability
Custom code for behavioral and imaging tests is available from the corresponding author upon reasonable request.
References
1.

Mauk, M. D. & Buonomano, D. V. The neural basis of temporal processing. Annu. Rev. Neurosci. 27, 307–340 (2004).

2.

Dirnberger, G. et al. Give it time: neural evidence for distorted time perception and enhanced memory encoding in emotional situations. Neuroimage 63, 591–599 (2012).

3.

Droit-Volet, S. & Meck, W. H. How emotions colour our perception of time. Trends Cogn. Sci. 11, 504–513 (2007).

4.

Schultz, W., Dayan, P. & Montague, P. R. A neural substrate of prediction and reward. Science 275, 1593–1599 (1997).

5.

Niv, Y. & Schoenbaum, G. Dialogues on prediction errors. Trends Cogn. Sci. 12, 265–272 (2008).

6.

Petter, E. A., Gershman, S. J. & Meck, W. H. Integrating models of interval timing and reinforcement learning. Trends Cogn. Sci. 22, 911–922 (2018).

7.

Mikhael, J. G. & Gershman, S. J. Adapting the flow of time with dopamine. J. Neurophysiol. 121, 1748–1760 (2019).

8.

Coull, J. & Nobre, A. Dissociating explicit timing from temporal expectation with fMRI. Curr. Opin. Neurobiol. 18, 137–144 (2008).

9.

Jahanshahi, M., Jones, C. R., Dirnberger, G. & Frith, C. D. The substantia nigra pars compacta and temporal processing. J. Neurosci. 26, 12266–12273 (2006).

10.

D'ardenne, K., McClure, S. M., Nystrom, L. E. & Cohen, J. D. BOLD responses reflecting dopaminergic signals in the human ventral tegmental area. Science 319, 1264–1267 (2008).

11.

Soares, S., Atallah, B. V. & Paton, J. J. Midbrain dopamine neurons control judgment of time. Science 354, 1273–1277 (2016).

12.

Allman, M. J. & Meck, W. H. Pathophysiological distortions in time perception and timed performance. Brain 135, 656–677 (2012).

13.

Jones, C. R. & Jahanshahi, M. Motor and perceptual timing in Parkinson's disease. Adv. Exp. Med. Biol. 829, 265–290 (2014).

14.

Bavard, S., Lebreton, M., Khamassi, M., Coricelli, G. & Palminteri, S. Reference-point centering and range-adaptation enhance human reinforcement learning at the cost of irrational preferences. Nat. Commun. 9, 1–12 (2018).

15.

Klein, T. A., Ullsperger, M. & Jocham, G. Learning relative values in the striatum induces violations of normative decision making. Nat. Commun. 8, 16033 (2017).

16.

Fayolle, S., Gil, S. & Droit-Volet, S. Fear and time: fear speeds up the internal clock. Behav. Processes 120, 135–140 (2015).

17.

Smith, S. D., McIver, T. A., Di Nella, M. S. & Crease, M. L. The effects of valence and arousal on the emotional modulation of time perception: evidence for multiple stages of processing. Emotion 11, 1305–1313 (2011).

18.

Eagleman, D. M. Human time perception and its illusions. Curr. Opin. Neurobiol. 18, 131–136 (2008).

19.

Failing, M. & Theeuwes, J. Reward alters the perception of time. Cognition 148, 19–26 (2016).

20.

Tse, P. U. Attention underlies subjective temporal expansion. in Attention and Time (eds Nobre, A. C. & Coull, J. T.) 137–150 (Oxford University Press, 2010).

21.

Brainard, D. H. & Vision, S. The psychophysics toolbox. Spat. Vis. 10, 433–436 (1997).

22.

Pelli, D. G. The VideoToolbox software for visual psychophysics: transforming numbers into movies. Spat. Vis. 10, 437–442 (1997).

23.

Rammsayer, T. & Ulrich, R. The greater temporal acuity in the reminder task than in the 2AFC task is independent of standard duration and sensory modality. Can. J. exp. Psychol. 66, 26–31 (2012).

24.

Ulrich, R. & Vorberg, D. Estimating the difference limen in 2AFC tasks: pitfalls and improved estimators. Atten. Percept. Psychophys. 71, 1219–1227 (2009).

25.

Kahneman, D. Prospect theory: an analysis of decisions under risk. Econometrica 47, 263–292 (1979).

26.

Tom, S. M., Fox, C. R., Trepel, C. & Poldrack, R. A. The neural basis of loss aversion in decision-making under risk. Science 315, 515–518 (2007).

27.

Levitt, H. Transformed up‐down methods in psychoacoustics. J. Acoust. Soc. Am. 49, 467–477 (1971).

28.

Allan, L. G. The time-order error in judgments of duration. Can. J. Psychol. 31, 24–31 (1977).

29.

Hellström, Å. The time-order error and its relatives: mirrors of cognitive processes in comparing. Psychol. Bull. 97, 35–61 (1985).

30.

Laufer, O. & Paz, R. Monetary loss alters perceptual thresholds and compromises future decisions via amygdala and prefrontal networks. J. Neurosci. 32, 6304–6311 (2012).

31.

Taatgen, N. A., Van Rijn, H. & Anderson, J. An integrated theory of prospective time interval estimation: the role of cognition, attention and learning. Psychol. Rev. 114, 577–598 (2007).

32.

Deichmann, R., Gottfried, J. A., Hutton, C. & Turner, R. Optimized EPI for fMRI studies of the orbitofrontal cortex. Neuroimage 19, 430–441 (2003).

33.

Dale, A. M. Optimal experimental design for event-related fMRI. Hum. Brain Mapp. 8, 109–114 (1999).

34.

Goebel, R., Esposito, F. & Formisano, E. Analysis of functional image analysis contest (FIAC) data with brainvoyager QX: from single‐subject to cortically aligned group general linear model analysis and self‐organizing group independent component analysis. Hum. Brain Mapp. 27, 392–401 (2006).

35.

Talairach, J. & Tournoux, P. Co-planar Stereotaxic Atlas of the Human Brain (Thieme Medical Publishers, 1988).

36.

Eklund, A., Nichols, T. E. & Knutsson, H. Cluster failure: why fMRI inferences for spatial extent have inflated false-positive rates. Proc. Natl Acad. Sci. USA 113, 7900–7905 (2016).

37.

Woo, C.-W., Krishnan, A. & Wager, T. D. Cluster-extent based thresholding in fMRI analyses: pitfalls and recommendations. Neuroimage 91, 412–419 (2014).

38.

Stephan, K. E., Penny, W. D., Daunizeau, J., Moran, R. J. & Friston, K. J. Bayesian model selection for group studies. Neuroimage 46, 1004–1017 (2009).
Acknowledgements
We thank E. Furman-Haran and F. Attar for MRI procedures. This work was supported by a Joy-Ventures grant, Israel Science Foundation grant no.2352/19 and a European Research Council grant (ERC-2016-CoG no. 724910) to R.P.
Ethics declarations
Competing interests
The authors declare no competing interests.
Additional information
Publisher's note Springer Nature remains neutral with regard to jurisdictional claims in published maps and institutional affiliations.
Supplementary information
Supplementary Note and Supplementary Tables 1–4.
About this article
Cite this article
Toren, I., Aberg, K.C. & Paz, R. Prediction errors bidirectionally bias time perception. Nat Neurosci 23, 1198–1202 (2020). https://doi.org/10.1038/s41593-020-0698-3
Received:

Accepted:

Published:

Issue Date:
Further reading
Bowen J. Fung

,

Elissa Sutlief

&

Marshall G. Hussain Shuler

Neuroscience & Biobehavioral Reviews (2021)

Farah Bader

&

Martin Wiener

Learning & Memory (2021)