Abstract
The output of cortical columns is routed to different downstream targets via distinct pathways: cortico-cortical and cortico-subcortical. It is as yet unclear what roles these pathways play in perception, and which cellular and circuit mechanisms regulate their gating. We recently showed that activation of the apical dendrites of layer 5 (L5) pyramidal neurons correlates with the threshold for perception, but these neurons come in two classes that target either other cortical or subcortical areas. In the present study, we took advantage of transgenic mouse lines for these L5 subclasses to determine their relative contributions to the perceptual process. We found that the activation of apical dendrites in neurons of the somatosensory cortex, which project to subcortical regions, almost exclusively determined the detection of tactile stimuli in mice. Our results suggest that dendritic activation drives context-dependent interactions between cortex and subcortical regions, including the higher-order thalamus, superior colliculus and striatum, which are crucial for perception.
Relevant articles
Open Access articles citing this article.
Giuseppe Chindemi

,

Marwan Abdellah

…

Eilif B. Muller

Nature Communications Open Access 01 June 2022

Simonas Griesius

,

Cian O'Donnell

…

Jack R. Mellor

Neuropsychopharmacology Open Access 03 February 2022

Jung Won Bae

,

Huijeong Jeong

…

Min Whan Jung

Nature Communications Open Access 16 July 2021
Access options
Subscribe to Nature+
Get immediate online access to the entire Nature family of 50+ journals
Subscribe to Journal
Get full journal access for 1 year
$99.00
only $8.25 per issue
All prices are NET prices.
VAT will be added later in the checkout.
Tax calculation will be finalised during checkout.
Buy article
Get time limited or full article access on ReadCube.
$32.00
All prices are NET prices.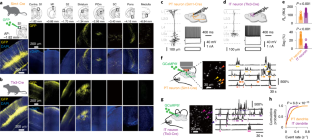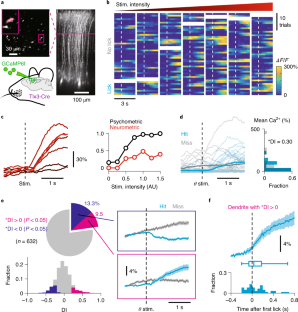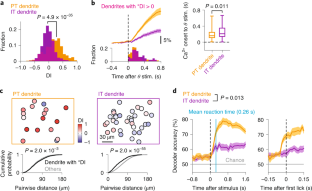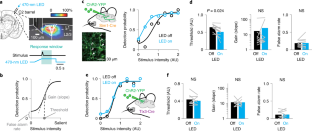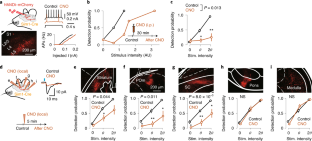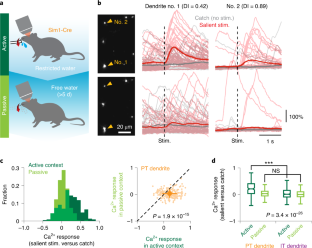 Data availability
All data included in this publication are stored on servers of Charité – Universitätsmedizin Berlin and are available from one of the corresponding authors upon reasonable request.
Code availability
Customized MATLAB scripts for data analysis and Igor Pro software for data collection are available from one of the corresponding authors upon reasonable request.
References
Gilbert, C. D. & Sigman, M. Brain states: top-down influences in sensory processing. Neuron 54, 677–696 (2007).

Gilbert, C. D. & Li, W. Top-down influences on visual processing. Nat. Rev. Neurosci. 14, 350–363 (2013).

Xu, N. L. et al. Nonlinear dendritic integration of sensory and motor input during an active sensing task. Nature 492, 247–251 (2012).

Takahashi, N., Oertner, T. G., Hegemann, P. & Larkum, M. E. Active cortical dendrites modulate perception. Science 354, 1587–1590 (2016).

Ranganathan, G. N. et al. Active dendritic integration and mixed neocortical network representations during an adaptive sensing behavior. Nat. Neurosci. 21, 1583–1590 (2018).

Williams, S. R. & Stuart, G. J. Mechanisms and consequences of action potential burst firing in rat neocortical pyramidal neurons. J. Physiol. 521(Pt 2), 467–482 (1999).

Larkum, M. E., Zhu, J. J. & Sakmann, B. A new cellular mechanism for coupling inputs arriving at different cortical layers. Nature 398, 338–341 (1999).

Larkum, M. A cellular mechanism for cortical associations: an organizing principle for the cerebral cortex. Trends Neurosci. 36, 141–151 (2013).

Lisman, J. Bursts as a unit of neural information: making unreliable synapses reliable. Trends Neurosci. 20, 38–43 (1997).

Cauller, L. Layer I of primary sensory neocortex: where top-down converges upon bottom-up. Behav. Brain Res. 71, 163–170 (1995).

Harris, K. D. & Shepherd, G. M. The neocortical circuit: themes and variations. Nat. Neurosci. 18, 170–181 (2015).

Koch, C. & Davis, J. L. Large-scale Neuronal Theories of the Brain (MIT Press, 1994).

Bair, W., Koch, C., Newsome, W. & Britten, K. Power spectrum analysis of bursting cells in area MT in the behaving monkey. J. Neurosci. 14, 2870–2892 (1994).

Koch, C., Massimini, M., Boly, M. & Tononi, G. Neural correlates of consciousness: progress and problems. Nat. Rev. Neurosci. 17, 307–321 (2016).

Fregnac, Y. & Bathellier, B. Cortical correlates of low-level perception: from neural circuits to percepts. Neuron 88, 110–126 (2015).

van Vugt, B. et al. The threshold for conscious report: signal loss and response bias in visual and frontal cortex. Science 360, 537–542 (2018).

Llinas, R., Ribary, U., Contreras, D. & Pedroarena, C. The neuronal basis for consciousness. Philos. Trans. R. Soc. Lond. B Biol. Sci. 353, 1841–1849 (1998).

Krauzlis, R. J., Lovejoy, L. P. & Zenon, A. Superior colliculus and visual spatial attention. Annu. Rev. Neurosci. 36, 165–182 (2013).

Parvizi, J. & Damasio, A. Consciousness and the brainstem. Cognition 79, 135–160 (2001).

Aru, J., Suzuki, M., Rutiku, R., Larkum, M. E. & Bachmann, T. Coupling the state and contents of consciousness. Front. Syst. Neurosci. 13, 43 (2019).

Mason, A. & Larkman, A. Correlations between morphology and electrophysiology of pyramidal neurons in slices of rat visual cortex. II. Electrophysiology. J. Neurosci. 10, 1415–1428 (1990).

Larkman, A. & Mason, A. Correlations between morphology and electrophysiology of pyramidal neurons in slices of rat visual cortex. I. Establishment of cell classes. J. Neurosci. 10, 1407–1414 (1990).

Chagnac-Amitai, Y., Luhmann, H. J. & Prince, D. A. Burst generating and regular spiking layer 5 pyramidal neurons of rat neocortex have different morphological features. J. Comp. Neurol. 296, 598–613 (1990).

Wise, S. P. & Jones, E. G. Cells of origin and terminal distribution of descending projections of the rat somatic sensory cortex. J. Comp. Neurol. 175, 129–157 (1977).

Koralek, K. A., Olavarria, J. & Killackey, H. P. Areal and laminar organization of corticocortical projections in the rat somatosensory cortex. J. Comp. Neurol. 299, 133–150 (1990).

Hattox, A. M. & Nelson, S. B. Layer V neurons in mouse cortex projecting to different targets have distinct physiological properties. J. Neurophysiol. 98, 3330–3340 (2007).

Kim, E. J., Juavinett, A. L., Kyubwa, E. M., Jacobs, M. W. & Callaway, E. M. Three types of cortical layer 5 neurons that differ in brain-wide connectivity and function. Neuron 88, 1253–1267 (2015).

Gerfen, C. R., Paletzki, R. & Heintz, N. GENSAT BAC cre-recombinase driver lines to study the functional organization of cerebral cortical and basal ganglia circuits. Neuron 80, 1368–1383 (2013).

Li, N., Chen, T. W., Guo, Z. V., Gerfen, C. R. & Svoboda, K. A motor cortex circuit for motor planning and movement. Nature 519, 51–56 (2015).

Libet, B., Alberts, W. W., Wright, E. W. Jr. & Feinstein, B. Responses of human somatosensory cortex to stimuli below threshold for conscious sensation. Science 158, 1597–1600 (1967).

Arlotta, P. et al. Neuronal subtype-specific genes that control corticospinal motor neuron development in vivo. Neuron 45, 207–221 (2005).

Zolnik, T. A. et al. Layer 6b is driven by intracortical long-range projection neurons. Cell Rep. 30, 3492–3505 (2020).

Larkum, M. E., Kaiser, K. M. & Sakmann, B. Calcium electrogenesis in distal apical dendrites of layer 5 pyramidal cells at a critical frequency of back-propagating action potentials. Proc. Natl Acad. Sci. USA 96, 14600–14604 (1999).

Helmchen, F., Svoboda, K., Denk, W. & Tank, D. W. In vivo dendritic calcium dynamics in deep-layer cortical pyramidal neurons. Nat. Neurosci. 2, 989–996 (1999).

Gentet, L. J. et al. Unique functional properties of somatostatin-expressing GABAergic neurons in mouse barrel cortex. Nat. Neurosci. 15, 607–612 (2012).

Lacefield, C. O., Pnevmatikakis, E. A., Paninski, L. & Bruno, R. M. Reinforcement learning recruits somata and apical dendrites across layers of primary sensory cortex. Cell Rep. 26, 2000–2008 (2019).

Allen, W. E. et al. Global representations of goal-directed behavior in distinct cell types of mouse neocortex. Neuron 94, 891–907 e896 (2017).

Musall, S., Kaufman, M. T., Juavinett, A. L., Gluf, S. & Churchland, A. K. Single-trial neural dynamics are dominated by richly varied movements. Nat. Neurosci. 22, 1677–1686 (2019).

Lewis, T. L. Jr., Mao, T., Svoboda, K. & Arnold, D. B. Myosin-dependent targeting of transmembrane proteins to neuronal dendrites. Nat. Neurosci. 12, 568–576 (2009).

Stachniak, T. J., Ghosh, A. & Sternson, S. M. Chemogenetic synaptic silencing of neural circuits localizes a hypothalamus→midbrain pathway for feeding behavior. Neuron 82, 797–808 (2014).

Zingg, B. et al. Neural networks of the mouse neocortex. Cell 156, 1096–1111 (2014).

Ahissar, E. And motion changes it all. Nat. Neurosci. 11, 1369–1370 (2008).

Shepherd, G. M. Corticostriatal connectivity and its role in disease. Nat. Rev. Neurosci. 14, 278–291 (2013).

Rojas-Piloni, G. et al. Relationships between structure, in vivo function and long-range axonal target of cortical pyramidal tract neurons. Nat. Commun. 8, 870 (2017).

Economo, M. N. et al. Distinct descending motor cortex pathways and their roles in movement. Nature 563, 79–84 (2018).

Beaulieu-Laroche, L., Toloza, E. H. S., Brown, N. J. & Harnett, M. T. Widespread and highly correlated somato-dendritic activity in cortical layer 5 neurons. Neuron 103, 235–241(2019).

Grewe, B. F., Bonnan, A. & Frick, A. Back-propagation of physiological action potential output in dendrites of slender-tufted L5A pyramidal neurons. Front. Cell Neurosci. 4, 13 (2010).

O'Connor, D. H., Peron, S. P., Huber, D. & Svoboda, K. Neural activity in barrel cortex underlying vibrissa-based object localization in mice. Neuron 67, 1048–1061 (2010).

Williams, S. R. & Stuart, G. J. Backpropagation of physiological spike trains in neocortical pyramidal neurons: implications for temporal coding in dendrites. J. Neurosci. 20, 8238–8246 (2000).

Suzuki, M. & Larkum, M. E. General anesthesia decouples cortical pyramidal neurons. Cell 180, 666–676(2020).

Micallef, A. H., Takahashi, N., Larkum, M. E. & Palmer, L. M. A reward-based behavioral platform to measure neural activity during head-fixed behavior. Front. Cell Neurosci. 11, 156 (2017).

Vogelstein, J. T. et al. Fast nonnegative deconvolution for spike train inference from population calcium imaging. J. Neurophysiol. 104, 3691–3704 (2010).
Acknowledgements
We thank C. Koch (Allen Institute for Brain Science, Seattle), M. Murayama (RIKEN CBS, Wako) and J. Aru (Humboldt University of Berlin) for comments on and discussions about the manuscript. The present study was supported by the Deutsche Forschungsgemeinschaft (Exc 257 NeuroCure, LA 3442/3-1, project no. 327654276 SFB1315 TP.A04), the European Union Horizon 2020 Research and Innovation Programme (72070/HBP SGA1, 670118/ERC ActiveCortex) and the Einstein Foundation Berlin (EVF-2017-363).
Ethics declarations
Competing interests
The authors declare no competing interests.
Additional information
Publisher's note Springer Nature remains neutral with regard to jurisdictional claims in published maps and institutional affiliations.
Supplementary information
About this article
Cite this article
Takahashi, N., Ebner, C., Sigl-Glöckner, J. et al. Active dendritic currents gate descending cortical outputs in perception. Nat Neurosci 23, 1277–1285 (2020). https://doi.org/10.1038/s41593-020-0677-8
Received:

Accepted:

Published:

Issue Date:

DOI: https://doi.org/10.1038/s41593-020-0677-8