Abstract
Sexual and aggressive behaviors are fundamental to animal survival and reproduction. The medial preoptic nucleus (MPN) and ventrolateral part of the ventromedial hypothalamus (VMHvl) are essential regions for male sexual and aggressive behaviors, respectively. While key inhibitory inputs to the VMHvl and MPN have been identified, the extrahypothalamic excitatory inputs essential for social behaviors remain elusive. Here we identify estrogen receptor alpha (Esr1)-expressing cells in the posterior amygdala (PA) as a main source of excitatory inputs to the hypothalamus and key mediators for mating and fighting in male mice. We find two largely distinct PA subpopulations that differ in connectivity, gene expression, in vivo responses and social behavior relevance. MPN-projecting PAEsr1+ cells are activated during mating and are necessary and sufficient for male sexual behaviors, while VMHvl-projecting PAEsr1+ cells are excited during intermale aggression and promote attacks. These findings place the PA as a key node in both male aggression and reproduction circuits.
Relevant articles
Open Access articles citing this article.
Julieta E. Lischinsky

,

Luping Yin

…

Dayu Lin

Nature Neuroscience Open Access 09 November 2023

Bin Yu

,

Qianqian Zhang

…

Xiao-Ming Li

Cell Discovery Open Access 14 February 2023

Yunyun Zhang

,

Huiming Li

…

Hailong Dong

Neuroscience Bulletin Open Access 17 February 2022
Access options
Access Nature and 54 other Nature Portfolio journals
Get Nature+, our best-value online-access subscription
$29.99 / 30 days
cancel any time
Subscribe to this journal
Receive 12 print issues and online access
$209.00 per year
only $17.42 per issue
Rent or buy this article
Prices vary by article type
from$1.95
to$39.95
Prices may be subject to local taxes which are calculated during checkout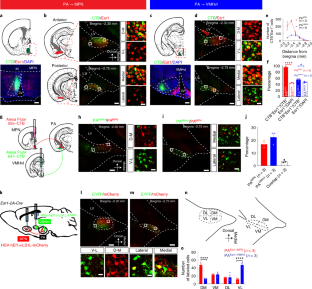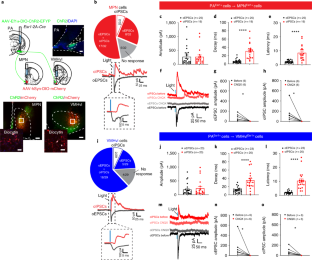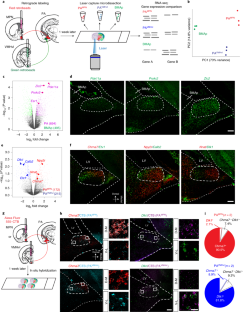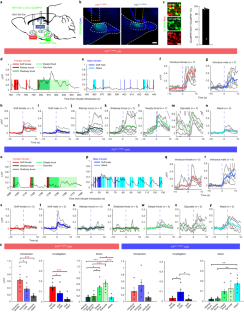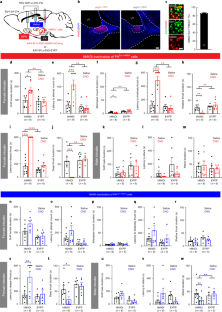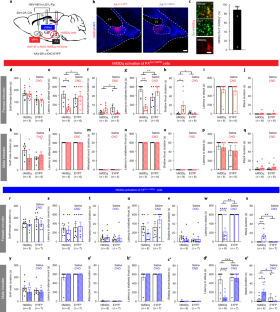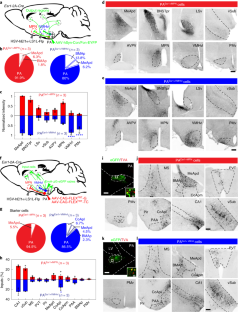 Data availability
We have uploaded the RNA-seq data from this manuscript to the Gene Expression Omnibus (GEO) under accession number GSE151798. All other data that support the findings of this study are available from the corresponding authors upon request.
References
Coolen, L. M. & Wood, R. I. Testosterone stimulation of the medial preoptic area and medial amygdala in the control of male hamster sexual behavior: redundancy without amplification. Behav. Brain Res. 98, 143–153 (1999).

Arendash, G. W. & Gorski, R. A. Effects of discrete lesions of the sexually dimorphic nucleus of the preoptic area or other medial preoptic regions on the sexual behavior of male rats. Brain Res. Bull. 10, 147–154 (1983).

Klaric, J. S. & Hendricks, S. E. Effects of two-stage lesions of the medial preoptic area on sexual behavior of male rats. Physiol. Behav. 37, 539–542 (1986).

Malsbury, C. W. Facilitation of male rat copulatory behavior by electrical stimulation of the medial preoptic area. Physiol. Behav. 7, 797–805 (1971).

Wei, Y. C. et al. Medial preoptic area in mice is capable of mediating sexually dimorphic behaviors regardless of gender. Nat. Commun. 9, 279 (2018).

Lin, D. et al. Functional identification of an aggression locus in the mouse hypothalamus. Nature 470, 221–226 (2011).

Lee, H. et al. Scalable control of mounting and attack by Esr1+ neurons in the ventromedial hypothalamus. Nature 509, 627–632 (2014).

Yang, C. F. et al. Sexually dimorphic neurons in the ventromedial hypothalamus govern mating in both sexes and aggression in males. Cell 153, 896–909 (2013).

Yang, T. et al. Social control of hypothalamus-mediated male aggression. Neuron 95, 955–970 (2017).

Falkner, A. L., Grosenick, L., Davidson, T. J., Deisseroth, K. & Lin, D. Hypothalamic control of male aggression-seeking behavior. Nat. Neurosci. 19, 596–604 (2016).

Wang, L. et al. Hypothalamic control of conspecific self-defense. Cell Rep. 26, 1747–1758 (2019).

Stagkourakis, S. et al. A neural network for intermale aggression to establish social hierarchy. Nat. Neurosci. 21, 834–842 (2018).

Bergan, J. F., Ben-Shaul, Y. & Dulac, C. Sex-specific processing of social cues in the medial amygdala. eLife 3, e02743 (2014).

Hong, W., Kim, D. W. & Anderson, D. J. Antagonistic control of social versus repetitive self-grooming behaviors by separable amygdala neuronal subsets. Cell 158, 1348–1361 (2014).

Lehman, M. N., Winans, S. S. & Powers, J. B. Medial nucleus of the amygdala mediates chemosensory control of male hamster sexual behavior. Science 210, 557–560 (1980).

Li, Y. et al. Neuronal representation of social information in the medial amygdala of awake behaving mice. Cell 171, 1176–1190 (2017).

Unger, E. K. et al. Medial amygdalar aromatase neurons regulate aggression in both sexes. Cell Rep. 10, 453–462 (2015).

Miller, S. M., Marcotulli, D., Shen, A. & Zweifel, L. S. Divergent medial amygdala projections regulate approach–avoidance conflict behavior. Nat. Neurosci. 22, 565–575 (2019).

Dulac, C. & Wagner, S. Genetic analysis of brain circuits underlying pheromone signaling. Annu. Rev. Genet. 40, 449–467 (2006).

Coolen, L. M., Peters, H. J. & Veening, J. G. Distribution of Fos immunoreactivity following mating versus anogenital investigation in the male rat brain. Neuroscience 77, 1151–1161 (1997).

Kim, Y. et al. Mapping social behavior-induced brain activation at cellular resolution in the mouse. Cell Rep. 10, 292–305 (2015).

Dong, H. W. & Swanson, L. W. Projections from bed nuclei of the stria terminalis, posterior division: implications for cerebral hemisphere regulation of defensive and reproductive behaviors. J. Comp. Neurol. 471, 396–433 (2004).

Bayless, D. W. et al. Limbic neurons shape sex recognition and social behavior in sexually naive males. Cell 176, 1190–1205 (2019).

Brody, J., DeFeudis, P. & DeFeudis, F. Effects of micro-injections of l-glutamate into the hypothalamus on attack and flight behaviour in cats. Nature 224, 1330 (1969).

Dominguez, J. M., Gil, M. & Hull, E. M. Preoptic glutamate facilitates male sexual behavior. J. Neurosci. 26, 1699–1703 (2006).

Canteras, N. S., Simerly, R. B. & Swanson, L. W. Connections of the posterior nucleus of the amygdala. J. Comp. Neurol. 324, 143–179 (1992).

Martinez-García, F., Novejarque, A., Gutiérrez-Castellanos, N. & Lanuza, E. in The Mouse Nervous System 1st edn. (eds Watson, C., Paxinos, G. & Puelles, L.) 140–172 (Elsevier Academic Press, 2012).

Simerly, R. B. Wired for reproduction: organization and development of sexually dimorphic circuits in the mammalian forebrain. Annu. Rev. Neurosci. 25, 507–536 (2002).

Fang, Y. Y., Yamaguchi, T., Song, S. C., Tritsch, N. X. & Lin, D. A hypothalamic midbrain pathway essential for driving maternal behaviors. Neuron 98, 192–207 (2018).

Hashikawa, K. et al. Esr1+ cells in the ventromedial hypothalamus control female aggression. Nat. Neurosci. 20, 1580–1590 (2017).

Simerly, R. B., Chang, C., Muramatsu, M. & Swanson, L. W. Distribution of androgen and estrogen receptor mRNA-containing cells in the rat brain: an in situ hybridization study. J. Comp. Neurol. 294, 76–95 (1990).

Ervin, K. S. et al. Estrogen involvement in social behavior in rodents: rapid and long-term actions. Horm. Behav. 74, 53–76 (2015).

Kollack-Walker, S. & Newman, S. W. Mating and agonistic behavior produce different patterns of Fos immunolabeling in the male Syrian hamster brain. Neuroscience 66, 721–736 (1995).

Swanson, L. W. Cerebral hemisphere regulation of motivated behavior. Brain Res. 886, 113–164 (2000).

Wang, F. et al. RNAscope: a novel in situ RNA analysis platform for formalin-fixed, paraffin-embedded tissues. J. Mol. Diagn. 14, 22–29 (2012).

Gunaydin, L. A. et al. Natural neural projection dynamics underlying social behavior. Cell 157, 1535–1551 (2014).

Cui, G. et al. Concurrent activation of striatal direct and indirect pathways during action initiation. Nature 494, 238–242 (2013).

Knowland, D. et al. Distinct ventral pallidal neural populations mediate separate symptoms of depression. Cell 170, 284–297 (2017).

Alexander, G. M. et al. Remote control of neuronal activity in transgenic mice expressing evolved G-protein-coupled receptors. Neuron 63, 27–39 (2009).

Schwarz, L. A. et al. Viral-genetic tracing of the input–output organization of a central noradrenaline circuit. Nature 524, 88–92 (2015).

Canteras, N. S., Simerly, R. B. & Swanson, L. W. Organization of projections from the medial nucleus of the amygdala: a PHAL study in the rat. J. Comp. Neurol. 360, 213–245 (1995).

Petrovich, G. D., Canteras, N. S. & Swanson, L. W. Combinatorial amygdalar inputs to hippocampal domains and hypothalamic behavior systems. Brain Res. Rev. 38, 247–289 (2001).

Zha, X. et al. VMHvl-projecting Vglut1+ neurons in the posterior amygdala gate territorial aggression. Cell Rep. 31, 107517 (2020).

Emery, D. E. & Sachs, B. D. Copulatory behavior in male rats with lesions in the bed nucleus of the stria terminalis. Physiol. Behav. 17, 803–806 (1976).

Liu, Y. C., Salamone, J. D. & Sachs, B. D. Lesions in medial preoptic area and bed nucleus of stria terminalis: differential effects on copulatory behavior and noncontact erection in male rats. J. Neurosci. 17, 5245–5253 (1997).

Shimura, T., Yamamoto, T. & Shimokochi, M. The medial preoptic area is involved in both sexual arousal and performance in male rats: re-evaluation of neuron activity in freely moving animals. Brain Res. 640, 215–222 (1994).

Hoffman, N. W., Kim, Y. I., Gorski, R. A. & Dudek, F. E. Homogeneity of intracellular electrophysiological properties in different neuronal subtypes in medial preoptic slices containing the sexually dimorphic nucleus of the rat. J. Comp. Neurol. 345, 396–408 (1994).

Hatayama, M. et al. Zic2 hypomorphic mutant mice as a schizophrenia model and Zic2 mutations identified in schizophrenia patients. Sci. Rep. 1, 16 (2011).

Lewis, A. S. et al. Bidirectional regulation of aggression in mice by hippocampal alpha-7 nicotinic acetylcholine receptors. Neuropsychopharmacology 43, 1267–1275 (2018).

Paxinos, G. & Franklin, K. B. J. The Mouse Brain in Stereotaxic Coordinates 3rd edn. (Elsevier Academic Press, 2008).

Vong, L. et al. Leptin action on GABAergic neurons prevents obesity and reduces inhibitory tone to POMC neurons. Neuron 71, 142–154 (2011).

Madisen, L. et al. A robust and high-throughput Cre reporting and characterization system for the whole mouse brain. Nat. Neurosci. 13, 133–140 (2010).

Yamaguchi, T., Danjo, T., Pastan, I., Hikida, T. & Nakanishi, S. Distinct roles of segregated transmission of the septo-habenular pathway in anxiety and fear. Neuron 78, 537–544 (2013).

Mathis, A. et al. DeepLabCut: markerless pose estimation of user-defined body parts with deep learning. Nat. Neurosci. 21, 1281–1289 (2018).

Nilsson, S. R. et al. Simple Behavioral Analysis (SimBA)—an open source toolkit for computer classification of complex social behaviors in experimental animals. Preprint at bioRxiv https://doi.org/10.1101/2020.04.19.049452 (2020).

Wang, L., Chen, I. Z. & Lin, D. Collateral pathways from the ventromedial hypothalamus mediate defensive behaviors. Neuron 85, 1344–1358 (2015).

Dobin, A. et al. STAR: ultrafast universal RNA-seq aligner. Bioinformatics 29, 15–21 (2013).

Cimmino, L. et al. Restoration of TET2 function blocks aberrant self-renewal and leukemia progression. Cell 170, 1079–1095 (2017).

Liao, Y., Smyth, G. K. & Shi, W. featureCounts: an efficient general purpose program for assigning sequence reads to genomic features. Bioinformatics 30, 923–930 (2014).

Ritchie, M. E. et al. Limma powers differential expression analyses for RNA-sequencing and microarray studies. Nucleic Acids Res. 43, e47 (2015).

Ge, S. X., Son, E. W. & Yao, R. iDEP: an integrated web application for differential expression and pathway analysis of RNA-seq data. BMC Bioinformatics 19, 534 (2018).
Acknowledgements
We thank C. Loomis at the NYULMC Experimental Pathology Research Laboratory for help on laser capture microdissection, A. Heguy and Y. Zhang at the NYULMC Genome Technology Center for help on RNA-seq and V. Varshini at the NYULMC Bioinformatics Laboratory for help with sequence alignment. This research was supported by a JSPS overseas fellowship (T.Y.); an Uehara postdoctoral fellowship (T.Y.); NIH grants R01MH107742 and R01MH108594 (B.L.) and R00NS087098 and DP2NS105553 (N.X.T.); the Leon Levy Foundation (N.X.T.); the Dana Foundation (N.X.T.); the Alfred P. Sloan Foundation (N.X.T. and D.L.); the Whitehall Foundation (N.X.T. and D.L.); NIH grants R01MH101377, R21MH105774, 1R01HD092596 and U19NS107616 (D.L.); the Mathers Foundation (D.L.); an Irma T. Hirschl Career Scientist Award (D.L.); and a McKnight Scholar Award (D.L.).
Ethics declarations
Competing interests
The authors declare no competing interests.
Additional information
Peer review information Nature Neuroscience thanks Lisa Stowers, Larry Zweifel and the other, anonymous, reviewer(s) for their contribution to the peer review of this work.
Publisher's note Springer Nature remains neutral with regard to jurisdictional claims in published maps and institutional affiliations.
Supplementary information
Statistical results related to Figs.1–7 and Extended Data Figs. 3 and 5–9.
Normalized counts of genes expressed in PA-VMHvl, PA-MPN and BMAp regions based on RNA-seq.
About this article
Cite this article
Yamaguchi, T., Wei, D., Song, S.C. et al. Posterior amygdala regulates sexual and aggressive behaviors in male mice. Nat Neurosci 23, 1111–1124 (2020). https://doi.org/10.1038/s41593-020-0675-x
Received:

Accepted:

Published:

Issue Date:

DOI: https://doi.org/10.1038/s41593-020-0675-x