Abstract
Oxytocin (OT) is a great facilitator of social life but, although its effects on socially relevant brain regions have been extensively studied, OT neuron activity during actual social interactions remains unexplored. Most OT neurons are magnocellular neurons, which simultaneously project to the pituitary and forebrain regions involved in social behaviors. In the present study, we show that a much smaller population of OT neurons, parvocellular neurons that do not project to the pituitary but synapse onto magnocellular neurons, is preferentially activated by somatosensory stimuli. This activation is transmitted to the larger population of magnocellular neurons, which consequently show coordinated increases in their activity during social interactions between virgin female rats. Selectively activating these parvocellular neurons promotes social motivation, whereas inhibiting them reduces social interactions. Thus, parvocellular OT neurons receive particular inputs to control social behavior by coordinating the responses of the much larger population of magnocellular OT neurons.
Access options
Subscribe to Journal
Get full journal access for 1 year
$225.00
only $18.75 per issue
All prices are NET prices.
VAT will be added later in the checkout.
Rent or Buy article
Get time limited or full article access on ReadCube.
from$8.99
All prices are NET prices.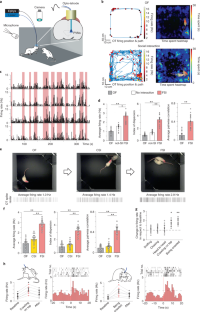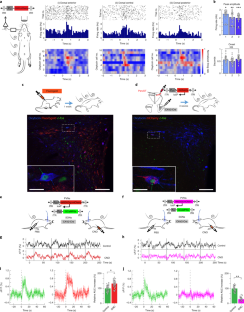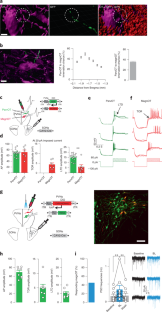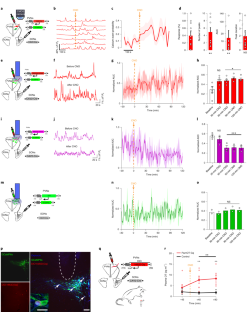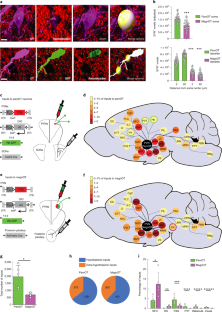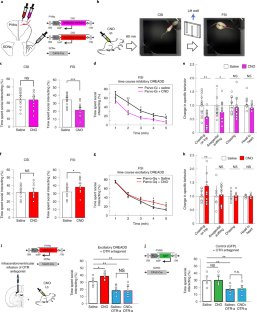 Data and code availability
Python code (used for ex vivo calcium-imaging data analysis in Fig. 4a–d) and MATLAB code (used for in vivo fiber photometry data analysis in Fig. 4e–o and Extended Data Fig. 7a–n) can be found in Supplementary Software. All data that support the findings of the present study, as well as MATLAB codes for the analysis of extracellular recording data, are available from the corresponding author upon reasonable request.
References
1.

Lee, H.-J., Macbeth, A. H., Pagani, J. & Scott Young, W. 3rd. Oxytocin: the great facilitator of life. Prog. Neurobiol. 88, 127–151 (2010).

2.

Jurek, B. & Neumann, I. D. The oxytocin receptor: from intracellular signaling to behavior. Physiol. Rev. 98, 1805–1908 (2018).

3.

Walum, H. & Young, L. J. The neural mechanisms and circuitry of the pair bond. Nat. Rev. Neurosci. 19, 643–654 (2018).

4.

Russell, J. A., Leng, G. & Douglas, A. J. The magnocellular oxytocin system, the fount of maternity: adaptations in pregnancy. Front. Neuroendocrinol. 24, 27–61 (2003).

5.

Knobloch, H. S. et al. Evoked axonal oxytocin release in the central amygdala attenuates fear response. Neuron 73, 553–566 (2012).

6.

Marlin, B. J. & Froemke, R. C. Oxytocin modulation of neural circuits for social behavior. Dev. Neurobiol. 77, 169–189 (2017).

7.

Grinevich, V. & Stoop, R. Interplay between oxytocin and sensory systems in the orchestration of socio-emotional behaviors. Neuron 99, 887–904 (2018).

8.

Dumais, K. M., Alonso, A. G., Immormino, M. A., Bredewold, R. & Veenema, A. H. Involvement of the oxytocin system in the bed nucleus of the stria terminalis in the sex-specific regulation of social recognition. Psychoneuroendocrinology 64, 79–88 (2016).

9.

Dumais, K. M., Alonso, A. G., Bredewold, R. & Veenema, A. H. Role of the oxytocin system in amygdala subregions in the regulation of social interest in male and female rats. Neuroscience 330, 138–149 (2016).

10.

Resendez, S. L. et al. Social stimuli induce activation of oxytocin neurons within the paraventricular nucleus of the hypothalamus to promote social behavior in male mice. J. Neurosci. 40, 2282–2295 (2020).

11.

Bobrov, E., Wolfe, J., Rao, R. P. & Brecht, M. The representation of social facial touch in rat barrel cortex. Curr. Biol. 24, 109–115 (2014).

12.

Chen, P. & Hong, W. Neural circuit mechanisms of social behavior. Neuron 98, 16–30 (2018).

13.

Eliava, M. et al. A new population of parvocellular oxytocin neurons controlling magnocellular neuron activity and inflammatory pain processing. Neuron 89, 1291–1304 (2016).

14.

Lima, S. Q., Hromádka, T., Znamenskiy, P. & Zador, A. M. PINP: a new method of tagging neuronal populations for identification during in vivo electrophysiological recording. PLoS ONE 4, e6099 (2009).

15.

Leng, T., Leng, G. & MacGregor, D. J. Spike patterning in oxytocin neurons: capturing physiological behaviour with Hodgkin–Huxley and integrate-and-fire models. PLoS ONE 12, e0180368 (2017).

16.

Netser, S., Haskal, S., Magalnik, H. & Wagner, S. A novel system for tracking social preference dynamics in mice reveals sex- and strain-specific characteristics. Mol. Autism 8, 53 (2017).

17.

Maícas-Royo, J., Leng, G. & MacGregor, D. J. A predictive, quantitative model of spiking activity and stimulus-secretion coupling in oxytocin neurons. Endocrinology 159, 1433–1452 (2018).

18.

Portfors, C. V. Types and functions of ultrasonic vocalizations in laboratory rats and mice. J. Am. Assoc. Lab. Anim. Sci. 46, 28–34 (2007).

19.

Lenschow, C. et al. Sexually monomorphic maps and dimorphic responses in rat genital cortex. Curr. Biol. 26, 106–113 (2016).

20.

Althammer, F. & Grinevich, V. Diversity of oxytocin neurones: beyond magno- and parvocellular cell types? J. Neuroendocrinol. 30, e12549 (2018).

21.

Johnson, Z. V. et al. Central oxytocin receptors mediate mating-induced partner preferences and enhance correlated activation across forebrain nuclei in male prairie voles. Horm. Behav. 79, 8–17 (2016).

22.

Hung, L. W. et al. Gating of social reward by oxytocin in the ventral tegmental area. Science 357, 1406–1411 (2017).

23.

Okabe, S., Yoshida, M., Takayanagi, Y. & Onaka, T. Activation of hypothalamic oxytocin neurons following tactile stimuli in rats. Neurosci. Lett. 600, 22–27 (2015).

24.

Bru, T., Salinas, S. & Kremer, E. J. An update on canine adenovirus type 2 and its vectors. Viruses 2, 2134–2153 (2010).

25.

Gunaydin, L. A. et al. Natural neural projection dynamics underlying social behavior. Cell 157, 1535–1551 (2014).

26.

VanRyzin, J. W. et al. Microglial phagocytosis of newborn cells is induced by endocannabinoids and sculpts sex differences in juvenile rat social play. Neuron 102, 435–449.e6 (2019).

27.

Erny, D. et al. Host microbiota constantly control maturation and function of microglia in the CNS. Nat. Neurosci. 18, 965–977 (2015).

28.

Wickersham, I. R. et al. Monosynaptic restriction of transsynaptic tracing from single, genetically targeted neurons. Neuron 53, 639–647 (2007).

29.

Manning, M., Stoev, S., Cheng, L. L., Ching Wo, N. & Chan, W. Y. Design of oxytocin antagonists, which are more selective than atosiban. J. Pept. Sci. 7, 449–465 (2001).

30.

Grund, T. et al. Neuropeptide S activates paraventricular oxytocin neurons to induce anxiolysis. J. Neurosci. 37, 12214–12225 (2017).

31.

Rhodes, C. H., Morriell, J. I. & Pfaff, D. W. Immunohistochemical analysis of magnocellular elements in rat hypothalamus: Distribution and numbers of cells containing neurophysin, oxytocin, and vasopressin. J. Comp. Neurol. 198, 45–64 (1981).

32.

Uvnäs-Moberg, K., Handlin, L. & Petersson, M. Self-soothing behaviors with particular reference to oxytocin release induced by non-noxious sensory stimulation. Front. Psychol. 5, 1529 (2015).

33.

Walker, S. C., Trotter, P. D., Swaney, W. T., Marshall, A. & Mcglone, F. P. C-tactile afferents: Cutaneous mediators of oxytocin release during affiliative tactile interactions? Neuropeptides 64, 27–38 (2017).

34.

Brown, C. H., Bains, J. S., Ludwig, M. & Stern, J. E. Physiological regulation of magnocellular neurosecretory cell activity: integration of intrinsic, local and afferent mechanisms. J. Neuroendocrinol. 25, 678–710 (2013).

35.

Hoffman, G. E. & Lyo, D. Anatomical markers of activity in neuroendocrine systems: are we all 'Fos-ed out'? J. Neuroendocrinol. 14, 259–268 (2002).

36.

Hoffman, G. E., Smith, M. S. & Verbalis, J. G. c-Fos and related immediate early gene products as markers of activity in neuroendocrine systems. Front. Neuroendocrinol. 14, 173–213 (1993).

37.

Hasan, M. T. et al. A fear memory engram and its plasticity in the hypothalamic oxytocin system. Neuron 103, 133–146.e8 (2019).

38.

Stern, J. E. Electrophysiological and morphological properties of pre-autonomic neurones in the rat hypothalamic paraventricular nucleus. J. Physiol. 537, 161–177 (2001).

39.

Bosch, O. J. Brain oxytocin correlates with maternal aggression: link to anxiety. J. Neurosci. 25, 6807–6815 (2005).

40.

Fenelon, V. S., Poulain, D. A. & Theodosis, D. T. Fos synthesis and neuronal activation: analysis of Fos immunoreactivity in identified magnocellular neurons during lactation. Ann. N.Y. Acad. Sci. 689, 508–511 (1993).

41.

Neumann, I., Douglas, A. J., Pittman, Q. J., Russell, J. A. & Landgraf, R. Oxytocin released within the supraoptic nucleus of the rat brain by positive feedback action is involved in parturition‐related events. J. Neuroendocrinol. 8, 227–233 (1996).

42.

Augustine, R. A. et al. Prolactin regulation of oxytocin neurone activity in pregnancy and lactation. J. Physiol. 595, 3591–3605 (2017).

43.

Kennett, J. E. & McKee, D. T. Oxytocin: an emerging regulator of prolactin secretion in the female rat. J. Neuroendocrinol. 24, 403–412 (2012).

44.

Dölen, G., Darvishzadeh, A., Huang, K. W. & Malenka, R. C. Social reward requires coordinated activity of nucleus accumbens oxytocin and serotonin. Nature 501, 179–184 (2013).

45.

McGlone, F., Wessberg, J. & Olausson, H. Discriminative and affective touch: sensing and feeling. Neuron 82, 737–755 (2014).

46.

Leng, G. & Ludwig, M. Reply to: Improving research standards to restore trust in intranasal oxytocin. Biol. Psychiatry 79, e55–e56 (2016).

47.

Meyer-Lindenberg, A., Domes, G., Kirsch, P. & Heinrichs, M. Oxytocin and vasopressin in the human brain: social neuropeptides for translational medicine. Nat. Rev. Neurosci. 12, 524–538 (2011).

48.

Grinevich, V. & Neumann, I. D. How puzzle stones from animal studies translate into psychiatry. Mol. Psychiatry https://doi.org/10.1038/s41380-020-0802-9 (2020).

49.

Menon, R. et al. Oxytocin signaling in the lateral septum prevents social fear during lactation. Curr. Biol. 28, 1066–1078.e6 (2018).

50.

Grinevich, V. et al. Somatic transgenesis. Viral Vectors 3, 243–274 (2016).

51.

Paxinos, G. & Watson, C. The Rat Brain in Stereotaxic Coordinates, 7th edn (Elsevier Acad. Press, 2014).

52.

Tasker, J. G. & Dudek, F. E. Electrophysiological properties of neurones in the region of the paraventricular nucleus in slices of rat hypothalamus. J. Physiol. 434, 271–293 (1991).

53.

Chu, C.-P. et al. Effects of stresscopin on rat hypothalamic paraventricular nucleus neurons in vitro. PLoS ONE 8, e53863 (2013).

54.

Luther, J. A. & Tasker, J. G. Voltage-gated currents distinguish parvocellular from magnocellular neurones in the rat hypothalamic paraventricular nucleus. J. Physiol. 523, 193–209 (2000).

55.

Luther, J. A. et al. Neurosecretory and non-neurosecretory parvocellular neurones of the hypothalamic paraventricular nucleus express distinct electrophysiological properties. J. Neuroendocrinol. 14, 929–932 (2002).

56.

Yuill, E. A., Hoyda, T. D., Ferri, C. C., Zhou, Q.-Y. & Ferguson, A. V. Prokineticin 2 depolarizes paraventricular nucleus magnocellular and parvocellular neurons. Eur. J. Neurosci. 25, 425–434 (2007).

57.

Tang, Y., Benusiglio, D., Grinevich, V. & Lin, L. Distinct types of feeding related neurons in mouse hypothalamus. Front. Behav. Neurosci. 10, 91 (2016).

58.

Maícas Royo, J., Brown, C. H., Leng, G. & MacGregor, D. J. Oxytocin neurones: intrinsic mechanisms governing the regularity of spiking activity. J. Neuroendocrinol. 28, 28 (2016).

59.

Grund, T. et al. Chemogenetic activation of oxytocin neurons: temporal dynamics, hormonal release, and behavioral consequences. Psychoneuroendocrinology 106, 77–84 (2019).

60.

de Jong, T. R. et al. Salivary oxytocin concentrations in response to running, sexual self-stimulation, breastfeeding and the TSST: the Regensburg Oxytocin Challenge (ROC) study. Psychoneuroendocrinology 62, 381–388 (2015).

61.

Landgraf, R., Neumann, I., Holsboer, F. & Pittman, Q. J. Interleukin-1β stimulates both central and peripheral release of vasopressin and oxytocin in the rat. Eur. J. Neurosci. 7, 592–598 (1995).

62.

Neumann, I. D., Maloumby, R., Beiderbeck, D. I., Lukas, M. & Landgraf, R. Increased brain and plasma oxytocin after nasal and peripheral administration in rats and mice. Psychoneuroendocrinology 38, 1985–1993 (2013).

63.

Ishiyama, S. & Brecht, M. Neural correlates of ticklishness in the rat somatosensory cortex. Science 354, 757–760 (2016).

64.

Althammer, F., Ferreira-Neto, H. C., Rubaharan, M., Roy, K. R. & Stern, J. E. Three-dimensional morphometric analysis reveals time-dependent structural changes in microglia and astrocytes in the central amygdala and hypothalamic paraventricular nucleus of heart failure rats. Res. Sq. https://doi.org/10.21203/rs.3.rs-22630/v1 (2020).

65.

Kim, E. J., Jacobs, M. W., Ito-Cole, T. & Callaway, E. M. Improved monosynaptic neural circuit tracing using engineered rabies virus glycoproteins. Cell Rep. 15, 692–699 (2016).

66.

Zhang, B. et al. Reconstruction of the hypothalamo-neurohypophysial system and functional dissection of magnocellular oxytocin neurons in the brain. Preprint at bioRxiv https://doi.org/10.1101/2020.03.26.007070 (2020).
Acknowledgements
We thank T. Grund and X. Liu for initial contribution to this study, R. Stoop for valuable comments on the manuscript, J. Müller for packaging viral vectors, E. Kremer for the canine virus, J. Maicos-Roya for contributing to the modeling of OT release, S. Netser for his comments on the manuscript, C. Pitzer and the Interdisciplinary Neurobehavioral Core Facility of Heidelberg University for some of the behavioral experiments performed there, and T. Splettstoesser (www.scistyle.com) for composing Extended Data Fig. 10. The work was supported by Chinese Scholarship Council No. 201406140043 (to Y.T.), the German Research Foundation (DFG) within the Collaborative Research Center (SFB) 1158 seed grant for young researchers and Fyssen Foundation (to A.L.), DFG postdoctoral fellowship AL 2466/1-1 (to F.A.), Alexander von Humboldt research fellowship (to D.H.), Human Frontier Science Program RGP0019/2015 (to V.G. and S.W.), Israel Science Foundation (grant nos. 1350/12 and 1361/17), Milgrom Foundation and the Ministry of Science, Technology and Space of Israel (grant no. 3-12068, to S.W.), NIH grant (no. R01NS094640, to J.E.S.), BBSRC grant (no. BB/S000224/1, to G.L.), DFG grant (nos. NE 465/27, NE 465/31 and NE 465/34, to I.D.N.), ANR-DFG grant and PICS grant (no. GR 3619/701 and no. GR 07882, to A.C. and V.G.), NARSAD Young Investigator grant (no. 24821) and ANR JCJC grant (no. GR 19-CE16-0011-01, to A.C.), DFG grant (no. GR 3619/4-1), SFB 1158, SNSF-DFG grant (no. GR 3619/8-1) and Fritz Thyssen Foundation grant (no. 10.16.2.018 MN) (all to V.G.).
Ethics declarations
Competing interests
The authors declare no competing interests.
Additional information
Peer review information Nature Neuroscience thanks Dayu Lin, Jeffrey Tasker and the other, anonymous, reviewer(s) for their contribution to the peer review of this work.
Publisher's note Springer Nature remains neutral with regard to jurisdictional claims in published maps and institutional affiliations.
Supplementary information
About this article
Cite this article
Tang, Y., Benusiglio, D., Lefevre, A. et al. Social touch promotes interfemale communication via activation of parvocellular oxytocin neurons. Nat Neurosci (2020). https://doi.org/10.1038/s41593-020-0674-y
Received:

Accepted:

Published: