Abstract
Retrieval of everyday experiences is fundamental for informing our future decisions. The fine-grained neurophysiological mechanisms that support such memory retrieval are largely unknown. We studied participants who first experienced, without repetition, unique multicomponent 40–80-s episodes. One day later, they engaged in cued retrieval of these episodes while undergoing magnetoencephalography. By decoding individual episode elements, we found that trial-by-trial successful retrieval was supported by the sequential replay of episode elements, with a temporal compression factor of >60. The direction of replay supporting retrieval, either backward or forward, depended on whether the task goal was to retrieve elements of an episode that followed or preceded, respectively, a retrieval cue. This sequential replay was weaker in very-high-performing participants, in whom instead we found evidence for simultaneous clustered reactivation. Our results demonstrate that memory-mediated decisions are supported by a rapid replay mechanism that can flexibly shift in direction in response to task goals.
Access options
Subscribe to Journal
Get full journal access for 1 year
$209.00
only $17.42 per issue
All prices are NET prices.
VAT will be added later in the checkout.
Rent or Buy article
Get time limited or full article access on ReadCube.
from$8.99
All prices are NET prices.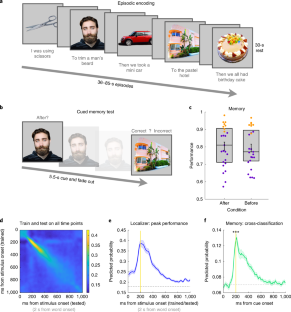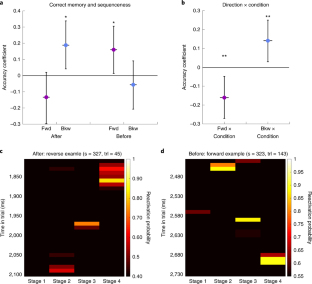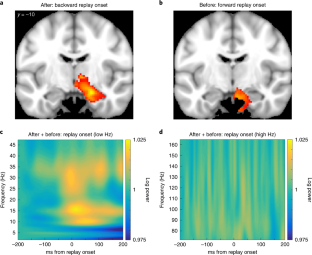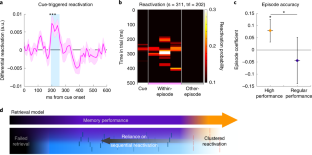 References
1.

Eichenbaum, H. & Cohen, N. J. From Conditioning to Conscious Recollection: Memory Systems of the Brain (Oxford Univ. Press, 2001).

2.

Buzsaki, G. & Moser, E. I. Memory, navigation and theta rhythm in the hippocampal–entorhinal system. Nat. Neurosci. 16, 130–138 (2013).

3.

Eichenbaum, H. The role of the hippocampus in navigation is memory. J. Neurophysiol 117, 1785–1796 (2017).

4.

Pfeiffer, B. E. & Foster, D. J. Hippocampal place-cell sequences depict future paths to remembered goals. Nature 497, 74–79 (2013).

5.

Jadhav, S. P., Kemere, C., German, P. W. & Frank, L. M. Awake hippocampal sharp-wave ripples support spatial memory. Science 336, 1454–1458 (2012).

6.

Olafsdottir, H. F., Bush, D. & Barry, C. The role of hippocampal replay in memory and planning. Curr. Biol. 28, R37–R50 (2018).

7.

Carr, M. F., Jadhav, S. P. & Frank, L. M. Hippocampal replay in the awake state: a potential substrate for memory consolidation and retrieval. Nat. Neurosci. 14, 147–153 (2011).

8.

Polyn, S. M., Natu, V. S., Cohen, J. D. & Norman, K. A. Category-specific cortical activity precedes retrieval during memory search. Science 310, 1963–1966 (2005).

9.

Horner, A. J., Bisby, J. A., Bush, D., Lin, W. J. & Burgess, N. Evidence for holistic episodic recollection via hippocampal pattern completion. Nat. Commun. 6, 7462 (2015).

10.

Wimmer, G. E. & Shohamy, D. Preference by association: how memory mechanisms in the hippocampus bias decisions. Science 338, 270–273 (2012).

11.

Wheeler, M. E., Petersen, S. E. & Buckner, R. L. Memory's echo: vivid remembering reactivates sensory-specific cortex. Proc. Natl Acad. Sci. USA 97, 11125–11129 (2000).

12.

Kurth-Nelson, Z., Barnes, G., Sejdinovic, D., Dolan, R. & Dayan, P. Temporal structure in associative retrieval. eLife 4, e04919 (2015).

13.

Michelmann, S., Bowman, H. & Hanslmayr, S. The temporal signature of memories: identification of a general mechanism for dynamic memory replay in humans. PLoS Biol. 14, e1002528 (2016).

14.

Brown, T. I. et al. Prospective representation of navigational goals in the human hippocampus. Science 352, 1323–1326 (2016).

15.

Wimmer, G. E. & Büchel, C. Learning of distant state predictions by the orbitofrontal cortex in humans. Nat. Commun. 10, 2554 (2019).

16.

Yaffe, R. B., Shaikhouni, A., Arai, J., Inati, S. K. & Zaghloul, K. A. Cued memory retrieval exhibits reinstatement of high gamma power on a faster timescale in the left temporal lobe and prefrontal cortex. J. Neurosci. 37, 4472–4480 (2017).

17.

Jafarpour, A., Fuentemilla, L., Horner, A. J., Penny, W. & Duzel, E. Replay of very early encoding representations during recollection. J. Neurosci. 34, 242–248 (2014).

18.

Michelmann, S., Staresina, B. P., Bowman, H. & Hanslmayr, S. Speed of time-compressed forward replay flexibly changes in human episodic memory. Nat. Hum. Behav. 3, 143–154 (2019).

19.

Kurth-Nelson, Z., Economides, M., Dolan, R. J. & Dayan, P. Fast sequences of non-spatial state representations in humans. Neuron 91, 194–204 (2016).

20.

Liu, Y., Dolan, R. J., Kurth-Nelson, Z. & Behrens, T. Human replay spontaneously reorganises experience. Cell 178, 640–652.e14 (2019).

21.

Papale, A. E., Zielinski, M. C., Frank, L. M., Jadhav, S. P. & Redish, A. D. Interplay between hippocampal sharp-wave-ripple events and vicarious trial and error behaviors in decision making. Neuron 92, 975–982 (2016).

22.

Pezzulo, G., Donnarumma, F., Maisto, D. & Stoianov, I. Planning at decision time and in the background during spatial navigation. Curr. Opin. Behav. Sci. 29, 69–76 (2019).

23.

Buzsaki, G. Hippocampal sharp wave-ripple: a cognitive biomarker for episodic memory and planning. Hippocampus 25, 1073–188 (2015).

24.

Wikenheiser, A. M. & Redish, A. D. Hippocampal theta sequences reflect current goals. Nat. Neurosci. 18, 289–294 (2015).

25.

Johnson, A. & Redish, A. D. Neural ensembles in CA3 transiently encode paths forward of the animal at a decision point. J. Neurosci. 27, 12176–12189 (2007).

26.

Diba, K. & Buzsaki, G. Forward and reverse hippocampal place-cell sequences during ripples. Nat. Neurosci. 10, 1241–1242 (2007).

27.

Ambrose, R. E., Pfeiffer, B. E. & Foster, D. J. Reverse replay of hippocampal place cells Is uniquely modulated by changing reward. Neuron 91, 1124–1136 (2016).

28.

Foster, D. J. & Wilson, M. A. Reverse replay of behavioural sequences in hippocampal place cells during the awake state. Nature 440, 680–683 (2006).

29.

Singer, A. C., Carr, M. F., Karlsson, M. P. & Frank, L. M. Hippocampal SWR activity predicts correct decisions during the initial learning of an alternation task. Neuron 77, 1163–1173 (2013).

30.

Kumaran, D., Hassabis, D. & McClelland, J. L. What learning systems do intelligent agents need? Complementary learning systems theory updated. Trends Cogn. Sci. 20, 512–534 (2016).

31.

Marr, D. Simple memory: a theory for archicortex. Philos. Trans. R. Soc. Lond. B Biol. Sci. 262, 23–81 (1971).

32.

Schuck, N. W. & Niv, Y. Sequential replay of nonspatial task states in the human hippocampus. Science 364, eaaw5181 (2019).

33.

Kievit, R. A., Frankenhuis, W. E., Waldorp, L. J. & Borsboom, D. Simpson's paradox in psychological science: a practical guide. Front. Psychol. 4, 513 (2013).

34.

Howard, M. W. & Kahana, M. J. A distributed representation of temporal context. J. Math. Psychol. 46, 269–299 (2002).

35.

Tambini, A. & Davachi, L. Persistence of hippocampal multivoxel patterns into postencoding rest is related to memory. Proc. Natl Acad. Sci. USA 110, 19591–19596 (2013).

36.

Ben-Yakov, A. & Dudai, Y. Constructing realistic engrams: poststimulus activity of hippocampus and dorsal striatum predicts subsequent episodic memory. J. Neurosci. 31, 9032–9042 (2011).

37.

Deuker, L. et al. Memory consolidation by replay of stimulus-specific neural activity. J. Neurosci. 33, 19373–19383 (2013).

38.

Schapiro, A. C., McDevitt, E. A., Rogers, T. T., Mednick, S. C. & Norman, K. A. Human hippocampal replay during rest prioritizes weakly learned information and predicts memory performance. Nat. Commun. 9, 3920 (2018).

39.

Tse, D. et al. Schemas and memory consolidation. Science 316, 76–82 (2007).

40.

Lee, A. K. & Wilson, M. A. Memory of sequential experience in the hippocampus during slow wave sleep. Neuron 36, 1183–1194 (2002).

41.

Nadasdy, Z., Hirase, H., Czurko, A., Csicsvari, J. & Buzsaki, G. Replay and time compression of recurring spike sequences in the hippocampus. J. Neurosci. 19, 9497–9507 (1999).

42.

Tolman, E. C. Cognitive maps in rats and men. Psychol. Rev. 55, 189–208 (1948).

43.

Behrens, T. E. J. et al. What is a cognitive map? Organizing knowledge for flexible behavior. Neuron 100, 490–509 (2018).

44.

Dolan, R. J. & Dayan, P. Goals and habits in the brain. Neuron 80, 312–325 (2013).

45.

Shohamy, D. & Daw, N. D. Integrating memories to guide decisions. Curr. Opin. Behav. Sci. 5, 85–90 (2015).

46.

Shadlen, M. N. & Shohamy, D. Decision making and sequential sampling from memory. Neuron 90, 927–939 (2016).

47.

Bakkour, A. The hippocampus supports deliberation during value-based decisions. eLife 8, e46080 (2019).

48.

Wimmer, G. E. & Buechel, C. Reactivation of reward-related patterns from single past episodes supports memory-based decision making. J. Neurosci. 36, 2868–2880 (2016).

49.

Brewin, C. R., Gregory, J. D., Lipton, M. & Burgess, N. Intrusive images in psychological disorders: characteristics, neural mechanisms, and treatment implications. Psychol. Rev. 117, 210–232 (2010).

50.

Suh, J., Foster, D. J., Davoudi, H., Wilson, M. A. & Tonegawa, S. Impaired hippocampal ripple-associated replay in a mouse model of schizophrenia. Neuron 80, 484–493 (2013).

51.

Liu, Y., Dolan, R. J., Penagos-Vargas, H. L., Kurth-Nelson, Z. & Behrens, T. E. J. Measuring sequences of representations with temporally delayed linear modelling. Preprint at bioRxiv https://doi.org/10.1101/2020.04.30.066407 (2020).

52.

Braun, E. K., Wimmer, G. E. & Shohamy, D. Retroactive and graded prioritization of memory by reward. Nat. Commun. 9, 4886 (2018).

53.

Wimmer, G. E., Braun, E. K., Daw, N. D. & Shohamy, D. Episodic memory encoding interferes with reward learning and decreases striatal prediction errors. J. Neurosci. 34, 14901–14912 (2014).

54.

Van Veen, B. D., Van Drongelen, W., Yuchtman, M. & Suzuki, A. Localization of brain electrical activity via linearly constrained minimum variance spatial filtering. IEEE Trans. Biomed. Eng. 44, 867–880 (1997).
Acknowledgements
The authors thank Z. Kurth-Nelson for helpful discussions. This work was supported by a Wellcome Trust Investigator Award (098362/Z/12/Z) to R.J.D. G.E.W. was supported by Max Planck Society (647070403019). Y.L. is supported by a UCL Graduate Research Scholarship and an Overseas Research Scholarship. The Max Planck University College London Centre is a joint initiative supported by University College London and the Max Planck Society. The Wellcome Centre for Human Neuroimaging is supported by core funding from the Wellcome Trust (203147/Z/16/Z).
Ethics declarations
Competing interests
The authors declare no competing interests.
Additional information
Publisher's note Springer Nature remains neutral with regard to jurisdictional claims in published maps and institutional affiliations.
Supplementary information
Supplementary Figs. 1 and 2 and Supplementary Tables 1–7.
About this article
Cite this article
Wimmer, G.E., Liu, Y., Vehar, N. et al. Episodic memory retrieval success is associated with rapid replay of episode content. Nat Neurosci 23, 1025–1033 (2020). https://doi.org/10.1038/s41593-020-0649-z
Received:

Accepted:

Published:

Issue Date:
Further reading
Serra E. Favila

,

Hongmi Lee

&

Brice A. Kuhl

Trends in Neurosciences (2020)

Jacob L. S. Bellmund

,

Ignacio Polti

&

Christian F. Doeller

Journal of Cognitive Neuroscience (2020)

Mengni Wang

,

David J. Foster

&

Brad E. Pfeiffer

Science (2020)