Abstract
Basal forebrain cholinergic neurons (BFCNs) modulate synaptic plasticity, cortical processing, brain states and oscillations. However, whether distinct types of BFCNs support different functions remains unclear. Therefore, we recorded BFCNs in vivo, to examine their behavioral functions, and in vitro, to study their intrinsic properties. We identified two distinct types of BFCNs that differ in their firing modes, synchronization properties and behavioral correlates. Bursting cholinergic neurons (Burst-BFCNs) fired synchronously, phase-locked to cortical theta activity and fired precisely timed bursts after reward and punishment. Regular-firing cholinergic neurons (Reg-BFCNs) were found predominantly in the posterior basal forebrain, displayed strong theta rhythmicity and responded with precise single spikes after behavioral outcomes. In an auditory detection task, synchronization of Burst-BFCNs to the auditory cortex predicted the timing of behavioral responses, whereas tone-evoked cortical coupling of Reg-BFCNs predicted correct detections. We propose that differential recruitment of two basal forebrain cholinergic neuron types generates behavior-specific cortical activation.
Relevant articles
Open Access articles citing this article.
Jon Palacios-Filardo

,

Matt Udakis

…

Jack R. Mellor

Nature Communications Open Access 16 September 2021
Access options
Subscribe to Nature+
Get immediate online access to the entire Nature family of 50+ journals
Subscribe to Journal
Get full journal access for 1 year
$99.00
only $8.25 per issue
All prices are NET prices.
VAT will be added later in the checkout.
Tax calculation will be finalised during checkout.
Buy article
Get time limited or full article access on ReadCube.
$32.00
All prices are NET prices.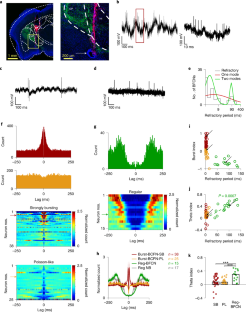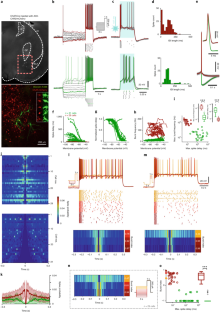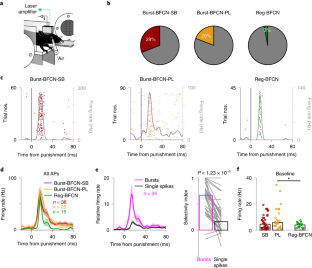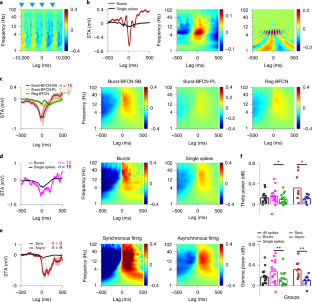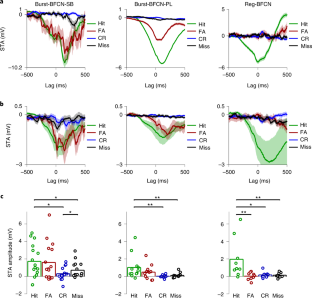 Data availability
Statistics source data underlying the figures are provided in Excel format. The datasets analyzed during the current study are available from the corresponding author on reasonable request.
References
Everitt, B. J. & Robbins, T. W. Central cholinergic systems and cognition. Annu. Rev. Psychol. 48, 649–84 (1997).

Hasselmo, M. E. & Sarter, M. Modes and models of forebrain cholinergic neuromodulation of cognition. Neuropsychopharmacology 36, 52–73 (2011).

Herman, aM., Huang, L., Murphey, D. K., Garcia, I. & Arenkiel, B. R. Cell type-specific and time-dependent light exposure contribute to silencing in neurons expressing Channelrhodopsin-2. eLife 3, e01481–e01481 (2014).

Froemke, R. C., Merzenich, M. M. & Schreiner, C. E. A synaptic memory trace for cortical receptive field plasticity. Nature 450, 425–9 (2007).

Chubykin, A. A., Roach, E. B., Bear, M. F. & Shuler, M. G. H. A cholinergic mechanism for reward timing within primary visual cortex. Neuron 77, 723–35 (2013).

Gu, Z. & Yakel, J. L. Timing-dependent septal cholinergic induction of dynamic hippocampal synaptic plasticity. Neuron 71, 155–65 (2011).

Yang, C., Thankachan, S., McCarley, R. W. & Brown, R. E. The menagerie of the basal forebrain: how many (neural) species are there, what do they look like, how do they behave and who talks to whom? Curr. Opin. Neurobiol. 44, 159–166 (2017).

Parikh, V., Kozak, R., Martinez, V. & Sarter, M. Prefrontal acetylcholine release controls cue detection on multiple timescales. Neuron 56, 141–54 (2007).

Teles-Grilo Ruivo, L. M. et al. Coordinated acetylcholine release in prefrontal cortex and hippocampus Is associated with arousal and reward on distinct timescales. Cell Rep. 18, 905–917 (2017).

Palacios-Filardo, J. & Mellor, J. R. Neuromodulation of hippocampal long-term synaptic plasticity. Curr. Opin. Neurobiol. 54, 37–43 (2019).

Unal, C. T., Golowasch, J. P. & Zaborszky, L. Adult mouse basal forebrain harbors two distinct cholinergic populations defined by their electrophysiology. Front. Behav. Neurosci. 6, 21 (2012).

López-Hernández, G. Y. et al. Electrophysiological properties of basal forebrain cholinergic neurons identified by genetic and optogenetic tagging. J. Neurochem. 142, 103–110 (2017).

Khateb, A. et al. Cholinergic nucleus basalis neurons display the capacity for rhythmic bursting activity mediated by low-threshold calcium spikes. Neuroscience 51, 489–94 (1992).

Nyíri, G. et al. GABA B and CB 1 cannabinoid receptor expression identifies two types of septal cholinergic neurons. Eur. J. Neurosci. 21, 3034–3042 (2005).

Harrison, T. C., Pinto, L., Brock, J. R. & Dan, Y. Calcium imaging of basal forebrain activity during innate and learned behaviors. Front. Neural Circuits 10, 1–12 (2016).

Lovett-Barron, M. et al. Dendritic inhibition in the hippocampus supports fear learning. Science 343, 857–63 (2014).

Hangya, B., Ranade, S. P., Lorenc, M. & Kepecs, A. Central cholinergic neurons are rapidly recruited by reinforcement feedback. Cell 162, 1155–1168 (2015).

Fries, P. et al. Rhythms for cognition: communication through coherence. Neuron 88, 220–35 (2015).

Somogyi, P., Katona, L., Klausberger, T., Lasztóczi, B. & Viney, T. J. Temporal redistribution of inhibition over neuronal subcellular domains underlies state-dependent rhythmic change of excitability in the hippocampus. Phil. Trans. R. Soc. B Biol. Sci. 369, 20120518 (2014).

van Dijk, H., Schoffelen, J.-M., Oostenveld, R. & Jensen, O. Prestimulus oscillatory activity in the alpha band predicts visual discrimination ability. J. Neurosci. 28, 1816–23 (2008).

Landau, A. N. & Fries, P. Attention samples stimuli rhythmically. Curr. Biol. 22, 1000–1004 (2012).

Simon, A. P., Poindessous-Jazat, F., Dutar, P., Epelbaum, J. & Bassant, M. H. Firing properties of anatomically identified neurons in the medial septum of anesthetized and unanesthetized restrained rats. J. Neurosci. 26, 9038–9046 (2006).

Duque, A., Balatoni, B., Detari, L. & Zaborszky, L. EEG correlation of the discharge properties of identified neurons in the basal forebrain. J. Neurophysiol. 84, 1627–35 (2000).

Lee, M. G., Hassani, O. K., Alonso, A. & Jones, B. E. Cholinergic basal forebrain neurons burst with theta during waking and paradoxical sleep. J. Neurosci. 25, 4365–9 (2005).

Zaborszky, L., van den Pol, A. & Gyengesi, E. in The Mouse Nervous System (eds Watson, C. et al.) 684–718 (Elsevier, 2012).

Royer, S. et al. Control of timing, rate and bursts of hippocampal place cells by dendritic and somatic inhibition. Nat. Neurosci. 15, 769–75 (2012).

Buzsáki, G. & Mizuseki, K. The log-dynamic brain: how skewed distributions affect network operations. Nat. Rev. Neurosci. 15, 264–278 (2014).

Lin, S.-C. & Nicolelis, Ma. L. Neuronal ensemble bursting in the basal forebrain encodes salience irrespective of valence. Neuron 59, 138–49 (2008).

Sarter, M., Parikh, V. & Howe, W. M. Phasic acetylcholine release and the volume transmission hypothesis: time to move on. Nat. Rev. Neurosci. 10, 383–90 (2009).

Saper, C. B. Organization of cerebral cortical afferent systems in the rat. II. Magnocellular basal nucleus. J. Comp. Neurol. 222, 313–42 (1984).

Buzsaki, G. et al. Nucleus basalis and thalamic control of neocortical activity in the freely moving rat. J. Neurosci. 8, 4007–26 (1988).

Pinto, L. et al. Fast modulation of visual perception by basal forebrain cholinergic neurons. Nat. Neurosci. 16, 1857–63 (2013).

Gielow, M. R. & Zaborszky, L. The input–output relationship of the cholinergic basal forebrain. Cell Rep. 18, 1817–1830 (2017).

Do, J. P. et al. Cell type-specific long-range connections of basal forebrain circuit. eLife 5, 1–17 (2016).

Tingley, D., Alexander, A. S., Quinn, L. K., Chiba, A. A. & Nitz, D. A. Cell assemblies of the basal forebrain. J. Neurosci. 35, 2992–3000 (2015).

Rye, D. B., Wainer, B. H., Mesulam, M. M., Mufson, E. J. & Saper, C. B. Cortical projections arising from the basal forebrain: a study of cholinergic and noncholinergic components employing combined retrograde tracing and immunohistochemical localization of choline acetyltransferase. Neuroscience 13, 627–43 (1984).

Kepecs, A., Wang, X.-J. & Lisman, J. Bursting neurons signal input slope. J. Neurosci. 22, 9053–62 (2002).

Arroyo, S., Bennett, C. & Hestrin, S. Nicotinic modulation of cortical circuits. Front. Neural Circuits 8, 1–6 (2014).

Urban-Ciecko, J., Jouhanneau, J. S., Myal, S. E., Poulet, J. F. A. & Barth, A. L. Precisely timed nicotinic activation drives SST inhibition in neocortical circuits. Neuron 97, 611–625.e5 (2018).

Tanimura, A. et al. Striatal cholinergic interneurons and Parkinson's disease. Eur. J. Neurosci. 47, 1148–1158 (2018).

Schiemann, J. et al. K-ATP channels in dopamine substantia nigra neurons control bursting and novelty-induced exploration. Nat. Neurosci. 15, 1272–80 (2012).

Moore, J. D. et al. Hierarchy of orofacial rhythms revealed through whisking and breathing. Nature 497, 205–210 (2013).

Hires, S. A., Gutnisky, D. A., Yu, J., O'Connor, D. H. & Svoboda, K. Low-noise encoding of active touch by layer 4 in the somatosensory cortex. eLife 4, 1–18 (2015).

Bali, Z. K., Nagy, L. V. & Hernádi, I. Alpha7 nicotinic acetylcholine receptors play a predominant role in the cholinergic potentiation of N-methyl-d-aspartate evoked firing responses of hippocampal CA1 pyramidal cells. Front. Cell. Neurosci. 11, 1–13 (2017).

Pesti, K., Szabo, A. K., Mike, A. & Vizi, E. S. Neuropharmacology kinetic properties and open probability of α7 nicotinic acetylcholine receptors. Neuropharmacology 81, 101–115 (2014).

Guo, W., Robert, B. & Polley, D. B. The cholinergic basal forebrain links auditory stimuli with delayed reinforcement to support learning. Neuron 103, 1164–1177 (2019).

Letzkus, J. J. et al. A disinhibitory microcircuit for associative fear learning in the auditory cortex. Nature 480, 331–335 (2011).

Li, X. et al. Generation of a whole-brain atlas for the cholinergic system and mesoscopic projectome analysis of basal forebrain cholinergic neurons. Proc. Natl Acad. Sci. USA 115, 415–420 (2018).

Otto, T., Eichenbaum, H., Wiener, S. I. & Wible, C. G. Learning-related patterns of CA1 spike trains parallel stimulation parameters optimal for inducing hippocampal long-term potentiation. Hippocampus 1, 181–92 (1991).

Reinagel, P., Godwin, D., Sherman, S. M. & Koch, C. Encoding of visual information by LGN bursts. J. Neurophysiol. 81, 2558–2569 (1999).

Higley, M. J. et al. Cholinergic interneurons mediate fast vGluT3-dependent glutamatergic transmission in the striatum. PLoS ONE 6, e19155 (2011).

Zhao, S. et al. Cell type–specific channelrhodopsin-2 transgenic mice for optogenetic dissection of neural circuitry function. Nat. Methods 8, 745–752 (2011).

Solari, N., Sviatkó, K., Laszlovszky, T., Hegedüs, P. & Hangya, B. Open source tools for temporally controlled rodent behavior suitable for electrophysiology and optogenetic manipulations. Front. Syst. Neurosci. 12, 18 (2018).

Schmitzer-Torbert, N. et al. Quantitative measures of cluster quality for use in extracellular recordings. Neuroscience 131, 1–11 (2005).

Endres, D. M. & Schindelin, J. E. A new metric for probability distributions. IEEE Trans. Inf. Theory 49, 1858–1860 (2003).

Kvitsiani, D. et al. Distinct behavioural and network correlates of two interneuron types in prefrontal cortex. Nature 498, 363–366 (2013).
Acknowledgements
We thank J. Szabadics, V. Varga, L. Acsády, N. Hádinger and G. Buzsáki for insightful discussions and comments on the manuscript and K. Sviatkó for help with graphics in Fig. 8. This work was supported by the 'Lendület' Program of the Hungarian Academy of Sciences (LP2015-2/2015), NKFIH KH125294 and the European Research Council Starting (grant no. 715043) to B.H., NKFIH K115441 and KH124345 to A.G., NINDS R01NS088661, R01NS075531 and McKnight Cognitive Disorders Award to A.K., ÚNKP-19-3 New National Excellence Program of the Ministry for Innovation and Technology to P.H., and EFOP-3.6.3-VEKOP-16-2017-00009 to D.S. and T.L. B.H. is a member of the FENS-Kavli Network of Excellence.
Ethics declarations
Competing interests
The authors declare no competing interests.
Additional information
Peer review information Nature Neuroscience thanks Anita Disney, Shih-Chieh Lin and the other, anonymous, reviewer(s) for their contribution to the peer review of this work.
Publisher's note Springer Nature remains neutral with regard to jurisdictional claims in published maps and institutional affiliations.
Supplementary information
About this article
Cite this article
Laszlovszky, T., Schlingloff, D., Hegedüs, P. et al. Distinct synchronization, cortical coupling and behavioral function of two basal forebrain cholinergic neuron types. Nat Neurosci 23, 992–1003 (2020). https://doi.org/10.1038/s41593-020-0648-0
Received:

Accepted:

Published:

Issue Date:

DOI: https://doi.org/10.1038/s41593-020-0648-0
This article is cited by
Jon Palacios-Filardo
Matt Udakis
Jack R. Mellor

Nature Communications (2021)

Michael R. Duggan
Surbhi Joshi
Vinay Parikh

Brain Structure and Function (2021)