Abstract
Organisms must learn new strategies to adapt to changing environments. Activity in different neurons often exhibits synchronization that can dynamically enhance their communication and might create flexible brain states that facilitate changes in behavior. We studied the role of gamma-frequency (~40 Hz) synchrony between prefrontal parvalbumin (PV) interneurons in mice learning multiple new cue–reward associations. Voltage indicators revealed cell-type-specific increases of cross-hemispheric gamma synchrony between PV interneurons when mice received feedback that previously learned associations were no longer valid. Disrupting this synchronization by delivering out-of-phase optogenetic stimulation caused mice to perseverate on outdated associations, an effect not reproduced by in-phase stimulation or out-of-phase stimulation at other frequencies. Gamma synchrony was specifically required when new associations used familiar cues that were previously irrelevant to behavioral outcomes, not when associations involved new cues or for reversing previously learned associations. Thus, gamma synchrony is indispensable for reappraising the behavioral salience of external cues.
Access options
Subscribe to Journal
Get full journal access for 1 year
$59.00
only $4.92 per issue
All prices are NET prices.
VAT will be added later in the checkout.
Tax calculation will be finalised during checkout.
Rent or Buy article
Get time limited or full article access on ReadCube.
from$8.99
All prices are NET prices.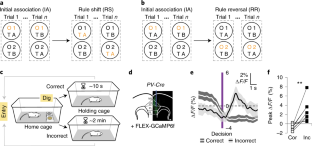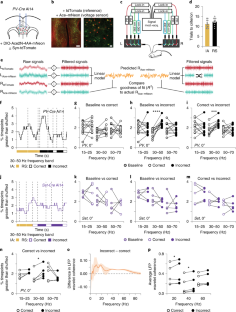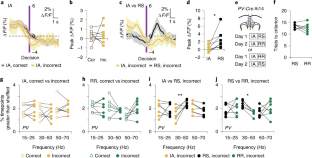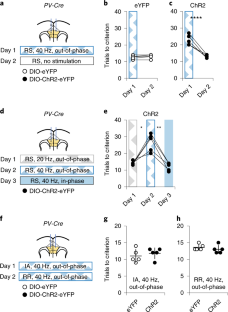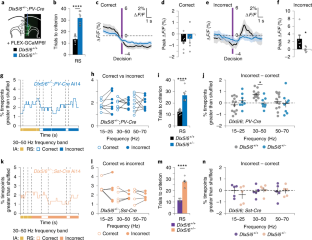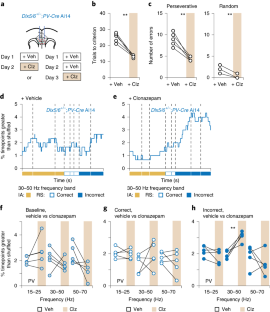 Data availability
The data that support the findings of this study are available from the corresponding author upon reasonable request.
References
1.

Young, D. A., Davila, R. & Scher, H. Unawareness of illness and neuropsychological performance in chronic schizophrenia. Schizophr. Res. 10, 117–124 (1993).

2.

Shad, M. U., Tamminga, C. A., Cullum, M., Haas, G. L. & Keshavan, M. S. Insight and frontal cortical function in schizophrenia: a review. Schizophr. Res. 86, 54–70 (2006).

3.

von der Malsburg, C. The Correlation Theory of Brain Function http://cogprints.org/1380/ (1981).

4.

Abeles, M., Prut, Y., Bergman, H. & Vaadia, E. Synchronization in neuronal transmission and its importance for information processing. Prog. Brain Res. 102, 395–404 (1994).

5.

Singer, W. Neuronal synchrony: a versatile code for the definition of relations? Neuron 49, 111–125 (1999).

6.

Salinas, E. & Sejnowski, T. J. Correlated neuronal activity and the flow of neural information. Nat. Rev. Neurosci. 8, 539–550 (2011).

7.

Fries, P. A mechanism for cognitive dynamics: neuronal communication through coherence. Trends Cogn. Sci. 9, 474–480 (2005).

8.

Fries, P. Neuronal gamma-band synchronization as a fundamental process in cortical computation. Annu. Rev. Neurosci. 32, 209–224 (2009).

9.

Sohal, V. S., Zhang, F., Yizhar, O. & Deisseroth, K. Parvalbumin neurons and gamma rhythms enhance cortical circuit performance. Nature 459, 698–702 (2009).

10.

Fries, P. Rhythms for cognition: communication through coherence. Neuron 88, 220–235 (2015).

11.

Sohal, V. S. How close are we to understanding what (if anything) gamma oscillations do in cortical circuits? J. Neurosci. 36, 10489–10495 (2016).

12.

Bastos, A. M., Loonis, R., Kornblith, S., Lundqvist, M. & Miller, E. K. Laminar recordings in frontal cortex suggest distinct layers for maintenance and control of working memory. Proc. Natl Acad. Sci. USA. 115, 1117–1122 (2018).

13.

Miller, E. K., Lundqvist, M. & Bastos, A. M. Working memory 2.0. Neuron 100, 463–475 (2018).

14.

Cho, K. K. A. et al. Gamma rhythms link prefrontal interneuron dysfunction with cognitive inflexibility in Dlx5/6 +/− mice. Neuron 85, 1332–1343 (2015).

15.

Marton, T. F., Seifikar, H., Luongo, F. J., Lee, A. T. & Sohal, V. S. Roles of prefrontal cortex and mediodorsal thalamus in task engagement and behavioral flexibility. J. Neurosci. 38, 2569–2578 (2018).

16.

Karlsson, M. P., Tervo, D. G. & Karpova, A. Y. Network resets in medial prefrontal cortex mark the onset of behavioral uncertainty. Science 338, 135–139 (2012).

17.

Cardin, J. A. Snapshots of the brain in action: local circuit interactions through the lens of gamma oscillations. J. Neurosci. 36, 10496–10504 (2016).

18.

Ray, S. & Maunsell, J. H. Do gamma oscillations play a role in cerebral cortex? Trends Cogn. Sci. 19, 78–85 (2015).

19.

Bissonette, G. B. et al. Double dissociation of the effects of medial and orbital prefrontal cortical lesions on attentional and affective shifts in mice. J. Neurosci. 28, 11124–11130 (2008).

20.

Ellwood, I. T. et al. Tonic or phasic stimulation of dopaminergic projections to prefrontal cortex causes mice to maintain or deviate from previously learned behavioral strategies. J. Neurosci. 37, 8315–8329 (2017).

21.

Canetta, S. et al. Maternal immune activation leads to selective functional deficits in offspring parvalbumin interneurons. Mol. Psychiatry 21, 956–968 (2016).

22.

Cao, W. et al. Gamma oscillation dysfunction in mPFC leads to social deficits in neuroligin 3 R451C knockin mice. Neuron 97, 1253–1260 (2018).

23.

Siegle, J. H., Pritchett, D. L. & Moore, C. I. Gamma-range synchronization of fast-spiking interneurons can enhance detection of tactile stimuli. Nat. Neurosci. 17, 1371–1379 (2014).

24.

Kim, H., Ahrlund-Richter, S., Wang, X., Deisseroth, K. & Carlén, M. Prefrontal parvalbumin neurons in control of attention. Cell 164, 208–218 (2016).

25.

Gunaydin, L. A. et al. Natural neural projection dynamics underlying social behavior. Cell 157, 1535–1551 (2014).

26.

Lerner, T. N. et al. Intact-brain analyses reveal distinct information carried by SNc dopamine subcircuits. Cell 162, 635–647 (2015).

27.

Chen, T. W. et al. Ultrasensitive fluorescent proteins for imaging neuronal activity. Nature 499, 295–300 (2013).

28.

Marshall, J. D. et al. Cell-type-specific optical recording of membrane voltage dynamics in freely moving mice. Cell 167, 1650–1662 (2016).

29.

Carandini, M. et al. Imaging the awake visual cortex with a genetically encoded voltage indicator. J. Neurosci. 35, 53–63 (2015).

30.

Pi, H. J. et al. Cortical interneurons that specialize in disinhibitory control. Nature 7477, 521–524 (2013).

31.

Ray, S., Ni, A. M. & Maunsell, J. H. Strength of gamma rhythm depends on normalization. PLoS Biol. 11, e1001477 (2013).

32.

Shadlen, M. N. & Movshon, J. A. Synchrony unbound: a critical evaluation of the temporal binding hypothesis. Neuron 24, 67–77 (1999).

33.

Palmigiano, A., Geisel, T., Wolf, F. & Battaglia, D. Flexible information routing by transient synchrony. Nat. Neurosci. 7, 1014–1022 (2017).

34.

Tukker, J. J. et al. Distinct dendritic arborization and in vivo firing patterns of parvalbumin-expressing basket cells in the hippocampal area CA3. J. Neurosci. 33, 6809–6825 (2013).

35.

Hu, H., Gan, J. & Jonas, P. Fast-spiking, parvalbumin+ GABAergic interneurons: from cellular design to microcircuit function. Science 345, 1255263 (2014).

36.

Otis, J. M. et al. Prefrontal cortex output circuits guide reward seeking through divergent cue encoding. Nature 543, 103–107 (2017).

37.

Bissonette, G. B. & Roesch, M. R. Neurophysiology of rule switching in the corticostriatal circuit. Neuroscience 345, 64–76 (2017).

38.

Phillips, E. A. K. & Hasenstaub, A. R. Asymmetric effects of activating and inactivating cortical interneurons. eLife 5, e18383 (2016).

39.

Gonzalez-Burgos, G., Cho, R. Y. & Lewis, D. A. Alterations in cortical network oscillations and parvalbumin neurons in schizophrenia. Biol. Psychiatry 77, 1031–1040 (2015).

40.

Uhlhaas, P. J. & Singer, W. Oscillations and neuronal dynamics in schizophrenia: the search for basic symptoms and translational opportunities. Biol. Psychiatry 77, 1001–1009 (2015).

41.

Senkowski, D. & Gallinat, J. Dysfunctional prefrontal gamma-band oscillations reflect working memory and other cognitive deficits in schizophrenia. Biol. Psychiatry 77, 1010–1019 (2015).

42.

Green, M. J. Cognitive impairment and functional outcome in schizophrenia and bipolar disorder. J. Clin. Psych. 67, 36–42 (2006).

43.

Minzenberg, M. J. & Carter, C. S. Developing treatments for impaired cognition in schizophrenia. Trends Cogn. Sci. 16, 35–42 (2012).

44.

Verret, L. et al. Inhibitory interneuron deficit links altered network activity and cognitive dysfunction in Alzheimer model. Cell 149, 708–721 (2012).

45.

Iaccarino, H. F. et al. Gamma frequency entrainment attenuates amyloid load and modifies microglia. Nature 540, 230–235 (2016).

46.

Martorell, A. J. et al. Multi-sensory gamma stimulation ameliorates Alzheimer's-associated pathology and improves cognition. Cell 177, 256–271 (2019).

47.

Ohmuro, N. et al. The relationship between cognitive insight and cognitive performance among individuals with at-risk mental state for developing psychosis. Schizophr. Res. 192, 281–286 (2018).

48.

Lappin, J. M. et al. Insight in individuals with an at risk mental state. Schizophr. Res. 90, 238–244 (2007).

49.

Wang, Y., et al. Dlx5 and Dlx6 regulate the development of parvalbumin-expressing cortical interneurons. J. Neurosci. 30, 5334–5345 (2010).
Acknowledgements
This work was supported by the National Institute of Mental Health (R01MH106507 to V.S.S. and K99MH108720 to K.K.A.C.), the Brain and Behavior Foundation (NARSAD Young Investigator Award to K.K.A.C.), the McKnight Foundation (Memory and Cognitive Disorders award to V.S.S.) and the Brain Research Foundation (Scientific Innovations Award to V.S.S.). We appreciate helpful feedback on earlier versions of this manuscript from L. Frank and M. Scanziani.
Ethics declarations
Competing interests
The authors declare no competing interests.
Additional information
Publisher's note Springer Nature remains neutral with regard to jurisdictional claims in published maps and institutional affiliations.
Supplementary information
About this article
Cite this article
Cho, K.K.A., Davidson, T.J., Bouvier, G. et al. Cross-hemispheric gamma synchrony between prefrontal parvalbumin interneurons supports behavioral adaptation during rule shift learning. Nat Neurosci 23, 892–902 (2020). https://doi.org/10.1038/s41593-020-0647-1
Received:

Accepted:

Published:

Issue Date:
Further reading
Luca F. Kaiser

,

Theo O. J. Gruendler

,

Oliver Speck

,

Lennart Luettgau

&

Gerhard Jocham

Nature Communications (2021)