Abstract
Descending command neurons instruct spinal networks to execute basic locomotor functions, such as gait and speed. The command functions for gait and speed are symmetric, implying that a separate unknown system directs asymmetric movements, including the ability to move left or right. In the present study, we report that Chx10-lineage reticulospinal neurons act to control the direction of locomotor movements in mammals. Chx10 neurons exhibit mainly ipsilateral projection, and their selective unilateral activation causes ipsilateral turning movements in freely moving mice. Unilateral inhibition of Chx10 neurons causes contralateral turning movements. Paired left–right motor recordings identified distinct mechanisms for directional movements mediated via limb and axial spinal circuits. Finally, we identify sensorimotor brain regions that project on to Chx10 reticulospinal neurons, and demonstrate that their unilateral activation can impart left–right directional commands. Together these data identify the descending motor system that commands left–right locomotor asymmetries in mammals.
Access options
Subscribe to Journal
Get full journal access for 1 year
$59.00
only $4.92 per issue
All prices are NET prices.
VAT will be added later in the checkout.
Tax calculation will be finalised during checkout.
Rent or Buy article
Get time limited or full article access on ReadCube.
from$8.99
All prices are NET prices.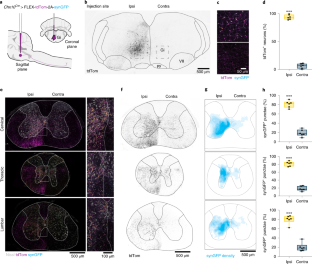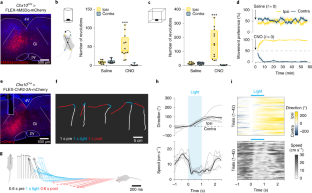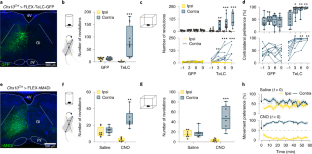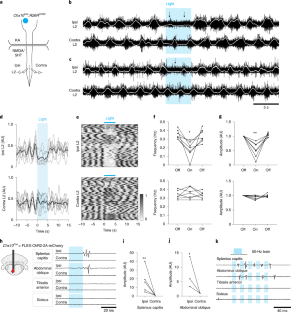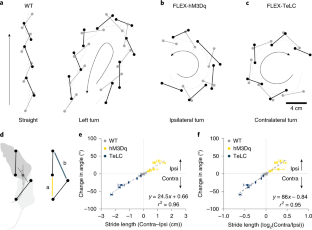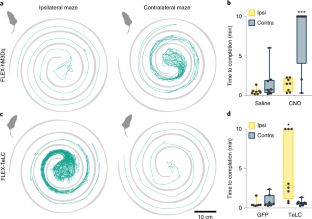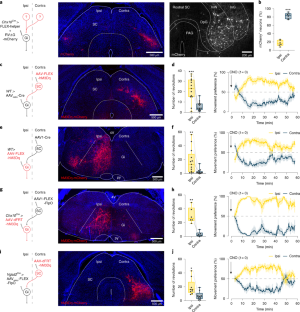 Data availability
The data that support the findings of this study are available from the corresponding author upon reasonable request.
Code availability
The code used to analyze data and produce figure content is available from the corresponding author upon request.
References
1.

Grillner, S. The motor infrastructure: from ion channels to neuronal networks. Nat. Rev. Neurosci. 4, 573–586 (2003).

2.

Kiehn, O. Decoding the organization of spinal circuits that control locomotion. Nat. Rev. Neurosci. 17, 224–238 (2016).

3.

Goulding, M. Circuits controlling vertebrate locomotion: moving in a new direction. Nat. Rev. Neurosci. 10, 507–518 (2009).

4.

Brownstone, R. M. & Wilson, J. M. Strategies for delineating spinal locomotor rhythm-generating networks and the possible role of Hb9 interneurones in rhythmogenesis. Brain Res. Rev. 57, 64–76 (2008).

5.

Jordan, L. M., Liu, J., Hedlund, P. B., Akay, T. & Pearson, K. G. Descending command systems for the initiation of locomotion in mammals. Brain Res. Rev. 57, 183–191 (2008).

6.

Ryczko, D. & Dubuc, R. The multifunctional mesencephalic locomotor region. Curr. Pharm. Des. 19, 4448–4470 (2013).

7.

Capelli, P., Pivetta, C., Soledad Esposito, M. & Arber, S. Locomotor speed control circuits in the caudal brainstem. Nature 551, 373–377 (2017).

8.

Caggiano, V. et al. Midbrain circuits that set locomotor speed and gait selection. Nature 553, 455–460 (2018).

9.

Josset, N. et al. Distinct contributions of mesencephalic locomotor region nuclei to locomotor control in the freely behaving mouse. Curr. Biol. 28, 884–901.e3 (2018).

10.

Musienko, P. E. et al. Spinal and supraspinal control of the direction of stepping during locomotion. J. Neurosci. 32, 17442–17453 (2012).

11.

Roseberry, T. K. et al. Cell-type-specific control of brainstem locomotor circuits by basal ganglia. Cell 164, 526–537 (2016).

12.

Bouvier, J. et al. Descending command neurons in the brainstem that halt locomotion. Cell 163, 1191–1203 (2015).

13.

Juvin, L. et al. A specific population of reticulospinal neurons controls the termination of locomotion. Cell Rep. 15, 2377–2386 (2016).

14.

Grillner, S. et al. Intrinsic function of a neuronal network—a vertebrate central pattern generator. Brain Res. Brain Res. Rev. 26, 184–197 (1998).

15.

Brocard, F. et al. The transformation of a unilateral locomotor command into a symmetrical bilateral activation in the brainstem. J. Neurosci. 30, 523–533 (2010).

16.

Shik, M. L., Severin, F. V. & Orlovskiĭ, G. N. Control of walking and running by means of electric stimulation of the midbrain. Biofizika 11, 659–666 (1966).

17.

Shefchyk, S. J., Jell, R. M. & Jordan, L. M. Reversible cooling of the brainstem reveals areas required for mesencephalic locomotor region evoked treadmill locomotion. Exp. Brain Res. 56, 257–262 (1984).

18.

Garcia-Rill, E. & Skinner, R. D. The mesencephalic locomotor region. I. Activation of a medullary projection site. Brain Res. 411, 1–12 (1987).

19.

Garcia-Rill, E. & Skinner, R. D. The mesencephalic locomotor region. II. Projections to reticulospinal neurons. Brain Res. 411, 13–20 (1987).

20.

Bachmann, L. C. et al. Deep brain stimulation of the midbrain locomotor region improves paretic hindlimb function after spinal cord injury in rats. Sci. Transl. Med. 5, 208ra146 (2013).

21.

Ferreira-Pinto, M. J., Ruder, L., Capelli, P. & Arber, S. Connecting circuits for supraspinal control of locomotion. Neuron 100, 361–374 (2018).

22.

Steinmetz, N. A., Zatka-Haas, P., Carandini, M. & Harris, K. D. Distributed coding of choice, action and engagement across the mouse brain. Nature 576, 266–273 (2019).

23.

Hagglund, M. et al. Optogenetic dissection reveals multiple rhythmogenic modules underlying locomotion. Proc. Natl Acad. Sci. USA 110, 11589–11594 (2013).

24.

Kjaerulff, O. & Kiehn, O. Distribution of networks generating and coordinating locomotor activity in the neonatal rat spinal cord in vitro: a lesion study. J. Neurosci. 16, 5777–5794 (1996).

25.

Bracci, E., Ballerini, L. & Nistri, A. Localization of rhythmogenic networks responsible for spontaneous bursts induced by strychnine and bicuculline in the rat isolated spinal cord. J. Neurosci. 16, 7063–7076 (1996).

26.

Bonnot, A., Whelan, P. J., Mentis, G. Z. & O'Donovan, M. J. Locomotor-like activity generated by the neonatal mouse spinal cord. Brain Res. Brain Res. Rev. 40, 141–151 (2002).

27.

Kremer, E. & Lev-Tov, A. Localization of the spinal network associated with generation of hindlimb locomotion in the neonatal rat and organization of its transverse coupling system. J. Neurophysiol. 77, 1155–1170 (1997).

28.

Muir, G. D. & Whishaw, I. Q. Complete locomotor recovery following corticospinal tract lesions: measurement of ground reaction forces during overground locomotion in rats. Behav. Brain Res. 103, 45–53 (1999).

29.

Jin, D. et al. Restoration of skilled locomotion by sprouting corticospinal axons induced by co-deletion of PTEN and SOCS3. Nat. Commun. 6, 8074 (2015).

30.

Deliagina, T. G., Popova, L. B. & Grant, G. The role of tonic vestibular input for postural control in rats. Arch. Ital. Biol. 135, 239–261 (1997).

31.

Armbruster, B. N., Li, X., Pausch, M. H., Herlitze, S. & Roth, B. L. Evolving the lock to fit the key to create a family of G protein-coupled receptors potently activated by an inert ligand. Proc. Natl Acad. Sci. USA 104, 5163–5168 (2007).

32.

Hägglund, M., Borgius, L., Dougherty, K. J. & Kiehn, O. Activation of groups of excitatory neurons in the mammalian spinal cord or hindbrain evokes locomotion. Nat. Neurosci. 13, 246–252 (2010).

33.

Kjaerulff, O. & Kiehn, O. Crossed rhythmic synaptic input to motoneurons during selective activation of the contralateral spinal locomotor network. J. Neurosci. 17, 9433–9447 (1997).

34.

Mathis, A. et al. DeepLabCut: markerless pose estimation of user-defined body parts with deep learning. Nat. Neurosci. 21, 1281–1289 (2018).

35.

Bellardita, C. & Kiehn, O. Phenotypic characterization of speed-associated gait changes in mice reveals modular organization of locomotor networks. Curr. Biol. 25, 1426–1436 (2015).

36.

Wall, N. R., Wickersham, I. R., Cetin, A., De La Parra, M. & Callaway, E. M. Monosynaptic circuit tracing in vivo through Cre-dependent targeting and complementation of modified rabies virus. Proc. Natl Acad. Sci. USA 107, 21848–21853 (2010).

37.

Liu, K. et al. Lhx6-positive GABA-releasing neurons of the zona incerta promote sleep. Nature 548, 582–587 (2017).

38.

Zingg, B. et al. AAV-mediated anterograde transsynaptic tagging: mapping corticocollicular input-defined neural pathways for defense behaviors. Neuron 93, 33–47 (2017).

39.

Shang, C. et al. A parvalbumin-positive excitatory visual pathway to trigger fear responses in mice. Science 348, 1472–1477 (2015).

40.

Felsen, G. & Mainen, Z. F. Neural substrates of sensory-guided locomotor decisions in the rat superior colliculus. Neuron 60, 137–148 (2008).

41.

Oliveira, A. F. & Yonehara, K. The mouse superior colliculus as a model system for investigating cell type-based mechanisms of visual motor transformation. Front. Neural Circuits 12, 59 (2018).

42.

Borgius, L., Restrepo, C. E., Leao, R. N., Saleh, N. & Kiehn, O. A transgenic mouse line for molecular genetic analysis of excitatory glutamatergic neurons. Mol. Cell. Neurosci. 45, 245–257 (2010).

43.

Fagerstedt, P., Orlovsky, G. N., Deliagina, T. G., Grillner, S. & Ullén, F. Lateral turns in the lamprey. ii. Activity of reticulospinal neurons during the generation of fictive turns. J. Neurophysiol. 86, 2257–2265 (2001).

44.

Huang, K. H., Ahrens, M. B., Dunn, T. W. & Engert, F. Spinal projection neurons control turning behaviors in zebrafish. Curr. Biol. 23, 1566–1573 (2013).

45.

Kozlov, A. K., Kardamakis, A. A., Hellgren Kotaleski, J. & Grillner, S. Gating of steering signals through phasic modulation of reticulospinal neurons during locomotion. Proc. Natl Acad. Sci. USA 111, 3591–3596 (2014).

46.

Thiele, T. R., Donovan, J. C. & Baier, H. Descending control of swim posture by a midbrain nucleus in zebrafish. Neuron 83, 679–691 (2014).

47.

Gruntman, E., Benjamini, Y. & Golani, I. Coordination of steering in a free-trotting quadruped. J. Comp. Physiol. A Neuroethol. Sens. Neural Behav. Physiol. 193, 331–345 (2007).

48.

Kimura, Y. alx, a zebrafish homolog of Chx10, marks ipsilateral descending excitatory interneurons that participate in the regulation of spinal locomotor circuits. J. Neurosci. 26, 5684–5697 (2006).

49.

Bagnall, M. W. et al. Glycinergic projection neurons of the cerebellum. J. Neurosci. 29, 10104–10110 (2009).

50.

Muzzu, T., Mitolo, S., Gava, G. P. & Schultz, S. R. Encoding of locomotion kinematics in the mouse cerebellum. PLoS ONE 13, e0203900 (2018).

51.

Azim, E., Jiang, J., Alstermark, B. & Jessell, T. M. Skilled reaching relies on a V2a propriospinal internal copy circuit. Nature 508, 357–363 (2014).

52.

Oh, S. W. et al. A mesoscale connectome of the mouse brain. Nature 508, 207–214 (2014).

53.

Murray, A. J. et al. Parvalbumin-positive CA1 interneurons are required for spatial working but not for reference memory. Nat. Neurosci. 14, 297–299 (2011).

54.

Wickersham, I. R. & Sullivan, H. A. Rabies viral vectors for monosynaptic tracing and targeted transgene expression in neurons. Cold Spring Harb. Protoc. 4, 375–385 (2015).

55.

Franklin, K. B. J. & Paxinos, G. Paxinos and Franklin's the Mouse Brain in Stereotaxic Coordinates (Academic Press, 2019).

56.

Bellardita, C. et al. Spatiotemporal correlation of spinal network dynamics underlying spasms in chronic spinalized mice. eLife 6, e23011 (2017).

57.

Nath, T. et al. Using DeepLabCut for 3D markerless pose estimation across species and behaviors. Nat. Protoc. 14, 2152–2176 (2019).

58.

Lein, E. S. et al. Genome-wide atlas of gene expression in the adult mouse brain. Nature 445, 168–176 (2007).

59.

Jennings, J. H. et al. Interacting neural ensembles in orbitofrontal cortex for social and feeding behaviour. Nature 565, 645–649 (2019).

60.

Evans, D. A. et al. A synaptic threshold mechanism for computing escape decisions. Nature 558, 590–594 (2018).
Acknowledgements
We thank K. Sharma, L. Zagoraiou, S. Crone and T.M. Jessell for the Chx10Cre mouse line. We acknowledge the Core Facility for Integrated Microscopy, Faculty of Health and Medical Sciences, University of Copenhagen. We thank I. Vesth-Hansen and D. Meinertz for technical assistance, and members of O.K.'s laboratory for discussion and comments on previous versions of this manuscript. This work was supported by an EMBO Long-Term Fellowship (to J.M.C., grant no. ALTF 421-2018), the European Research Council under the European Union's Horizon 2020 research and innovation program (to O.K., grant agreement no. REP-SCI-693038), the Novo Nordisk Laureate Program (to O.K., NNF15OC0014186), the Faculty of Health and Medical Sciences University of Copenhagen (to O.K. and A.M.) and the Swedich Resarch Council (to O.K.).
Ethics declarations
Competing interests
The authors declare no competing interests.
Additional information
Peer review information Nature Neuroscience thanks Michael Fehlings and the other, anonymous, reviewer(s) for their contribution to the peer review of this work.
Publisher's note Springer Nature remains neutral with regard to jurisdictional claims in published maps and institutional affiliations.
Supplementary information
About this article
Cite this article
Cregg, J.M., Leiras, R., Montalant, A. et al. Brainstem neurons that command mammalian locomotor asymmetries. Nat Neurosci 23, 730–740 (2020). https://doi.org/10.1038/s41593-020-0633-7
Received:

Accepted:

Published:

Issue Date:
Further reading
Georgy Bakalkin

,

Olga Nosova

,

Daniil Sarkisyan

,

Mathias Hallberg

,

Mengliang Zhang

,

Jens Schouenborg

,

Niklas Marklund

&

Hiroyuki Watanabe

Experimental Brain Research (2021)

Nora L. Benavidez

,

Michael S. Bienkowski

,

Muye Zhu

,

Luis H. Garcia

,

Marina Fayzullina

,

Lei Gao

,

Ian Bowman

,

Lin Gou

,

Neda Khanjani

,

Kaelan R. Cotter

,

Laura Korobkova

,

Marlene Becerra

,

Chunru Cao

,

Monica Y. Song

,

Bin Zhang

,

Seita Yamashita

,

Amanda J. Tugangui

,

Brian Zingg

,

Kasey Rose

,

Darrick Lo

,

Nicholas N. Foster

,

Tyler Boesen

,

Hyun-Seung Mun

,

Sarvia Aquino

,

Ian R. Wickersham

,

Giorgio A. Ascoli

,

Houri Hintiryan

&

Hong-Wei Dong

Nature Communications (2021)