Abstract
Individuals immersed in groups sometimes lose their individuality, take risks they would normally avoid and approach outsiders with unprovoked hostility. In this study, we identified within-group neural synchronization in the right dorsolateral prefrontal cortex (rDLPFC) and the right temporoparietal junction (rTPJ) as a candidate mechanism underlying intergroup hostility. We organized 546 individuals into 91 three-versus-three-person intergroup competitions, induced in-group bonding or no-bonding control manipulation and measured neural activity and within-group synchronization using functional near-infrared spectroscopy. After in-group bonding (versus control), individuals gave more money to in-group members than to out-group members and contributed more money to outcompete their rivals. In-group bonding decreased rDLPFC activity and increased functional connectivity between the rDLPFC and the rTPJ. Especially during the out-group attack, in-group bonding also increased within-group synchronization in both the rDLPFC and the rTPJ, and within-group rDLPFC synchronization positively correlated with intergroup hostility. Within-group synchronized reduction in prefrontal activity might explain how in-group bonding leads to impulsive and collective hostility toward outsiders.
Relevant articles
Open Access articles citing this article.
Carsten K. W. De Dreu

,

Tim R. W. de Wilde

&

Femke S. Ten Velden

Group Decision and Negotiation Open Access 16 April 2021
Access options
Subscribe to Nature+
Get immediate online access to Nature and 55 other Nature journal
Subscribe to Journal
Get full journal access for 1 year
$79.00
only $6.58 per issue
All prices are NET prices.
VAT will be added later in the checkout.
Tax calculation will be finalised during checkout.
Buy article
Get time limited or full article access on ReadCube.
$32.00
All prices are NET prices.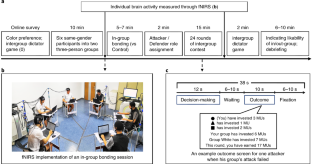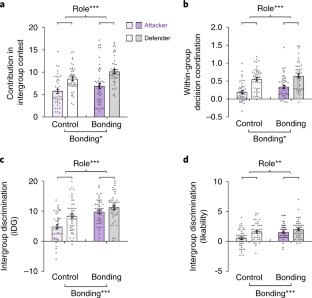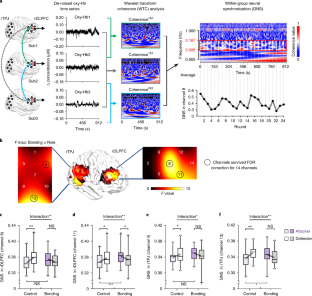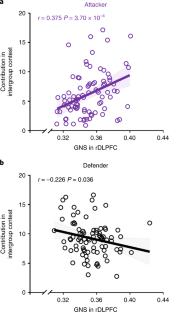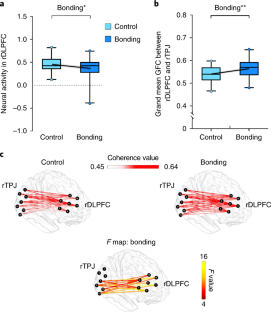 Data availability
All behavioral data and materials have been made publicly available via the Open Science Framework and can be accessed at https://osf.io/uh3sx/. The neural data that support the findings of this study are available from the corresponding author upon reasonable request.
Code availability
The custom routines for data analysis written in MATLAB are available from the corresponding author upon reasonable request.
References
Hamilton, W. D. Geometry for the selfish herd. J. Theor. Biol. 31, 295–311 (1971).

Raafat, R. M., Chater, N. & Frith, C. Herding in humans. Trends Cogn. Sci. 13, 420–428 (2009).

Flack, A., Nagy, M., Fiedler, W., Couzin, I. D. & Wikelski, M. From local collective behavior to global migratory patterns in white storks. Science 360, 911–914 (2018).

Laughlin, P. R., Hatch, E. C., Silver, J. S. & Boh, L. Groups perform better than the best individuals on letters-to-numbers problems: effects of group size. J. Pers. Soc. Psych. 90, 644–651 (2006).

Woolley, A. W., Chabris, C. F., Pentland, A., Hashmi, N. & Malone, T. W. Evidence for a collective intelligence factor in the performance of human groups. Science 330, 686–688 (2010).

Le Bon, G. The Crowd: A Study of the Popular Mind (Macmillan, 1968).

Choi, J. K. & Bowles, S. The coevolution of parochial altruism and war. Science 318, 636–640 (2007).

De Dreu, C. K. et al. In-group defense, out-group aggression, and coordination failure in intergroup conflict. Proc. Natl Acad. Sci. USA 113, 10524–10529 (2016).

Postmes, T. & Spears, R. Deindividuation and antinormative behavior: a meta-analysis. Psych. Bull 123, 238–259 (1998).

Mead, G. H. Mind, Self, and Society (University of Chicago Press, 1934).

Selous, E. Bird Life Glimpses. (G. Allen, 1905).

Couzin, I. Collective minds. Nature 445, 715 (2009).

Dikker, S. et al. Brain-to-brain synchrony tracks real-world dynamic group interactions in the classroom. Curr. Biol. 7, 1375–1380 (2017).

Hasson, U. & Frith, C. D. Mirroring and beyond: coupled dynamics as a generalized framework for modelling social interactions. Phil. Trans. R. Soc. B 371, 1693–1702 (2016).

Echterhoff, G., Higgins, E. T. & Levine, J. M. Shared reality: experiencing commonality with others' inner states about the world. Perspect. Psychol. Sci. 4, 496–521 (2009).

Shamay-Tsoory, S. G., Saporta, N., Marton-Alper, I. Z. & Gvirts, H. Z. Herding brains: a core neural mechanism for social alignment. Trends Cogn., Sci. 23, 174–186 (2019).

Stephens, G. J., Silbert, L. J. & Hasson, U. Speaker-listener neural coupling underlies successful communication. Proc. Natl Acad. Sci. USA. 107, 14425–14430 (2010).

Jiang, J. et al. Leader emergence through interpersonal neural synchronization. Proc. Natl Acad. Sci. USA. 112, 4274–4279 (2015).

Gould, R. V. Collective violence and group solidarity: evidence from a feuding society. Am. Soc. Rev 22, 356–380 (1999).

Glowacki, L. et al. Formation of raiding parties for intergroup violence is mediated by social network structure. Proc. Natl Acad. Sci. USA. 113, 12114–12119 (2016).

Efferson, C., Lalive, R. & Fehr, E. The coevolution of cultural groups and in-group favoritism. Science 321, 1844–1849 (2008).

De Dreu, C. K. et al. The neuropeptide oxytocin regulates parochial altruism in intergroup conflict among humans. Science 328, 1408–1411 (2010).

Zhang, H., Gross, J., De Dreu, C. K. & Ma, Y. Oxytocin promotes coordinated out-group attack during intergroup conflict in humans. Elife 8, e40698 (2019).

Ma, Y., Liu, Y., Rand, D. G., Heatherton, T. F. & Han, S. Opposing oxytocin effects on intergroup cooperative behavior in intuitive and reflective minds. Neuropsychopharmacology 40, 2379–2387 (2015).

Gläscher, J. et al. Lesion mapping of cognitive control and value-based decision making in the prefrontal cortex. Proc. Natl Acad. Sci. USA. 109, 14681–14686 (2012).

Wang, X. J. Decision making in recurrent neuronal circuits. Neuron 60, 215–234 (2008).

Knoch, D. et al. Disruption of the right prefrontal cortex by low-frequency repetitive transcranial magnetic stimulation induces risk-taking behavior. J. Neurosci. 26, 6469–6472 (2006).

Knoch, D., Pascual-Leone, A., Meyer, K., Treyer, V. & Fehr, E. Diminishing reciprocal fairness by disrupting the right prefrontal cortex. Science 314, 829–832 (2006).

Cikara, M., Jenkins, A. C., Dufour, N. & Saxe, R. Reduced self-referential neural response during intergroup competition predicts competitor harm. Neuroimage 96, 36–43 (2014).

Carter, R. M. & Huettel, S. A. A nexus model of the temporal-parietal junction. Trends Cogn. Sci. 17, 328–336 (2013).

Suzuki, S., Adachi, R., Dunne, S., Bossaerts, P. & O'Doherty, J. P. Neural mechanisms underlying human consensus decision-making. Neuron 86, 591–602 (2015).

Lin, L., Qu, Y. & Telzer, E. H. Intergroup social influence on emotion processing in the brain. Proc. Natl Acad. Sci. USA 115, 10630–10635 (2018).

Prochazkova, E. et al. Pupil mimicry promotes trust through the theory of mind network. Proc. Natl Acad. Sci. USA 115, E7265–E7274 (2018).

Baumgartner, T., Schiller, B., Rieskamp, J., Gianotti, L. R. & Knoch, D. Diminishing parochialism in intergroup conflict by disrupting the right temporo-parietal junction. Soc. Cogn. Affect. Neurosci. 9, 653–660 (2014).

Holmes, A. P., Blair, C. R., Watson, J. D. & Ford, I. Nonparametric analysis of statistic images from functional mapping experiments. J. Cereb. Blood Flow Metab. 16, 7–22 (1996).

Nichols, T. E. & Holmes, A. P. Nonparametric permutation tests for functional neuroimaging: a primer with examples. Hum. Brain Map. 15, 1–25 (2002).

Zhang, L., Sun, J., Sun, B., Luo, Q. & Gong, H. Studying hemispheric lateralization during a Stroop task through near-infrared spectroscopy-based connectivity. J. Biomed. Opt. 19, 057012 (2014).

Brewer, M. B., Manzi, J. M. & Shaw, J. S. In-group identification as a function of depersonalization, distinctiveness, and status. Psychol. Sci. 4, 88–92 (1993).

Whitehouse, H. Dying for the group: towards a general theory of extreme self-sacrifice. Behav. Brain Sci. https://doi.org/10.1017/S0140525X18000249 (2018).

Bernhard, H., Fischbacher, U. & Fehr, E. Parochial altruism in humans. Nature 442, 912–915 (2016).

Chowdhury, S. M. The attack and defense mechanisms–perspectives from behavioral economics and game theory. Behav. Brain Sci. 42, e121 (2019).

De Dreu, C. K. & Gross, J. Revisiting the form and function of conflict: neurobiological, psychological, and cultural mechanisms for attack and defense within and between groups. Behav. Brain Sci. 42, e116 (2019).

Wrangham, R. W. Two types of aggression in human evolution. Proc. Natl Acad. Sci. USA 115, 245–253 (2018).

Yamagishi, T., Takagishi, H., Fermin, A. D., Kanai, R., Li, Y. & Matsumoto, Y. Cortical thickness of the dorsolateral prefrontal cortex predicts strategic choices in economic games. Proc. Natl Acad. Sci. USA 113, 5582–5587 (2016).

Steinbeis, N., Bernhardt, B. C. & Singer, T. Impulse control and underlying functions of the left DLPFC mediate age-related and age-independent individual differences in strategic social behavior. Neuron 73, 1040–1051 (2012).

Piva, M., Zhang, X., Noah, J. A., Chang, S. W. & Hirsch, J. Distributed neural activity patterns during human-to-human competition. Front. Hum. Neurosci. 11, 571 (2017).

Yu, H., Li, J. & Zhou, X. Neural substrates of intention–consequence integration and its impact on reactive punishment in interpersonal transgression. J. Neurosci. 35, 4917–4925 (2015).

Schilbach, L. et al. Toward a second-person neuroscience. Behav. Brain Sci. 36, 393–414 (2013).

Redcay, E. & Schilbach, L. Using second-person neuroscience to elucidate the mechanisms of social interaction. Nat. Rev. Neurosci. 20, 495–505 (2019).

Faul, F., Erdfelder, E., Buchner, A. & Lang, A. G. Statistical power analyses using G* Power 3.1: tests for correlation and regression analyses. Behav. Res. Methods 41, 1149–1160 (2009).

Duan, L. et al. Cluster imaging of multi-brain networks (CIMBN): a general framework for hyperscanning and modeling a group of interacting brains. Front. Neurosci. 9, 267 (2015).

Nozawa, T., Sasaki, Y., Sakaki, K., Yokoyama, R. & Kawashima, R. Interpersonal frontopolar neural synchronization in group communication: an exploration toward fNIRS hyperscanning of natural interactions. Neuroimage 133, 484–497 (2016).

Balliet, D., Wu, J. & De Dreu, C. K. Ingroup favoritism in cooperation: a meta-analysis. Psychol. Bull. 140, 1556–1581 (2014).

Liebe, U. & Tutic, A. Status groups and altruistic behaviour in dictator games. Ration. Soc. 22, 353–380 (2010).

Gaertner, L. & Schopler, J. Perceived ingroup entitativity and intergroup bias: an interconnection of self and others. Eur. J. Soc. Psychol. 28, 963–980 (1998).

Ensari, N. & Miller, N. Decategorization and the reduction of bias in the crossed categorization paradigm. Eur. J. Soc. Psychol. 31, 193–216 (2001).

Osaka, N., Minamoto, T., Yaoi, K., Azuma, M., Shimada, Y. M. & Osaka, M. How two brains make one synchronized mind in the inferior frontal cortex: fNIRS-based hyperscanning during cooperative singing. Front. Psychol. 6, 1811–1821 (2015).

Koessler, L. et al. Automated cortical projection of EEG sensors: anatomical correlation via the international 10–10 system. Neuroimage 46, 64–72 (2009).

Lu, K., Xue, H., Nozawa, T. & Hao, N. Cooperation makes a group be more creative. Cereb. Cortex 22, 1–14 (2018).

Obrig, H. & Villringer, A. Beyond the visible—imaging the human brain with light. J. Cereb. Blood Flow Metab. 23, 1–18 (2003).

Hoshi, Y. Functional near-infrared spectroscopy: current status and future prospects. J. Biomed. Opt. 12, 062106 (2007).

Huppert, T. J., Hoge, R. D., Diamond, S. G., Franceschini, M. A. & Boas, D. A. A temporal comparison of BOLD, ASL, and NIRS hemodynamic responses to motor stimuli in adult humans. Neuroimage 29, 368–382 (2006).

Cui, X., Bray, S., Bryant, D. M., Glover, G. H. & Reiss, A. L. A quantitative comparison of NIRS and fMRI across multiple cognitive tasks. Neuroimage 54, 2808–2821 (2011).

Strangman, G., Culver, J. P., Thompson, J. H. & Boas, D.A. A quantitative comparison of simultaneous BOLD fMRI and NIRS recordings during functional brain activation. Neuroimage 17, 719–731 (2002).

Duan, L. et al. Wavelet-based method for removing global physiological noise in functional near-infrared spectroscopy. Biomed. Opt. Express 9, 3805–3820 (2018).

Jang, K. E. et al. Wavelet minimum description length detrending for near-infrared spectroscopy. J. Biomed. Opt. 14, 034004 (2009).

Molavi, B. & Dumont, G. A. Wavelet-based motion artifact removal for functional near-infrared spectroscopy. Physiol. Meas. 33, 259–270 (2012).

Liu, W. et al. Shared neural representations of syntax during online dyadic communication. Neuroimage 198, 63–72 (2019).

Cui, X., Bryant, D. M. & Reiss, A. L. NIRS-based hyperscanning reveals increased interpersonal coherence in superior frontal cortex during cooperation. Neuroimage 59, 2430–2437 (2012).

Torrence, C. & Compo, G. P. A practical guide to wavelet analysis. Bull. Am. Meteorol. Soc .79, 61–78 (1998).

Hu, Y., Hu, Y., Li, X., Pan, Y. & Cheng, X. Brain-to-brain synchronization across two persons predicts mutual prosociality. Soc. Cogn. Affect. Neurosci. 12, 1835–1844 (2017).

Xue, H., Lu, K. & Hao, N. Cooperation makes two less-creative individuals turn into a highly-creative pair. Neuroimage 172, 527–537 (2018).

Baker, J. M. et al. Sex differences in neural and behavioral signatures of cooperation revealed by fNIRS hyperscanning. Sci. Rep 6, 26492 (2016).

Liu, T., Saito, G., Lin, C. & Saito, H. Inter-brain network underlying turn-based cooperation and competition: a hyperscanning study using near-infrared spectroscopy. Sci. Rep. 7, 8684–8695 (2017).

Benjamini, Y. & Hochberg, Y. Controlling the false discovery rate: a practical and powerful approach to multiple testing. J. R. Stat. Soc. Series B Methodol. 57, 289–300 (1995).

Singh, A. K. & Dan, I. Exploring the false discovery rate in multichannel NIRS. Neuroimage 33, 542–549 (2006).

Tak, S. & Ye, J. C. Statistical analysis of fNIRS data: a comprehensive review. Neuroimage 85, 72–91 (2014).

Hampshire, A., Chamberlain, S. R., Monti, M. M., Duncan, J. & Owen, A. M. The role of the right inferior frontal gyrus: inhibition and attentional control. Neuroimage 50, 1313–1319 (2010).

Poldrack, R. A. Region of interest analysis for fMRI. Soc. Cogn. Affect. Neurosci. 2, 67–70 (2007).

Bilek, E. et al. Information flow between interacting human brains: identification, validation, and relationship to social expertise. Proc. Natl Acad. Sci. U.S.A 112, 5207–5212 (2015).

Ding, X. P., Sai, L., Fu, G., Liu, J. & Lee, K. Neural correlates of second-order verbal deception: a functional near-infrared spectroscopy (fNIRS) study. Neuroimage 87, 505–514 (2014).

Taga, G., Asakawa, K., Maki, A., Konishi, Y. & Koizumi, H. Brain imaging in awake infants by near-infrared optical topography. Proc. Natl Acad. Sci. USA 100, 10722–10727 (2003).

Tachtsidis, I. & Scholkmann, F. False positives and false negatives in functional near-infrared spectroscopy: issues, challenges, and the way forward. Neurophotonics 3, 031405 (2016).

Ou, W. et al. Study of neurovascular coupling in humans via simultaneous magnetoencephalography and diffuse optical imaging acquisition. Neuroimage 46, 624–632 (2009).
Acknowledgements
We thank C. Hao, C. Yang and X. Zou for their assistance in data collection. This work was supported by the National Natural Science Foundation of China (Projects 31722026, 31771204 and 91632118 to Y.M.); the Fundamental Research Funds for the Central Universities (2017XTCX04 and 2018EYT04 to Y.M.); and the Spinoza Award from the Netherlands Science Foundation (NWO SPI-57-242 to C.K.W.D.D.).
Ethics declarations
Competing interests
The authors declare no competing interests.
Additional information
Publisher's note Springer Nature remains neutral with regard to jurisdictional claims in published maps and institutional affiliations.
Supplementary information
Supplementary Figures 1–5 and Supplementary Tables 1–11.
About this article
Cite this article
Yang, J., Zhang, H., Ni, J. et al. Within-group synchronization in the prefrontal cortex associates with intergroup conflict. Nat Neurosci 23, 754–760 (2020). https://doi.org/10.1038/s41593-020-0630-x
Received:

Accepted:

Published:

Issue Date:

DOI: https://doi.org/10.1038/s41593-020-0630-x
This article is cited by
Yaara Yeshurun
Mai Nguyen
Uri Hasson

Nature Reviews Neuroscience (2021)

Carsten K. W. De Dreu
Tim R. W. de Wilde
Femke S. Ten Velden

Group Decision and Negotiation (2021)

Peter Praus
Edda Bilek
Urs Braun

Der Nervenarzt (2021)