Abstract
The role of non-neuronal cells in Alzheimer's disease progression has not been fully elucidated. Using single-nucleus RNA sequencing, we identified a population of disease-associated astrocytes in an Alzheimer's disease mouse model. These disease-associated astrocytes appeared at early disease stages and increased in abundance with disease progression. We discovered that similar astrocytes appeared in aged wild-type mice and in aging human brains, suggesting their linkage to genetic and age-related factors.
Relevant articles
Open Access articles citing this article.
Elizabeth E. Evans

,

Vikas Mishra

…

Maurice Zauderer

Journal of Neuroinflammation Open Access 06 August 2022

Klebea Carvalho

,

Nicole D. Schartz

…

Andrea J. Tenner

Journal of Neuroinflammation Open Access 11 July 2022

Zongke Bai

,

Peiwei Yang

…

Hanmei Xu

Cell Death & Disease Open Access 05 April 2022
Access options
Subscribe to Nature+
Get immediate online access to the entire Nature family of 50+ journals
Subscribe to Journal
Get full journal access for 1 year
$99.00
only $8.25 per issue
All prices are NET prices.
VAT will be added later in the checkout.
Tax calculation will be finalised during checkout.
Buy article
Get time limited or full article access on ReadCube.
$32.00
All prices are NET prices.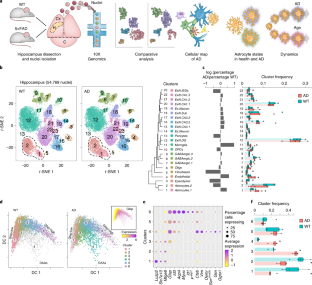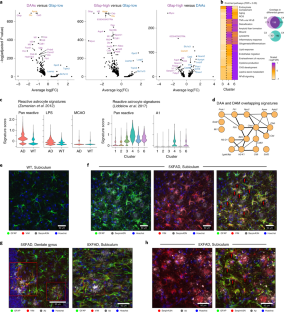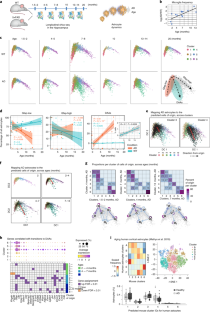 References
Keren-Shaul, H. et al. A unique microglia type associated with restricting development of Alzheimer's disease. Cell 169, 1276–1290.e17 (2017).

Strooper, B. & Karran, E. The cellular phase of Alzheimer's disease. Cell 164, 603–615 (2016).

Baruch, K. et al. PD-1 immune checkpoint blockade reduces pathology and improves memory in mouse models of Alzheimer's disease. Nat. Med. 22, 135–137 (2016).

Mathys, H. et al. Single-cell transcriptomic analysis of Alzheimer's disease. Nature 570, 332–337 (2019).

Liddelow, S. A. et al. Neurotoxic reactive astrocytes are induced by activated microglia. Nature 541, 481–487 (2017).

Zamanian, J. L. et al. Genomic analysis of reactive astrogliosis. J. Neurosci. 32, 6391–6410 (2012).

Matias, I., Morgado, J. & Gomes, F. Astrocyte heterogeneity: impact to brain aging and disease. Front. Aging Neurosci. 11, 59 (2019).

Rodríguez-Arellano, J., Parpura, V., Zorec, R. & Verkhratsky, A. Astrocytes in physiological aging and Alzheimer's disease. Neuroscience 323, 170–182 (2016).

Bates, K., Fonte, J., Robertson, T., Martins, R. & Harvey, A. Chronic gliosis triggers Alzheimer's disease-like processing of amyloid precursor protein. Neuroscience 113, 785–796 (2002).

Liao, M.-C. et al. Single-cell detection of secreted Aβ and sAPPα from human IPSC-derived neurons and astrocytes. J. Neurosci. 36, 1730–1746 (2016).

Habib, N. et al. Massively parallel single-nucleus RNA-seq with DroNc-seq. Nat. Methods 14, 955–958 (2017).

Oakley, H. et al. Intraneuronal β-amyloid aggregates, neurodegeneration, and neuron loss in transgenic mice with five familial Alzheimer's disease mutations: potential factors in amyloid plaque formation. J. Neurosci. 26, 10129–10140 (2006).

Zeisel, A. et al. Molecular architecture of the mouse nervous system. Cell 174, 999–1014.e22 (2018).

Leitão, R. et al. Aquaporin-4 as a new target against methamphetamine-induced brain alterations: focus on the neurogliovascular unit and motivational behavior. Mol. Neurobiol. 55, 2056–2069 (2018).

Mucke, L. et al. Astroglial expression of human α1-antichymotrypsin enhances Alzheimer-like pathology in amyloid protein precursor transgenic mice. Am. J. Pathol. 157, 2003–2010 (2000).

Wang, C., Sun, B., Zhou, Y., Grubb, A. & Gan, L. Cathepsin B degrades amyloid-β in mice expressing wild-type human amyloid precursor protein. J. Biol. Chem. 287, 39834–39841 (2012).

Roussotte, F. F. et al. Combined effects of Alzheimer risk variants in the CLU and ApoE genes on ventricular expansion patterns in the elderly. J. Neurosci. 34, 6537–6545 (2014).

von und Halbach, O. Immunohistological markers for proliferative events, gliogenesis, and neurogenesis within the adult hippocampus. Cell Tissue Res. 345, 1–19 (2011).

Clarke, L. E. et al. Normal aging induces A1-like astrocyte reactivity. Proc. Natl Acad. Sci. USA 115, E1896–E1905 (2018).

Rothhammer, V. et al. Microglial control of astrocytes in response to microbial metabolites. Nature 557, 724–728 (2018).

Gaublomme, J. T. et al. Nuclei multiplexing with barcoded antibodies for single-nucleus genomics. Nat. Commun. 10, 2907–2908 (2019).

Butler, A., Hoffman, P., Smibert, P., Papalexi, E. & Satija, R. Integrating single-cell transcriptomic data across different conditions, technologies, and species. Nat. Biotechnol. 36, 411–420 (2018).

Haber, L. A. et al. A single-cell survey of the small intestinal epithelium. Nature 551, 333–339 (2017).

Johnson, E. W., Li, C. & Rabinovic, A. Adjusting batch effects in microarray expression data using empirical Bayes methods. Biostatistics 8, 118–127 (2007).

McInnes, L., Healy, J. & Melville, J. UMAP: Uniform Manifold Approximation and Projection for dimension reduction. Preprint available at arXiv https://arxiv.org/abs/1802.03426 (2018).

Lancichinetti, A. & Fortunato, S. Benchmarks for testing community detection algorithms on directed and weighted graphs with overlapping communities. Phys. Rev. E 80, 016118 (2009).

Habib, N. et al. Div-Seq: single-nucleus RNA-seq reveals dynamics of rare adult newborn neurons. Science 353, 925–928 (2016).

Angerer, P. et al. destiny: diffusion maps for large-scale single-cell data in R. Bioinformatics 32, 1241–1243 (2016).

Wolock, S. L., Lopez, R. & Klein, A. M. Scrublet: computational identification of cell doublets in single-cell transcriptomic data. Cell Syst. 8, 281–291.e9 (2019).

Liberzon, A. et al. The molecular signatures database (MSigDB) hallmark gene set collection. Cell Syst. 1, 417–425 (2015).

Smillie, C. S. et al. Intra- and inter-cellular rewiring of the human colon during ulcerative colitis. Cell 178, 714–730.e22 (2019).

Szklarczyk, D. et al. STRING v11: protein–protein association networks with increased coverage, supporting functional discovery in genome-wide experimental datasets. Nucleic Acids Res. 47, D607–D613 (2019).

Stuart, T. et al. Comprehensive integration of single-cell data. Cell 177, 1888–1902.e21 (2019).

Munkres, J. Algorithms for the assignment and transportation problems. J. Soc. Ind. Appl. Math. 5, 32–38 (1957).

Baruch, K. et al. Breaking immune tolerance by targeting Foxp3+ regulatory T cells mitigates Alzheimer's disease pathology. Nat. Commun. 6, 7967–12 (2015).
Acknowledgements
We thank R. Herbst, I. Avraham-Davidi and members of the Habib laboratory for discussions and helpful suggestions, and L. Gaffney for graphics and J. Rood for editing. We thank I. Shif and M. Bronstein for help with library preparation and sequencing. This work was supported by the NIH BRAIN Initiative grant (grant no. U19MH114821 for A.R.), the Klarman Incubator and Klarman Cell Observatory (A.R.), the HHMI (A.R.) and a MOST-IL flagship grant (for N.H.). M.S. holds the Maurice and Ilse Katz Professorial Chair in Neuroimmunology, and N.H. holds the Goren-Khazzam Chair in Neurobiology. The work was supported in part by Advanced European Research Council grant no. 232835 (M.S.); Israel Science Foundation (ISF) research grants no. 991/16 (M.S.), no. 913/15 (T.K.) and no. 1250/18 (T.K.); ISF-Legacy Heritage Biomedical Science Partnership research grant no. 1354/15 (M.S.); the Adelis Foundation and the Thompson Foundation (M.S.); the MOST-IL-China research grant no. 3-15687 (N.H.); and the Alon Fellowship (N.H.).
Ethics declarations
Competing interests
A.R. is a founder and equity holder of Celsius Therapeutics, an equity holder in Immunitas Therapeutics and an SAB member of Syros Pharmaceuticals, Thermo Fisher Scientific, Neogene Therapeutics and Asimov. The other authors declare no competing interests.
Additional information
Peer review information Nature Neuroscience thanks Valentina Fossati and the other, anonymous, reviewer(s) for their contribution to the peer review of this work.
Publisher's note Springer Nature remains neutral with regard to jurisdictional claims in published maps and institutional affiliations.
Supplementary information
Source data
Source Data with: t-SNE coordinates, cluster ID, mouse strain, sample ID, per cell.
About this article
Cite this article
Habib, N., McCabe, C., Medina, S. et al. Disease-associated astrocytes in Alzheimer's disease and aging. Nat Neurosci 23, 701–706 (2020). https://doi.org/10.1038/s41593-020-0624-8
Received:

Accepted:

Published:

Issue Date:

DOI: https://doi.org/10.1038/s41593-020-0624-8