A new study shows that mapping neural signals directly to word sequences produces lower error rates in speech decoding than previous methods that use motor or auditory based features. This suggests that using higher-level language goals can aid decoding algorithms for neural speech prostheses.
Access options
Subscribe to Journal
Get full journal access for 1 year
$209.00
only $17.42 per issue
All prices are NET prices.
VAT will be added later in the checkout.
Rent or Buy article
Get time limited or full article access on ReadCube.
from$8.99
All prices are NET prices.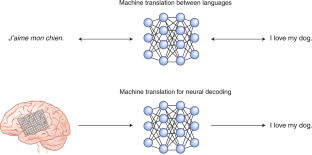 References
1.

Vu, M. T. et al. J. Neurosci. 38, 1601–1607 (2018).

2.

Viventi, J. et al. Nat. Neurosci. 14, 1599–1605 (2011).

3.

Dickerson, S. S., Stone, V. I., Panchura, C. & Usiak, D. J. Rehabil. Nurs. 27, 215–220 (2002).

4.

Makin, J.G., Moses, D.A. & Chang, E.F. Nat. Neurosci. https://doi.org/10.1038/s41593-020-0608-8 (2020).

5.

Angrick, M. et al. J. Neural Eng. 16, 036019 (2019).

6.

Pasley, B. N. et al. PLoS Biol. 10, e1001251 (2012).

7.

Orsborn, A. L. & Carmena, J. M. Front. Comput. Neurosci. 7, 157 (2013).

8.

Moses, D. A., Leonard, M. K., Makin, J. G. & Chang, E. F. Nat. Commun. 10, 3096 (2019).

9.

Kalchbrenner, N. & Blunsom, P. Recurrent continuous translation models. Empir. Methods Nat. Lang. Process. Proc. Conf. (EMNLP) 1700–1709 (2013).

10.

Herff, C. et al. Front. Neurosci. 9, 217 (2015).
Ethics declarations
Competing interests
The author declares no competing interests.
About this article
Cite this article
Cogan, G.B. Translating the brain. Nat Neurosci 23, 471–472 (2020). https://doi.org/10.1038/s41593-020-0616-8