Abstract
In humans and rodents, the perception of control during stressful events has lasting behavioral consequences. These consequences are apparent even in situations that are distinct from the stress context, but how the brain links prior stressful experience to subsequent behaviors remains poorly understood. By assessing innate defensive behavior in a looming-shadow task, we show that the initiation of an escape response is preceded by an increase in the activity of corticotropin-releasing hormone (CRH) neurons in the paraventricular nucleus (PVN) of the hypothalamus (CRHPVN neurons). This anticipatory increase is sensitive to stressful stimuli that have high or low levels of outcome control. Specifically, experimental stress with high outcome control increases CRHPVN neuron anticipatory activity, which increases escape behavior in an unrelated context. By contrast, stress with no outcome control prevents the emergence of this anticipatory activity and decreases subsequent escape behavior. These observations indicate that CRHPVN neurons encode stress controllability and contribute to shifts between active and passive innate defensive strategies.
Access options
Subscribe to Journal
Get full journal access for 1 year
$59.00
only $4.92 per issue
All prices are NET prices.
VAT will be added later in the checkout.
Tax calculation will be finalised during checkout.
Rent or Buy article
Get time limited or full article access on ReadCube.
from$8.99
All prices are NET prices.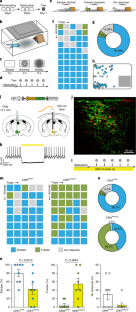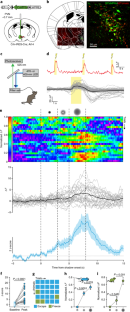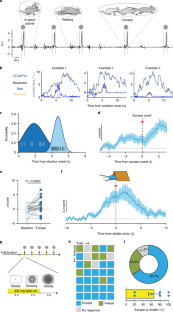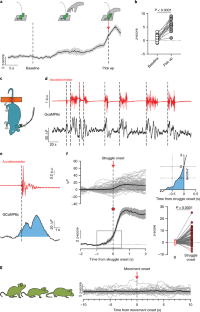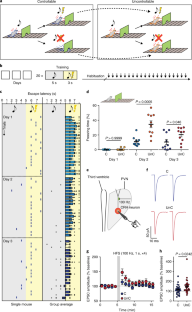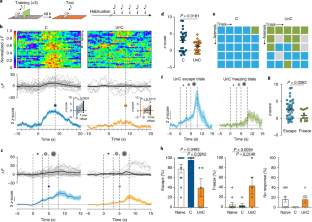 Data availability
All relevant data and analysis tools are available upon reasonable request from the authors.
References
1.

Kushner, M. G., Riggs, D. S., Foa, E. B. & Miller, S. M. Perceived controllability and the development of posttraumatic stress disorder (PTSD) in crime victims. Behav. Res. Ther. 31, 105–110 (1993).

2.

Hartley, C. A., Gorun, A., Reddan, M. C., Ramirez, F. & Phelps, E. A. Stressor controllability modulates fear extinction in humans. Neurobiol. Learn. Mem. 113, 149–156 (2014).

3.

Maier, S. F. & Watkins, L. R. Stressor controllability and learned helplessness: the roles of the dorsal raphe nucleus, serotonin, and corticotropin-releasing factor. Neurosci. Biobehav. Rev. 29, 829–841 (2005).

4.

Maier, S. F. Behavioral control blunts reactions to contemporaneous and future adverse events: medial prefrontal cortex plasticity and a corticostriatal network. Neurobiol. Stress 1, 12–22 (2014).

5.

Boeke, E. A., Moscarello, J. M., LeDoux, J. E., Phelps, E. A. & Hartley, C. A. Active avoidance: neural mechanisms and attenuation of Pavlovian conditioned responding. J. Neurosci. 37, 4808–4818 (2007).

6.

Füzesi, T., Daviu, N., Wamsteeker Cusulin, J. I., Bonin, R. P. & Bains, J. S. Hypothalamic CRH neurons orchestrate complex behaviours after stress. Nat. Commun. 7, 11937 (2016).

7.

Zhang, R. et al. Loss of hypothalamic corticotropin-releasing hormone markedly reduces anxiety behaviors in mice. Mol. Psychiatry 22, 733–744 (2017).

8.

Ramot, A. et al. Hypothalamic CRFR1 is essential for HPA axis regulation following chronic stress. Nat. Neurosci. 20, 385–388 (2017).

9.

Sterley, T.-L. et al. Social transmission and buffering of synaptic changes after stress. Nat. Neurosci. 21, 393–403 (2018).

10.

De Marco, R. J., Thiemann, T., Groneberg, A. H., Herget, U. & Ryu, S. Optogenetically enhanced pituitary corticotroph cell activity post-stress onset causes rapid organizing effects on behaviour. Nat. Commun. 7, 2620 (2016).

11.

Kim, J. et al. Rapid, biphasic CRF neuronal responses encode positive and negative valence. Nat. Neurosci. 22, 576–585 (2019).

12.

Maier, S. F., Ryan, S. M., Barksdale, C. M. & Kalin, N. H. Stressor controllability and the pituitary–adrenal system. Behav. Neurosci. 100, 669–674 (1986).

13.

Liu, X., Tang, X. & Sanford, L. D. Stressor controllability and Fos expression in stress regulatory regions in mice. Physiol. Behav. 97, 321–326 (2009).

14.

Yilmaz, M. & Meister, M. Rapid innate defensive responses of mice to looming visual stimuli. Curr. Biol. 23, 2011–2015 (2013).

15.

Chow, B. Y. et al. High-performance genetically targetable optical neural silencing by light-driven proton pumps. Nature 463, 98–102 (2010).

16.

Cui, G. et al. Deep brain optical measurements of cell type-specific neural activity in behaving mice. Nat. Protoc. 9, 1213–1228 (2014).

17.

Gunaydin, L. A. et al. Natural neural projection dynamics underlying social behavior. Cell 157, 1535–1551 (2014).

18.

Fadok, J. P. et al. A competitive inhibitory circuit for selection of active and passive fear responses. Nature 542, 96–100 (2017).

19.

Baratta, M. V. et al. Controllable versus uncontrollable stressors bi-directionally modulate conditioned but not innate fear. Neuroscience 8, 1495–1503 (2007).

20.

Kuzmiski, J. B., Marty, V., Baimoukhametova, D. V. & Bains, J. S. Stress-induced priming of glutamate synapses unmasks associative short-term plasticity. Nat. Neurosci. 13, 1257–1264 (2010).

21.

Fulcher, B. D. & Jones, N. S. hctsa: a computational framework for automated time-series phenotyping using massive feature extraction. Cell Syst. 5, 527–531.e3 (2017).

22.

Blanchard, R. J., Flannelly, K. J. & Blanchard, D. C. Defensive behaviors of laboratory and wild Rattus norvegicus. J. Comp. Psychol. 100, 101–107 (1986).

23.

Shang, C. et al. A parvalbumin-positive excitatory visual pathway to trigger fear responses in mice. Science 348, 1472–1477 (2015).

24.

Evans, D. A. et al. A synaptic threshold mechanism for computing escape decisions. Nature 558, 590–594 (2018).

25.

Hu, Y. et al. A translational study on looming-evoked defensive response and the underlying subcortical pathway in autism. Sci. Rep. 7, 14755 (2017).

26.

Huang, L. et al. A retinoraphe projection regulates serotonergic activity and looming-evoked defensive behaviour. Nat. Commun. 8, 14908 (2017).

27.

Wang, L., Chen, I. Z. & Lin, D. Collateral pathways from the ventromedial hypothalamus mediate defensive behaviors. Neuron 85, 1344–1358 (2015).

28.

Youngstrom, T. G., Weiss, M. L. & Nunez, A. A. Retinofugal projections to the hypothalamus, anterior thalamus and basal forebrain in hamsters. Brain Res. Bull. 26, 403–411 (1991).

29.

Schaechter, J. D. & Sadun, A. A. A second hypothalamic nucleus receiving retinal input in man: the paraventricular nucleus. Brain Res. 340, 243–250 (1985).

30.

Porter, J. P. & Brody, M. J. Neural projections from paraventricular nucleus that subserve vasomotor functions. Am. J. Physiol. 248, R271–R281 (1985).

31.

Feldman Barrett, L. & Finlay, B. L. Concepts, goals and the control of survival-related behaviors. Curr. Opin. Behav. Sci. 24, 172–179 (2018).

32.

Helmreich et al. The effect of stressor controllability on stress-induced neuropeptide mRNA expression within the paraventricular nucleus of the hypothalamus. J. Neuroendocrinol. 11, 121–128 (2001).

33.

Lucas, M. et al. Long-term effects of controllability or the lack of it on coping abilities and stress resilience in the rat. Stress 17, 423–430 (2014).

34.

Maier, S. F. Role of fear in mediating shuttle escape learning deficit produced by inescapable shock. J. Exp. Psychol. Anim. Behav. Process 16, 137–149 (1990).

35.

Amat, J. et al. Medial prefrontal cortex determines how stressor controllability affects behavior and dorsal raphe nucleus. Nat. Neurosci. 8, 365–371 (2005).

36.

Gross, C. T. & Canteras, N. S. The many paths to fear. Nat. Rev. Neurosci. 13, 651–658 (2012).

37.

Corcoran, K. A. & Quirk, G. J. Activity in prelimbic cortex is necessary for the expression of learned, but not innate, fears. J. Neurosci. 27, 840–844 (2012).

38.

Nicholson, A. A. et al. Dynamic causal modeling in PTSD and its dissociative subtype: bottom-up versus top-down processing within fear and emotion regulation circuitry. Hum. Brain Mapp. 38, 5551–5561 (2017).

39.

Qi, S. et al. How cognitive and reactive fear circuits optimize escape decisions in humans. Proc. Natl Acad. Sci. USA 115, 3186–3191 (2018).

40.

Cusulin, J. I. W., Füzesi, T., Watts, A. G. & Bains, J. S. Characterization of corticotropin-releasing hormone neurons in the paraventricular nucleus of the hypothalamus of Crh-IRES-cre mutant mice. PLoS ONE 8, e64943 (2013).

41.

Lerner, T. N. et al. Intact-brain analyses reveal distinct information carried by SNc dopamine subcircuits. Cell 162, 635–647 (2015).

42.

Guo, Q. et al. Multi-channel fiber photometry for population neuronal activity recording. Biomed. Opt. Express 6, 3919–3931 (2015).

43.

MATLAB and Classification Learner App v.R2018b (The MathWorks Inc., 2018).
Acknowledgements
We thank the expert technical support of C. Breiteneder, M. Tsutsui, C. Martinez and L. A. Molina. We are grateful for the support of the Cumming School of Medicine Optogenetics Core Facility. This work was supported by an operating grant to J.S.B. from the Canadian Institutes for Health Research (FDN-148440) and the Brain Canada Neurophotonics Platform. N.D. and T.-L.S. are supported by Fellowships from Alberta Innovates-Health Solutions.
Ethics declarations
Competing interests
The authors declare no competing interests.
Additional information
Peer review information Nature Neuroscience thanks Lieselot Carrette, Olivier George, and the other, anonymous, reviewer(s) for their contribution to the peer review of this work.
Publisher's note Springer Nature remains neutral with regard to jurisdictional claims in published maps and institutional affiliations.
Supplementary information
About this article
Cite this article
Daviu, N., Füzesi, T., Rosenegger, D.G. et al. Paraventricular nucleus CRH neurons encode stress controllability and regulate defensive behavior selection. Nat Neurosci 23, 398–410 (2020). https://doi.org/10.1038/s41593-020-0591-0
Received:

Accepted:

Published:

Issue Date: