Abstract
The presence of active neurogenic niches in adult humans is controversial. We focused attention to the human olfactory neuroepithelium, an extracranial site supplying input to the olfactory bulbs of the brain. Using single-cell RNA sequencing analyzing 28,726 cells, we identified neural stem cell and neural progenitor cell pools and neurons. Additionally, we detailed the expression of 140 olfactory receptors. These data from the olfactory neuroepithelium niche provide evidence that neuron production may continue for decades in humans.
Access options
Subscribe to Journal
Get full journal access for 1 year
$59.00
only $4.92 per issue
All prices are NET prices.
VAT will be added later in the checkout.
Tax calculation will be finalised during checkout.
Rent or Buy article
Get time limited or full article access on ReadCube.
from$8.99
All prices are NET prices.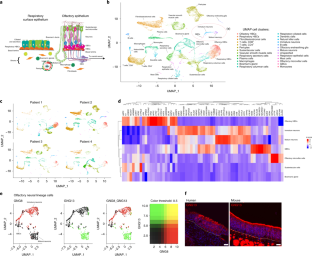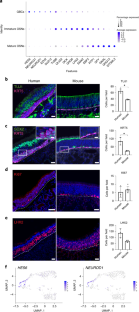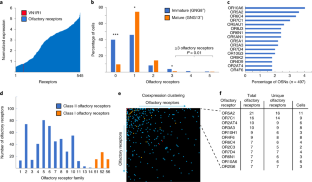 References
1.

Hinds, J. W., Hinds, P. L. & McNelly, N. A. An autoradiographic study of the mouse olfactory epithelium: evidence for long-lived receptors. Anat. Rec. 210, 375–383 (1984).

2.

Schwob, J. E., Szumowski, K. E. & Stasky, A. A. Olfactory sensory neurons are trophically dependent on the olfactory bulb for their prolonged survival. J. Neurosci. 12, 3896–3919 (1992).

3.

Leung, C. T., Coulombe, P. A. & Reed, R. R. Contribution of olfactory neural stem cells to tissue maintenance and regeneration. Nat. Neurosci. 10, 720–726 (2007).

4.

Goldstein, B. J. et al. Adult c-Kit+ progenitor cells are necessary for maintenance and regeneration of olfactory neurons. J. Comp. Neurol. 523, 15–31 (2015).

5.

Fletcher, R. B. et al. Deconstructing olfactory stem cell trajectories at single-cell resolution. Cell Stem Cell 20, 817–830.e8 (2017).

6.

Brann, J. H. & Firestein, S. J. A lifetime of neurogenesis in the olfactory system. Front. Neurosci. 8, 182 (2014).

7.

Hahn, C. G. et al. In vivo and in vitro neurogenesis in human olfactory epithelium. J. Comp. Neurol. 483, 154–163 (2005).

8.

Holbrook, E. H., Wu, E., Curry, W. T., Lin, D. T. & Schwob, J. E. Immunohistochemical characterization of human olfactory tissue. Laryngoscope 121, 1687–1701 (2011).

9.

Graziadei, P. P., Karlan, M. S., Graziadei, G. A. & Bernstein, J. J. Neurogenesis of sensory neurons in the primate olfactory system after section of the fila olfactoria. Brain Res. 186, 289–300 (1980).

10.

Becht, E. et al. Dimensionality reduction for visualizing single-cell data using UMAP. Nat. Biotechnol. 37, 38–44 (2019).

11.

van der Maaten, L. & Hinton, G. Visualizing data using t-SNE. J. Mach. Learn. Res. 9, 2579–2605 (2008).

12.

Corada, M. et al. Sox17 is indispensable for acquisition and maintenance of arterial identity. Nat. Commun. 4, 2609 (2013).

13.

Chen, M., Reed, R. R. & Lane, A. P. Acute inflammation regulates neuroregeneration through the NF-κB pathway in olfactory epithelium. Proc. Natl Acad. Sci. USA 114, 8089–8094 (2017).

14.

Schwob, J. E., Youngentob, S. L. & Mezza, R. C. Reconstitution of the rat olfactory epithelium after methyl bromide-induced lesion. J. Comp. Neurol. 359, 15–37 (1995).

15.

Monahan, K., Horta, A. & Lomvardas, S. LHX2- and LDB1-mediated trans interactions regulate olfactory receptor choice. Nature 565, 448–453 (2019).

16.

Hirota, J. & Mombaerts, P. The LIM-homeodomain protein Lhx2 is required for complete development of mouse olfactory sensory neurons. Proc. Natl Acad. Sci. USA 101, 8751–8755 (2004).

17.

Wallrabenstein, I. et al. The smelling of Hedione results in sex-differentiated human brain activity. Neuroimage 113, 365–373 (2015).

18.

Lyons, D. B. et al. An epigenetic trap stabilizes singular olfactory receptor expression. Cell 154, 325–336 (2013).

19.

Buck, L. & Axel, R. A novel multigene family may encode odorant receptors: a molecular basis for odor recognition. Cell 65, 175–187 (1991).

20.

Chess, A., Simon, I., Cedar, H. & Axel, R. Allelic inactivation regulates olfactory receptor gene expression. Cell 78, 823–834 (1994).

21.

Stuart, T. et al. Comprehensive integration of single-cell data. Cell 177, 1888–1902.e21 (2019).

22.

Butler, A., Hoffman, P., Smibert, P., Papalexi, E. & Satija, R. Integrating single-cell transcriptomic data across different conditions, technologies, and species. Nat. Biotechnol. 36, 411–420 (2018).

23.

McInnes, L., Healy, J., Saul, N. & Grossberger, L. UMAP: uniform manifold approximation and projection. J. Open Source Softw. 3, 861 (2018).

24.

Blondel, V. D., Guillaume, J.-L., Lambiotte, R. & Lefebvre, E. Fast unfolding of communities in large networks. J. Stat. Mech. 2008, P10008 (2008).

25.

Kuleshov, M. V. et al. Enrichr: a comprehensive gene set enrichment analysis web server 2016 update. Nucleic Acids Res. 44, W90–W97 (2016).

26.

Gu, Z., Eils, R. & Schlesner, M. Complex heatmaps reveal patterns and correlations in multidimensional genomic data. Bioinformatics 32, 2847–2849 (2016).

27.

Korotkevich, G., Sukhov, V. & Sergushichev, A. Fast gene set enrichment analysis. Preprint at bioRxiv https://doi.org/10.1101/060012 (2019).

28.

Ligtenberg, W. reactome.db: a set of annotation maps for reactome. R package version 1.68.0 http://bioconductor.org/packages/release/data/annotation/html/reactome.db.html (2019).

29.

Fabregat, A. et al. The Reactome Pathway Knowledgebase. Nucleic Acids Res. 46, D649–D655 (2018).

30.

Goldstein, B. J. et al. Contribution of Polycomb group proteins to olfactory basal stem cell self-renewal in a novel c-KIT+ culture model and in vivo. Development 143, 4394–4404 (2016).
Acknowledgements
We are grateful to the patients who generously contributed samples for this research. We acknowledge the assistance of the Onco-Genomics Shared Resource at the Sylvester Comprehensive Cancer Center and the University of Miami Center for Computational Science. This work was supported by funding from National Institutes of Health grant nos. DC013556 (B.J.G), DC016859 (B.J.G) and CA125970 (J.W.H.), the Triological Society/American College of Surgeons (B.J.G.), the University of Miami Sheila and David Fuente Graduate Program in Cancer Biology (M.A.D.) and the Center for Computational Science Fellowship (M.A.D.). The Sylvester Comprehensive Cancer Center also received funding from the National Cancer Institute Core Support Grant no. P30CA240139.
Ethics declarations
Competing interests
J.W.H. is the inventor of intellectual property related to prognostic testing for uveal melanoma. He is a paid consultant for Castle Biosciences, a licensee of this intellectual property and receives royalties from its commercialization. The other authors do not have any potential competing interests.
Additional information
Peer review information Nature Neuroscience thanks Thomas Berger, Sandrine Thuret and the other, anonymous, reviewer(s) for their contribution to the peer review of this work.
Publisher's note Springer Nature remains neutral with regard to jurisdictional claims in published maps and institutional affiliations.
Supplementary information
About this article
Cite this article
Durante, M.A., Kurtenbach, S., Sargi, Z.B. et al. Single-cell analysis of olfactory neurogenesis and differentiation in adult humans. Nat Neurosci 23, 323–326 (2020). https://doi.org/10.1038/s41593-020-0587-9
Received:

Accepted:

Published:

Issue Date: