Abstract
Retrotransposons can cause somatic genome variation in the human nervous system, which is hypothesized to have relevance to brain development and neuropsychiatric disease. However, the detection of individual somatic mobile element insertions presents a difficult signal-to-noise problem. Using a machine-learning method (RetroSom) and deep whole-genome sequencing, we analyzed L1 and Alu retrotransposition in sorted neurons and glia from human brains. We characterized two brain-specific L1 insertions in neurons and glia from a donor with schizophrenia. There was anatomical distribution of the L1 insertions in neurons and glia across both hemispheres, indicating retrotransposition occurred during early embryogenesis. Both insertions were within the introns of genes (CNNM2 and FRMD4A) inside genomic loci associated with neuropsychiatric disorders. Proof-of-principle experiments revealed these L1 insertions significantly reduced gene expression. These results demonstrate that RetroSom has broad applications for studies of brain development and may provide insight into the possible pathological effects of somatic retrotransposition.
Relevant articles
Open Access articles citing this article.
Manuel Solís-Moruno

,

Laura Batlle-Masó

…

Ferran Casals

European Journal of Human Genetics Open Access 27 October 2022
Access options
Access Nature and 54 other Nature Portfolio journals
Get Nature+, our best-value online-access subscription
$29.99 / 30 days
cancel any time
Subscribe to this journal
Receive 12 print issues and online access
$189.00 per year
only $15.75 per issue
Rent or buy this article
Get just this article for as long as you need it
$39.95
Prices may be subject to local taxes which are calculated during checkout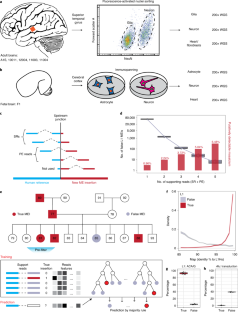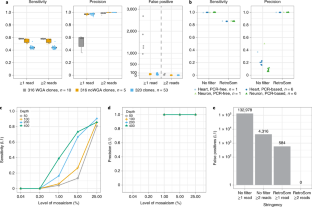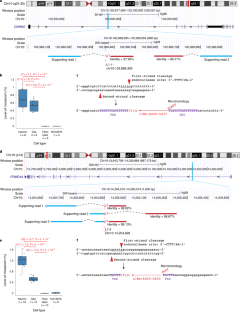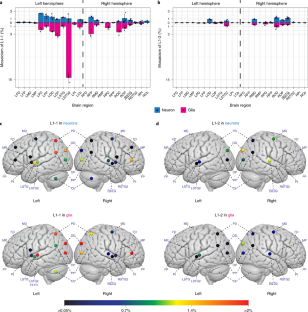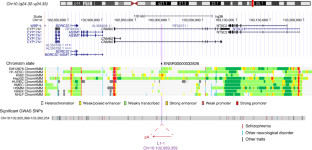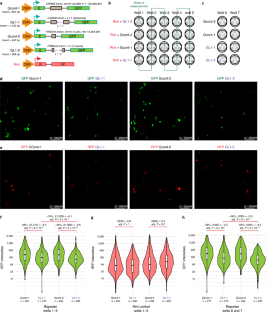 Data availability
WGS data from the six donors (Fig. 1a,b) have been deposited in the Sequence Read Archive under BioProject ID: PRJNA541510.
Microscope image collection for the reporter assay is available from Figshare under collection 5182676 (https://doi.org/10.6084/m9.figshare.c.5182676.v1). The source data for the genome-mixing experiment (Fig. 2c) are deposited in the NIMH Data Archive (https://nda.nih.gov/) under collection 2,458, experiment 1,072. The data are not publicly available because they contain information that could compromise research participant consent, but will be available from the corresponding author upon reasonable request. Source data are provided with this paper.
Code availability
The supplementary software file contains the following scripts:
R scripts for plotting the main figures (Figs. 1–6).
R scripts for the machine-learning modeling of L1 and Alu supporting reads (RFI-IV).
Perl/shell scripts for the visualization of MEI supporting reads (RetroVis).
An actively maintained RetroSom pipeline is available at https://github.com/XiaoweiZhuJJ/RetroSom.
References
Luan, D. D., Korman, M. H., Jakubczak, J. L. & Eickbush, T. H. Reverse transcription of R2Bm RNA is primed by a nick at the chromosomal target site: a mechanism for non-LTR retrotransposition. Cell 72, 595–605 (1993).

Richardson, S. R. et al. The influence of LINE-1 and SINE retrotransposons on mammalian genomes. Microbiol. Spectr. https://doi.org/10.1128/microbiolspec.MDNA3-0061-2014 (2015).

Hancks, D. C. & Kazazian, H. H. Roles for retrotransposon insertions in human disease. Mob. DNA 7, 9 (2016).

Tubio, J. M. C. et al. Extensive transduction of nonrepetitive DNA mediated by L1 retrotransposition in cancer genomes. Science 345, 1251343 (2014).

Evrony, G. D. et al. Cell lineage analysis in human brain using endogenous retroelements. Neuron 85, 49–60 (2015).

Erwin, J. A. et al. L1-associated genomic regions are deleted in somatic cells of the healthy human brain. Nat. Neurosci. 19, 1583–1591 (2016).

Reilly, M. T., Faulkner, G. J., Dubnau, J., Ponomarev, I. & Gage, F. H. The role of transposable elements in health and diseases of the central nervous system. J. Neurosci. 33, 17577–17586 (2013).

Jacob-Hirsch, J. et al. Whole-genome sequencing reveals principles of brain retrotransposition in neurodevelopmental disorders. Cell Res. 28, 187–203 (2018).

Muotri, A. R. et al. Somatic mosaicism in neuronal precursor cells mediated by L1 retrotransposition. Nature 435, 903–910 (2005).

Richardson, S. R. et al. Heritable L1 retrotransposition in the mouse primordial germline and early embryo. Genome Res. 27, 1395–1405 (2017).

Sanchez-Luque, F. J. et al. LINE-1 evasion of epigenetic repression in humans. Mol. Cell 75, 590–604 (2019).

Baillie, J. K. et al. Somatic retrotransposition alters the genetic landscape of the human brain. Nature 479, 534–537 (2011).

Upton, K. R. et al. Ubiquitous L1 mosaicism in hippocampal neurons. Cell 161, 228–239 (2015).

Evrony, G. D. et al. Single-neuron sequencing analysis of L1 retrotransposition and somatic mutation in the human brain. Cell 151, 483–496 (2012).

Evrony, G. D., Lee, E., Park, P. J. & Walsh, C. A. Resolving rates of mutation in the brain using single-neuron genomics. Elife 5, 1–32 (2016).

Zhou, W. et al. Identification and characterization of occult human-specific LINE-1 insertions using long-read sequencing technology. Nucleic Acids Res. https://doi.org/10.1093/nar/gkz1173 (2019).

Rishishwar, L., Mariño-Ramírez, L. & Jordan, I. K. Benchmarking computational tools for polymorphic transposable element detection. Brief. Bioinform. 18, 908–918 (2017).

Keane, T. M., Wong, K. & Adams, D. J. RetroSeq: transposable element discovery from next-generation sequencing data. Bioinformatics 29, 389–390 (2013).

Birur, B., Kraguljac, N. V., Shelton, R. C. & Lahti, A. C. Brain structure, function, and neurochemistry in schizophrenia and bipolar disorder—a systematic review of the magnetic resonance neuroimaging literature. NPJ Schizophr. 3, 15 (2017).

Eberle, M. A. et al. A reference data set of 5.4 million phased human variants validated by genetic inheritance from sequencing a three-generation 17-member pedigree. Genome Res. 27, 157–164 (2017).

Flasch, D. A. et al. Genome-wide de novo L1 retrotransposition connects endonuclease activity with replication. Cell https://doi.org/10.1016/j.cell.2019.02.050 (2019)

Breiman, L. Random forests. Mach. Learn. 45, 5–32 (2001).

Skowronski, J., Fanning, T. G. & Singer, M. F. Unit-length line-1 transcripts in human teratocarcinoma cells. Mol. Cell. Biol. 8, 1385–1397 (1988).

Moran, J. V. et al. Exon shuffling by L1 retrotransposition. Science 283, 1530–1534 (1999).

Bae, T. et al. Different mutational rates and mechanisms in human cells at pregastrulation and neurogenesis. Science 359, 550–555 (2018).

Ovchinnikov, I. et al. Genomic characterization of recent human LINE-1 insertions: evidence supporting random insertion. Genome Res. https://doi.org/10.1101/gr.194701 (2001).

Morrish, T. A. et al. DNA repair mediated by endonuclease-independent LINE-1 retrotransposition. Nat. Genet. 31, 159–165 (2002).

McConnell, M. J. et al. Intersection of diverse neuronal genomes and neuropsychiatric disease: the brain somatic mosaicism network. Science 356, eaal1641 (2017).

Feng, Q., Moran, J. V., Kazazian, H. H. & Boeke, J. D. Human L1 retrotransposon encodes a conserved endonuclease required for retrotransposition. Cell 87, 905–916 (1996).

Grimaldi, G., Skowronski, J. & Singer, M. F. Defining the beginning and end of KpnI family segments. EMBO J. 3, 1753–1759 (1984).

Zingler, N. et al. Analysis of 5′ junctions of human LINE-1 and Alu retrotransposons suggests an alternative model for 5′-end attachment requiring microhomology-mediated end-joining. Genome Res. 15, 780–789 (2005).

Zerbino, D. R., Wilder, S. P., Johnson, N., Juettemann, T. & Flicek, P. R. The ensembl regulatory build. Genome Biol. 16, 1–8 (2015).

Ripke, S. et al. Biological insights from 108 schizophrenia-associated genetic loci. Nature 511, 421–427 (2014).

Han, J. S., Szak, S. T. & Boeke, J. D. Transcriptional disruption by the L1 retrotransposon and implications for mammalian transcriptomes. Nature 429, 268–274 (2004).

Dou, Y. et al. Accurate detection of mosaic variants in sequencing data without matched controls. Nat. Biotech. https://doi.org/10.1038/s41587-019-0368-8 (2020).

Scott, E. C. & Devine, S. E. The role of somatic L1 retrotransposition in human cancers. Viruses https://doi.org/10.3390/v9060131 (2017)

Malatesta, P., Hartfuss, E. & Götz, M. Isolation of radial glial cells by fluorescent-activated cell sorting reveals a neuronal lineage. Development 127, 5253–5263 (2000).

Coufal, N. G. et al. L1 retrotransposition in human neural progenitor cells. Nature 460, 1127–1131 (2009).

Rehen, S. K. et al. Chromosomal variation in neurons of the developing and adult mammalian nervous system. Proc. Natl Acad. Sci. USA 98, 13361–13366 (2001).

De Cecco, M. et al. L1 drives IFN in senescent cells and promotes age-associated inflammation. Nature 566, 73–78 (2019).

Yamaguchi, Y. & Miura, M. Programmed cell death in neurodevelopment. Dev. Cell 32, 478–490 (2015).

Shirley, M. D. et al. Sturge–Weber syndrome and port-wine stains caused by somatic mutation in GNAQ. N. Engl. J. Med. 368, 1971–1979 (2013).

Lim, J. S. et al. Brain somatic mutations in MTOR cause focal cortical dysplasia type II leading to intractable epilepsy. Nat. Med. 21, 395–400 (2015).

Poduri, A. et al. Somatic activation of AKT3 causes hemispheric developmental brain malformations. Neuron 74, 41–48 (2012).

Thyme, S. B. et al. Phenotypic landscape of schizophrenia-associated genes defines candidates and their shared functions. Cell 177, 478–491 (2019).

Fine, D. et al. A syndrome of congenital microcephaly, intellectual disability and dysmorphism with a homozygous mutation in FRMD4A. Eur. J. Hum. Genet. 23, 1729–1734 (2015).

Rees, E. et al. Analysis of copy number variations at 15 schizophrenia-associated loci. Br. J. Psychiatry 204, 108–114 (2014).

Lek, M. et al. Analysis of protein-coding genetic variation in 60,706 humans. Nature 536, 285–291 (2016).

Ikenouchi, J. & Umeda, M. FRMD4A regulates epithelial polarity by connecting Arf6 activation with the PAR complex. Proc. Natl Acad. Sci. USA 107, 748–753 (2010).

Stan, A. D. et al. Magnetic resonance spectroscopy and tissue protein concentrations together suggest lower glutamate signaling in dentate gyrus in schizophrenia. Mol. Psychiatry 20, 433–439 (2015).

Matevossian, A. & Akbarian, S. Neuronal nuclei isolation from human postmortem brain tissue. J. Vis. Exp. https://doi.org/10.3791/914 (2008).

Kozlenkov, A. et al. A unique role for DNA (hydroxy)methylation in epigenetic regulation of human inhibitory neurons. Sci. Adv. https://doi.org/10.1126/sciadv.aau6190 (2018).

Julius, M. H., Masuda, T. & Herzenberg, L. A. Demonstration that antigen-binding cells are precursors of antibody-producing cells after purification with a fluorescence-activated cell sorter. Proc. Natl Acad. Sci. USA 69, 1934–1938 (1972).

Zhang, Y. et al. Purification and characterization of progenitor and mature human astrocytes reveals transcriptional and functional differences with mouse. Neuron 89, 37–53 (2016).

Sudmant, P. H. et al. An integrated map of structural variation in 2,504 human genomes. Nature 526, 75–81 (2015).

Li, H. & Durbin, R. Fast and accurate short read alignment with Burrows–Wheeler transform. Bioinformatics 25, 1754–1760 (2009).

Jurka, J. Repbase update: a database and an electronic journal of repetitive elements. Trends Genet. 16, 418–420 (2000).

Wootton, J. C. Non-globular domains in protein sequences: automated segmentation using complexity measures. Comput. Chem. 18, 269–285 (1994).

Friedman, J. H., Hastie, T. & Tibshirani, R. Regularization paths for generalized linear models via coordinate descent. J. Stat. Softw. 33, 1–22 (2010).

Liaw, A. & Wiener, M. Classification and regression by randomForest. R News 2, 18–22 (2002).

Robin, X. et al. pROC: an open-source package for R and S+ to analyze and compare ROC curves. BMC Bioinformatics 12, 77 (2011).

Robinson, J. T. et al. Integrative genomics viewer. Nat. Biotechnol. 29, 24–26 (2011).

Zhou, B. et al. Detection and quantification of mosaic genomic DNA variation in primary somatic tissues using ddPCR: analysis of mosaic transposable-element insertions, copy-number variants and single-nucleotide variants. Methods Mol. Biol. 1768, 173–190 (2018).

Szak, S. T. et al. Molecular archeology of L1 insertions in the human genome. Genome Biol. 3, research0052.1 (2002).

Heckman, K. L. & Pease, L. R. Gene splicing and mutagenesis by PCR-driven overlap extension. Nat. Protoc. 2, 924–932 (2007).

Bonano, V. I., Oltean, S. & Garcia-blanco, M. A. A protocol for imaging alternative splicing regulation in vivo using fluorescence reporters in transgenic mice. Nat. Protoc. 2, 2166–2181 (2007).

Shinde, D., Lai, Y., Sun, F. & Arnheim, N. Taq DNA polymerase slippage mutation rates measured by PCR and quasi-likelihood analysis: (CA/GT)n and (A/T)n microsatellites. Nucleic Acids Res. 31, 974–980 (2003).

Zerbino, D. R. et al. Ensembl regulation resources. Database 2016, bav119 (2016).

McMahon, A. et al. The NHGRI-EBI GWAS catalog of published genome-wide association studies, targeted arrays and summary statistics 2019. Nucleic Acids Res. 47, D1005–D1012 (2018).

Malone, J. et al. Modeling sample variables with an experimental factor ontology. Bioinformatics 26, 1112–1118 (2010).
Acknowledgements
We thank W. H. Wong, J. Chao, A. Z. Wang and N. Bosch for constructive comments on the manuscript. We thank J. E. Kleinman, T. H. Hyde and D.W. from Lieber Institute for Brain Development for providing the BSMN common brain tissue and L. Fasching from Yale University for extracting the BSMN common brain DNA. This work utilized computing resources provided by the Stanford Genetics Bioinformatics Service Center. Funding: this work was supported by Eureka Grant R01MH094740 from the NIMH and the Stanford Schizophrenia Genetics Research Fund. The mixing-genome DNA sequencing and BSMN common brain sequencing data were generated as part of the BSMN Consortium and supported by: U01MH106874, U01MH106876, U01MG106882, U01MH106883, U01MH106883, U01MH106884, U01MH106891, U01MH106891, U01MH106891, U01MH106892, U01MH106893, and U01MH108898 awarded to N.S., F.M.V., F.G., C.W., P.P., J.P., A.C., J.V.M., D.W. and J.G. B.Z. is funded by the National Heart, Lung, and Blood Institute grant T32 HL110952. A.E.U. was a Tashia and John Morgridge Faculty Fellow of the Stanford Child Health Research Institute. The Urban laboratory receives funding through the Jaswa Innovator Award and from B. Blackie and W. Mclvor. We acknowledge helpful discussions with B. Blackie and W. Mclvor. Flow cytometry sorting was performed on an instrument in the Stanford shared fluorescence-activated cell sorting facility obtained under an NIH S10 Shared Instrument Grant (S10RR025518-01).
Ethics declarations
Competing interests
J.V.M. is an inventor on patent US6150160, is a paid consultant for Gilead Sciences, serves on the scientific advisory board of Tessera Therapeutics (also receives consultant fees and has equity options), and currently serves on the American Society of Human Genetics Board of Directors. C.A.T is or has been a deputy editor for the American Psychiatric Association; an ad hoc consultant for Astellas, Merck and Lundbeck; a council member for the Brain & Behavior Research Foundation, the National Academy of Medicine, the National Alliance on Mental Illness and a reviewer for the NIMH; she is an advisor for Karuna Therapeutics and owns its stock.
Additional information
Peer review information Nature Neuroscience thanks Geoffrey Faulkner, Alysson Muotri and the other, anonymous, reviewer(s) for their contribution to the peer review of this work.
Publisher's note Springer Nature remains neutral with regard to jurisdictional claims in published maps and institutional affiliations.
Supplementary information
About this article
Cite this article
Zhu, X., Zhou, B., Pattni, R. et al. Machine learning reveals bilateral distribution of somatic L1 insertions in human neurons and glia. Nat Neurosci 24, 186–196 (2021). https://doi.org/10.1038/s41593-020-00767-4
Received:

Accepted:

Published:

Issue Date:

DOI: https://doi.org/10.1038/s41593-020-00767-4
This article is cited by
Manuel Solís-Moruno
Laura Batlle-Masó
Ferran Casals

European Journal of Human Genetics (2023)

Amy C. Lossie
Jonathan D. Pollock

Neuropsychopharmacology (2022)

Sara Bizzotto
Christopher A. Walsh

Nature Reviews Neuroscience (2022)