Abstract
The repair of inflamed, demyelinated lesions as in multiple sclerosis (MS) necessitates the clearance of cholesterol-rich myelin debris by microglia/macrophages and the switch from a pro-inflammatory to an anti-inflammatory lesion environment. Subsequently, oligodendrocytes increase cholesterol levels as a prerequisite for synthesizing new myelin membranes. We hypothesized that lesion resolution is regulated by the fate of cholesterol from damaged myelin and oligodendroglial sterol synthesis. By integrating gene expression profiling, genetics and comprehensive phenotyping, we found that, paradoxically, sterol synthesis in myelin-phagocytosing microglia/macrophages determines the repair of acutely demyelinated lesions. Rather than producing cholesterol, microglia/macrophages synthesized desmosterol, the immediate cholesterol precursor. Desmosterol activated liver X receptor (LXR) signaling to resolve inflammation, creating a permissive environment for oligodendrocyte differentiation. Moreover, LXR target gene products facilitated the efflux of lipid and cholesterol from lipid-laden microglia/macrophages to support remyelination by oligodendrocytes. Consequently, pharmacological stimulation of sterol synthesis boosted the repair of demyelinated lesions, suggesting novel therapeutic strategies for myelin repair in MS.
Your institute does not have access to this article
Relevant articles
Open Access articles citing this article.
Emily Kamma

,

Wendy Lasisi

…

Jason R. Plemel

Journal of Neuroinflammation Open Access 10 February 2022
Access options
Subscribe to Nature+
Get immediate online access to the entire Nature family of 50+ journals
Subscribe to Journal
Get full journal access for 1 year
$59.00
only $4.92 per issue
All prices are NET prices.
VAT will be added later in the checkout.
Tax calculation will be finalised during checkout.
Buy article
Get time limited or full article access on ReadCube.
$32.00
All prices are NET prices.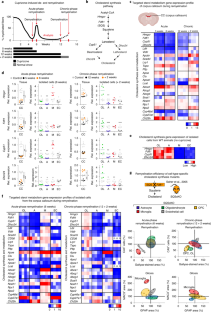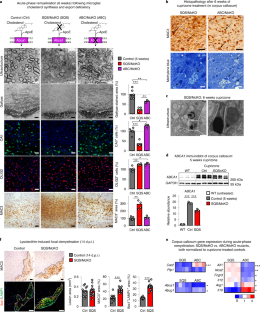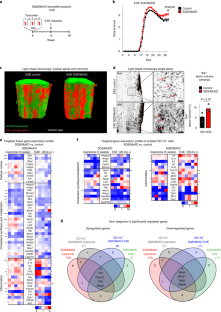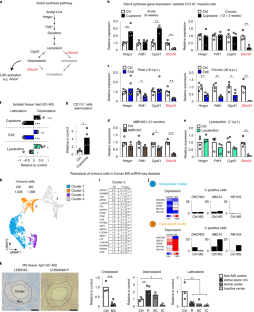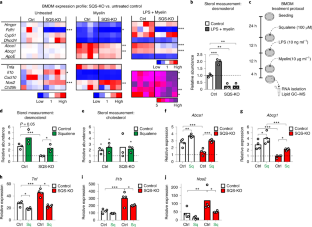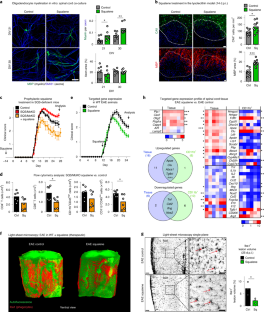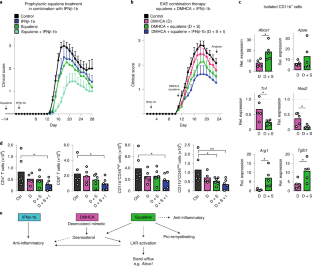 Data availability
Human single-cell/nucleus RNA sequencing data were obtained from two previously published datasets, GSE118257 and GSE124335. All the data supporting the conclusions of the current study are presented in the figures (Fig. 4h–j contains visualizations of RNA-seq data and Extended Data Fig. 6a–e contains visualizations of RNA-seq data). If necessary, the data that support the findings of this study are available from the corresponding author upon reasonable request. There are no restrictions on data availability. Source data are provided with this paper.
References
Dietschy, J. M. Central nervous system: cholesterol turnover, brain development and neurodegeneration. Biol. Chem. 390, 287–293 (2009).

Saher, G. et al. High cholesterol level is essential for myelin membrane growth. Nat. Neurosci. 8, 468–475 (2005).

Courtney, R. & Landreth, G. E. LXR regulation of brain cholesterol: from development to disease. Trends Endocrinol. Metab. 27, 404–414 (2016).

Reich, D. S., Lucchinetti, C. F. & Calabresi, P. A. Multiple sclerosis. N. Engl. J. Med. 378, 169–180 (2018).

Plemel, J. R., Liu, W. Q. & Yong, V. W. Remyelination therapies: a new direction and challenge in multiple sclerosis. Nat. Rev. Drug Discov. 16, 617–634 (2017).

Itoh, N. et al. Cell-specific and region-specific transcriptomics in the multiple sclerosis model: focus on astrocytes. Proc. Natl Acad. Sci. USA 115, E302–E309 (2018).

Voskuhl, R. R. et al. Gene expression in oligodendrocytes during remyelination reveals cholesterol homeostasis as a therapeutic target in multiple sclerosis. Proc. Natl Acad. Sci. USA 116, 10130–10139 (2019).

Jurevics, H. et al. Alterations in metabolism and gene expression in brain regions during cuprizone-induced demyelination and remyelination. J. Neurochem. 82, 126–136 (2002).

Lavrnja, I. et al. Expression profiles of cholesterol metabolism-related genes are altered during development of experimental autoimmune encephalomyelitis in the rat spinal cord. Sci. Rep. 7, 2702 (2017).

Cunha, M. I. et al. Pro-inflammatory activation following demyelination is required for myelin clearance and oligodendrogenesis. J. Exp. Med. 217, e20191390 (2020).

Yeung, M. S. Y. et al. Dynamics of oligodendrocyte generation in multiple sclerosis. Nature 566, 538–542 (2019).

Berghoff, S. A. et al. Dietary cholesterol promotes repair of demyelinated lesions in the adult brain. Nat. Commun. 8, 14241 (2017).

Spann, N. J. et al. Regulated accumulation of desmosterol integrates macrophage lipid metabolism and inflammatory responses. Cell 151, 138–152 (2012).

Meschkat, M. et al. White matter integrity requires continuous myelin synthesis at the inner tongue. Preprint at bioRxiv https://doi.org/10.1101/2020.09.02.279612 (2020).

Cantuti-Castelvetri, L. et al. Defective cholesterol clearance limits remyelination in the aged central nervous system. Science 359, 684–688 (2018).

Kotter, M. R., Li, W. W., Zhao, C. & Franklin, R. J. Myelin impairs CNS remyelination by inhibiting oligodendrocyte precursor cell differentiation. J. Neurosci. 26, 328–332 (2006).

Duewell, P. et al. NLRP3 inflammasomes are required for atherogenesis and activated by cholesterol crystals. Nature 464, 1357–1361 (2010).

Boven, L. A. et al. Myelin-laden macrophages are anti-inflammatory, consistent with foam cells in multiple sclerosis. Brain 129, 517–526 (2006).

Widenmaier, S. B. et al. NRF1 is an ER membrane sensor that is central to cholesterol homeostasis. Cell 171, 1094–1109 (2017).

Jakel, S. et al. Altered human oligodendrocyte heterogeneity in multiple sclerosis. Nature 566, 543–547 (2019).

Masuda, T. et al. Spatial and temporal heterogeneity of mouse and human microglia at single-cell resolution. Nature 566, 388–392 (2019).

Cardeno, A. et al. Squalene targets pro- and anti-inflammatory mediators and pathways to modulate over-activation of neutrophils, monocytes and macrophages. J. Funct. Foods 14, 779–790 (2015).

Saher, G. et al. Therapy of Pelizaeus–Merzbacher disease in mice by feeding a cholesterol-enriched diet. Nat. Med. 18, 1130–1135 (2012).

Gylling, H. & Miettinen, T. A. Postabsorptive metabolism of dietary squalene. Atherosclerosis 106, 169–178 (1994).

Gudi, V., Gingele, S., Skripuletz, T. & Stangel, M. Glial response during cuprizone-induced de- and remyelination in the CNS: lessons learned. Front. Cell. Neurosci. 8, 73 (2014).

Muse, E. D. et al. Cell-specific discrimination of desmosterol and desmosterol mimetics confers selective regulation of LXR and SREBP in macrophages. Proc. Natl Acad. Sci. USA 115, E4680–E4689 (2018).

Hubler, Z. et al. Accumulation of 8,9-unsaturated sterols drives oligodendrocyte formation and remyelination. Nature 560, 372–376 (2018).

Miron, V. E. et al. M2 microglia and macrophages drive oligodendrocyte differentiation during CNS remyelination. Nat. Neurosci. 16, 1211–1218 (2013).

Bogie, J. F. et al. Myelin-derived lipids modulate macrophage activity by liver X receptor activation. PLoS ONE 7, e44998 (2012).

Lloyd, A. F. et al. Central nervous system regeneration is driven by microglia necroptosis and repopulation. Nat. Neurosci. 22, 1046–1052 (2019).

Olah, M. et al. Identification of a microglia phenotype supportive of remyelination. Glia 60, 306–321 (2012).

Kuhlmann, T. et al. An updated histological classification system for multiple sclerosis lesions. Acta Neuropathol. 133, 13–24 (2017).

Akula, M. K. et al. Protein prenylation restrains innate immunity by inhibiting Rac1 effector interactions. Nat. Commun. 10, 3975 (2019).

Araldi, E. et al. Lanosterol modulates TLR4-mediated innate immune responses in macrophages. Cell Rep. 19, 2743–2755 (2017).

Korner, A. et al. Inhibition of Δ24-dehydrocholesterol reductase activates pro-resolving lipid mediator biosynthesis and inflammation resolution. Proc. Natl Acad. Sci. USA 116, 20623–20634 (2019).

Yang, C. et al. Sterol intermediates from cholesterol biosynthetic pathway as liver X receptor ligands. J. Biol. Chem. 281, 27816–27826 (2006).

Brown, M. S. & Goldstein, J. L. The SREBP pathway: regulation of cholesterol metabolism by proteolysis of a membrane-bound transcription factor. Cell 89, 331–340 (1997).

Liebergall, S. R. et al. Inflammation triggers liver X receptor-dependent lipogenesis. Mol. Cell. Biol. 40, e00364 (2020).

Fellows Maxwell, K. et al. Oxysterols and apolipoproteins in multiple sclerosis: a 5 year follow-up study. J. Lipid Res. 60, 1190–1198 (2019).

Zmyslowski, A. & Szterk, A. Oxysterols as a biomarker in diseases. Clin. Chim. Acta 491, 103–113 (2019).

Safaiyan, S. et al. Age-related myelin degradation burdens the clearance function of microglia during aging. Nat. Neurosci. 19, 995–998 (2016).

Marschallinger, J. et al. Lipid-droplet-accumulating microglia represent a dysfunctional and proinflammatory state in the aging brain. Nat. Neurosci. 23, 194–208 (2020).

Thelen, K. M., Falkai, P., Bayer, T. A. & Lutjohann, D. Cholesterol synthesis rate in human hippocampus declines with aging. Neurosci. Lett. 403, 15–19 (2006).

Hendrickx, D. A. E. et al. Gene expression profiling of multiple sclerosis pathology identifies early patterns of demyelination surrounding chronic active lesions. Front. Immunol. 8, 1810 (2017).

Mailleux, J. et al. Active liver X receptor signaling in phagocytes in multiple sclerosis lesions. Mult. Scler. 24, 279–289 (2018).

Yu, S. et al. Dissociated sterol-based liver X receptor agonists as therapeutics for chronic inflammatory diseases. FASEB J. 30, 2570–2579 (2016).

Katz Sand, I. The role of diet in multiple sclerosis: mechanistic connections and current evidence. Curr. Nutr. Rep. 7, 150–160 (2018).

Sedaghat, F., Jessri, M., Behrooz, M., Mirghotbi, M. & Rashidkhani, B. Mediterranean diet adherence and risk of multiple sclerosis: a case–control study. Asia Pac. J. Clin. Nutr. 25, 377–384 (2016).

Beltrán, G., Buchelo, M. E., Aguilera, M. P., Belaj, A. & Jimenez, A. Squalene in virgin olive oil: screening of variability in olive cultivars. Eur. J. Lipid Sci. Tech. 118, 1250–1253 (2016).

Smith, T. J. Squalene: potential chemopreventive agent. Expert Opin. Investig. Drugs 9, 1841–1848 (2000).

Quinet, E. M. et al. Gene-selective modulation by a synthetic oxysterol ligand of the liver X receptor. J. Lipid Res. 45, 1929–1942 (2004).

Bachmanov, A. A., Reed, D. R., Beauchamp, G. K. & Tordoff, M. G. Food intake, water intake, and drinking spout side preference of 28 mouse strains. Behav. Genet. 32, 435–443 (2002).

Bligh, E. G. & Dyer, W. J. A rapid method of total lipid extraction and purification. Can. J. Biochem. Physiol. 37, 911–917 (1959).

Alizadeh, A. & Karimi-Abdolrezaee, S. Microenvironmental regulation of oligodendrocyte replacement and remyelination in spinal cord injury. J. Physiol. 594, 3539–3552 (2016).

Radzun, H. J. et al. Detection of a monocyte/macrophage differentiation antigen in routinely processed paraffin-embedded tissues by monoclonal antibody Ki-M1P. Lab. Invest. 65, 306–315 (1991).

Lampron, A. et al. Inefficient clearance of myelin debris by microglia impairs remyelinating processes. J. Exp. Med. 212, 481–495 (2015).

Bijland, S. et al. An in vitro model for studying CNS white matter: functional properties and experimental approaches. F1000Res 8, 117 (2019).

Bottenstein, J. E. & Sato, G. H. Growth of a rat neuroblastoma cell line in serum-free supplemented medium. Proc. Natl Acad. Sci. USA 76, 514–517 (1979).

Wang, X. & Roper, M. G. Measurement of DCF fluorescence as a measure of reactive oxygen species in murine islets of Langerhans. Anal. Methods 6, 3019–3024 (2014).

Lucchinetti, C. F. et al. Clinical and radiographic spectrum of pathologically confirmed tumefactive multiple sclerosis. Brain 131, 1759–1775 (2008).

Renier, N. et al. iDISCO: a simple, rapid method to immunolabel large tissue samples for volume imaging. Cell 159, 896–910 (2014).

Butler, A., Hoffman, P., Smibert, P., Papalexi, E. & Satija, R. Integrating single-cell transcriptomic data across different conditions, technologies, and species. Nat. Biotechnol. 36, 411–420 (2018).

Stuart, T. et al. Comprehensive integration of single-cell data. Cell 177, 1888–1902 (2019).

McInnes, L., Healy, J., Saul, N. & Großberger, L. UMAP: uniform manifold approximation and projection. J. Open Source Soft. 3, 861 (2018).

Wickham, H. ggplot2—Elegant Graphics for Data Analysis (Springer, 2009).

Subramanian, A. et al. Gene set enrichment analysis: a knowledge-based approach for interpreting genome-wide expression profiles. Proc. Natl Acad. Sci. USA 102, 15545–15550 (2005).

Mootha, V. K. et al. PGC-1α-responsive genes involved in oxidative phosphorylation are coordinately downregulated in human diabetes. Nat. Genet. 34, 267–273 (2003).
Acknowledgements
We thank A. Fahrenholz, T. Freerck, B. Sadowski, L. Fernandez Garcia-Agudo and M. Lim for technical support. We thank C. Stiles and J. Alberta (Harvard Medical School, Boston, USA), S. Ghandour (CNRS, Strasbourg, France) and H. J. Radzun (University Medical Centre, Göttingen, Germany) for the generous gifts of antibodies. We thank M. Schwaninger for providing Slco1c1-CreERT2 mice (University of Lübeck, Lübeck, Germany). This work was funded by the Deutsche Forschungsgemeinschaft (SA2014/2-1 to G.S.). G.S. is supported by the Wilhelm-Sander Stiftung and the Alzheimer Forschung Initiative. Myelinating cell culture work was funded by the UK MS Society (grant 38 to J.M.E.). K.A.N. is supported by a European Research Council Advanced Grant. The Adelson Medical Research Foundation supports M.S. and K.A.N. M.W.S. is supported by the BMBF (CMT-NET01GM1511C and CMT-NRG 01GM1605). P.S. is supported by the Studienstiftung des deutschen Volkes. M.P. is supported by the Sobek Foundation, the Ernst-Jung Foundation, the German Research Foundation (SFB992, SFB1160, Reinhart-Koselleck-Grant, TRR167) and the Ministry of Science, Research and Arts, Baden-Wuerttemberg (Sonderlinie 'Neuroinflammation') as well as by the BMBF-funded competence network of multiple sclerosis (KKNMS). F.O. is supported by the Deutsche Forschungsgemeinschaft (OD87/1-1, OD87/3-1). F.O. and L.H. are supported by the Deutsche Forschungsgemeinschaft (TRR274/1).
Ethics declarations
Competing interests
S.A.B. and G.S. are listed as inventors on pending patent claims (PCT/EP2020/084338) filed by MPG covering the application of squalene in demyelinating disorders.
Additional information
Peer review information Nature Neuroscience thanks Vittorio Gallo and the other, anonymous, reviewer(s) for their contribution to the peer review of this work.
Publisher's note Springer Nature remains neutral with regard to jurisdictional claims in published maps and institutional affiliations.
Supplementary information
About this article
Cite this article
Berghoff, S.A., Spieth, L., Sun, T. et al. Microglia facilitate repair of demyelinated lesions via post-squalene sterol synthesis. Nat Neurosci 24, 47–60 (2021). https://doi.org/10.1038/s41593-020-00757-6
Received:

Accepted:

Published:

Issue Date:

DOI: https://doi.org/10.1038/s41593-020-00757-6