Abstract
GABA interneurons play a critical role in higher brain functions. Astrocytic glial cells interact with synapses throughout the whole brain and are recognized as regulatory elements of excitatory synaptic transmission. However, it is largely unknown how GABAergic interneurons and astrocytes interact and contribute to stable performance of complex behaviors. Here, we found that genetic ablation of GABAB receptors in medial prefrontal cortex astrocytes altered low-gamma oscillations and firing properties of cortical neurons, which affected goal-directed behaviors. Remarkably, working memory deficits were restored by optogenetic stimulation of astrocytes with melanopsin. Furthermore, melanopsin-activated astrocytes in wild-type mice enhanced the firing rate of cortical neurons and gamma oscillations, as well as improved cognition. Therefore, our work identifies astrocytes as a hub for controlling inhibition in cortical circuits, providing a novel pathway for the behaviorally relevant midrange time-scale regulation of cortical information processing and consistent goal-directed behaviors.
Relevant articles
Open Access articles citing this article.
Candela González-Arias

,

Andrea Sánchez-Ruiz

…

Gertrudis Perea

Molecular Psychiatry Open Access 29 September 2023

Verena Untiet

,

Felix R. M. Beinlich

…

Maiken Nedergaard

Nature Communications Open Access 04 April 2023

Hanna E. Stevens

,

Soraya Scuderi

…

Flora M. Vaccarino

Translational Psychiatry Open Access 11 March 2023
Access options
Access Nature and 54 other Nature Portfolio journals
Get Nature+, our best-value online-access subscription
$29.99 / 30 days
cancel any time
Subscribe to this journal
Receive 12 print issues and online access
$209.00 per year
only $17.42 per issue
Rent or buy this article
Prices vary by article type
from$1.95
to$39.95
Prices may be subject to local taxes which are calculated during checkout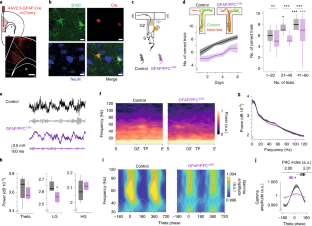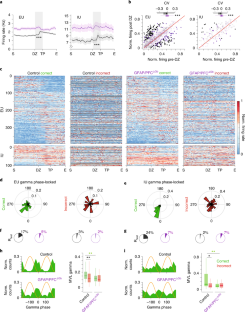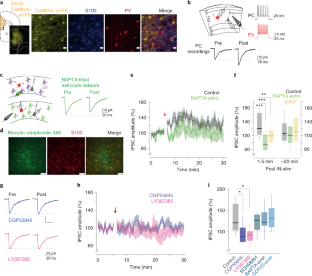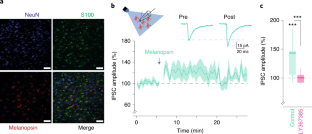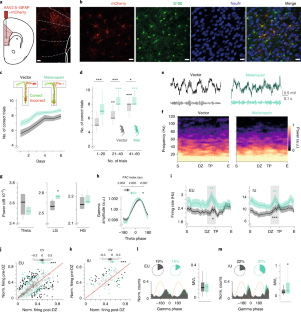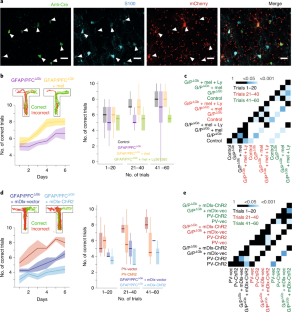 Data availability
All data generated or analyzed during this study are either included in this published article or are available from the corresponding author upon reasonable request. Source data are provided with this paper.
Code availability
Analyses used in this study are largely standard approaches for this type of data. The code that supports these findings is available upon request from the corresponding author.
References
Kim, H., Ährlund-Richter, S., Wang, X., Deisseroth, K. & Carlén, M. Prefrontal parvalbumin neurons in control of attention. Cell 164, 208–218 (2016).

Cardin, J. A. et al. Driving fast-spiking cells induces gamma rhythm and controls sensory responses. Nature 459, 663–667 (2009).

Mainen, Z. F. & Seinowski, T. J. Reliability of spike timing in neocortical neurons. Science 268, 1503–1506 (1995).

Korotkova, T., Fuchs, E. C., Ponomarenko, A., von Engelhardt, J. & Monyer, H. NMDA receptor ablation on parvalbumin-positive interneurons impairs hippocampal synchrony, spatial representations, and working memory. Neuron 68, 557–569 (2010).

Euston, D. R., Gruber, A. J. & McNaughton, B. L. The role of medial prefrontal cortex in memory and decision making. Neuron 76, 1057–1070 (2012).

Atallah, B. V. & Scanziani, M. Instantaneous modulation of gamma oscillation frequency by balancing excitation with inhibition. Neuron 62, 566–577 (2009).

Ito, H. T., Zhang, S. J., Witter, M. P., Moser, E. I. & Moser, M. B. A prefrontal–thalamo–hippocampal circuit for goal-directed spatial navigation. Nature 522, 50–55 (2015).

Perea, G. & Araque, A. Astrocytes potentiate transmitter release at single hippocampal synapses. Science 317, 1083–1086 (2007).

Henneberger, C., Papouin, T., Oliet, S. H. R. & Rusakov, D. A. Long-term potentiation depends on release of d-serine from astrocytes. Nature 463, 232–236 (2010).

Santello, M., Toni, N. & Volterra, A. Astrocyte function from information processing to cognition and cognitive impairment. Nat. Neurosci. 22, 154–166 (2019).

Araque, A. et al. Gliotransmitters travel in time and space. Neuron 81, 728–739 (2014).

Martin-Fernandez, M. et al. Synapse-specific astrocyte gating of amygdala-related behavior. Nat. Neurosci. 20, 1540–1548 (2017).

Adamsky, A. et al. Astrocytic activation generates de novo neuronal potentiation and memory enhancement. Cell 174, 59–71.e14 (2018).

Boddum, K. et al. Astrocytic GABA transporter activity modulates excitatory neurotransmission. Nat. Commun. 7, 13572 (2016).

Matos, M. et al. Astrocytes detect and upregulate transmission at inhibitory synapses of somatostatin interneurons onto pyramidal cell. Nat. Commun. 9, 4254 (2018).

Perea, G. et al. Activity-dependent switch of GABAergic inhibition into glutamatergic excitation in astrocyte–neuron networks. eLife 5, e20362 (2016).

Kang, J., Jiang, L., Goldman, S. A. & Nedergaard, M. Astrocyte-mediated potentiation of inhibitory synaptic transmission. Nat. Neurosci. 1, 683–692 (1998).

Nagai, J. et al. Hyperactivity with disrupted attention by activation of an astrocyte synaptogenic cue. Cell 177, 1280–1292.e20 (2019).

Covelo, A. & Araque, A. Neuronal activity determines distinct gliotransmitter release from a single astrocyte. eLife 7, e32237 (2018).

Mariotti, L. et al. Interneuron-specific signaling evokes distinctive somatostatin-mediated responses in adult cortical astrocytes. Nat. Commun. 9, 82 (2018).

Perea, G., Yang, A., Boyden, E. S. & Sur, M. Optogenetic astrocyte activation modulates response selectivity of visual cortex neurons in vivo. Nat. Commun. 5, 3262 (2014).

Crosby, K. M. et al. Cholecystokinin switches the plasticity of GABA synapses in the dorsomedial hypothalamus via astrocytic ATP release. J. Neurosci. 38, 8515–8525 (2018).

Deemyad, T., Lüthi, J. & Spruston, N. Astrocytes integrate and drive action potential firing in inhibitory subnetworks. Nat. Commun. 9, 4336 (2018).

Dimidschstein, J. et al. A viral strategy for targeting and manipulating interneurons across vertebrate species. Nat. Neurosci. 19, 1743–1749 (2016).

Isaacson, J. S. & Scanziani, M. How inhibition shapes cortical activity. Neuron 72, 231–243 (2011).

Mederos, S. & Perea, G. GABAergic–astrocyte signaling: a refinement of inhibitory brain networks. Glia 67, 1842–1851 (2019).

Haller, C. et al. Floxed allele for conditional inactivation of the GABAB(1) gene. Genesis 40, 125–130 (2004).

Deacon, R. M. J., Penny, C. & Rawlins, J. N. P. Effects of medial prefrontal cortex cytotoxic lesions in mice. Behav. Brain Res. 139, 139–155 (2003).

Petrides, M. & Pandya, D. N. Comparative cytoarchitectonic analysis of the human and the macaque ventrolateral prefrontal cortex and corticocortical connection patterns in the monkey. Eur. J. Neurosci. 16, 291–310 (2002).

Yang, Y. & Mailman, R. B. Strategic neuronal encoding in medial prefrontal cortex of spatial working memory in the T-maze. Behav. Brain Res. 343, 50–60 (2018).

Buzsáki, G. & Wang, X.-J. Mechanisms of gamma oscillations. Annu. Rev. Neurosci. 35, 203–225 (2012).

Sakatani, S. et al. Neural-activity-dependent release of S100B from astrocytes enhances kainate-induced gmma oscillations in vivo. J. Neurosci. 28, 10928–10936 (2008).

Lee, H. S. et al. Astrocytes contribute to gamma oscillations and recognition memory. Proc. Natl Acad. Sci. USA 111, E3343–E3352 (2014).

Sohal, V. S., Zhang, F., Yizhar, O. & Deisseroth, K. Parvalbumin neurons and gamma rhythms enhance cortical circuit performance. Nature 459, 698–702 (2009).

Lisman, J. E. & Jensen, O. The theta-gamma neural code. Neuron 77, 1002–1016 (2013).

Devilbiss, D. M., Jenison, R. L. & Berridge, C. W. Stress-induced impairment of a working memory task: role of spiking rate and spiking history predicted discharge. PLoS Comput. Biol. 8, e1002681 (2012).

Vijayraghavan, S., Wang, M., Birnbaum, S. G., Williams, G. V. & Arnsten, A. F. T. Inverted-U dopamine D1 receptor actions on prefrontal neurons engaged in working memory. Nat. Neurosci. 10, 376–384 (2007).

Srinivasan, R. et al. Ca2+ signaling in astrocytes from Ip3r2−/− mice in brain slices and during startle responses in vivo. Nat. Neurosci. 18, 708–717 (2015).

Mederos, S. et al. Melanopsin for precise optogenetic activation of astrocyte–neuron networks. Glia 67, 915–934 (2019).

Panatier, A. et al. Astrocytes are endogenous regulators of basal transmission at central synapses. Cell 146, 785–798 (2011).

MacVicar, B. A., Tse, F. W. Y., Crichton, S. A. & Kettenmann, H. GABA-activated Cl− channels in astrocytes of hippocampal slices. J. Neurosci. 9, 3577–3583 (1989).

Sun, H. & Neugebauer, V. mGluR1, but not mGluR5, activates feed-forward inhibition in the medial prefrontal cortex to impair decision making. J. Neurophysiol. 106, 960–973 (2011).

Kamigaki, T. & Dan, Y. Delay activity of specific prefrontal interneuron subtypes modulates memory-guided behavior. Nat. Neurosci. 20, 854–863 (2017).

Yizhar, O. et al. Neocortical excitation/inhibition balance in information processing and social dysfunction. Nature 477, 171–178 (2011).

Carus-Cadavieco, M. et al. Gamma oscillations organize top-down signalling to hypothalamus and enable food seeking. Nature 542, 232–236 (2017).

Kim, J. G. et al. Leptin signaling in astrocytes regulates hypothalamic neuronal circuits and feeding. Nat. Neurosci. 17, 908–910 (2014).

Oe, Y. et al. Distinct temporal integration of noradrenaline signaling by astrocytic second messengers during vigilance. Nat. Commun. 11, 471 (2020).

Steckler, T. et al. Metabotropic glutamate receptor 1 blockade impairs acquisition and retention in a spatial water maze task. Behav. Brain Res. 164, 52–60 (2005).

Liu, D. et al. Medial prefrontal activity during delay period contributes to learning of a working memory task. Science 346, 458–463 (2014).

Tremblay, R., Lee, S. & Rudy, B. GABAergic interneurons in the neocortex: from cellular properties to circuits. Neuron 91, 260–292 (2016).

Gonzalez-Roca, E. et al. Accurate expression profiling of very small cell populations. PLoS ONE 5, e14418 (2010).

Bender, F., Korotkova, T. & Ponomarenko, A. Optogenetic entrainment of hippocampal theta oscillations in behaving mice. J. Vis. Exp. https://doi.org/10.3791/57349 (2018).

Vandecasteele, M. et al. Large-scale recording of neurons by movable silicon probes in behaving rodents. J. Vis. Exp. https://doi.org/10.3791/3568 (2012).

Bender, F. et al. Theta oscillations regulate the speed of locomotion via a hippocampus to lateral septum pathway. Nat. Commun. 6, 8521 (2015).

Herrera, C. G. et al. Hypothalamic feedforward inhibition of thalamocortical network controls arousal and consciousness. Nat. Neurosci. 19, 290–298 (2016).

Hazan, L., Zugaro, M. & Buzsáki, G. Klusters, NeuroScope, NDManager: a free software suite for neurophysiological data processing and visualization. J. Neurosci. Methods 155, 207–216 (2006).

Schmitzer-Torbert, N. & Redish, A. D. Neuronal activity in the rodent dorsal striatum in sequential navigation: separation of spatial and reward responses on the multiple T task. J. Neurophysiol. 91, 2259–2272 (2004).

Wulff, P. et al. Hippocampal theta rhythm and its coupling with gamma oscillations require fast inhibition onto parvalbumin-positive interneurons. Proc. Natl Acad. Sci. USA 106, 3561–3566 (2009).

Tort, A. B. L., Komorowski, R., Eichenbaum, H. & Kopell, N. Measuring phase-amplitude coupling between neuronal oscillations of different frequencies. J. Neurophysiol. 104, 1195–1210 (2010).

Buzsáki, G. & Mizuseki, K. The log-dynamic brain: how skewed distributions affect network operations. Nat. Rev. Neurosci. 15, 264–278 (2014).

Valero, M., Averkin, R. G., Fernandez-Lamo, I., Cid, E. & Tamas, G. Mechanisms for selective single-cell reactivation during offline sharp-wave ripples and their distortion by fast ripples. Neuron 94, 1234–1247.e7 (2017).

Rolls, E. T. & Treves, A. The neuronal encoding of information in the brain. Prog. Neurobiol. 95, 448–490 (2011).

Quian Quiroga, R. & Panzeri, S. Extracting information from neuronal populations: information theory and decoding approaches. Nat. Rev. Neurosci. 10, 173–185 (2009).

Csicsvari, J., Jamieson, B., Wise, K. D. & Buzsáki, G. Mechanisms of gamma oscillations in the hippocampus of the behaving rat. Neuron 37, 311–322 (2003).

Toth, L. A. & Gardiner, T. W. Food and water restriction protocols: physiological and behavioral considerations. Contemp. Top. Lab. Anim. Sci. 39, 9–17 (2000).

Klavir, O., Prigge, M., Sarel, A., Paz, R. & Yizhar, O. Manipulating fear associations via optogenetic modulation of amygdala inputs to prefrontal cortex. Nat. Neurosci. 20, 836–844 (2017).

Jain, A. K. & Dubes, R. C. Algorithms for Clustering Data (Prentice Hall, 1988).

Paxinos, G. & Franklin, K. The Mouse Brain in Stereotaxic Coordinates, Compact 3rd edn (Academic Press, 2008).

Reyes, A., Lee, D., Graziani, C. & Tzeferacos, P. A new class of high-order methods for fluid dynamics simulations using Gaussian process modeling: one-dimensional case. J. Sci. Comput. 76, 443–480 (2018).

Poskanzer, K. E. & Yuste, R. Astrocytes regulate cortical state switching in vivo. Proc. Natl Acad. Sci. USA 113, E2675–E2684 (2016).

Fernández de Sevilla, D., Cabezas, C., Oshima de Prada, A. N., Sánchez-Jiménez, A. & Buño, W. Selective muscarinic regulation of functional glutamatergic Schaffer collateral synapses in rat CA1 pyramidal neurons. J. Physiol. 545, 51–63 (2002).

Faber, D. S. & Korn, H. Applicability of the coefficient of variation method for analyzing synaptic plasticity. Biophys. J. 60, 1288–1294 (1991).
Acknowledgements
We thank the T. Korotkova Lab, C. González-Arias and C. Heikenfeld for technical support; the Molecular and Cellular Biology Unit from the Cajal Institute for technical assistance; B. Bettler, A. Araque, M. Navarrete, E. D. Martín and A. Fernández-Ruiz for critical review of the manuscript; and Buzsáki Lab members for valuable suggestions. This work was supported by the MCIU/AEI/FEDER, UE (BES-2014-067594) to S.M.; a European Molecular Biology Organization (EMBO) postdoctoral fellowship (EMBO ALTF 1161-2017) and a Human Frontiers Science Program (HFSP) postdoctoral fellowship (LT0000717/2018) to M.V.; the Deutsche Forschungsgemeinschaft (DFG: SPP1665, 1799/1-2 and Heisenberg Program 1799/2-1 and 1799/3-1) to A.P.; the MCIU/AEI/FEDER, UE (BFU2016-75107-P), and MCIU/AEI/FEDER, UE (PID2019-106579RB-I00), 202020E073 from the CSIC, and the Cajal Blue Brain Project (C080020-09; the Spanish partner of the Blue Brain Project initiative from École Polytechnique Fédérale de Lausanne (EPFL), Switzerland) to G.P.
Ethics declarations
Competing interests
The authors declare no competing interests.
Additional information
Peer review information Nature Neuroscience thanks Inbal Goshen, Dmitri Rusakov, and the other, anonymous, reviewer(s) for their contribution to the peer review of this work.
Publisher's note Springer Nature remains neutral with regard to jurisdictional claims in published maps and institutional affiliations.
Supplementary information
About this article
Cite this article
Mederos, S., Sánchez-Puelles, C., Esparza, J. et al. GABAergic signaling to astrocytes in the prefrontal cortex sustains goal-directed behaviors. Nat Neurosci 24, 82–92 (2021). https://doi.org/10.1038/s41593-020-00752-x
Received:

Accepted:

Published:

Issue Date:

DOI: https://doi.org/10.1038/s41593-020-00752-x