Abstract
The brain generates negative prediction error (NPE) signals to trigger extinction, a type of inhibitory learning that is responsible for suppressing learned behaviors when they are no longer useful. Neurons encoding NPE have been reported in multiple brain regions. Here, we use an optogenetic approach to demonstrate that GABAergic cerebello-olivary neurons can generate a powerful NPE signal, capable of causing extinction of conditioned motor responses on its own.
Access options
Subscribe to Nature+
Get immediate online access to the entire Nature family of 50+ journals
Subscribe to Journal
Get full journal access for 1 year
$99.00
only $8.25 per issue
All prices are NET prices.
VAT will be added later in the checkout.
Tax calculation will be finalised during checkout.
Buy article
Get time limited or full article access on ReadCube.
$32.00
All prices are NET prices.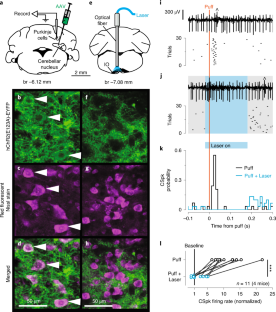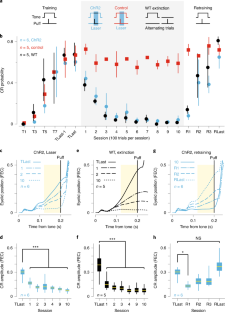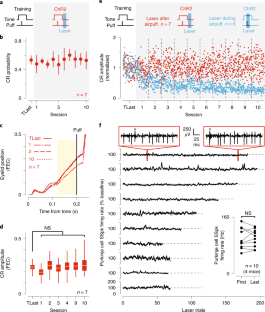 References
Schultz, W. & Dickinson, A. Neuronal coding of prediction errors. Annu. Rev. Neurosci. 23, 473–500 (2000).

Dunsmoor, J. E., Niv, Y., Daw, N. & Phelps, E. A. Rethinking extinction. Neuron 88, 47–63 (2015).

Mauk, M. D. & Donegan, N. H. A model of Pavlovian eyelid conditioning based on the synaptic organization of the cerebellum. Learn. Mem. 3, 130–158 (1997).

Rasmussen, A., Jirenhed, D. A. & Hesslow, G. Simple and complex spike firing patterns in Purkinje cells during classical conditioning. Cerebellum 7, 563–566 (2008).

Ohmae, S. & Medina, J. F. Climbing fibers encode a temporal-difference prediction error during cerebellar learning in mice. Nat. Neurosci. 18, 1798–1803 (2015).

Medina, J. F., Nores, W. L. & Mauk, M. D. Inhibition of climbing fibres is a signal for the extinction of conditioned eyelid responses. Nature 416, 330–333 (2002).

McCormick, D. A., Steinmetz, J. E. & Thompson, R. F. Lesions of the inferior olivary complex cause extinction of the classically conditioned eyeblink response. Brain Res. 359, 120–130 (1985).

Bengtsson, F., Jirenhed, D. A., Svensson, P. & Hesslow, G. Extinction of conditioned blink responses by cerebello-olivary pathway stimulation. Neuroreport 18, 1479–1482 (2007).

Zbarska, S., Bloedel, J. R. & Bracha, V. Cerebellar dysfunction explains the extinction-like abolition of conditioned eyeblinks after NBQX injections in the inferior olive. J. Neurosci. 28, 10–20 (2008).

Ruigrok, T. J. & Teune, T. M. Collateralization of cerebellar output to functionally distinct brainstem areas. A retrograde, non-fluorescent tracing study in the rat. Front. Syst. Neurosci. 8, 23 (2014).

Freeman, J. H. & Steinmetz, A. B. Neural circuitry and plasticity mechanisms underlying delay eyeblink conditioning. Learn. Mem. 18, 666–677 (2011).

Najafi, F. & Medina, J. F. Beyond 'all-or-nothing' climbing fibers: graded representation of teaching signals in Purkinje cells. Front. Neural Circuits 7, 115 (2013).

Salinas-Hernandez, X. I. et al. Dopamine neurons drive fear extinction learning by signaling the omission of expected aversive outcomes. eLife 7, e38818 (2018).

Chang, C. Y. et al. Brief optogenetic inhibition of dopamine neurons mimics endogenous negative reward prediction errors. Nat. Neurosci. 19, 111–116 (2016).

Lee, K. et al. Temporally restricted dopaminergic control of reward-conditioned movements. Nat. Neurosci. 23, 209–216 (2020).

Bayer, H. M. & Glimcher, P. W. Midbrain dopamine neurons encode a quantitative reward prediction error signal. Neuron 47, 129–141 (2005).

Wagner, M. J., Kim, T. H., Savall, J., Schnitzer, M. J. & Luo, L. Cerebellar granule cells encode the expectation of reward. Nature 544, 96–100 (2017).

Ernst, T. M. et al. The cerebellum is involved in processing of predictions and prediction errors in a fear conditioning paradigm. eLife 8, e46831 (2019).

Popa, L. S., Streng, M. L., Hewitt, A. L. & Ebner, T. J. The errors of our ways: understanding error representations in cerebellar-dependent motor learning. Cerebellum 15, 93–103 (2016).

Brooks, J. X., Carriot, J. & Cullen, K. E. Learning to expect the unexpected: rapid updating in primate cerebellum during voluntary self-motion. Nat. Neurosci. 18, 1310–1317 (2015).

Heiney, S. A., Wohl, M. P., Chettih, S. N., Ruffolo, L. I. & Medina, J. F. Cerebellar-dependent expression of motor learning during eyeblink conditioning in head-fixed mice. J. Neurosci. 34, 14845–14853 (2014).

Deisseroth, K. Predicted Irradiance Values: Model Based on Direct Measurements in Mammalian Brain Tissue https://web.stanford.edu/group/dlab/cgi-bin/graph/chart.php (2012).

Kehoe, E. J. Repeated acquisitions and extinctions in classical conditioning of the rabbit nictitating membrane response. Learn. Mem. 13, 366–375 (2006).
Acknowledgements
This study was supported by grants to J.F.M. from the National Institutes of Health (grant nos. R01 MH093727, RF1 MH114269 and NIH R01NS112917), and a grant to O.A.K. (grant no. F31 NS103427). We thank S. Heiney for help with surgical approach and J. Siegel for help with analysis.
Ethics declarations
Competing interests
The authors declare no competing interests.
Additional information
Peer review information Nature Neuroscience thanks John Freeman, Kamran Khodakhah and the other, anonymous, reviewer(s) for their contribution to the peer review of this work.
Publisher's note Springer Nature remains neutral with regard to jurisdictional claims in published maps and institutional affiliations.
Supplementary information
About this article
Cite this article
Kim, O.A., Ohmae, S. & Medina, J.F. A cerebello-olivary signal for negative prediction error is sufficient to cause extinction of associative motor learning. Nat Neurosci 23, 1550–1554 (2020). https://doi.org/10.1038/s41593-020-00732-1
Received:

Accepted:

Published:

Issue Date:

DOI: https://doi.org/10.1038/s41593-020-00732-1
Further reading
Haemin Kim
Sangyeon Youn
Jin Ho Chang

Nature Photonics (2022)

Neuroscience Bulletin (2022)