Abstract
The hippocampal CA2 region is essential for social memory. To determine whether CA2 activity encodes social interactions, we recorded extracellularly from CA2 pyramidal neurons (PNs) in male mice during social behavior. Although CA2 neuronal firing showed only weak spatial selectivity, it accurately encoded contextual changes and distinguished between a novel and a familiar mouse. In the Df(16)A+/− mouse model of the human 22q11.2 microdeletion, which confers a 30-fold increased risk of schizophrenia, CA2 social coding was impaired, consistent with the social memory deficit observed in these mice; in contrast, spatial coding accuracy was greatly enhanced. CA2 PNs were previously found to be hyperpolarized in Df(16)A+/− mice, likely due to upregulation of TREK-1 K+ current. We found that TREK-1 blockade rescued social memory and CA2 social coding in Df(16)A+/− mice, supporting a crucial role for CA2 in the normal encoding of social stimuli and in social behavioral dysfunction in disease.
Access options
Subscribe to Journal
Get full journal access for 1 year
$209.00
only $17.42 per issue
All prices are NET prices.
VAT will be added later in the checkout.
Rent or Buy article
Get time limited or full article access on ReadCube.
from$8.99
All prices are NET prices.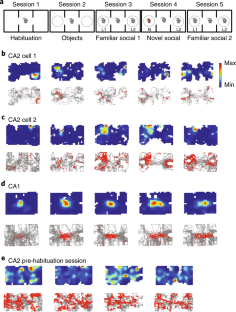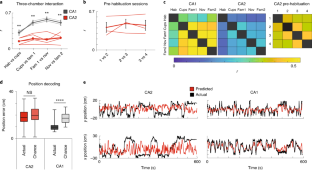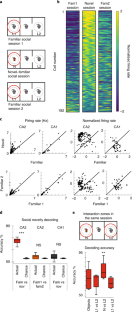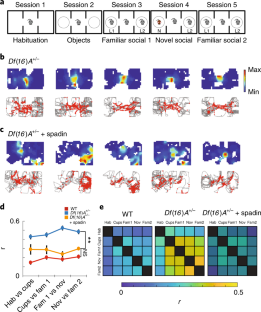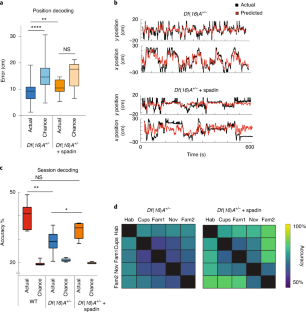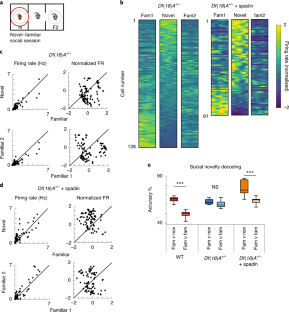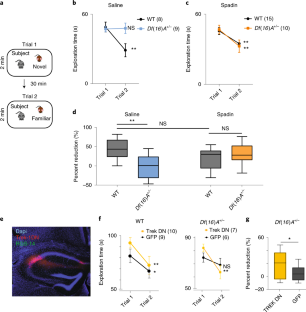 Data and code availability
The datasets generated and/or analyzed in the current study are available from the corresponding author upon reasonable request.
All scripts for analyzing data are also available upon reasonable request.
References
1.

Berry, R. J. & Bronson, F. H. Life history and bioeconomy of the house mouse. Biol. Rev. 67, 519–550 (1992).

2.

Meltzer, H. Y., Thompson, P. A., Lee, M. A. & Ranjan, R. Neuropsychologic deficits in schizophrenia: relation to social function and effect of antipsychotic drug treatment. Neuropsychopharmacology 14, 27S–33S (1996).

3.

Steinvorth, S., Levine, B. & Corkin, S. Medial temporal lobe structures are needed to re-experience remote autobiographical memories: evidence from H. M. and W. R. Neuropsychologia 43, 479–496 (2005).

4.

Kogan, J. H., Frankland, P. W. & Silva, A. J. Long-term memory underlying hippocampus- dependent social recognition in mice. Hippocampus 1063, 47–56 (2000).

5.

Squire, L. R. & Wixted, J. T. The cognitive neuroscience of human memory since H. M. Annu. Rev. Neurosci. 34, 259–288 (2011).

6.

O'Keefe, J. & Dostrovsky, J. The hippocampus as a spatial map. Preliminary evidence from unit activity in the freely-moving rat. Brain Res. 34, 171–175 (1971).

7.

MacDonald, C. J., Lepage, K. Q., Eden, U. T. & Eichenbaum, H. Hippocampal 'time cells' bridge the gap in memory for discontiguous events. Neuron 71, 737–749 (2011).

8.

Kraus, B., Robinson, R., White, J., Eichenbaum, H. & Hasselmo, M. Hippocampal 'time cells': time versus path integration. Neuron 78, 1090–1101 (2013).

9.

McKenzie, S. et al. Hippocampal representation of related and opposing memories develop within distinct, hierarchically organized neural schemas. Neuron 83, 202–215 (2014).

10.

Meira, T. et al. A hippocampal circuit linking dorsal CA2 to ventral CA1 critical for social memory dynamics. Nat. Commun. 9, 1–14 (2018).

11.

Hitti, F. L. & Siegelbaum, S. A. The hippocampal CA2 region is essential for social memory. Nature 508, 88–92 (2014).

12.

Stevenson, E. L. & Caldwell, H. K. Lesions to the CA2 region of the hippocampus impair social memory in mice. Eur. J. Neurosci. 40, 3294–3301 (2014).

13.

Okuyama, T., Kitamura, T., Roy, D. S., Itohara, S. & Tonegawa, S. Ventral CA1 neurons store social memory. Science 353, 1536–1541 (2016).

14.

Rao, R. P., von Heimendahl, M., Bahr, V. & Brecht, M. Neuronal responses to conspecifics in the ventral CA1. Cell Rep. 27, 3460–3472 (2019).

15.

Mankin, E. A., Diehl, G. W., Sparks, F. T., Leutgeb, S. & Leutgeb, J. K. Hippocampal CA2 activity patterns change over time to a larger extent than between spatial contexts. Neuron 85, 190–202 (2015).

16.

Alexander, G. M. et al. Social and novel contexts modify hippocampal CA2 representations of space. Nat. Commun. 7, 10300 (2016).

17.

Oliva, A., Fern, A. & Ber, A. Spatial coding and physiological properties of hippocampal neurons in the Cornu Ammonis subregions. Hippocampus 1607, 1593–1607 (2016).

18.

Lu, L. et al. Topography of place maps along the CA3-to-CA2 axis of the hippocampus. Neuron 87, 1078–1092 (2015).

19.

Wintzer, M. E., Boehringer, R., Polygalov, D. & McHugh, T. J. The hippocampal CA2 ensemble is sensitive to contextual change. J. Neurosci. 34, 3056–3066 (2014).

20.

Benes, F. M., Kwok, E. W., Vincent, S. L. & Todtenkopf, M. S. A reduction of nonpyramidal cells in sector CA2 of schizophrenics and manic depressives. Biol. Psychiatry 44, 88–97 (1998).

21.

Zhang, Z. J. & Reynolds, G. P. A selective decrease in the relative density of parvalbumin- immunoreactive neurons in the hippocampus in schizophrenia. Schizophr. Res. 55, 1–10 (2002).

22.

Piskorowski, R. A. et al. Age-dependent specific changes in area CA2 of the hippocampus and social memory deficit in a mouse model of the 22q11.2 deletion syndrome. Neuron 89, 163–176 (2016).

23.

Karayiorgou, M., Simon, T. J. & Gogos, J. A. 22q11.2 microdeletions: linking DNA structural variation to brain dysfunction and schizophrenia. Nat. Rev. Neurosci. 11, 402–416 (2010).

24.

Talley, E. M., Solo, G., Lei, Q., Kim, D. & Bayliss, D. A. CNS distribution of members of the two-pore-domain (KCNK) potassium channel family. J. Neurosci. 21, 7491–7505 (2001).

25.

Boehringer, R. et al. Chronic loss of CA2 transmission leads to hippocampal hyperexcitability. Neuron 94, 642–655 (2017).

26.

Skaggs, W. E. & McNaughton, B. L. Spatial firing properties of hippocampal CA1 populations in an environment containing two visually identical regions. J. Neurosci. 18, 8455–8466 (1998).

27.

Spiers, H. J., Hayman, R. M. A., Jovalekic, A., Marozzi, E. & Jeffery, K. J. Place field repetition and purely local remapping in a multicompartment environment. Cereb. Cortex 25, 10–25 (2015).

28.

Grieves, R. M., Duvelle, É., Wood, E. R. & Dudchenko, P. A. Field repetition and local mapping in the hippocampus and the medial entorhinal cortex. J. Neurophysiol. 118, 2378–2388 (2017).

29.

Stefanini, F. et al. A distributed neural code in the dentate gyrus and in CA1. Neuron 107, 703–716 (2020).

30.

Keinath, A. T. et al. Precise spatial coding is preserved along the longitudinal hippocampal axis. Hippocampus 24, 1533–1548 (2014).

31.

Saitta, L. Support-vector networks. Mach. Learn. 297, 273–297 (1995).

32.

Barak, O., Rigotti, M. & Fusi, S. The sparseness of mixed selectivity neurons controls the generalization–discrimination trade-off. J. Neurosci. 33, 3844–3856 (2013).

33.

Rigotti, M. et al. The importance of mixed selectivity in complex cognitive tasks. Nature 497, 585–590 (2013).

34.

Giocomo, L. M. et al. Grid cells use HCN1 channels for spatial scaling. Cell 147, 1159–1170 (2011).

35.

Borsotto, M. et al. Targeting two-pore domain K+ channels TREK-1 and TASK-3 for the treatment of depression: a new therapeutic concept. Br. J. Pharmacol. 172, 771–784 (2015).

36.

Voloshyna, I. et al. TREK-1 Is a novel molecular target in prostate cancer. Cancer Res. 68, 1197–1204 (2008).

37.

Di Pasquale, G. et al. Identification of PDGFR as a receptor for AAV-5 transduction. Nat. Med. 9, 1306–1312 (2003).

38.

Smith, A. S., Williams Avram, S. K., Cymerblit-Sabba, A., Song, J. & Young, W. S. Targeted activation of the hippocampal CA2 area strongly enhances social memory. Mol. Psychiatry 21, 1137–1144 (2016).

39.

von Heimendahl, M., Rao, R. P. & Brecht, M. Weak and nondiscriminative responses to conspecifics in the rat hippocampus. J. Neurosci. 32, 2129–2141 (2012).

40.

Stark, K. L. et al. Altered brain microRNA biogenesis contributes to phenotypic deficits in a 22q11-deletion mouse model. Nat. Genet. 40, 751–760 (2008).

41.

Chiang, M. C., Huang, A. J. Y., Wintzer, M. E., Ohshima, T. & McHugh, T. J. A role for CA3 in social recognition memory. Behav. Brain Res. 354, 22–30 (2018).

42.

Talbot, Z. N. et al. Normal CA1 place fields but discoordinated network discharge in a Fmr1-null mouse model of fragile X syndrome. Neuron 97, 684–697 (2018).

43.

Zaremba, J. D. et al. Impaired hippocampal place cell dynamics in a mouse model of the 22q11.2 deletion. Nat. Neurosci. 20, 1612 (2017).

44.

Raam, T., Mcavoy, K. M., Besnard, A., Veenema, A. H. & Sahay, A. Hippocampal oxytocin receptors are necessary for discrimination of social stimuli. Nat. Commun. 8, 2001 (2017).

45.

Young, W. S., Li, J., Wersinger, S. R. & Palkovits, M. The vasopressin 1b receptor is prominent in the hippocampal area CA2 where it is unaffected by restraint stress or adrenalectomy. Neuroscience 143, 1031–1039 (2006).

46.

Cui, Z., Gerfen, C. R. & Young, W. S. Hypothalamic and other connections with dorsal CA2 area of the mouse hippocampus. J. Comp. Neurol. 521, 1844–1866 (2013).

47.

Kay, K. et al. A hippocampal network for spatial coding during immobility. Nature 531, 185–190 (2016).

48.

Alexander, G. M. et al. CA2 neuronal activity controls hippocampal low gamma and ripple oscillations. eLife 7, e38052 (2018).

49.

Schmitzer-torbert, N. & Redish, A. D. Neuronal activity in the rodent dorsal striatum in sequential navigation: separation of spatial and reward responses on the multiple T task. J. Neurophysiol. 91, 2259–2272 (2004).

50.

Brown, E. N., Frank, L. M., Tang, D., Quirk, M. C. & Wilson, M. A. A statistical paradigm for neural spike train decoding applied to position prediction from ensemble firing patterns of rat hippocampal place cells. J. Neurosci. 18, 7411–7425 (1998).
Acknowledgements
We thank J. Gogos for initially providing the Df(16)A+/− mice and for advice and guidance. We thank Y. Matsushita of Ono Pharmaceuticals for suggesting that we study the action of spadin. We also thank Y.M. Zafrina, A. Kleinbort and H.G. Yueh for their technical support, B. Santoro for assistance with animal breeding and C.D. Salzman and D. Aranov for helpful discussions and comments on the manuscript. This work was supported by a grant from the National Science Foundation's Graduate Research Fellowship Program (to M.L.D.), by grants R01MH104602 and R01MH106629 (to S.A.S.), a grant DBI-1707398 from the NeuroNex program of NSF (to S.F.), a grant from the Zegar Family Foundation (to S.A.S.) and a grant from Ono Pharmaceuticals (to S.A.S.).
Ethics declarations
Competing interests
The authors declare no competing interests.
Additional information
Peer review information Nature Neuroscience thanks Caswell Barry and the other, anonymous, reviewer(s) for their contribution to the peer review of this work.
Publisher's note Springer Nature remains neutral with regard to jurisdictional claims in published maps and institutional affiliations.
Supplementary information
Spatial properties of the three experimental CA2 groups.
About this article
Cite this article
Donegan, M.L., Stefanini, F., Meira, T. et al. Coding of social novelty in the hippocampal CA2 region and its disruption and rescue in a 22q11.2 microdeletion mouse model. Nat Neurosci 23, 1365–1375 (2020). https://doi.org/10.1038/s41593-020-00720-5
Received:

Accepted:

Published:

Issue Date:
Further reading
Trends in Neurosciences (2020)

Azahara Oliva

,

Antonio Fernández-Ruiz

,

Felix Leroy

&

Steven A. Siegelbaum

Nature (2020)