Abstract
Reward-evoked dopamine transients are well established as prediction errors. However, the central tenet of temporal difference accounts—that similar transients evoked by reward-predictive cues also function as errors—remains untested. In the present communication we addressed this by showing that optogenetically shunting dopamine activity at the start of a reward-predicting cue prevents second-order conditioning without affecting blocking. These results indicate that cue-evoked transients function as temporal-difference prediction errors rather than reward predictions.
Access options
Subscribe to Journal
Get full journal access for 1 year
$59.00
only $4.92 per issue
All prices are NET prices.
VAT will be added later in the checkout.
Tax calculation will be finalised during checkout.
Rent or Buy article
Get time limited or full article access on ReadCube.
from$8.99
All prices are NET prices.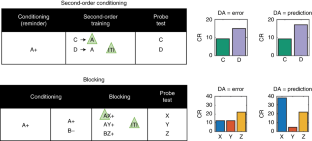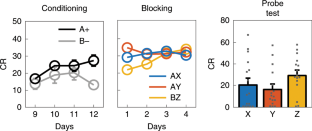 Data availability
Behavioral data will be made available upon reasonable request.
References
1.

Glimcher, P. W. Understanding dopamine and reinforcement learning: the dopamine reward prediction error hypothesis. Proc. Natl Acad. Sci. USA 108, 15647–15654 (2011).

2.

Dayan, P. Improving generalization for temporal difference learning: the successor representation. Neural Comput. 5, 613–624 (1993).

3.

Sutton, R. S. Learning to predict by the method of temporal difference. Machine Learn. 3, 9–44 (1988).

4.

Schultz, W., Dayan, P. & Montague, P. R. A neural substrate for prediction and reward. Science 275, 1593–1599 (1997).

5.

Rizley, R. C. & Rescorla, R. A. Associations in second-order conditioning and sensory preconditioning. J. Compar. Physiol. Psychol. 81, 1–11 (1972).

6.

Chang, C. Y., Gardner, M., Di Tillio, M. G. & Schoenbaum, G. Optogenetic blockade of dopamine transients prevents learning induced by changes in reward features. Curr. Biol. 27, 3480–3486 (2017).

7.

Kamin, L. J. Aversive stimulation. In Miami Symposium on the Prediction of Behavior, 1967 (ed. M.R. Jones) 9–31 (Univ. Miami Press, 1968).

8.

Chang, C. Y., Gardner, M. P. H., Conroy, J. S., Whitaker, L. R. & Schoenbaum, G. Brief, but not prolonged, pauses in the firing of midbrain dopamine neurons are sufficient to produce a conditioned inhibitor. J. Neurosci. 38, 8822–8830 (2018).

9.

Sharpe, M. J. et al. Dopamine transients are sufficient and necessary for acquisition of model-based associations. Nat. Neurosci. 20, 735–742 (2017).

10.

Kim H. R. et al. A unified framework for dopamine signals across timescales. Preprint at bioRxiv https://doi.org/10.1101/803437 (2019).

11.

Gardner, M. P. H., Schoenbaum, G. & Gershman, S. J. Rethinking dopamine as generalized prediction error. Proc. R. Soc. B 285, https://doi.org/10.1098/rspb.2018.1645 (2018).

12.

Keiflin, R., Pribut, H. J., Shah, N. B. & Janak, P. H. Ventral tegmental dopamine neurons participate in reward identity predictions. Curr. Biol. 29, 93–103.E3 (2019).

13.

Nairne, J. S. & Rescorla, R. A. 2nd-order conditioning with diffuse auditory reinforcers in the pigeon. Learn. Motiv. 12, 65–91 (1981).

14.

Sutton, R. S. & Barto, A. G. Reinforcement Learning: An Introduction (MIT Press, 1998).

15.

Rescorla, R. A. & Wagner, A. R. in Classical Conditioning: II. Current Research and Theory (eds Black A. H. & Prokasy W. F.) 64–99 (Appleton–Century–Crofts, 1972).

16.

Sharpe, M. J. & Killcross, A. S. The prelimbic cortex contributes to the down-regulation of attention toward redundant cues. Cereb. Cortex 24, 1066–1074 (2014).

17.

Mahmud, A., Petrov, P., Esber, G. R. & Iordanova, M. D. The serial blocking effect: a testbed for the neural mechanisms of temporal-difference learning. Sci. Rep. 9, 5962 (2019).

18.

Steinberg, E. E. et al. A causal link between prediction errors, dopamine neurons and learning. Nat. Neurosci. 16, 966–973 (2013).

19.

Olejnik, S. & Algina, J. Generalized eta and omega squared statistics: measures of effect size for some common research designs. Psychol. Methods 8, 434–447 (2003).
Acknowledgements
This work was supported by the Intramural Research Program at the NIDA; the Canada Research Chair's program (to M.D.I.); a Natural Sciences and Engineering Research Council of Canada Discovery Grant (to M.D.I.); a Natural Sciences and Engineering Research Council of Canada Undergraduate Student Research Award (to E.J.P.M.); and a Concordia University Undergraduate Research Award (to A.A.U.). The opinions expressed in this article are our own and do not reflect the view of the NIH/DHHS.
Ethics declarations
Competing interests
The authors declare no competing interests.
Additional information
Peer review information Nature Neuroscience thanks S. Floresco and the other, anonymous, reviewer(s) for their contribution to the peer review of this work.
Publisher's note Springer Nature remains neutral with regard to jurisdictional claims in published maps and institutional affiliations.
Supplementary information
Code used for the simulations presented in the article.
About this article
Cite this article
Maes, E.J.P., Sharpe, M.J., Usypchuk, A.A. et al. Causal evidence supporting the proposal that dopamine transients function as temporal difference prediction errors. Nat Neurosci 23, 176–178 (2020). https://doi.org/10.1038/s41593-019-0574-1
Received:

Accepted:

Published:

Issue Date: