Abstract
Monoamine oxidase (MAO) metabolizes cytosolic dopamine (DA), thereby limiting auto-oxidation, but is also thought to generate cytosolic hydrogen peroxide (H2O2). We show that MAO metabolism of DA does not increase cytosolic H2O2 but leads to mitochondrial electron transport chain (ETC) activity. This is dependent upon MAO anchoring to the outer mitochondrial membrane and shuttling electrons through the intermembrane space to support the bioenergetic demands of phasic DA release.
Access options
Subscribe to Journal
Get full journal access for 1 year
$209.00
only $17.42 per issue
All prices are NET prices.
VAT will be added later in the checkout.
Rent or Buy article
Get time limited or full article access on ReadCube.
from$8.99
All prices are NET prices.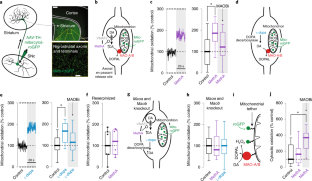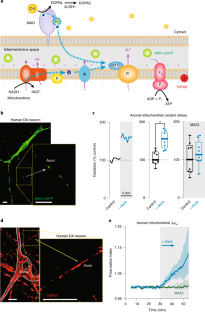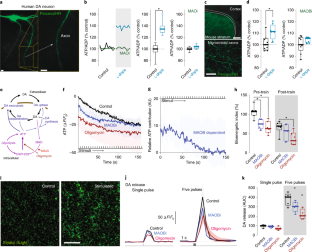 Data availability
Data from this study are available from the corresponding author upon reasonable request.
Code availability
Analysis routines and code are available from the corresponding author upon reasonable request.
References
1.

Segura-Aguilar, J. et al. Protective and toxic roles of dopamine in Parkinson's disease. J. Neurochem. 129, 898–915 (2014).

2.

Fahn, S. & Cohen, G. The oxidant stress hypothesis in Parkinson's disease: evidence supporting it. Ann. Neurol. 32, 804–812 (1992).

3.

Kaludercic, N., Deshwal, S. & Di Lisa, F. Reactive oxygen species and redox compartmentalization. Front. Physiol. 5, 285 (2014).

4.

Dooley, C. T. et al. Imaging dynamic redox changes in mammalian cells with green fluorescent protein indicators. J. Biol. Chem. 279, 22284–22293 (2004).

5.

Sulzer, D., Sonders, M. S., Poulsen, N. W. & Galli, A. Mechanisms of neurotransmitter release by amphetamines: a review. Prog. Neurobiol. 75, 406–433 (2005).

6.

Mosharov, E. V., Gong, L. W., Khanna, B., Sulzer, D. & Lindau, M. Intracellular patch electrochemistry: regulation of cytosolic catecholamines in chromaffin cells. J. Neurosci. 23, 5835–5845 (2003).

7.

Mosharov, E. V. et al. Interplay between cytosolic dopamine, calcium, and ɑ-synuclein causes selective death of substantia nigra neurons. Neuron 62, 218–229 (2009).

8.

Woodard, C. M. et al. iPSC-derived dopamine neurons reveal differences between monozygotic twins discordant for Parkinson's disease. Cell Rep. 9, 1173–1182 (2014).

9.

Chen, K., Holschneider, D. P., Wu, W., Rebrin, I. & Shih, J. C. A spontaneous point mutation produces monoamine oxidase A/B knock-out mice with greatly elevated monoamines and anxiety-like behavior. J. Biol. Chem. 279, 39645–39652 (2004).

10.

Brand, M. D. Mitochondrial generation of superoxide and hydrogen peroxide as the source of mitochondrial redox signaling. Free Radic. Biol. Med .100, 14–31 (2016).

11.

Sabharwal, S. S., Waypa, G. B., Marks, J. D. & Schumacker, P. T. Peroxiredoxin-5 targeted to the mitochondrial intermembrane space attenuates hypoxia-induced reactive oxygen species signalling. Biochem. J. 456, 337–346 (2013).

12.

Tantama, M., Martinez-Francois, J. R., Mongeon, R. & Yellen, G. Imaging energy status in live cells with a fluorescent biosensor of the intracellular ATP-to-ADP ratio. Nat. Commun. 4, 2550 (2013).

13.

Youdim, M. B., Edmondson, D. & Tipton, K. F. The therapeutic potential of monoamine oxidase inhibitors. Nat. Rev. Neurosci. 7, 295–309 (2006).

14.

Wimalasena, K. Vesicular monoamine transporters: structure–function, pharmacology, and medicinal chemistry. Med. Res. Rev. 31, 483–519 (2011).

15.

Patriarchi, T. et al. Ultrafast neuronal imaging of dopamine dynamics with designed genetically encoded sensors. Science 360, eaat4422 (2018).

16.

Ashrafi, G. & Ryan, T. A. Glucose metabolism in nerve terminals. Curr .Opin. Neurobiol. 45, 156–161 (2017).

17.

Schultz, W. Multiple dopamine functions at different time courses. Annu. Rev. Neurosci. 30, 259–288 (2007).

18.

Schultz, W. Reward functions of the basal ganglia. J. Neural. Transm. 123, 679–693 (2016).

19.

Tsai, H. C. et al. Phasic firing in dopaminergic neurons is sufficient for behavioral conditioning. Science 324, 1080–1084 (2009).

20.

Gerfen, C. R. & Surmeier, D. J. Modulation of striatal projection systems by dopamine. Annu. Rev. Neurosci. 34, 441–466 (2011).

21.

Guzman, J. N. et al. Oxidant stress evoked by pacemaking in dopaminergic neurons is attenuated by DJ-1. Nature 468, 696–700 (2010).

22.

Brichta, L. et al. Identification of neurodegenerative factors using translatome-regulatory network analysis. Nat. Neurosci. 18, 1325–1333 (2015).

23.

Mazzulli, J. R. et al. Gaucher disease glucocerebrosidase and ɑ-synuclein form a bidirectional pathogenic loop in synucleinopathies. Cell 146, 37–52 (2011).

24.

Cooper, O. et al. Pharmacological rescue of mitochondrial deficits in iPSC-derived neural cells from patients with familial Parkinson's disease. Sci. Transl. Med. 4, 141ra190 (2012).

25.

Burbulla, L. F. et al. Dopamine oxidation mediates mitochondrial and lysosomal dysfunction in Parkinson's disease. Science 357, 1255–1261 (2017).

26.

Dryanovski, D. I. et al. Calcium entry and ɑ-synuclein inclusions elevate dendritic mitochondrial oxidant stress in dopaminergic neurons. J. Neurosci. 33, 10154–10164 (2013).

27.

Heiman, M., Kulicke, R., Fenster, R. J., Greengard, P. & Heintz, N. Cell type-specific mRNA purification by translating ribosome affinity purification (TRAP). Nat. Protoc. 9, 1282–1291 (2014).
Acknowledgements
This study was supported by grants from the JPB Foundation, the IDP Foundation, the Michael J. Fox Foundation and the NIH (NS047085) to D.J.S.; an NIH grant (NS076054) to D.K.; an NIH grant (DA039253) and a Northwestern Memorial Foundation grant to S.M.G.; the Boyd and Elsi Welin Professorship and Tsai Family Fund to J.C.S.; and NIH grants U01NS103522, U01NS090604 and DPMH107056 to L.T. The authors thank the Northwestern Center for Advanced Microscopy (supported by National Cancer Center Support Grant P30 CA060553) for assistance.
Ethics declarations
Competing interests
The authors declare no competing interests.
Additional information
Peer review information Nature Neuroscience thanks Elizabeth Jonas and the other, anonymous, reviewer(s) for their contribution to the peer review of this work.
Publisher's note Springer Nature remains neutral with regard to jurisdictional claims in published maps and institutional affiliations.
Supplementary information
About this article
Cite this article
Graves, S.M., Xie, Z., Stout, K.A. et al. Dopamine metabolism by a monoamine oxidase mitochondrial shuttle activates the electron transport chain. Nat Neurosci 23, 15–20 (2020). https://doi.org/10.1038/s41593-019-0556-3
Received:

Accepted:

Published:

Issue Date: