Abstract
The prefrontal cortex (PFC) is implicated in processing of the affective state of others through non-verbal communication. This social cognitive function is thought to rely on an intact cortical neuronal excitatory and inhibitory balance. Here combining in vivo electrophysiology with a behavioral task for affective state discrimination in mice, we show a differential activation of medial PFC (mPFC) neurons during social exploration that depends on the affective state of the conspecific. Optogenetic manipulations revealed a double dissociation between the role of interneurons in social cognition. Specifically, inhibition of mPFC somatostatin (SOM+), but not of parvalbumin (PV+) interneurons, abolishes affective state discrimination. Accordingly, synchronized activation of mPFC SOM+ interneurons selectively induces social discrimination. As visualized by in vivo single-cell microendoscopic Ca2+ imaging, an increased synchronous activity of mPFC SOM+ interneurons, guiding inhibition of pyramidal neurons, is associated with affective state discrimination. Our findings provide new insights into the neurobiological mechanisms of affective state discrimination.
Access options
Subscribe to Journal
Get full journal access for 1 year
$59.00
only $4.92 per issue
All prices are NET prices.
VAT will be added later in the checkout.
Tax calculation will be finalised during checkout.
Rent or Buy article
Get time limited or full article access on ReadCube.
from$8.99
All prices are NET prices.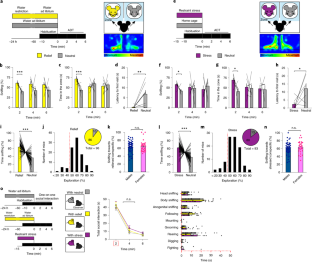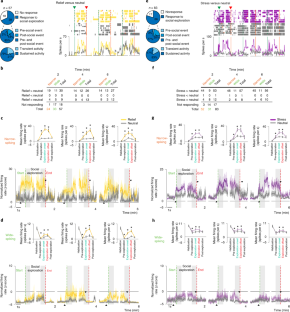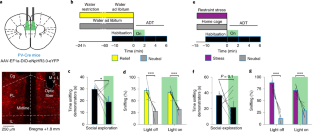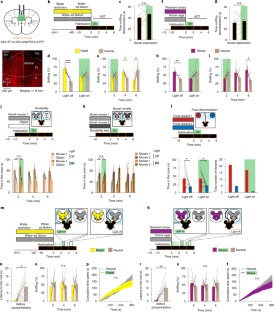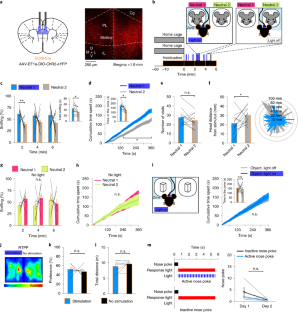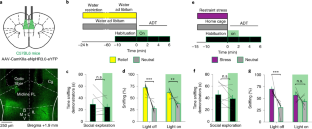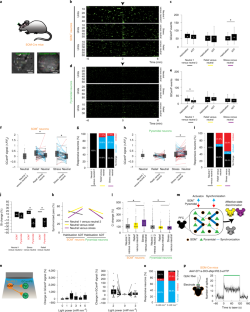 Data availability
The data sets generated and analyzed in the current study are available from the corresponding author on reasonable request.
Code availability
All custom-written analysis code is available from the corresponding author on reasonable request.
References
1.

Henry, J. D., von Hippel, W., Molenberghs, P., Lee, T. & Sachdev, P. S. Clinical assessment of social cognitive function in neurological disorders. Nat. Rev. Neurol. 12, 28–39 (2016).

2.

Heide, J. et al. Differential response to risperidone in schizophrenia patients by KCNH2 genotype and drug metabolizer status. Am. J. Psychiatry 173, 53–59 (2016).

3.

Barak, B. & Feng, G. Neurobiology of social behavior abnormalities in autism and Williams syndrome. Nat. Neurosci. 19, 647–655 (2016).

4.

Kennedy, D. P. & Adolphs, R. Perception of emotions from facial expressions in high-functioning adults with autism. Neuropsychologia 50, 3313–3319 (2012).

5.

Green, M. F., Horan, W. P. & Lee, J. Social cognition in schizophrenia. Nat. Rev. Neurosci. 16, 620–631 (2015).

6.

Fett, A.-K. J. et al. The relationship between neurocognition and social cognition with functional outcomes in schizophrenia: a meta-analysis. Neurosci. Biobehav. Rev. 35, 573–588 (2011).

7.

Adolphs, R. Recognizing emotion from facial expressions: psychological and neurological mechanisms. Behav. Cogn. Neurosci. Rev. 1, 21–62 (2002).

8.

Adolphs, R. et al. A mechanism for impaired fear recognition after amygdala damage. Nature 433, 68 (2005).

9.

Frith, C. D. & Frith, U. Mechanisms of social cognition. Annu. Rev. Psychol. 63, 287–313 (2011).

10.

Adolphs, R. The social brain: neural basis of social knowledge. Annu. Rev. Psychol. 60, 693–716 (2009).

11.

Monte, O. D. et al. A voxel-based lesion study on facial emotion recognition after penetrating brain injury. Soc. Cogn. Affect. Neurosci. 8, 632–639 (2013).

12.

Hiser, J. & Koenigs, M. The multifaceted role of the ventromedial prefrontal cortex in emotion, decision making, social cognition, and psychopathology. Biol. Psychiatry 15, 638–647 (2018).

13.

Isaacson, J. S. & Scanziani, M. How inhibition shapes cortical activity. Neuron 72, 231–243 (2011).

14.

Kepecs, A. & Fishell, G. Interneuron cell types are fit to function. Nature 505, 318–326 (2014).

15.

Rubenstein, J. L. R. & Merzenich, M. M. Model of autism: increased ratio of excitation / inhibition in key neural systems. Brain 2, 255–267 (2003).

16.

Hussman, J. P. Suppressed GABAergic inhibition as a common factor in suspected etiologies of autism. J. Autism Dev. Disord. 31, 247–248 (2001).

17.

Hashemi, E., Ariza, J., Rogers, H., Noctor, S. C. & Martínez-Cerdeño, V. The number of parvalbumin-expressing interneurons is decreased in the medial prefrontal cortex in autism. Cereb. Cortex 27, 1931–1943 (2017).

18.

Fatemi, S. H. et al. mRNA and protein levels for GABAAα4, α5, β1 and GABABR1 receptors are altered in brains from subjects with autism. J. Autism Dev. Disord. 40, 743–750 (2010).

19.

Harada, M. et al. Non-invasive evaluation of the GABAergic/glutamatergic system in autistic patients observed by MEGA-editing proton MR spectroscopy using a clinical 3 Tesla instrument. J. Autism Dev. Disord. 41, 447–454 (2011).

20.

Yizhar, O. et al. Neocortical excitation/inhibition balance in information processing and social dysfunction. Nature 477, 171–178 (2011).

21.

Franklin, T. B. et al. Prefrontal cortical control of a brainstem social behavior circuit. Nat. Neurosci. 20, 260–270 (2017).

22.

Keum, S. et al. A missense variant at the Nrxn3 locus enhances empathy fear in the mouse. Neuron 98, 588–601.e5 (2018).

23.

Carrillo, M. et al. Emotional mirror neurons in the rat's anterior cingulate cortex. Curr. Biol. 29, 1301–1312.e6 (2019).

24.

Wang, F. Bidirectional control of social hierarchy by synaptic efficacy in medial prefrontal cortex. Science 334, 693–697 (2011).

25.

Zhou, T. et al. History of winning remodels thalamo-PFC circuit to reinforce social dominance. Science 357, 162–168 (2017).

26.

Amadei, E. A. et al. Dynamic corticostriatal activity biases social bonding in monogamous female prairie voles. Nature 546, 297–301 (2017).

27.

Ferretti, V. et al. Oxytocin signaling in the central amygdala modulates emotion discrimination in mice. Curr. Biol. 29, 1938–1953.e6 (2019).

28.

Stark, E. et al. Inhibition-induced theta resonance in cortical circuits. Neuron 80, 1263–1276 (2013).

29.

Spunt, R. P., Ellsworth, E. & Adolphs, R. The neural basis of understanding the expression of the emotions in man and animals. Soc. Cogn. Affect. Neurosci. 12, 95–105 (2017).

30.

Portfors, C. V. Types and functions of ultrasonic vocalizations in laboratory rats and mice. J. Am. Assoc. Lab. Anim. Sci. 46, 28–34 (2007).

31.

Abbas, A. I. et al. Somatostatin interneurons facilitate hippocampal-prefrontal synchrony and prefrontal spatial encoding. Neuron 100, 926–939 (2018).

32.

Crawley, J. N. Mouse behavioral assays relevant to the symptoms of autism. Brain Pathol. 17, 448–459 (2007).

33.

Liguz-Lecznar, M., Urban-Ciecko, J. & Kossut, M. Somatostatin and somatostatin-containing neurons in shaping neuronal activity and plasticity. Front. Neural Circuits 10, 1–15 (2016).

34.

Stark, E. et al. Pyramidal cell-interneuron interactions underlie hippocampal ripple oscillations. Neuron 83, 467–480 (2014).

35.

Veit, J., Hakim, R., Jadi, M. P., Sejnowski, T. J. & Adesnik, H. Cortical gamma band synchronization through somatostatin interneurons. Nat. Neurosci. 20, 951–959 (2017).

36.

Lee, E. et al. Enhanced neuronal activity in the medial prefrontal cortex during social approach behavior. J. Neurosci. 36, 6926–6936 (2016).

37.

Sterley, T.-L. et al. Social transmission and buffering of synaptic changes after stress. Nat. Neurosci. 21, 393–403 (2018).

38.

Rogers-Carter, M. M. et al. Insular cortex mediates approach and avoidance responses to social affective stimuli. Nat. Neurosci. 21, 404–414 (2018).

39.

Pfeffer, C. K., Xue, M., He, M., Huang, Z. J. & Scanziani, M. Inhibition of inhibition in visual cortex: the logic of connections between molecularly distinct interneurons. Nat. Neurosci. 16, 1068–1076 (2013).

40.

Kubota, Y. Untangling GABAergic wiring in the cortical microcircuit. Curr. Opin. Neurobiol. 26, 7–14 (2014).

41.

Marlin, J. J. & Carter, A. G. GABA-A receptor inhibition of local calcium signaling in spines and dendrites. J. Neurosci. 34, 15898–15911 (2014).

42.

Selimbeyoglu, A. et al. Modulation of prefrontal cortex excitation / inhibition balance rescues social behavior in CNTNAP2-deficient mice. Sci. Transl. Med. 9, eaah6733 (2017).

43.

McGarry, L. M. & Carter, A. G. Inhibitory gating of basolateral amygdala inputs to the prefrontal cortex. J. Neurosci. 36, 9391–9406 (2016).

44.

Namburi, P. et al. A circuit mechanism for differentiating positive and negative associations. Nature 520, 675–678 (2015).

45.

Terburg, D. et al. The basolateral amygdala is essential for rapid escape: a human and rodent study. Cell 175, 723–735.e16 (2018).

46.

Nakajima, M., Görlich, A. & Heintz, N. Oxytocin modulates female sociosexual behavior through a specific class of prefrontal cortical interneurons. Cell 159, 295–305 (2014).

47.

Huang, H. et al. Chronic and acute intranasal oxytocin produce divergent social effects in mice. Neuropsychopharmacology 39, 1102–1114 (2014).

48.

Raam, T., McAvoy, K. M., Besnard, A., Veenema, A. H. & Sahay, A. Hippocampal oxytocin receptors are necessary for discrimination of social stimuli. Nat. Commun. 8, 2001 (2017).

49.

Oettl, L. L. et al. Oxytocin enhances social recognition by modulating cortical control of early olfactory processing. Neuron 90, 609–621 (2016).

50.

Domes, G. et al. Oxytocin attenuates amygdala responses to emotional faces regardless of valence. Biol. Psychiatry 62, 1187–1190 (2007).

51.

Murugan, M. et al. Combined social and spatial coding in a descending projection from the prefrontal cortex. Cell 171, 1663–1677.e16 (2017).

52.

Brockhurst, J., Cheleuitte-Nieves, C., Buckmaster, C. L., Schatzberg, A. F. & Lyons, D. M. Stress inoculation modeled in mice. Transl. Psychiatry 5, e537 (2015).

53.

Managò, F. et al. Genetic disruption of Arc/Arg3.1 in mice causes alterations in dopamine and neurobehavioral phenotypes related to schizophrenia. Cell Rep. 16, 2116–2128 (2016).

54.

Paxinos, G. & Franklin, K. B. J. The Mouse Brain in Stereotaxic Coordinates, 2nd edn. (Elsevier/Academic Press, 2001).

55.

Rossant, C. et al. Spike sorting for large, dense electrode arrays. Nat. Neurosci. 19, 634–641 (2016).

56.

Hazan, L., Zugaro, M. & Buzsáki, G. Klusters, NeuroScope, NDManager: a free software suite for neurophysiological data processing and visualization. J. Neurosci. Methods 155, 207–216 (2006).

57.

Barthó, P. et al. Ongoing network state controls the length of sleep spindles via inhibitory activity. Neuron 82, 1367–1379 (2014).

58.

Likhtik, E., Pelletier, J. G., Popescu, A. T. & Paré, D. Identification of basolateral amygdala projection cells and interneurons using extracellular recordings. J. Neurophysiol. 96, 3257–3265 (2006).

59.

Chen, T.-W. et al. Ultrasensitive fluorescent proteins for imaging neuronal activity. Nature 499, 295–300 (2013).

60.

Cutts, C. S. & Eglen, S. J. Detecting pairwise correlations in spike trains: An objective comparison of methods and application to the study of retinal waves. J. Neurosci. 34, 14288–14303 (2014).
Acknowledgements
We thank M. Morini, D. Cantatore, R. Navone, G. Pruzzo, H. Huang, F. Torri, B. Chiarenza, A. Parodi, A. Monteforte, and C. Chiabrera at Istituto Italiano di Tecnologia and J. Zapata at Inscopix for technical support. The manuscript is certified by the Nature Research Editing Service for English copy editing. This work was supported by funding from the Istituto Italiano di Tecnologia and the Brain and Behavior Research Foundation (2015 NARSAD grant number 23234 to F.P. and 2018 NARSAD grant number 27829 to O.Y.).
Ethics declarations
Competing interests
The authors declare no competing interests.
Additional information
Peer review information Nature Neuroscience thanks Jaideep Bains, Meaghan Creed, and the other, anonymous, reviewer(s) for their contribution to the peer review of this work.
Publisher's note Springer Nature remains neutral with regard to jurisdictional claims in published maps and institutional affiliations.
Supplementary information
Supplementary Figures 1–6.
About this article
Cite this article
Scheggia, D., Managò, F., Maltese, F. et al. Somatostatin interneurons in the prefrontal cortex control affective state discrimination in mice. Nat Neurosci 23, 47–60 (2020). https://doi.org/10.1038/s41593-019-0551-8
Received:

Accepted:

Published:

Issue Date: