Abstract
Although genetics highlights the role of microglia in Alzheimer's disease, one-third of putative Alzheimer's disease risk genes lack adequate mouse orthologs. Here we successfully engraft human microglia derived from embryonic stem cells in the mouse brain. The cells recapitulate transcriptionally human primary microglia ex vivo and show expression of human-specific Alzheimer's disease risk genes. Oligomeric amyloid-β induces a divergent response in human versus mouse microglia. This model can be used to study the role of microglia in neurological diseases.
Access options
Subscribe to Journal
Get full journal access for 1 year
$59.00
only $4.92 per issue
All prices are NET prices.
VAT will be added later in the checkout.
Tax calculation will be finalised during checkout.
Rent or Buy article
Get time limited or full article access on ReadCube.
from$8.99
All prices are NET prices.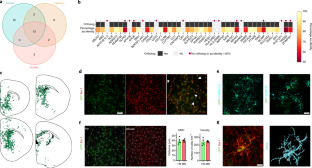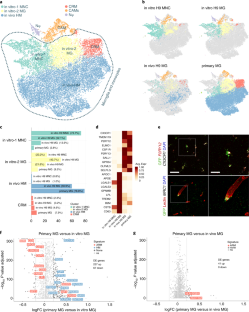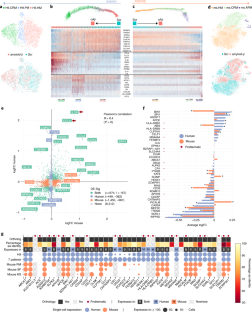 References
1.

Bohlen, C. J. et al. Diverse requirements for microglial survival, specification, and function revealed by defined-medium cultures. Neuron 94, 759–773.e8 (2017).

2.

De Strooper, B. & Karran, E. The cellular phase of alzheimer's disease. Cell 164, 603–615 (2016).

3.

Zerbino, D. R. et al. Ensembl 2018. Nucl. Acids Res. 46, D754–D761 (2018).

4.

Jansen, I. E. & et al. Genome-wide meta-analysis identifies new loci and functional pathways influencing Alzheimer's disease risk. Nat. Genet. 51, 404–413 (2019).

5.

Lambert, J. C. et al. Meta-analysis of 74,046 individuals identifies 11 new susceptibility loci for Alzheimer's disease. Nat. Genet. 45, 1452–1458 (2013).

6.

Kunkle, B. W. et al. Genetic meta-analysis of diagnosed Alzheimer's disease identifies new risk loci and implicates Aβ, tau, immunity and lipid processing. Nat. Genet. 51, 414–430 (2019).

7.

Claes, C. & et al. Human stem cell–derived monocytes and microglia-like cells reveal impaired amyloid plaque clearance upon heterozygous or homozygous loss of TREM2. Alzheimers Dement. 15, 453–464 (2019).

8.

Rathinam, C. et al. Efficient differentiation and function of human macrophages in humanized CSF-1 mice. Blood 118, 3119–3128 (2011).

9.

Hagemeyer, N. et al. Microglia contribute to normal myelinogenesis and to oligodendrocyte progenitor maintenance during adulthood. Acta Neuropathol. 134, 441–458 (2017).

10.

Davis, B. M., Salinas-Navarro, M., Cordeiro, M. F., Moons, L. & Groef, L. De. Characterizing microglia activation: a spatial statistics approach to maximize information extraction. Sci. Rep. 7, 1–12 (2017).

11.

Jordão, M. J. C. et al. Single-cell profiling identifies myeloid cell subsets with distinct fates during neuroinflammation. Science 363, eaat7554 (2019).

12.

Sala Frigerio, C. et al. The major risk factors for Alzheimer's disease: age, sex, and genes modulate the microglia response to Aβ plaques. Cell Rep. 27, 1293–1306.e6 (2019).

13.

Friedman, B. A. et al. Diverse brain myeloid expression profiles reveal distinct microglial activation states and aspects of alzheimer's disease not evident in mouse models. Cell Rep. 22, 832–847 (2018).

14.

Brouillette, J. et al. Neurotoxicity and memory deficits induced by soluble low-molecular-weight amyloid-β1-42 oligomers are revealed in vivo by using a novel animal model. J. Neurosci. 32, 7852–7861 (2012).

15.

Trapnell, C. et al. The dynamics and regulators of cell fate decisions are revealed by pseudotemporal ordering of single cells. Nat. Biotechnol. 32, 381–386 (2014).

16.

Keren-Shaul, H. et al. A unique microglia type associated with restricting development of alzheimer's disease. Cell 169, 1276–1290.e17 (2017).

17.

Marsh, S. E. et al. The adaptive immune system restrains Alzheimer's disease pathogenesis by modulating microglial function. Proc. Natl. Acad. Sci. USA 113, E1316–E1325 (2016).

18.

Shay, T. et al. Conservation and divergence in the transcriptional programs of the human and mouse immune systems. Proc. Natl. Acad. Sci. USA 110, 2946–2951 (2013).

19.

Butovsky, O. et al. Identification of a unique TGF-β-dependent molecular and functional signature in microglia. Nat. Neurosci. 17, 131–143 (2014).

20.

Bhaskar, K. et al. Regulation of tau pathology by the microglial fractalkine receptor. Neuron 68, 19–31 (2010).

21.

Deshmane, S. L., Kremlev, S., Amini, S. & Sawaya, B. E. Monocyte chemoattractant protein-1 (MCP-1): an overview. J. Interferon Cytokine Res. 29, 313–326 (2009).

22.

Abud, E. M. et al. iPSC-derived human microglia-like cells to study neurological diseases. Neuron 94, 278–293.e9 (2017).

23.

Espuny-Camacho, I. et al. Hallmarks of Alzheimer's disease in stem-cell-derived human neurons transplanted into mouse brain. Neuron 93, 1066–1081.e8 (2017).

24.

Kuperstein, I. et al. Neurotoxicity of Alzheimer's disease Aβ peptides is induced by small changes in the Aβ42 to Aβ40 ratio. EMBO J. 29, 3408–3420 (2010).

25.

Stuart, T. et al. Comprehensive integration of single-cell data. Cell 177, 1888–1902.e21 (2019).

26.

Butler, A., Hoffman, P., Smibert, P., Papalexi, E. & Satija, R. Integrating single-cell transcriptomic data across different conditions, technologies, and species. Nat. Biotechnol. 36, 411–420 (2018).

27.

Qiu, X. et al. Reversed graph embedding resolves complex single-cell trajectories. Nat. Methods 14, 979–982 (2017).

28.

Eden, E., Navon, R., Steinfeld, I., Lipson, D. & Yakhini, Z. GOrilla: a tool for discovery and visualization of enriched GO terms in ranked gene lists. BMC Bioinform. 10, 1–7 (2009).
Acknowledgements
Work in the laboratory of B.D.S. was supported by the European Union (grant no. ERC-834682 CELLPHASE_AD), the Fonds voor Wetenschappelijk Onderzoek, KU Leuven, Flanders Institute for Biotechnology, UK Dementia Research Institute (Medical Research Council, Alzheimer's Research UK and Alzheimer's Society), a Methusalem grant from KU Leuven and the Flemish Government, Vlaams Initiatief voor Netwerken voor Dementie Onderzoek (Strategic Basic Research Grant no. 135043), the 'Geneeskundige Stichting Koningin Elisabeth', Opening the Future campaign of the Leuven Universitair Fonds, the Belgian Alzheimer Research Foundation and the Alzheimer's Association USA. B.D.S. is holder of the Bax-Vanluffelen Chair for Alzheimer's Disease. B.D.S. receives funding from the Medical Research Council, the Alzheimer's Society and Alzheimer's Research UK via the Dementia Research Institute. Cell sorting was performed at the KU Leuven FACS core facility, and sequencing was carried out by the Flanders Institute for Biotechnology Nucleomics Core. R.M. recieves funding from Fonds voor Wetenschappelijk Onderzoek (grant no.G0C9219N) and is a recipient of a postdoctoral fellowship from the Alzheimer's Association USA.
Ethics declarations
Competing interests
The authors declare no competing interests. B.D.S. receives grants from different companies that support his research and is a consultant for several companies, but nothing is directly related to the current publication.
Additional information
Peer review information Nature Neuroscience thanks Frederick Bennett and the other, anonymous, reviewer(s) for their contribution to the peer review of this work.
Publisher's note Springer Nature remains neutral with regard to jurisdictional claims in published maps and institutional affiliations.
Supplementary information
Supplementary Figs. 1 and 2.
Supplementary Tables 1–4.
About this article
Cite this article
Mancuso, R., Van Den Daele, J., Fattorelli, N. et al. Stem-cell-derived human microglia transplanted in mouse brain to study human disease. Nat Neurosci 22, 2111–2116 (2019). https://doi.org/10.1038/s41593-019-0525-x
Received:

Accepted:

Published:

Issue Date: