Abstract
The increased legal availability of cannabis has led to a common misconception that it is a safe natural remedy for, among others, pregnancy-related ailments such as morning sickness. Emerging clinical evidence, however, indicates that prenatal cannabis exposure (PCE) predisposes offspring to various neuropsychiatric disorders linked to aberrant dopaminergic function. Yet, our knowledge of how cannabis exposure affects the maturation of this neuromodulatory system remains limited. Here, we show that male, but not female, offspring of Δ9-tetrahydrocannabinol (THC)-exposed dams, a rat PCE model, exhibit extensive molecular and synaptic changes in dopaminergic neurons of the ventral tegmental area, including altered excitatory-to-inhibitory balance and switched polarity of long-term synaptic plasticity. The resulting hyperdopaminergic state leads to increased behavioral sensitivity to acute THC exposure during pre-adolescence. The neurosteroid pregnenolone, a US Food and Drug Administration (FDA) approved drug, rescues synaptic defects and normalizes dopaminergic activity and behavior in PCE offspring, thus suggesting a therapeutic approach for offspring exposed to cannabis during pregnancy.
Access options
Subscribe to Journal
Get full journal access for 1 year
$209.00
only $17.42 per issue
All prices are NET prices.
VAT will be added later in the checkout.
Rent or Buy article
Get time limited or full article access on ReadCube.
from$8.99
All prices are NET prices.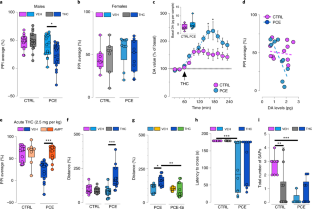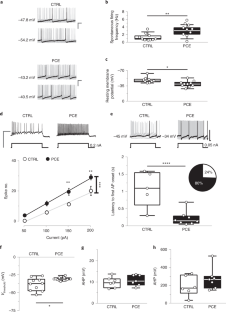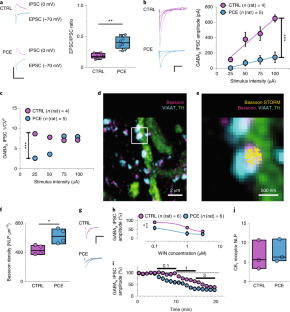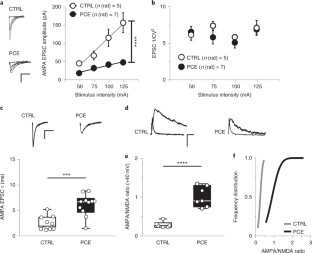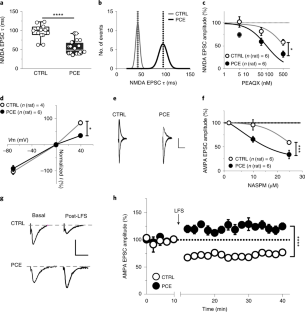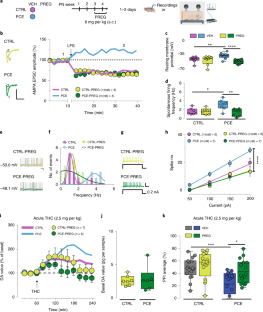 Data availability
The datasets generated and analyzed during the current study are available from the corresponding author upon reasonable request.
References
1.

Results from the 2010 National Survey on Drug Use and Health: Summary of National Findings (Substance Abuse and Mental Health Services Administration, 2011).

2.

Legal Topic Overviews: Possession of Cannabis for Personal Use (European Monitoring Centre for Drugs and Drug Addiction, 2012).

3.

Alpar, A., Di Marzo, V. & Harkany, T. At the tip of an iceberg: prenatal marijuana and its possible relation to neuropsychiatric outcome in the offspring. Biol. Psychiatry 79, e33–e45 (2016).

4.

Brown, Q. L. et al. Trends in marijuana use among pregnant and nonpregnant reproductive-aged women, 2002–2014. JAMA 317, 207–209 (2017).

5.

Dickson, B. et al. Recommendations from cannabis dispensaries about first-trimester cannabis use. Obstet. Gynecol. 131, 1031–1038 (2018).

6.

Volkow, N. D., Compton, W. M. & Wargo, E. M. The risks of marijuana use during Pregnancy. JAMA 317, 129–130 (2017).

7.

Jansson, L. M., Jordan, C. J. & Velez, M. L. Perinatal marijuana use and the developing child. JAMA 320, 545–546 (2018).

8.

Galve-Roperh, I. et al. Cannabinoid receptor signaling in progenitor/stem cell proliferation and differentiation. Prog. Lipid Res. 52, 633–650 (2013).

9.

Maccarrone, M., Guzman, M., Mackie, K., Doherty, P. & Harkany, T. Programming of neural cells by (endo)cannabinoids: from physiological rules to emerging therapies. Nat. Rev. Neurosci. 15, 786–801 (2014).

10.

Wu, C. S., Jew, C. P. & Lu, H. C. Lasting impacts of prenatal cannabis exposure and the role of endogenous cannabinoids in the developing brain. Future Neurol. 6, 459–480 (2011).

11.

Morris, C. V., DiNieri, J. A., Szutorisz, H. & Hurd, Y. L. Molecular mechanisms of maternal cannabis and cigarette use on human neurodevelopment. Eur. J. Neurosci. 34, 1574–1583 (2011).

12.

Huizink, A. C. Prenatal cannabis exposure and infant outcomes: overview of studies. Prog. Neuropsychopharmacol. Biol. Psychiatry 52, 45–52 (2014).

13.

De Genna, N. M., Richardson, G. A., Goldschmidt, L., Day, N. L. & Cornelius, M. D. Prenatal exposures to tobacco and cannabis: associations with adult electronic cigarette use. Drug Alcohol Depend. 188, 209–215 (2018).

14.

Fine, J. D. et al. Association of prenatal cannabis exposure with psychosis proneness among children in the adolescent brain cognitive development (ABCD) study. JAMA Psychiatry 7, 762–764 (2019).

15.

Volkow, N. D., Fowler, J. S., Wang, G. J. & Swanson, J. M. Dopamine in drug abuse and addiction: results from imaging studies and treatment implications. Mol. Psychiatry 9, 557–569 (2004).

16.

Grace, A. A. Dysregulation of the dopamine system in the pathophysiology of schizophrenia and depression. Nat. Rev. Neurosci. 17, 524–532 (2016).

17.

Bloomfield, M. A., Ashok, A. H., Volkow, N. D. & Howes, O. D. The effects of Δ9-tetrahydrocannabinol on the dopamine system. Nature 539, 369–377 (2016).

18.

Bourque, J., Afzali, M. H. & Conrod, P. J. Association of cannabis use with adolescent psychotic symptoms. JAMA Psychiatry 75, 864–866 (2018).

19.

Di Forti, M. et al. The contribution of cannabis use to variation in the incidence of psychotic disorder across Europe (EU-GEI): a multicentre case–control study. Lancet Psychiatry 6, 427–436 (2019).

20.

Buckholtz, J. W. et al. Mesolimbic dopamine reward system hypersensitivity in individuals with psychopathic traits. Nat. Neurosci. 13, 419–421 (2010).

21.

Geschwind, D. H. & Flint, J. Genetics and genomics of psychiatric disease. Science 349, 1489–1494 (2015).

22.

Insel, T. R. Rethinking schizophrenia. Nature 468, 187–193 (2010).

23.

Heffernan, A. L. & Hare, D. J. Tracing environmental exposure from neurodevelopment to neurodegeneration. Trends Neurosci. 41, 496–501 (2018).

24.

Richardson, K. A., Hester, A. K. & McLemore, G. L. Prenatal cannabis exposure—the "first hit" to the endocannabinoid system. Neurotoxicol. Teratol. 58, 5–14 (2016).

25.

Young-Wolff, K. C. et al. Trends in self-reported and biochemically tested marijuana use among pregnant females in california from 2009–2016. JAMA 318, 2490–2491 (2017).

26.

Wiley, J. L., O'Connell, M. M., Tokarz, M. E. & Wright, M. J. Jr. Pharmacological effects of acute and repeated administration of Δ9-tetrahydrocannabinol in adolescent and adult rats. J. Pharm. Exp. Ther. 320, 1097–1105 (2007).

27.

Mehmedic, Z. et al. Potency trends of Δ9-THC and other cannabinoids in confiscated cannabis preparations from 1993 to 2008. J. Forensic Sci. 55, 1209–1217 (2010).

28.

ElSohly, M. A. et al. Changes in cannabis potency over the last 2 decades (1995–2014): analysis of current data in the United States. Biol. Psychiatry 79, 613–619 (2016).

29.

McGorry, P. D., Hickie, I. B., Yung, A. R., Pantelis, C. & Jackson, H. J. Clinical staging of psychiatric disorders: a heuristic framework for choosing earlier, safer and more effective interventions. Aust. NZ J. Psychiatry 40, 616–622 (2006).

30.

Sherif, M., Radhakrishnan, R., D'Souza, D. C. & Ranganathan, M. Human laboratory studies on cannabinoids and psychosis. Biol. Psychiatry 79, 526–538 (2016).

31.

Braff, D. L., Swerdlow, N. R. & Geyer, M. A. Gating and habituation deficits in the schizophrenia disorders. Clin. Neurosci. 3, 131–139 (1995).

32.

Lammel, S., Ion, D. I., Roeper, J. & Malenka, R. C. Projection-specific modulation of dopamine neuron synapses by aversive and rewarding stimuli. Neuron 70, 855–862 (2011).

33.

Malinow, R. & Tsien, R. W. Presynaptic enhancement shown by whole-cell recordings of long-term potentiation in hippocampal slices. Nature 346, 177–180 (1990).

34.

Glebov, O. O. et al. Nanoscale structural plasticity of the active zone matrix modulates presynaptic function. Cell Rep. 18, 2715–2728 (2017).

35.

Lovinger, D. M. in Pharmacology of Neurotransmitter Release Vol. 184 (eds Südhof, T.C. & Starke, K.) 435–477 (Springer, 2008).

36.

Matyas, F. et al. Identification of the sites of 2-arachidonoylglycerol synthesis and action imply retrograde endocannabinoid signaling at both GABAergic and glutamatergic synapses in the ventral tegmental area. Neuropharmacology 54, 95–107 (2008).

37.

Melis, M. et al. Enhanced endocannabinoid-mediated modulation of rostromedial tegmental nucleus drive onto dopamine neurons in Sardinian alcohol-preferring rats. J. Neurosci. 34, 12716–12724 (2014).

38.

Bellone, C., Mameli, M. & Luscher, C. In utero exposure to cocaine delays postnatal synaptic maturation of glutamatergic transmission in the VTA. Nat. Neurosci. 14, 1439–1446 (2011).

39.

Hausknecht, K. et al. Excitatory synaptic function and plasticity is persistently altered in ventral tegmental area dopamine neurons after prenatal ethanol exposure. Neuropsychopharmacology 40, 893–905 (2015).

40.

Thomas, M. J., Malenka, R. C. & Bonci, A. Modulation of long-term depression by dopamine in the mesolimbic system. J. Neurosci. 20, 5581–5586 (2000).

41.

Yamaguchi, T., Sheen, W. & Morales, M. Glutamatergic neurons are present in the rat ventral tegmental area. Eur. J. Neurosci. 25, 106–118 (2007).

42.

Chieng, B., Azriel, Y., Mohammadi, S. & Christie, M. J. Distinct cellular properties of identified dopaminergic and GABAergic neurons in the mouse ventral tegmental area. J. Physiol. 589, 3775–3787 (2011).

43.

Marin, O. Developmental timing and critical windows for the treatment of psychiatric disorders. Nat. Med. 22, 1229–1238 (2016).

44.

Wong, P., Sze, Y., Chang, C. C., Lee, J. & Zhang, X. Pregnenolone sulfate normalizes schizophrenia-like behaviors in dopamine transporter knockout mice through the AKT/GSK3beta pathway. Transl Psychiatry 5, e528 (2015).

45.

Vallee, M. et al. Pregnenolone can protect the brain from cannabis intoxication. Science 343, 94–98 (2014).

46.

Wang, X., Dow-Edwards, D., Anderson, V., Minkoff, H. & Hurd, Y. L. In utero marijuana exposure associated with abnormal amygdala dopamine D2 gene expression in the human fetus. Biol. Psychiatry 56, 909–915 (2004).

47.

DiNieri, J. A. et al. Maternal cannabis use alters ventral striatal dopamine D2 gene regulation in the offspring. Biol. Psychiatry 70, 763–769 (2011).

48.

Kuepper, R. et al. Delta-9-tetrahydrocannabinol-induced dopamine release as a function of psychosis risk: 18F-fallypride positron emission tomography study. PLoS One 8, e70378 (2013).

49.

McGrath, J. et al. Association between cannabis use and psychosis-related outcomes using sibling pair analysis in a cohort of young adults. Arch. Gen. Psychiatry 67, 440–447 (2010).

50.

Compton, M. T. et al. Association of pre-onset cannabis, alcohol, and tobacco use with age at onset of prodrome and age at onset of psychosis in first-episode patients. Am. J. Psychiatry 166, 1251–1257 (2009).

51.

Capone, F., Bonsignore, L. T. & Cirulli, F. Methods in the analysis of maternal behavior in the rodent. Curr. Protoc. Toxicol. Chapter 13, Unit13.19 (2005).

52.

Frau, R. et al. Sleep deprivation disrupts prepulse inhibition of the startle reflex: reversal by antipsychotic drugs. Int. J. Neuropsychopharmacol. 11, 947–955 (2008).

53.

Godar, S. C. et al. Maladaptive defensive behaviours in monoamine oxidase A-deficient mice. Int. J. Neuropsychopharmacol. 14, 1195–1207 (2011).

54.

Frau, R. et al. The neurosteroidogenic enzyme 5α-reductase mediates psychotic-like complications of sleep deprivation. Neuropsychopharmacology 42, 2196–2205 (2017).

55.

Bortolato, M., Godar, S. C., Davarian, S., Chen, K. & Shih, J. C. Behavioral disinhibition and reduced anxiety-like behaviors in monoamine oxidase B-deficient mice. Neuropsychopharmacology 34, 2746–2757 (2009).

56.

Paxinos, G. & Watson, C. The Rat Brain in Stereotaxic Coordinates (Academic, 2007).

57.

Devoto, P., Flore, G., Longu, G., Pira, L. & Gessa, G. L. Origin of extracellular dopamine from dopamine and noradrenaline neurons in the medial prefrontal and occipital cortex. Synapse 50, 200–205 (2003).

58.

Melis, M., Camarini, R., Ungless, M. A. & Bonci, A. Long-lasting potentiation of GABAergic synapses in dopamine neurons after a single in vivo ethanol exposure. J. Neurosci. 22, 2074–2082 (2002).

59.

Johnson, S.W. & North, R. A. Two types of neurone in the rat ventral tegmental area and their synaptic inputs. J. Physiol. 450, 455–468 (1992).

60.

Ungless, M. A., Whistler, J. L., Malenka, R. C. & Bonci, A. Single cocaine exposure in vivo induces long-term potentiation in dopamine neurons. Nature 411, 583–587 (2001).

61.

Barna, L. et al. Correlated confocal and super-resolution imaging by VividSTORM. Nat. Protoc. 11, 163–183 (2016).

62.

Dani, A., Huang, B., Bergan, J., Dulac, C. & Zhuang, X. Superresolution imaging of chemical synapses in the brain. Neuron 68, 843–856 (2010).

63.

Huang, B., Jones, S. A., Brandenburg, B. & Zhuang, X. Whole-cell 3D STORM reveals interactions between cellular structures with nanometer-scale resolution. Nat. Methods 5, 1047–1052 (2008).

64.

Dudok, B. et al. Cell-specific STORM super-resolution imaging reveals nanoscale organization of cannabinoid signaling. Nat. Neurosci. 18, 75–86 (2015).

65.

Melis, M. et al. PPARα regulates cholinergic-driven activity of midbrain dopamine neurons via a novel mechanism involving α7 nicotinic acetylcholine receptors. J. Neurosci. 33, 6203–6211 (2013).
Acknowledgements
The authors thank R. Tonini and O. J. Manzoni for discussions and comments on the manuscript, and G. Talani, M. Pignatelli, M. Tuveri, S. Aramo, G. Giua and B. Tuveri for their skillful assistance. The authors are also grateful to L. Barna for his help with STORM microscopy images, and thank Nikon Europe, Nikon Austria and Auro-Science Consulting for kindly providing microscopy support. The present study was supported by the University of Cagliari (RICCAR 2017 and 2018 to M.M.), the Region of Sardinia (RASSR32909 to M.M. and F72F16002850002 to R.F.), the Fondazione Banco di Sardegna (F71I17000200002 to R.F.), the European Molecular Biology Organization (ASTF 371-2016 to C.S.), the Fondazione Zardi Gori (to C.S.), the National Institutes of Health (R01DA022340 to J.F.C., R01NS099457 to I.K. and R01DA044925 to J.F.C., M.M. and I.K.), the Hungarian Academy of Sciences Momentum Program (LP-54/2013 to I.K.), and the National Research, Development and Innovation Office of Hungary (VKSZ-14-1-2015-0155 to I.K.). The project was also funded by the Ministry of National Economy for STORM super-resolution microscopy (VEKOP-2.3.3-15-2016-00013 to I.K.).
Ethics declarations
Competing interests
The authors declare no competing interests.
Additional information
Peer review information Nature Neuroscience thanks Camilla Bellone, Paul Kenny, and the other, anonymous, reviewer(s) for their contribution to the peer review of this work.
Publisher's note Springer Nature remains neutral with regard to jurisdictional claims in published maps and institutional affiliations.
Integrated supplementary information
Supplementary information
Supplementary Figs. 1–13 and Supplementary Table 1.
About this article
Cite this article
Frau, R., Miczán, V., Traccis, F. et al. Prenatal THC exposure produces a hyperdopaminergic phenotype rescued by pregnenolone. Nat Neurosci 22, 1975–1985 (2019). https://doi.org/10.1038/s41593-019-0512-2
Received:

Accepted:

Published:

Issue Date: