Abstract
Learning drives behavioral adaptations necessary for survival. While plasticity of excitatory projection neurons during associative learning has been extensively studied, little is known about the contributions of local interneurons. Using fear conditioning as a model for associative learning, we found that behaviorally relevant, salient stimuli cause learning by tapping into a local microcircuit consisting of precisely connected subtypes of inhibitory interneurons. By employing deep-brain calcium imaging and optogenetics, we demonstrate that vasoactive intestinal peptide (VIP)-expressing interneurons in the basolateral amygdala are activated by aversive events and provide a mandatory disinhibitory signal for associative learning. Notably, VIP interneuron responses during learning are strongly modulated by expectations. Our findings indicate that VIP interneurons are a central component of a dynamic circuit motif that mediates adaptive disinhibitory gating to specifically learn about unexpected, salient events, thereby ensuring appropriate behavioral adaptations.
Access options
Subscribe to Journal
Get full journal access for 1 year
$225.00
only $18.75 per issue
All prices are NET prices.
VAT will be added later in the checkout.
Rent or Buy article
Get time limited or full article access on ReadCube.
from$8.99
All prices are NET prices.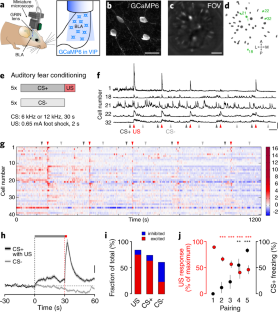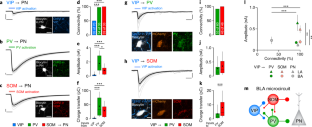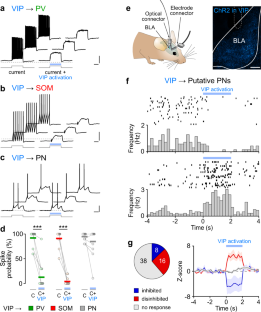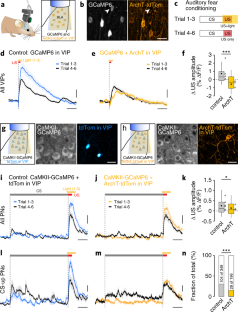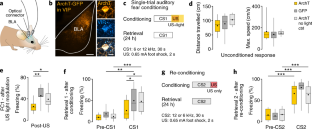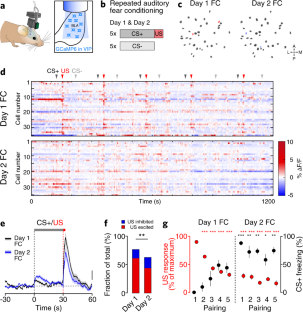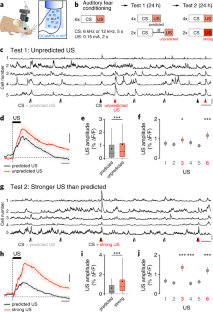 Data availability
Data from this study as well as material from custom products are available from the corresponding authors upon request.
Code availability
Custom-written codes used to analyze data from this study are available from the corresponding authors upon request.
References
1.

Froemke, R. C. Plasticity of cortical excitatory–inhibitory balance. Annu. Rev. Neurosci. 38, 195–219 (2015).

2.

Kepecs, A. & Fishell, G. Interneuron cell types are fit to function. Nature 505, 318–326 (2014).

3.

Tovote, P., Fadok, J. P. & Lüthi, A. Neuronal circuits for fear and anxiety. Nat. Rev. Neurosci. 16, 317–331 (2015).

4.

LeDoux, J. E. Emotion circuits in the brain. Annu. Rev. Neurosci. 23, 155–184 (2000).

5.

Ozawa, T. & Johansen, J. P. Learning rules for aversive associative memory formation. Curr. Opin. Neurobiol. 49, 148–157 (2018).

6.

McNally, G. P., Johansen, J. P. & Blair, H. T. Placing prediction into the fear circuit. Trends Neurosci. 34, 283–292 (2011).

7.

Krabbe, S., Gründemann, J. & Lüthi, A. Amygdala inhibitory circuits regulate associative fear conditioning. Biol. Psychiatry 83, 800–809 (2018).

8.

Wolff, S. B. E. et al. Amygdala interneuron subtypes control fear learning through disinhibition. Nature 509, 453–458 (2014).

9.

Johansen, J. P. et al. Optical activation of lateral amygdala pyramidal cells instructs associative fear learning. Proc. Natl Acad. Sci. USA 107, 12692–12697 (2010).

10.

Pfeffer, C. K., Xue, M., He, M., Huang, Z. J. & Scanziani, M. Inhibition of inhibition in visual cortex: the logic of connections between molecularly distinct interneurons. Nat. Neurosci. 16, 1068–1076 (2013).

11.

Pi, H. J. et al. Cortical interneurons that specialize in disinhibitory control. Nature 503, 521–524 (2013).

12.

Muller, J. F., Mascagni, F. & McDonald, A. J. Synaptic connections of distinct interneuronal subpopulations in the rat basolateral amygdalar nucleus. J. Comp. Neurol. 456, 217–236 (2003).

13.

Rhomberg, T. et al. VIP-immunoreactive interneurons within circuits of the mouse basolateral amygdala. J. Neurosci. 38, 6983–7003 (2018).

14.

Grewe, B. F. et al. Neural ensemble dynamics underlying a long-term associative memory. Nature 543, 670–675 (2017).

15.

Gründemann, J. et al. Amygdala ensembles encode behavioral states. Science 364, eaav8736 (2019).

16.

Bienvenu, T. C. M., Busti, D., Magill, P. J., Ferraguti, F. & Capogna, M. Cell-type-specific recruitment of amygdala interneurons to hippocampal theta rhythm and noxious stimuli in vivo. Neuron 74, 1059–1074 (2012).

17.

Lanuza, E., Nader, K. & LeDoux, J. E. Unconditioned stimulus pathways to the amygdala: effects of posterior thalamic and cortical lesions on fear conditioning. Neuroscience 125, 305–315 (2004).

18.

Berret, E. et al. Insular cortex processes aversive somatosensory information and is crucial for threat learning. Science 364, eaaw0474 (2019).

19.

Jiang, X. et al. Principles of connectivity among morphologically defined cell types in adult neocortex. Science 350, aac9462 (2015).

20.

Letzkus, J. J., Wolff, S. B. E. & Lüthi, A. Disinhibition, a circuit mechanism for associative learning and memory. Neuron 88, 264–276 (2015).

21.

Sengupta, A. et al. Basolateral amygdala neurons maintain aversive emotional salience. J. Neurosci. 38, 3001–3012 (2018).

22.

Francavilla, R. et al. Connectivity and network state-dependent recruitment of long-range VIP-GABAergic neurons in the mouse hippocampus. Nat. Commun. 9, 5043 (2018).

23.

Senn, V. et al. Long-range connectivity defines behavioral specificity of amygdala neurons. Neuron 81, 428–437 (2014).

24.

Vogel, E., Krabbe, S., Gründemann, J., Wamsteeker Cusulin, J. I. & Lüthi, A. Projection-specific dynamic regulation of inhibition in amygdala micro-circuits. Neuron 91, 644–651 (2016).

25.

Varga, C., Lee, S. Y. & Soltesz, I. Target-selective GABAergic control of entorhinal cortex output. Nat. Neurosci. 13, 822–824 (2010).

26.

Lu, J. et al. Selective inhibitory control of pyramidal neuron ensembles and cortical subnetworks by chandelier cells. Nat. Neurosci. 20, 1377–1383 (2017).

27.

Herry, C. et al. Switching on and off fear by distinct neuronal circuits. Nature 454, 600–606 (2008).

28.

Quirk, G. J., Repa, C. & LeDoux, J. E. Fear conditioning enhances short-latency auditory responses of lateral amygdala neurons: parallel recordings in the freely behaving rat. Neuron 15, 1029–1039 (1995).

29.

Gambino, F. et al. Sensory-evoked LTP driven by dendritic plateau potentials in vivo. Nature 515, 116–119 (2014).

30.

Johansen, J. P. et al. Hebbian and neuromodulatory mechanisms interact to trigger associative memory formation. Proc. Natl Acad. Sci. USA 111, E5584–E5592 (2014).

31.

Humeau, Y. et al. Dendritic spine heterogeneity determines afferent-specific Hebbian plasticity in the amygdala. Neuron 45, 119–131 (2005).

32.

Shin, R.-M., Tsvetkov, E. & Bolshakov, V. Y. Spatiotemporal asymmetry of associative synaptic plasticity in fear conditioning pathways. Neuron 52, 883–896 (2006).

33.

Shaban, H. et al. Generalization of amygdala LTP and conditioned fear in the absence of presynaptic inhibition. Nat. Neurosci. 9, 1028–1035 (2006).

34.

Morrison, D. J. et al. Parvalbumin interneurons constrain the size of the lateral amygdala engram. Neurobiol. Learn. Mem. 135, 91–99 (2016).

35.

Hangya, B., Ranade, S. P., Lorenc, M. & Kepecs, A. Central cholinergic neurons are rapidly recruited by reinforcement feedback. Cell 162, 1155–1168 (2015).

36.

Fu, Y. et al. A cortical circuit for gain control by behavioral state. Cell 156, 1139–1152 (2014).

37.

Letzkus, J. J. et al. A disinhibitory microcircuit for associative fear learning in the auditory cortex. Nature 480, 331–335 (2011).

38.

Bromberg-Martin, E. S., Matsumoto, M. & Hikosaka, O. Dopamine in motivational control: rewarding, aversive, and alerting. Neuron 68, 815–834 (2010).

39.

Lin, S.-C. & Nicolelis, M. A. L. Neuronal ensemble bursting in the basal forebrain encodes salience irrespective of valence. Neuron 59, 138–149 (2008).

40.

Tye, K. M., Stuber, G. D., de Ridder, B., Bonci, A. & Janak, P. H. Rapid strengthening of thalamo-amygdala synapses mediates cue-reward learning. Nature 453, 1253–1257 (2008).

41.

Shabel, S. J. & Janak, P. H. Substantial similarity in amygdala neuronal activity during conditioned appetitive and aversive emotional arousal. Proc. Natl Acad. Sci. USA 106, 15031–15036 (2009).

42.

Belova, M. A., Paton, J. J., Morrison, S. E. & Salzman, C. D. Expectation modulates neural responses to pleasant and aversive stimuli in primate amygdala. Neuron 55, 970–984 (2007).

43.

Beyeler, A. et al. Divergent routing of positive and negative information from the amygdala during memory retrieval. Neuron 90, 348–361 (2016).

44.

Kim, J., Pignatelli, M., Xu, S., Itohara, S. & Tonegawa, S. Antagonistic negative and positive neurons of the basolateral amygdala. Nat. Neurosci. 19, 1636–1646 (2016).

45.

Johansen, J. P., Tarpley, J. W., LeDoux, J. E. & Blair, H. T. Neural substrates for expectation-modulated fear learning in the amygdala and periaqueductal gray. Nat. Neurosci. 13, 979–986 (2010).

46.

Pakan, J. M. et al. Behavioral-state modulation of inhibition is context-dependent and cell type specific in mouse visual cortex. eLife 5, 79 (2016).

47.

Dipoppa, M. et al. Vision and locomotion shape the interactions between neuron types in mouse visual cortex. Neuron 98, 602–615.e8 (2018).

48.

Kuchibhotla, K. V. et al. Parallel processing by cortical inhibition enables context-dependent behavior. Nat. Neurosci. 20, 62–71 (2017).

49.

Burgess, C. R. et al. Hunger-dependent enhancement of food cue responses in mouse postrhinal cortex and lateral amygdala. Neuron 91, 1154–1169 (2016).

50.

Calhoon, G. G. et al. Acute food deprivation rapidly modifies valence-coding microcircuits in the amygdala. Preprint at bioRxiv https://doi.org/10.1101/285189 (2018).

51.

Taniguchi, H. et al. A resource of Cre driver lines for genetic targeting of GABAergic neurons in cerebral cortex. Neuron 71, 995–1013 (2011).

52.

Hippenmeyer, S. et al. A developmental switch in the response of DRG neurons to ETS transcription factor signaling. PLoS Biol. 3, e159 (2005).

53.

Madisen, L. et al. Transgenic mice for intersectional targeting of neural sensors and effectors with high specificity and performance. Neuron 85, 942–958 (2015).

54.

He, M. et al. Strategies and tools for combinatorial targeting of GABAergic neurons in mouse cerebral cortex. Neuron 91, 1228–1243 (2016).

55.

Chen, T.-W. et al. Ultrasensitive fluorescent proteins for imaging neuronal activity. Nature 499, 295–300 (2013).

56.

Xu, C. et al. Distinct hippocampal pathways mediate dissociable roles of context in memory retrieval. Cell 167, 961–972.e16 (2016).

57.

Fenno, L. E. et al. Targeting cells with single vectors using multiple-feature Boolean logic. Nat. Methods 11, 763–772 (2014).

58.

Ghosh, K. K. et al. Miniaturized integration of a fluorescence microscope. Nat. Methods 8, 871–878 (2011).

59.

Paxinos, G. & Franklin, K. The Mouse Brain in Stereotaxic Coordinates (Academic Press, 2001).

60.

Schneider, C. A., Rasband, W. S. & Eliceiri, K. W. NIH Image to ImageJ: 25 years of image analysis. Nat. Methods 9, 671–675 (2012).

61.

Thevenaz, P., Ruttimann, U. E. & Unser, M. A pyramid approach to subpixel registration based on intensity. IEEE Trans. Image Process 7, 27–41 (1998).

62.

Mukamel, E. A., Nimmerjahn, A. & Schnitzer, M. J. Automated analysis of cellular signals from large-scale calcium imaging data. Neuron 63, 747–760 (2009).

63.

Callaway, E. M. & Luo, L. Monosynaptic circuit tracing with glycoprotein-deleted rabies viruses. J. Neurosci. 35, 8979–8985 (2015).

64.

Sommer, C., Straehle, C., Koethe, U. & Hamprecht, F. A. Ilastik: interactive learning and segmentation toolkit. In Proc. IEEE International Symposium on Biomedical Imaging: From Nano to Macro (IEEE, 2011).

65.

Rothman, J. S. & Silver, R. A. NeuroMatic: an integrated open-source software toolkit for acquisition, analysis and simulation of electrophysiological data. Front. Neuroinform. 12, 14 (2018).

66.

Courtin, J. et al. Prefrontal parvalbumin interneurons shape neuronal activity to drive fear expression. Nature 505, 92–96 (2014).

67.

Douglass, A. M. et al. Central amygdala circuits modulate food consumption through a positive-valence mechanism. Nat. Neurosci. 20, 1384–1394 (2017).

68.

Betley, J. N. et al. Neurons for hunger and thirst transmit a negative-valence teaching signal. Nature 521, 180–185 (2015).

69.

Owen, S. F., Berke, J. D. & Kreitzer, A. C. Fast-spiking interneurons supply feedforward control of bursting, calcium, and plasticity for efficient learning. Cell 172, 683–695.e15 (2018).

70.

Ährlund-Richter, S. et al. A whole-brain atlas of monosynaptic input targeting four different cell types in the medial prefrontal cortex of the mouse. Nat. Neurosci. 22, 657–668 (2019).

71.

Yetman, M. J. et al. Intersectional monosynaptic tracing for dissecting subtype-specific organization of GABAergic interneuron inputs. Nat. Neurosci. 22, 492–502 (2019).

72.

Fadok, J. P. et al. A competitive inhibitory circuit for selection of active and passive fear responses. Nature 542, 96–100 (2017).

73.

Botta, P. et al. Regulating anxiety with extrasynaptic inhibition. Nat. Neurosci. 18, 1493–1500 (2015).

74.

Klavir, O., Prigge, M., Sarel, A., Paz, R. & Yizhar, O. Manipulating fear associations via optogenetic modulation of amygdala inputs to prefrontal cortex. Nat. Neurosci. 20, 836–844 (2017).
Acknowledgements
The authors thank all members of the Lüthi and Ferraguti labs for helpful discussions and comments. They thank P. Argast, P. Buchmann, A. Kovacevic, T. Lu and all staff of the FMI Animal Facility for excellent technical assistance. They further thank the Facility for Imaging and Microscopy at the FMI, in particular S. Bourke and R. Thierry, and the FMI IT department, in particular D. Flanders, S. Grzybek, R. Milani and S. van Eden, for their support with data acquisition and analyses, as well as M. Stadler for statistical advice. They are grateful to the GENIE Program at Janelia Research Campus of the Howard Hughes Medical Institute for making GCaMP6 material available, C. Ramakrishnan and K. Deisseroth for viral constructs, and S. Arber and Z. J. Huang for sharing mouse lines. The authors further thank Inscopix for providing access to the nVoke integrated imaging and optogenetics system. This work was supported by the following grants to the following individuals: the European Research Council (ERC) under the European Union's Horizon 2020 research and innovation program (grant agreement no. 669582), the National Center of Competences in Research: "SYNAPSY—The Synaptic Bases of Mental Diseases" (financed by the Swiss National Science Foundation, SNSF, 51NF40-158776) and an SNSF core grant (310030B_170268) all to A.L.; the Austrian Science Fund (Fonds zur Förderung der Wissenschaftlichen Forschung), Sonderforschungsbereich grants F44-17-B23 and W012060-10 to F.F.; a Young Investigator Grant from the Brain & Behavior Research Foundation (23593) and a Career Development Award from the Synapsis Foundation—Alzheimer Research Switzerland ARS (2018-CDA02) to S.K.; a NENS exchange grant to E.P.; an EMBO Long-Term Fellowship (1579-2010) to C.X.; a SNSF Ambizione grant (PZ00P3_180057) to J.C.; a SNSF Ambizione grant (PZ00P3_154765) to J.G.; and an SNSF Professorship (PP00P3_170672) and ERC Starting Grant (803870) to J.G.; as well as by the Novartis Research Foundation.
Ethics declarations
Competing interests
The authors declare no competing interests.
Additional information
Peer review information Nature Neuroscience thanks Balazs Hangya and Ekaterina Likhtik for their contribution to the peer review of this work.
Publisher's note Springer Nature remains neutral with regard to jurisdictional claims in published maps and institutional affiliations.
Integrated supplementary information
Supplementary information
Supplementary Figs. 1–10 and Supplementary Tables 1–4.
About this article
Cite this article
Krabbe, S., Paradiso, E., d'Aquin, S. et al. Adaptive disinhibitory gating by VIP interneurons permits associative learning. Nat Neurosci 22, 1834–1843 (2019) doi:10.1038/s41593-019-0508-y
Received

Accepted

Published

Issue Date