Abstract
Basal amygdala (BA) neurons guide associative learning via acquisition of responses to stimuli that predict salient appetitive or aversive outcomes. We examined the learning- and state-dependent dynamics of BA neurons and ventral tegmental area (VTA) dopamine (DA) axons that innervate BA (VTADA→BA) using two-photon imaging and photometry in behaving mice. BA neurons did not respond to arbitrary visual stimuli, but acquired responses to stimuli that predicted either rewards or punishments. Most VTADA→BA axons were activated by both rewards and punishments, and they acquired responses to cues predicting these outcomes during learning. Responses to cues predicting food rewards in VTADA→BA axons and BA neurons in hungry mice were strongly attenuated following satiation, while responses to cues predicting unavoidable punishments persisted or increased. Therefore, VTADA→BA axons may provide a reinforcement signal of motivational salience that invigorates adaptive behaviors by promoting learned responses to appetitive or aversive cues in distinct, intermingled sets of BA excitatory neurons.
Access options
Subscribe to Journal
Get full journal access for 1 year
$225.00
only $18.75 per issue
All prices are NET prices.
VAT will be added later in the checkout.
Rent or Buy article
Get time limited or full article access on ReadCube.
from$8.99
All prices are NET prices.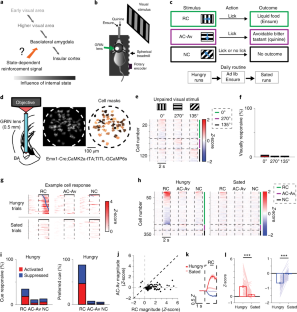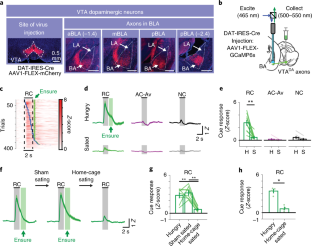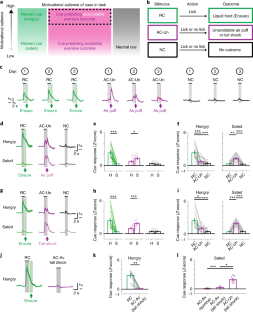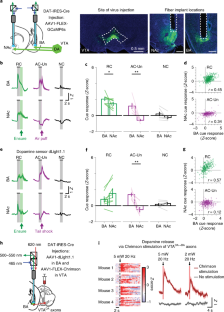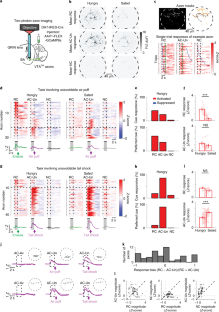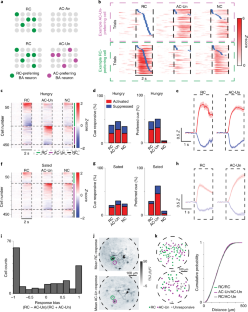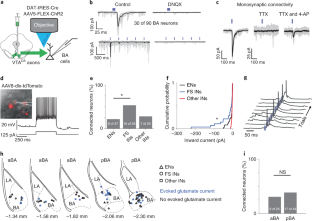 Data availability
The data that support these findings are available from the authors upon reasonable request.
Code availability
The code used for these analyses is available from the authors upon reasonable request.
References
1.

Burgess, C. R., Livneh, Y., Ramesh, R. N. & Andermann, M. L. Gating of visual processing by physiological need. Curr. Opin. Neurobiol. 49, 16–23 (2018).

2.

Johnson, A. W., Gallagher, M. & Holland, P. C. The basolateral amygdala is critical to the expression of pavlovian and instrumental outcome-specific reinforcer devaluation effects. J. Neurosci. 29, 696–704 (2009).

3.

Tye, K. M. & Janak, P. H. Amygdala neurons differentially encode motivation and reinforcement. J. Neurosci. 27, 3937–3945 (2007).

4.

O'Neill, P.-K., Gore, F. & Salzman, C. D. Basolateral amygdala circuitry in positive and negative valence. Curr. Opin. Neurobiol. 49, 175–183 (2018).

5.

Grewe, B. F. et al. Neural ensemble dynamics underlying a long-term associative memory. Nature 543, 670–675 (2017).

6.

Johansen, J. P. et al. Hebbian and neuromodulatory mechanisms interact to trigger associative memory formation. Proc. Natl Acad. Sci. USA 111, E5584–E5592 (2014).

7.

de Oliveira, A. R. et al. Conditioned fear is modulated by D2 receptor pathway connecting the ventral tegmental area and basolateral amygdala. Neurobiol. Learn. Mem. 95, 37–45 (2011).

8.

Fadok, J. P., Dickerson, T. M. K. & Palmiter, R. D. Dopamine is necessary for cue-dependent fear conditioning. J. Neurosci. 29, 11089–11097 (2009).

9.

Esber, G. R. et al. Attention-related Pearce–Kaye–Hall signals in basolateral amygdala require the midbrain dopaminergic system. Biol. Psychiatry 72, 1012–1019 (2012).

10.

Bissière, S., Humeau, Y. & Lüthi, A. Dopamine gates LTP induction in lateral amygdala by suppressing feedforward inhibition. Nat. Neurosci. 6, 587–592 (2003).

11.

Yu, K. et al. The central amygdala controls learning in the lateral amygdala. Nat. Neurosci. 20, 1680–1685 (2017).

12.

Tye, K. M. et al. Methylphenidate facilitates learning-induced amygdala plasticity. Nat. Neurosci. 13, 475–481 (2010).

13.

Menegas, W., Akiti, K., Amo, R., Uchida, N. & Watabe-Uchida, M. Dopamine neurons projecting to the posterior striatum reinforce avoidance of threatening stimuli. Nat. Neurosci. 1, 1421–1430 (2018).

14.

Menegas, W., Babayan, B. M., Uchida, N. & Watabe-Uchida, M. Opposite initialization to novel cues in dopamine signaling in ventral and posterior striatum in mice. eLife 6, e21886 (2017).

15.

Groessl, F. et al. Dorsal tegmental dopamine neurons gate associative learning of fear. Nat. Neurosci. 21, 952–962 (2018).

16.

Lammel, S., Lim, B. K. & Malenka, R. C. Reward and aversion in a heterogeneous midbrain dopamine system. Neuropharmacology 76, 351–359 (2014). Pt B.

17.

Ehrlich, I. et al. Amygdala inhibitory circuits and the control of fear memory. Neuron 62, 757–771 (2009).

18.

Calhoon, G. G. et al. Acute food deprivation rapidly modifies valence-coding microcircuits in the amygdala. Preprint at bioRxiv https://doi.org/10.1101/285189 (2018).

19.

Zhang, X. & Li, B. Population coding of valence in the basolateral amygdala. Nature Commun. 9, 5195 (2018).

20.

Burgess, C. R. et al. Hunger-dependent enhancement of food cue responses in mouse postrhinal cortex and lateral amygdala. Neuron 91, 1154–1169 (2016).

21.

Ramesh, R. N., Burgess, C. R., Sugden, A. U., Gyetvan, M. & Andermann, M. L. Intermingled ensembles in visual association cortex encode stimulus identity or predicted outcome. Neuron 100, 900–915.e9 (2018).

22.

Livneh, Y. et al. Homeostatic circuits selectively gate food cue responses in insular cortex. Nature 546, 611–616 (2017).

23.

Scibilia, R. J., Lachowicz, J. E. & Kilts, C. D. Topographic nonoverlapping distribution of D1 and D2 dopamine receptors in the amygdaloid nuclear complex of the rat brain. Synapse 11, 146–154 (1992).

24.

Lein, E. S. et al. Genome-wide atlas of gene expression in the adult mouse brain. Nature 445, 168–176 (2006).

25.

Schultz, W., Dayan, P. & Montague, P. R. A neural substrate of prediction and reward. Science 275, 1593–1599 (1997).

26.

Cohen, J. Y., Haesler, S., Vong, L., Lowell, B. B. & Uchida, N. Neuron-type-specific signals for reward and punishment in the ventral tegmental area. Nature 482, 85–88 (2012).

27.

Pearce, J. M. & Hall, G. A model for Pavlovian learning: variations in the effectiveness of conditioned but not of unconditioned stimuli. Psychol. Rev. 87, 532–552 (1980).

28.

Kim, J., Pignatelli, M., Xu, S., Itohara, S. & Tonegawa, S. Antagonistic negative and positive neurons of the basolateral amygdala. Nat. Neurosci. 19, 1636–1646 (2016).

29.

Beyeler, A. et al. Organization of valence-encoding and projection-defined neurons in the basolateral amygdala. Cell Rep. 22, 905–918 (2018).

30.

Wang, L. et al. The coding of valence and identity in the mammalian taste system. Nature 558, 127–131 (2018).

31.

Parker, N. F. et al. Reward and choice encoding in terminals of midbrain dopamine neurons depends on striatal target. Nat. Neurosci. 19, 845–854 (2016).

32.

Poulin, J.-F. et al. Mapping projections of molecularly defined dopamine neuron subtypes using intersectional genetic approaches. Nat. Neurosci. 21, 1260–1271 (2018).

33.

Patriarchi, T. et al. Ultrafast neuronal imaging of dopamine dynamics with designed genetically encoded sensors. Science 360, eaat4422 (2018).

34.

Howe, M. W. & Dombeck, D. A. Rapid signalling in distinct dopaminergic axons during locomotion and reward. Nature 535, 505–510 (2016).

35.

Beyeler, A. et al. Divergent routing of positive and negative information from the amygdala during memory retrieval. Neuron 90, 348–361 (2016).

36.

Roesch, M. R., Esber, G. R., Li, J., Daw, N. D. & Schoenbaum, G. Surprise! Neural correlates of Pearce–Hall and Rescorla–Wagner coexist within the brain. Eur. J. Neurosci. 35, 1190–1200 (2012).

37.

Roesch, M. R., Calu, D. J., Esber, G. R. & Schoenbaum, G. Neural correlates of variations in event processing during learning in basolateral amygdala. J. Neurosci. 30, 2464–2471 (2010).

38.

Tye, K. M., Cone, J. J., Schairer, W. W. & Janak, P. H. Amygdala neural encoding of the absence of reward during extinction. J. Neurosci. 30, 116–125 (2010).

39.

Herry, C. et al. Switching on and off fear by distinct neuronal circuits. Nature 454, 600–606 (2008).

40.

Young, A. M. & Rees, K. R. Dopamine release in the amygdaloid complex of the rat, studied by brain microdialysis. Neurosci. Lett. 249, 49–52 (1998).

41.

Manassero, E., Renna, A., Milano, L. & Sacchetti, B. Lateral and basal amygdala account for opposite behavioral responses during the long-term expression of fearful memories. Sci. Rep. 8, 518 (2018).

42.

Lee, S.-C. et al. Basolateral amygdala nucleus responses to appetitive conditioned stimuli correlate with variations in conditioned behaviour. Nat. Commun. 7, 12275 (2016).

43.

Jikomes, N., Ramesh, R. N., Mandelblat-Cerf, Y. & Andermann, M. L. Preemptive stimulation of AgRP neurons in fed mice enables conditioned food seeking under threat. Curr. Biol. 26, 2500–2507 (2016).

44.

Alhadeff, A. L. et al. A neural circuit for the suppression of pain by a competing need state. Cell 173, 140–152.e15 (2018).

45.

Kröner, S., Rosenkranz, J. A., Grace, A. A. & Barrionuevo, G. Dopamine modulates excitability of basolateral amygdala neurons in vitro. J. Neurophysiol. 93, 1598–1610 (2005).

46.

Kroener, S., Chandler, L. J., Phillips, P. E. M. & Seamans, J. K. Dopamine modulates persistent synaptic activity and enhances the signal-to-noise ratio in the prefrontal cortex. PLoS One 4, e6507 (2009).

47.

Shabel, S. J. & Janak, P. H. Substantial similarity in amygdala neuronal activity during conditioned appetitive and aversive emotional arousal. Proc. Natl Acad. Sci. USA 106, 15031–15036 (2009).

48.

Gore, F. et al. Neural representations of unconditioned stimuli in basolateral amygdala mediate innate and learned responses. Cell 162, 134–145 (2015).

49.

Johansen, J. P., Tarpley, J. W., LeDoux, J. E. & Blair, H. T. Neural substrates for expectation-modulated fear learning in the amygdala and periaqueductal gray. Nat. Neurosci. 13, 979–986 (2010).

50.

Madisen, L. et al. Transgenic mice for intersectional targeting of neural sensors and effectors with high specificity and performance. Neuron 85, 942–958 (2015).

51.

Bäckman, C. M. et al. Characterization of a mouse strain expressing Cre recombinase from the 3' untranslated region of the dopamine transporter locus. Genesis 44, 383–390 (2006).

52.

Asaad, W. F. & Eskandar, E. N. A flexible software tool for temporally-precise behavioral control in Matlab. J. Neurosci. Methods 174, 245–258 (2008).

53.

Klapoetke, N. C. et al. Independent optical excitation of distinct neural populations. Nat. Methods 11, 338–346 (2014).

54.

Broussard, G. J. et al. In vivo measurement of afferent activity with axon-specific calcium imaging. Nat. Neurosci. 21, 1272–1280 (2018).

55.

Dimidschstein, J. et al. A viral strategy for targeting and manipulating interneurons across vertebrate species. Nat. Neurosci. 19, 1743–1749 (2016).

56.

Bocarsly, M. E. et al. Minimally invasive microendoscopy system for in vivo functional imaging of deep nuclei in the mouse brain. Biomed. Opt. Express 6, 4546–4556 (2015).

57.

Tervo, D. G. R. et al. A designer AAV variant permits efficient retrograde access to projection neurons. Neuron 92, 372–382 (2016).

58.

Resendez, S. L. et al. Visualization of cortical, subcortical and deep brain neural circuit dynamics during naturalistic mammalian behavior with head-mounted microscopes and chronically implanted lenses. Nat. Protoc. 11, 566–597 (2016).

59.

Ting, J. T., Daigle, T. L., Chen, Q. & Feng, G. Acute brain slice methods for adult and aging animals: application of targeted patch clamp analysis and optogenetics. Methods Mol. Biol. 1183, 221–242 (2014).

60.

Petreanu, L., Huber, D., Sobczyk, A. & Svoboda, K. Channelrhodopsin-2–assisted circuit mapping of long-range callosal projections. Nat. Neurosci. 10, 663–668 (2007).

61.

Garfield, A. S. et al. A neural basis for melanocortin-4 receptor–regulated appetite. Nat. Neurosci. 18, 863–871 (2015).

62.

Bonin, V., Histed, M. H., Yurgenson, S. & Reid, R. C. Local diversity and fine-scale organization of receptive fields in mouse visual cortex. J. Neurosci. 31, 18506–18521 (2011).

63.

Mukamel, E. A., Nimmerjahn, A. & Schnitzer, M. J. Automated analysis of cellular signals from large-scale calcium imaging data. Neuron 63, 747–760 (2009).

64.

Ziv, Y. et al. Long-term dynamics of CA1 hippocampal place codes. Nat. Neurosci. 16, 264–266 (2013).

65.

Petreanu, L. et al. Activity in motor-sensory projections reveals distributed coding in somatosensation. Nature 489, 299–303 (2012).

66.

Driscoll, L. N., Pettit, N. L., Minderer, M., Chettih, S. N. & Harvey, C. D. Dynamic reorganization of neuronal activity patterns in parietal cortex. Cell 170, 986–999.e16 (2017).

67.

Matsumoto, H., Tian, J., Uchida, N. & Watabe-Uchida, M. Midbrain dopamine neurons signal aversion in a reward-context-dependent manner. eLife 5, e17328 (2016).

68.

Washburn, M. & Moises, H. Electrophysiological and morphological properties of rat basolateral amygdaloid neurons in vitro. J. Neurosci. 12, 4066–4079 (1992).

69.

Paxinos, G. & Franklin, K. B. J. The Mouse Brain in Stereotaxic Coordinates. 4th ed. (Academic Press, 2012).
Acknowledgements
We thank S. J. Lee, K. McGuire, J. Reggiani, A. Fratzl, M. Uchida, N. Uchida, J. Assad, L. Liang, Y. Livneh, J. Zaremba, S. Zhang and other members of the Andermann laboratory for useful feedback. We also thank N. Pettit and Y. Aponte for helpful advice regarding GRIN lenses. We thank R. Jozanovic, E. Bamberg, F. Finkel, T. Pottala, I. Shurnayte and L. Rupert for help with mouse training and histology. We thank J. Madara and H. Fenselau for assistance with brain slice electrophysiology. We thank L. Tian for providing dLight1.1 DNA plasmid, the Boston Children's Hospital Viral Core for virus packaging and the GENIE Project, HHMI, for use of GCaMP6. Authors were supported by the NIH (grant nos. F32 DK112589 and 5T32NS007484-15 to A.L. and T32 5T32DK007516 to A.U.S.); NIH New Innovator Award grants (nos. DP2 DK105570 and R01 DK109930); a McKnight Scholar Award; a Pew Scholar Award; a Smith Family Foundation Award; grants from the Klarman Family Foundation and the American Federation for Aging Research; the Boston Nutrition and Obesity Research Center (grant no. P30 DK046200); and a Harvard Brain Science Initiative Bipolar Disorder Seed Grant, supported by Kent and Liz Dauten (M.L.A.).
Ethics declarations
Competing interests
The authors declare no competing interests.
Additional information
Peer review information Nature Neuroscience thanks Kay Tye and the other, anonymous, reviewer(s) for their contribution to the peer review of this work.
Publisher's note Springer Nature remains neutral with regard to jurisdictional claims in published maps and institutional affiliations.
Integrated supplementary information
Supplementary information
Videos of average VTADA→BA axon responses to salient and nonsalient cues. Left, movie of cue-evoked responses, averaged across all reward cue (RC) trials (n = 58 trials) from a single session. Middle, movie of cue-evoked responses, averaged across all presentations of the aversive cue predicting unavoidable air puff (AC-Un) (n = 53 trials). Right, movie of cue-evoked responses, averaged across all presentations of the neutral cue (NC) (n = 56 trials). Movies have been spatially downsampled by 2× and temporally binned by four frames. Frame rate, 7 frames s–1 (that is, movie is playing at 1.8× real-time). Stimulus duration (indicated by white squares) was 2 s. White circles indicate perimeter of field of view. Percentage change in GCaMP6s fluorescence ranges from −15% (black) to +15% (white). Gray, no change in activity. See also Fig. 5b.
About this article
Cite this article
Lutas, A., Kucukdereli, H., Alturkistani, O. et al. State-specific gating of salient cues by midbrain dopaminergic input to basal amygdala. Nat Neurosci 22, 1820–1833 (2019). https://doi.org/10.1038/s41593-019-0506-0
Received:

Accepted:

Published:

Issue Date:
Further reading
Yoav Livneh

,

Arthur U. Sugden

,

Joseph C. Madara

,

Rachel A. Essner

,

Vanessa I. Flores

,

Lauren A. Sugden

,

Jon M. Resch

,

Bradford B. Lowell

&

Mark L. Andermann

Neuron (2020)