Abstract
When experts are immersed in a task, do their brains prioritize task-related activity? Most efforts to understand neural activity during well-learned tasks focus on cognitive computations and task-related movements. We wondered whether task-performing animals explore a broader movement landscape and how this impacts neural activity. We characterized movements using video and other sensors and measured neural activity using widefield and two-photon imaging. Cortex-wide activity was dominated by movements, especially uninstructed movements not required for the task. Some uninstructed movements were aligned to trial events. Accounting for them revealed that neurons with similar trial-averaged activity often reflected utterly different combinations of cognitive and movement variables. Other movements occurred idiosyncratically, accounting for trial-by-trial fluctuations that are often considered 'noise'. This held true throughout task-learning and for extracellular Neuropixels recordings that included subcortical areas. Our observations argue that animals execute expert decisions while performing richly varied, uninstructed movements that profoundly shape neural activity.
Relevant articles
Open Access articles citing this article.
Christophe Varin

,

Amandine Cornil

…

Alban de Kerchove d'Exaerde

Nature Communications Open Access 17 August 2023

Maciej M. Jankowski

,

Ana Polterovich

…

Israel Nelken

BMC Biology Open Access 11 August 2023

Chin-Lin Chen

,

Florian Aymanns

…

Pavan Ramdya

Nature Neuroscience Open Access 23 March 2023
Access options
Access Nature and 54 other Nature Portfolio journals
Get Nature+, our best-value online-access subscription
$29.99 / 30 days
cancel any time
Subscribe to this journal
Receive 12 print issues and online access
$209.00 per year
only $17.42 per issue
Rent or buy this article
Prices vary by article type
from$1.95
to$39.95
Prices may be subject to local taxes which are calculated during checkout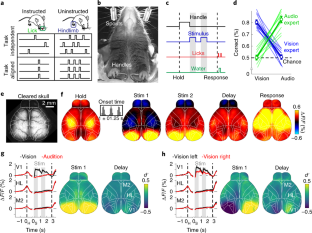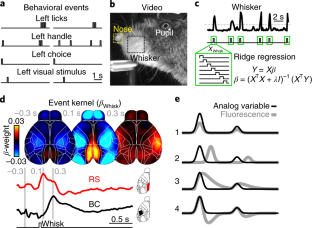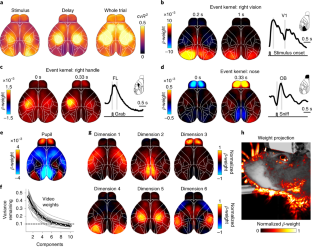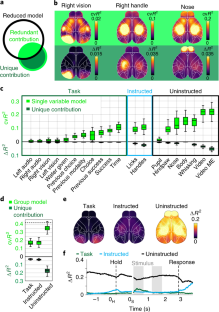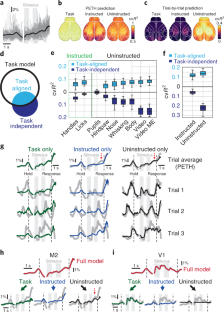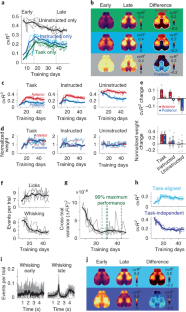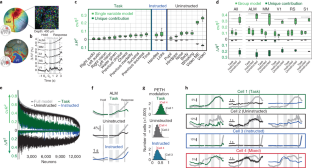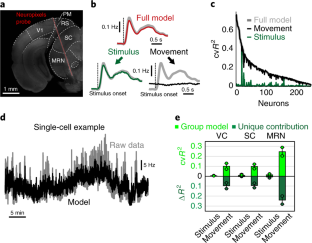 References
Shadlen, M. N. & Newsome, W. T. Motion perception: seeing and deciding. Proc. Natl Acad. Sci. USA 93, 628–633 (1996).

Maimon, G. & Assad, J. A. A cognitive signal for the proactive timing of action in macaque LIP. Nat. Neurosci. 9, 948–955 (2006).

Horwitz, G. D., Batista, A. P. & Newsome, W. T. Representation of an abstract perceptual decision in macaque superior colliculus. J. Neurophysiol. 91, 2281–2296 (2004).

Gold, J. I. & Shadlen, M. N. The influence of behavioral context on the representation of a perceptual decision in developing oculomotor commands. J. Neurosci. 23, 632–651 (2003).

Roitman, J. D. & Shadlen, M. N. Response of neurons in the lateral intraparietal area during a combined visual discrimination reaction time task. J. Neurosci. 22, 9475–9489 (2002).

Churchland, A. K., Kiani, R. & Shadlen, M. N. Decision-making with multiple alternatives. Nat. Neurosci. 11, 693–702 (2008).

Erlich, J. C., Bialek, M. & Brody, C. D. A cortical substrate for memory-guided orienting in the rat. Neuron 72, 330–343 (2011).

Niell, C. M. & Stryker, M. P. Modulation of visual responses by behavioral state in mouse visual cortex. Neuron 65, 472–479 (2010).

Saleem, A. B., Ayaz, A., Jeffery, K. J., Harris, K. D. & Carandini, M. Integration of visual motion and locomotion in mouse visual cortex. Nat. Neurosci. 16, 1864–1869 (2013).

Wekselblatt, J. B., Flister, E. D., Piscopo, D. M. & Niell, C. M. Large-scale imaging of cortical dynamics during sensory perception and behavior. J. Neurophysiol. 115, 2852–2866 (2016).

Guo, Z. V. et al. Flow of cortical activity underlying a tactile decision in mice. Neuron 81, 179–194 (2014).

Allen, W. E. et al. Global representations of goal-directed behavior in distinct cell types of mouse neocortex. Neuron 94, 891–907.e6 (2017).

Runyan, C. A., Piasini, E., Panzeri, S. & Harvey, C. D. Distinct timescales of population coding across cortex. Nature 548, 92–96 (2017).

Scott, B. B. et al. Fronto-parietal cortical circuits encode accumulated evidence with a diversity of timescales. Neuron 95, 385–398.e5 (2017).

Caballero-Gaudes, C. & Reynolds, R. C. Methods for cleaning the BOLD fMRI signal. NeuroImage 154, 128–149 (2017).

Stringer, C. et al. Spontaneous behaviors drive multidimensional, brainwide activity. Science 364, eaav7893 (2019).

Shimaoka, D., Harris, K. D. & Carandini, M. Effects of arousal on mouse sensory cortex depend on modality. Cell Rep. 22, 3160–3167 (2018).

Hanks, T. D. et al. Distinct relationships of parietal and prefrontal cortices to evidence accumulation. Nature 520, 220–223 (2015).

Erlich, J. C., Brunton, B. W., Duan, C. A., Hanks, T. D. & Brody, C. D. Distinct effects of prefrontal and parietal cortex inactivations on an accumulation of evidence task in the rat. eLife Sci. 4, e05457 (2015).

Steinmetz, N. A. et al. Aberrant cortical activity in multiple GCaMP6-expressing transgenic mouse lines. eNeuro 4, ENEURO.0207-17.2017 (2017).

Zhuang, J. et al. An extended retinotopic map of mouse cortex. eLife 6, e18372 (2017).

Chen, T.-W., Li, N., Daie, K. & Svoboda, K. A map of anticipatory activity in mouse motor cortex. Neuron 94, 866–879.e4 (2017).

Garrett, M. E., Nauhaus, I., Marshel, J. H. & Callaway, E. M. Topography and areal organization of mouse visual cortex. J. Neurosci. 34, 12587–12600 (2014).

Guo, Z. V. et al. Maintenance of persistent activity in a frontal thalamocortical loop. Nature 545, 181–186 (2017).

Li, N., Chen, T.-W., Guo, Z. V., Gerfen, C. R. & Svoboda, K. A motor cortex circuit for motor planning and movement. Nature 519, 51–56 (2015).

Salkoff, D. B., Zagha, E., McCarthy, E., McCormick, D.A. Movement and performance predict widespread cortical activity in a visual detection task. Cereb. Cortex (in the press).

Raposo, D., Kaufman, M. T. & Churchland, A. K. A category-free neural population supports evolving demands during decision-making. Nat. Neurosci. 17, 1784–1792 (2014).

Horwitz, G. D. & Newsome, W. T. Separate signals for target selection and movement specification in the superior colliculus. Science 284, 1158–1161 (1999).

Jun, J. J. et al. Fully integrated silicon probes for high-density recording of neural activity. Nature 551, 232–236 (2017).

Vinck, M., Batista-Brito, R., Knoblich, U. & Cardin, J. A. Arousal and locomotion make distinct contributions to cortical activity patterns and visual encoding. Neuron 86, 740–754 (2015).

Polack, P.-O., Friedman, J. & Golshani, P. Cellular mechanisms of brain-state-dependent gain modulation in visual cortex. Nat. Neurosci. 16, 1331–1339 (2013).

Reimer, J. et al. Pupil fluctuations track fast switching of cortical states during quiet wakefulness. Neuron 84, 355–362 (2014).

Pereira, T. D. et al. Fast animal pose estimation using deep neural networks. Nat. Methods 16, 117 (2019).

Mathis, A. et al. DeepLabCut: markerless pose estimation of user-defined body parts with deep learning. Nat. Neurosci. 21, 1281 (2018).

Le Merre, P. et al. Reward-based learning drives rapid sensory signals in medial prefrontal cortex and dorsal hippocampus necessary for goal-directed behavior. Neuron 97, 83–91.e5 (2018).

Gilad, A., Gallero-Salas, Y., Groos, D. & Helmchen, F. Behavioral strategy determines frontal or posterior location of short-term memory in neocortex. Neuron 99, 814–828.e7 (2018).

Euston, D. R. & McNaughton, B. L. Apparent encoding of sequential context in rat medial prefrontal cortex is accounted for by behavioral variability. J. Neurosci. 26, 13143–13155 (2006).

Kawai, R. et al. Motor cortex is required for learning but not for executing a motor skill. Neuron 86, 800–812 (2015).

Coddington, L. T. & Dudman, J. T. The timing of action determines reward prediction signals in identified midbrain dopamine neurons. Nat. Neurosci. 21, 1563 (2018).

Ayaz, A., Saleem, A. B., Schölvinck, M. L. & Carandini, M. Locomotion controls spatial integration in mouse visual cortex. Curr. Biol. 23, 890–894 (2013).

Sommer, M. A. & Wurtz, R. H. Brain circuits for the internal monitoring of movements. Annu. Rev. Neurosci. 31, 317 (2008).

Schmitt, L. I. et al. Thalamic amplification of cortical connectivity sustains attentional control. Nature 545, 219–223 (2017).

Wang, L., Rangarajan, K. V., Gerfen, C. R. & Krauzlis, R. J. Activation of striatal neurons causes a perceptual decision bias during visual change detection in mice. Neuron 97, 1369–1381.e5 (2018).

Engel, T. A., Chaisangmongkon, W., Freedman, D. J. & Wang, X.-J. Choice-correlated activity fluctuations underlie learning of neuronal category representation. Nat. Commun. 6, 6454 (2015).

Keller, G. B., Bonhoeffer, T. & Hübener, M. Sensorimotor mismatch signals in primary visual cortex of the behaving mouse. Neuron 74, 809–815 (2012).

Wolpert, D. M., Ghahramani, Z. & Jordan, M. I. An internal model for sensorimotor integration. Science 269, 1880–1882 (1995).

Wolpert, D. M. & Miall, R. C. Forward models for physiological motor control. Neural Netw. 9, 1265–1279 (1996).

Wolpert, D. M. & Kawato, M. Multiple paired forward and inverse models for motor control. Neural Netw. 11, 1317–1329 (1998).

Schultz, W. Dopamine neurons and their role in reward mechanisms. Curr. Opin. Neurobiol. 7, 191–197 (1997).

Wolpert, D. M., Miall, R. C. & Kawato, M. Internal models in the cerebellum. Trends Cogn. Sci. (Regul. Ed.) 2, 338–347 (1998).

Juavinett, A. L., Bekheet, G. & Churchland, A. K. Chronically implanted Neuropixels probes enable high-yield recordings in freely moving mice. eLife 8, e47188 (2018).

Ratzlaff, E. H. & Grinvald, A. A tandem-lens epifluorescence macroscope: hundred-fold brightness advantage for wide-field imaging. J. Neurosci. Methods 36, 127–137 (1991).

Lerner, T. N. et al. Intact-brain analyses reveal distinct information carried by SNc dopamine subcircuits. Cell 162, 635–647 (2015).

Pachitariu, M. et al. Suite2p: beyond 10,000 neurons with standard two-photon microscopy. Preprint at bioRxiv https://doi.org/10.1101/061507 (2016).

Jia, H., Rochefort, N. L., Chen, X. & Konnerth, A. In vivo two-photon imaging of sensory-evoked dendritic calcium signals in cortical neurons. Nat. Protoc. 6, 28–35 (2011).

Pachitariu, M., Steinmetz, N., Kadir, S., Carandini, M. & Harris, K. D. Fast and accurate spike sorting of high-channel count probes with KiloSort. Adv. Neural Inf. Proc. Sys. 29, 6326 (2016).

Powell, K., Mathy, A., Duguid, I. & Häusser, M. Synaptic representation of locomotion in single cerebellar granule cells. eLife Sci. 4, e07290 (2015).

Mumford, J. A., Poline, J.-B. & Poldrack, R. A. Orthogonalization of regressors in fMRI models. PLoS One 10, e0126255 (2015).

Karabatsos, G. Marginal maximum likelihood estimation methods for the tuning parameters of ridge, power ridge, and generalized ridge regression. Commun. Stat. Simulat. (2017).
Acknowledgements
We thank O. Odoemene, S. Pisupati and H. Nguyen for technical assistance and scientific discussions; H. Zeng for providing Ai93 mice; J. Tucciarone and F. Marbach for breeding assistance; A. Mills and P. Shrestha for providing GFP mice; T. Harris, S. Caddick and the Allen Institute for Brain Sciences for assistance with the Neuropixels probes; and N. Steinmetz, M. Pachitariu and K. Harris for widefield analysis code. Financial support was received from the Swiss National Science foundation (S.M., grant no. P2ZHP3_161770), the Pew Charitable Trusts (A.K.C.), the Simons Collaboration on the Global Brain (A.K.C., M.T.K.), the NIH (grant no. EY R01EY022979) and the Army Research Office under contract no. W911NF-16-1-0368 as part of the collaboration between the US DOD, the UK MOD and the UK Engineering and Physical Research Council under the Multidisciplinary University Research Initiative (A.K.C.).
Ethics declarations
Competing interests
The authors declare no competing interests.
Additional information
Peer review information Nature Neuroscience thanks Mackenzie Mathis, Mala Murthy and the other, anonymous, reviewer(s) for their contribution to the peer review of this work.
Publisher's note Springer Nature remains neutral with regard to jurisdictional claims in published maps and institutional affiliations.
Integrated supplementary information
Supplementary information
About this article
Cite this article
Musall, S., Kaufman, M.T., Juavinett, A.L. et al. Single-trial neural dynamics are dominated by richly varied movements. Nat Neurosci 22, 1677–1686 (2019). https://doi.org/10.1038/s41593-019-0502-4
Received:

Accepted:

Published:

Issue Date:

DOI: https://doi.org/10.1038/s41593-019-0502-4