Abstract
Neuromuscular junction (NMJ) disruption is an early pathogenic event in amyotrophic lateral sclerosis (ALS). Yet, direct links between NMJ pathways and ALS-associated genes such as FUS, whose heterozygous mutations cause aggressive forms of ALS, remain elusive. In a knock-in Fus-ALS mouse model, we identified postsynaptic NMJ defects in newborn homozygous mutants that were attributable to mutant FUS toxicity in skeletal muscle. Adult heterozygous knock-in mice displayed smaller neuromuscular endplates that denervated before motor neuron loss, which is consistent with 'dying-back' neuronopathy. FUS was enriched in subsynaptic myonuclei, and this innervation-dependent enrichment was distorted in FUS-ALS. Mechanistically, FUS collaborates with the ETS transcription factor ERM to stimulate transcription of acetylcholine receptor genes. Co-cultures of induced pluripotent stem cell-derived motor neurons and myotubes from patients with FUS-ALS revealed endplate maturation defects due to intrinsic FUS toxicity in both motor neurons and myotubes. Thus, FUS regulates acetylcholine receptor gene expression in subsynaptic myonuclei, and muscle-intrinsic toxicity of ALS mutant FUS may contribute to dying-back motor neuronopathy.
This is a preview of subscription content
Access options
Subscribe to Journal
Get full journal access for 1 year
$59.00
only $4.92 per issue
All prices are NET prices.
VAT will be added later in the checkout.
Tax calculation will be finalised during checkout.
Rent or Buy article
Get time limited or full article access on ReadCube.
from$8.99
All prices are NET prices.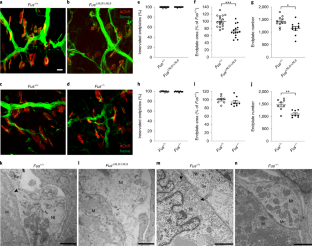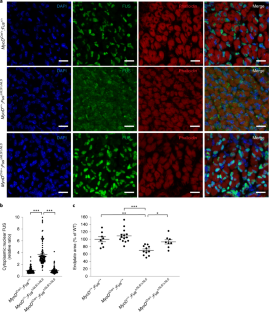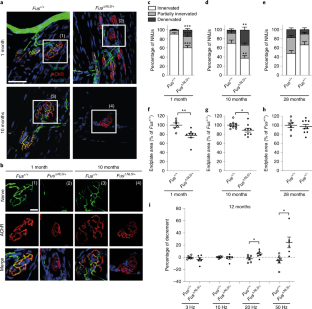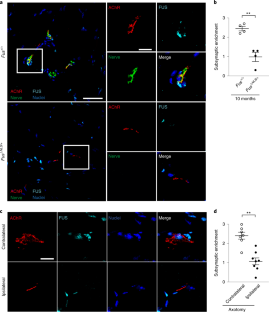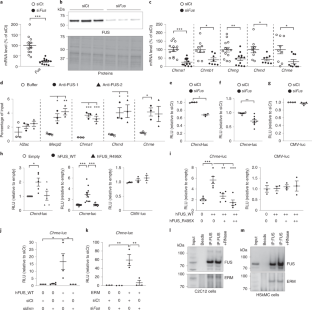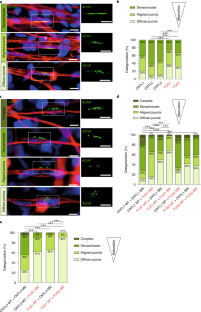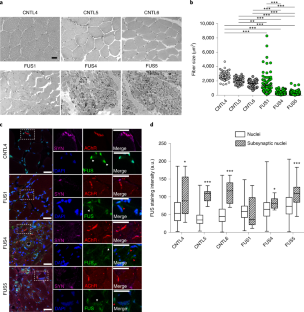 Data availability
The data that support the findings of this study and biological materials used are available from the corresponding authors upon request.
References
1.

Darabid, H., Perez-Gonzalez, A. P. & Robitaille, R. Neuromuscular synaptogenesis: coordinating partners with multiple functions. Nat. Rev. Neurosci. 15, 703–718 (2014).

2.

Tintignac, L. A., Brenner, H. R. & Ruegg, M. A. Mechanisms regulating neuromuscular junction development and function and causes of muscle wasting. Physiol. Rev. 95, 809–852 (2015).

3.

Shi, L., Fu, A. K. & Ip, N. Y. Molecular mechanisms underlying maturation and maintenance of the vertebrate neuromuscular junction. Trends Neurosci. 35, 441–453 (2012).

4.

Hippenmeyer, S., Huber, R. M., Ladle, D. R., Murphy, K. & Arber, S. ETS transcription factor Erm controls subsynaptic gene expression in skeletal muscles. Neuron 55, 726–740 (2007).

5.

Ravel-Chapuis, A., Vandromme, M., Thomas, J. L. & Schaeffer, L. Postsynaptic chromatin is under neural control at the neuromuscular junction. EMBO J. 26, 1117–1128 (2007).

6.

Taylor, J. P., Brown, R. H. Jr & Cleveland, D. W. Decoding ALS: from genes to mechanism. Nature 539, 197–206 (2016).

7.

Pun, S., Santos, A. F., Saxena, S., Xu, L. & Caroni, P. Selective vulnerability and pruning of phasic motoneuron axons in motoneuron disease alleviated by CNTF. Nat. Neurosci. 9, 408–419 (2006).

8.

Fischer, L. R. et al. Amyotrophic lateral sclerosis is a distal axonopathy: evidence in mice and man. Exp. Neurol. 185, 232–240 (2004).

9.

Dadon-Nachum, M., Melamed, E. & Offen, D. The 'dying-back' phenomenon of motor neurons in ALS. J. Mol. Neurosci. 43, 470–477 (2011).

10.

Schwartz, J. C., Cech, T. R. & Parker, R. R. Biochemical properties and biological functions of FET proteins. Annu. Rev. Biochem. 84, 355–379 (2015).

11.

Ling, S. C., Polymenidou, M. & Cleveland, D. W. Converging mechanisms in ALS and FTD: disrupted RNA and protein homeostasis. Neuron 79, 416–438 (2013).

12.

Deng, H., Gao, K. & Jankovic, J. The role of FUS gene variants in neurodegenerative diseases. Nat. Rev. Neurol. 10, 337–348 (2014).

13.

Dormann, D. et al. ALS-associated fused in sarcoma (FUS) mutations disrupt transportin-mediated nuclear import. EMBO J. 29, 2841–2857 (2010).

14.

Scekic-Zahirovic, J. et al. Toxic gain of function from mutant FUS protein is crucial to trigger cell autonomous motor neuron loss. EMBO J. 35, 1077–1097 (2016).

15.

Scekic-Zahirovic, J. et al. Motor neuron intrinsic and extrinsic mechanisms contribute to the pathogenesis of FUS-associated amyotrophic lateral sclerosis. Acta Neuropathol. 133, 887–906 (2017).

16.

Kanisicak, O., Mendez, J. J., Yamamoto, S., Yamamoto, M. & Goldhamer, D. J. Progenitors of skeletal muscle satellite cells express the muscle determination gene, MyoD. Dev. Biol. 332, 131–141 (2009).

17.

Yamamoto, M. et al. A multifunctional reporter mouse line for Cre- and FLP-dependent lineage analysis. Genesis 47, 107–114 (2009).

18.

Muzumdar, M. D., Tasic, B., Miyamichi, K., Li, L. & Luo, L. A global double-fluorescent Cre reporter mouse. Genesis 45, 593–605 (2007).

19.

Tan, A. Y., Riley, T. R., Coady, T., Bussemaker, H. J. & Manley, J. L. TLS/FUS (translocated in liposarcoma/fused in sarcoma) regulates target gene transcription via single-stranded DNA response elements. Proc. Natl Acad. Sci. USA 109, 6030–6035 (2012).

20.

Higelin, J. et al. FUS mislocalization and vulnerability to DNA damage in ALS patients derived hiPSCs and aging motoneurons. Front. Cell Neurosci. 10, 290 (2016).

21.

Hosoyama, T., McGivern, J. V., Van Dyke, J. M., Ebert, A. D. & Suzuki, M. Derivation of myogenic progenitors directly from human pluripotent stem cells using a sphere-based culture. Stem Cells Transl Med. 3, 564–574 (2014).

22.

Demestre, M. et al. Formation and characterisation of neuromuscular junctions between hiPSC derived motoneurons and myotubes. Stem Cell Res. 15, 328–336 (2015).

23.

de Carvalho, M. et al. Electrodiagnostic criteria for diagnosis of ALS. Clin. Neurophysiol. 119, 497–503 (2008).

24.

So, E. et al. Mitochondrial abnormalities and disruption of the neuromuscular junction precede the clinical phenotype and motor neuron loss in hFUSWT transgenic mice. Hum. Mol. Genet. 27, 463–474 (2018).

25.

Sharma, A. et al. ALS-associated mutant FUS induces selective motor neuron degeneration through toxic gain of function. Nat. Commun. 7, 10465 (2016).

26.

Naumann, M. et al. Impaired DNA damage response signaling by FUS-NLS mutations leads to neurodegeneration and FUS aggregate formation. Nat. Commun. 9, 335 (2018).

27.

Miller, T. M. et al. Gene transfer demonstrates that muscle is not a primary target for non-cell-autonomous toxicity in familial amyotrophic lateral sclerosis. Proc. Natl Acad. Sci. USA 103, 19546–19551 (2006).

28.

Towne, C., Raoul, C., Schneider, B. L. & Aebischer, P. Systemic AAV6 delivery mediating RNA interference against SOD1: neuromuscular transduction does not alter disease progression in fALS mice. Mol. Ther. 16, 1018–1025 (2008).

29.

Dobrowolny, G. et al. Skeletal muscle is a primary target of SOD1G93A-mediated toxicity. Cell Metab. 8, 425–436 (2008).

30.

Wong, M. & Martin, L. J. Skeletal muscle-restricted expression of human SOD1 causes motor neuron degeneration in transgenic mice. Hum. Mol. Genet. 19, 2284–2302 (2010).

31.

Williams, A. H. et al. MicroRNA-206 delays ALS progression and promotes regeneration of neuromuscular synapses in mice. Science 326, 1549–1554 (2009).

32.

Kedage, V. et al. An Interaction with Ewing's sarcoma breakpoint protein EWS defines a specific oncogenic mechanism of ETS factors rearranged in prostate cancer. Cell Rep. 17, 1289–1301 (2016).

33.

Vandesompele, J. et al. Accurate normalization of real-time quantitative RT–PCR data by geometric averaging of multiple internal control genes. Genome Biol. 3, RESEARCH0034 (2002).

34.

Belzil, V. V. et al. Novel FUS deletion in a patient with juvenile amyotrophic lateral sclerosis. Arch. Neurol. 69, 653–656 (2012).

35.

Japtok, J. et al. Stepwise acquirement of hallmark neuropathology in FUS-ALS iPSC models depends on mutation type and neuronal aging. Neurobiol. Dis. 82, 420–429 (2015).

36.

Lenzi, J. et al. ALS mutant FUS proteins are recruited into stress granules in induced pluripotent stem cell-derived motoneurons. Dis. Model Mech. 8, 755–766 (2015).

37.

Aasen, T. et al. Efficient and rapid generation of induced pluripotent stem cells from human keratinocytes. Nat. Biotechnol. 26, 1276–1284 (2008).

38.

Takahashi, K. & Yamanaka, S. Induction of pluripotent stem cells from mouse embryonic and adult fibroblast cultures by defined factors. Cell 126, 663–676 (2006).

39.

Warlich, E. et al. Lentiviral vector design and imaging approaches to visualize the early stages of cellular reprogramming. Mol. Ther. 19, 782–789 (2011).

40.

Stockmann, M. et al. Developmental and functional nature of human iPSC derived motoneurons. Stem Cell Rev. 9, 475–492 (2013).

41.

Linta, L. et al. Rat embryonic fibroblasts improve reprogramming of human keratinocytes into induced pluripotent stem cells. Stem Cells Dev. 21, 965–976 (2012).

42.

Hu, B. Y. & Zhang, S. C. Differentiation of spinal motor neurons from pluripotent human stem cells. Nat. Protoc. 4, 1295–1304 (2009).

43.

Darabi, R. et al. Human ES- and iPS-derived myogenic progenitors restore DYSTROPHIN and improve contractility upon transplantation in dystrophic mice. Cell Stem Cell 10, 610–619 (2012).

44.

Schindelin, J. et al. Fiji: an open-source platform for biological-image analysis. Nat. Methods 9, 676–682 (2012).

45.

Bischoff, C., Stalberg, E., Falck, B. & Eeg-Olofsson, K. E. Reference values of motor unit action potentials obtained with multi-MUAP analysis. Muscle Nerve 17, 842–851 (1994).

46.

Gilai, A. N. in Computer-aided Electromyography and Expert Systems, Clinical Neurophysiology Updates (ed. Desmedt, J. E.) 143–161 (Karger, 1989).
Acknowledgements
The authors thank L. Schaeffer (University of Lyon, France), A. Verger (Université Lille Nord de France, France), J. Weishaupt (Ulm University, Germany) and R. Perlingeiro (University of Minnesota, USA) for the gift of plasmids, and N. Charlet Berguerand for advice on siRNA treatment. They would also like to thank the General Instruments Facility of the Faculty of Science of Radboud University and I. Alexopoulos in particular for advice on image acquisition and analyses. The authors would like to thank S. Seltenheim, L. Dietz and R. Zienecker for excellent technical support, A. Knehr (Department of Neurology, Ulm University) for collecting human material, and B. Mayer (Institute for Epidemiology and Medical Biometrics, Ulm University) for advice on statistical analyses. They are grateful to all the participants for willingly providing them with hair and muscle samples. This work was directly supported by the following grants: ALS Association Investigator Initiated Awards (grants 2235, 3209 and 8075 to L.D. and C.L.-T.); the Frick Foundation (award 2013 to L.D. and C.L.-T); Association Française contre les Myopathies (grant 18280 to L.D., C.L.-T. and E.S.); Virtual Helmholtz Institute 'RNA dysmetabolism in ALS and FTD' (WP2 to L.D., A.L. and T.M.B.); the DZNE (Ulm site) and agence nationale de la recherche (ToFU, EpiFUS to L.D.); the Bundesministerium für Bildung und Forschung (BMBF01EK1611C to T.M.B. and M.D.); the Max Planck Society (to E.S.); and the Donders Center for Neuroscience (to E.S.). Work in the authors' laboratories is supported by ARSla (call 2014 and 2016 to L.D.), the fondation 'recherche sur le cerveau' (call 2015 to L.D.), Axa Banque Patrimoniale (Bourse recherche maladies rares to L.D.), Fondation pour la recherche médicale (Equipe FRM to L.D.), the Muscular Dystrophy Association (MDA479773 to E.S.), the EU Joint Programme—Neurodegenerative Disease Research (JPND; grant numbers ZonMW 733051075 (TransNeuro) and ZonMW 733501073 (LocalNMD) to E.S.) and an ERC consolidator grant (ERC-2017-COG 770244 to E.S).
Ethics declarations
Competing interests
The authors declare no competing interests.
Additional information
Peer review information Nature Neuroscience thanks Thomas Lloyd and the other, anonymous, reviewer(s) for their contribution to the peer review of this work.
Publisher's note Springer Nature remains neutral with regard to jurisdictional claims in published maps and institutional affiliations.
Integrated supplementary information
Supplementary information
Supplementary Figs. 1–11, Supplementary Tables 1–4 and Supplementary Note 1.
About this article
Cite this article
Picchiarelli, G., Demestre, M., Zuko, A. et al. FUS-mediated regulation of acetylcholine receptor transcription at neuromuscular junctions is compromised in amyotrophic lateral sclerosis. Nat Neurosci 22, 1793–1805 (2019). https://doi.org/10.1038/s41593-019-0498-9
Received:

Accepted:

Published:

Issue Date: