Abstract
Axonal injury results in regenerative success or failure, depending on whether the axon lies in the peripheral or the CNS, respectively. The present study addresses whether epigenetic signatures in dorsal root ganglia discriminate between regenerative and non-regenerative axonal injury. Chromatin immunoprecipitation for the histone 3 (H3) post-translational modifications H3K9ac, H3K27ac and H3K27me3; an assay for transposase-accessible chromatin; and RNA sequencing were performed in dorsal root ganglia after sciatic nerve or dorsal column axotomy. Distinct histone acetylation and chromatin accessibility signatures correlated with gene expression after peripheral, but not central, axonal injury. DNA-footprinting analyses revealed new transcriptional regulators associated with regenerative ability. Machine-learning algorithms inferred the direction of most of the gene expression changes. Neuronal conditional deletion of the chromatin remodeler CCCTC-binding factor impaired nerve regeneration, implicating chromatin organization in the regenerative competence. Altogether, the present study offers the first epigenomic map providing insight into the transcriptional response to injury and the differential regenerative ability of sensory neurons.
Relevant articles
Open Access articles citing this article.
Teruyoshi Hirayama

,

Yuuki Kadooka

…

Takeshi Yagi

Acta Neuropathologica Communications Open Access 29 November 2022

Kimberly E. Stephens

,

Weiqiang Zhou

…

Sean D. Taverna

Journal of Neuroinflammation Open Access 26 August 2021

Wolfgang Pita-Thomas

,

Tassia Mangetti Gonçalves

…

Valeria Cavalli

Scientific Reports Open Access 21 July 2021
Access options
Subscribe to Nature+
Get immediate online access to Nature and 55 other Nature journal
Subscribe to Journal
Get full journal access for 1 year
$79.00
only $6.58 per issue
All prices are NET prices.
VAT will be added later in the checkout.
Tax calculation will be finalised during checkout.
Buy article
Get time limited or full article access on ReadCube.
$32.00
All prices are NET prices.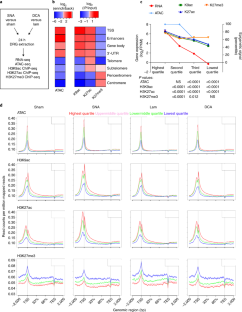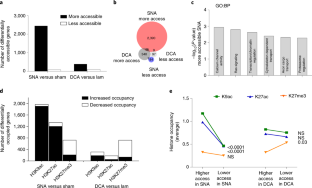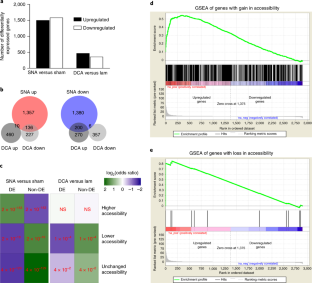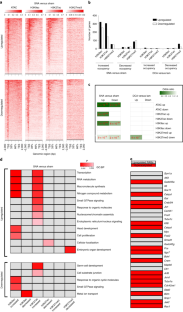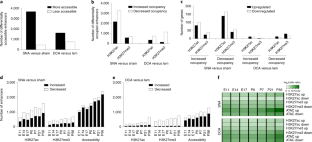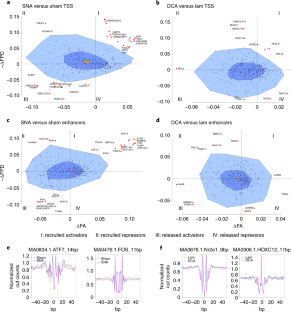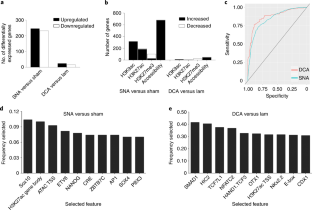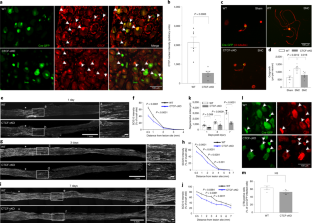 Data availability
RNA-seq, ChIP-seq and ATAC-seq data have been deposited at the GEO under accession IDs GSE97090, GSE108806 and GSE132382. For detailed information on experimental design, please see the provided Nature Research Reporting Summary. Uncropped blots with molecular weight standards are provided in Supplementary Fig. 11.
Code availability
All code for processing and analyzing the data presented in this work are available on reasonable request.
References
Tedeschi, A. Tuning the orchestra: transcriptional pathways controlling axon regeneration. Front. Mol. Neurosci. 4, 60 (2011).

Kiryu-Seo, S. & Kiyama, H. The nuclear events guiding successful nerve regeneration. Front. Mol. Neurosci. 4, 53 (2011).

Patodia, S. & Raivich, G. Role of transcription factors in peripheral nerve regeneration. Front. Mol. Neurosci. 5, 8 (2012).

Ma, T. C. & Willis, D. E. What makes a RAG regeneration associated? Front. Mol. Neurosci. 8, 43 (2015).

Baldwin, K. T. & Giger, R. J. Insights into the physiological role of CNS regeneration inhibitors. Front. Mol. Neurosci. 8, 23 (2015).

Neumann, S. & Woolf, C. J. Regeneration of dorsal column fibers into and beyond the lesion site following adult spinal cord injury. Neuron 23, 83–91 (1999).

Geiman, T. M. & Robertson, K. D. Chromatin remodeling, histone modifications, and DNA methylation-how does it all fit together? J. Cell Biochem. 87, 117–125 (2002).

Vignali, M., Hassan, A. H., Neely, K. E. & Workman, J. L. ATP-dependent chromatin-remodeling complexes. Mol. Cell Biol. 20, 1899–1910 (2000).

Gaub, P. et al. The histone acetyltransferase p300 promotes intrinsic axonal regeneration. Brain 134, 2134–2148 (2011).

Palmisano, I. & Di Giovanni, S. Advances and limitations of current epigenetic studies investigating mammalian axonal regeneration. Neurotherapy 15, 529–540 (2018).

Hutson, T. H. et al. Cbp-dependent histone acetylation mediates axon regeneration induced by environmental enrichment in rodent spinal cord injury models. Sci. Transl. Med. 11, pii: eaaw2064 (2019).

Hervera, A. et al. PP4-dependent HDAC3 dephosphorylation discriminates between axonal regeneration and regenerative failure. EMBO J. 38, e101032 (2019).

Oh, Y. M. et al. Epigenetic regulator UHRF1 inactivates REST and growth suppressor gene expression via DNA methylation to promote axon regeneration. Proc. Natl Acad. Sci. USA 115, E12417–E12426 (2018).

Finelli, M. J., Wong, J. K. & Zou, H. Epigenetic regulation of sensory axon regeneration after spinal cord injury. J. Neurosci. 33, 19664–19676 (2013).

Puttagunta, R. et al. PCAF-dependent epigenetic changes promote axonal regeneration in the central nervous system. Nat. Commun. 5, 3527 (2014).

Cho, Y., Sloutsky, R., Naegle, K. M. & Cavalli, V. Injury-induced HDAC5 nuclear export is essential for axon regeneration. Cell 155, 894–908 (2013).

Weng, Y. L. et al. An intrinsic epigenetic barrier for functional axon regeneration. Neuron 94, 337–346 e336 (2017).

Hervera, A. et al. Reactive oxygen species regulate axonal regeneration through the release of exosomal NADPH oxidase 2 complexes into injured axons. Nat. Cell Biol. 20, 307–319 (2018).

Buenrostro, J. D., Giresi, P. G., Zaba, L. C., Chang, H. Y. & Greenleaf, W. J. Transposition of native chromatin for fast and sensitive epigenomic profiling of open chromatin, DNA-binding proteins and nucleosome position. Nat. Methods 10, 1213–1218 (2013).

Chandran, V. et al. A systems-level analysis of the peripheral nerve intrinsic axonal growth program. Neuron 89, 956–970 (2016).

Tedeschi, A. et al. The calcium channel subunit alpha2delta2 suppresses axon regeneration in the adult CNS. Neuron 92, 419–434 (2016).

Li, S. et al. The transcriptional landscape of dorsal root ganglia after sciatic nerve transection. Sci. Rep. 5, 16888 (2015).

Shen, Y. et al. A map of the cis-regulatory sequences in the mouse genome. Nature 488, 116–120 (2012).

Yue, F. et al. A comparative encyclopedia of DNA elements in the mouse genome. Nature 515, 355–364 (2014).

Nord, A. S. et al. Rapid and pervasive changes in genome-wide enhancer usage during mammalian development. Cell 155, 1521–1531 (2013).

Baek, S., Goldstein, I. & Hager, G. L. Bivariate genomic footprinting detects changes in transcription factor activity. Cell Rep. 19, 1710–1722 (2017).

Nadeau, S., Hein, P., Fernandes, K. J., Peterson, A. C. & Miller, F. D. A transcriptional role for C/EBP beta in the neuronal response to axonal injury. Mol. Cell. Neurosci. 29, 525–535 (2005).

Danzi, M. C. et al. The effect of Jun dimerization on neurite outgrowth and motif binding. Mol. Cell. Neurosci. 92, 114–127 (2018).

Gusmao, E. G., Allhoff, M., Zenke, M. & Costa, I. G. Analysis of computational footprinting methods for DNase sequencing experiments. Nat. Methods 13, 303–309 (2016).

Usoskin, D. et al. Unbiased classification of sensory neuron types by large-scale single-cell RNA sequencing. Nat. Neurosci. 18, 145–153 (2015).

Hirayama, T., Tarusawa, E., Yoshimura, Y., Galjart, N. & Yagi, T. CTCF is required for neural development and stochastic expression of clustered Pcdh genes in neurons. Cell Rep. 2, 345–357 (2012).

Ong, C. T. & Corces, V. G. CTCF: an architectural protein bridging genome topology and function. Nat. Rev. Genet. 15, 234–246 (2014).

Ziebarth, J. D., Bhattacharya, A. & Cui, Y. CTCFBSDB 2.0: a database for CTCF-binding sites and genome organization. Nucleic Acids Res. 41, D188–D194 (2013).

Sams, D. S. et al. Neuronal CTCF Is necessary for basal and experience-dependent gene regulation, memory formation, and genomic structure of BDNF and Arc. Cell Rep. 17, 2418–2430 (2016).

Shin, J. E., Geisler, S. & DiAntonio, A. Dynamic regulation of SCG10 in regenerating axons after injury. Exp. Neurol. 252, 1–11 (2014).

Michaelevski, I. et al. Signaling to transcription networks in the neuronal retrograde injury response. Sci. Signal. 3, ra53 (2010).

Wang, Y. et al. Gene network revealed involvements of Birc2, Birc3 and Tnfrsf1a in anti-apoptosis of injured peripheral nerves. PloS ONE 7, e43436 (2012).

Geeven, G. et al. LLM3D: a log-linear modeling-based method to predict functional gene regulatory interactions from genome-wide expression data. Nucleic Acids Res. 39, 5313–5327 (2011).

Li, S. et al. Differential gene expression profiling and biological process analysis in proximal nerve segments after sciatic nerve transection. PloS ONE 8, e57000 (2013).

Wang, Z., Reynolds, A., Kirry, A., Nienhaus, C. & Blackmore, M. G. Overexpression of Sox11 promotes corticospinal tract regeneration after spinal injury while interfering with functional recovery. J. Neurosci. 35, 3139–3145 (2015).

Mann, R. S. & Affolter, M. Hox proteins meet more partners. Curr. Opin. Genet. Dev. 8, 423–429 (1998).

Philippidou, P. & Dasen, J. S. Hox genes: choreographers in neural development, architects of circuit organization. Neuron 80, 12–34 (2013).

De Kumar, B. et al. Dynamic regulation of nanog and stem cell-signaling pathways by Hoxa1 during early neuro-ectodermal differentiation of ES cells. Proc. Natl Acad. Sci. USA 114, 5838–5845 (2017).

Zhou, V. W., Goren, A. & Bernstein, B. E. Charting histone modifications and the functional organization of mammalian genomes. Nat. Rev. Genet. 12, 7–18 (2011).

Loh, Y. E. et al. Comprehensive mapping of 5-hydroxymethylcytosine epigenetic dynamics in axon regeneration. Epigenetics 12, 77–92 (2017).

Zhou, S., Ding, F. & Gu, X. Non-coding RNAs as emerging regulators of neural injury responses and regeneration. Neurosci. Bull. 32, 253–264 (2016).

Shen, L., Shao, N., Liu, X. & Nestler, E. ngs.plot: quick mining and visualization of next-generation sequencing data by integrating genomic databases. BMC Genom. 15, 284 (2014).

He, H. H. et al. Refined DNase-seq protocol and data analysis reveals intrinsic bias in transcription factor footprint identification. Nat. Methods 11, 73–78 (2014).

Cruickshank, M., Fenwick, E., Abraham, L. J. & Ulgiati, D. Quantitative differences in chromatin accessibility across regulatory regions can be directly compared in distinct cell-types. Biochem. Biophys. Res. Commun. 367, 349–355 (2008).

Hart, S. N., Therneau, T. M., Zhang, Y., Poland, G. A. & Kocher, J. P. Calculating sample size estimates for RNA sequencing data. J. Comput. Biol. 20, 970–978 (2013).
Acknowledgements
We would like to acknowledge the start-up funds: Division of Brain Sciences, Imperial College London (S.D.G.), Wings for Life grant no. WFL-UK-07/16 (S.D.G.), Rosetrees Trust grant no. A1438 (S.D.G.), the Leverhulme Trust grant no. RPG-2015-092 (S.D.G.), ISRT (S.D.G.), the Medical Research Council grant no. R/R005311/1 (S.D.G.) and WT grant no. 099276/Z/12/Z (M.M.). The research was supported by the National Institute for Health Research (NIHR) Imperial Biomedical Research Centre (S.D.G.). The views expressed are those of the author(s) and not necessarily those of the NHS, the NIHR or the Department of Health. We thank C. Sibley, Imperial College London, for useful discussion and suggestions.
Ethics declarations
Competing interests
The authors declare no competing interests.
Additional information
Peer review information Nature Neuroscience thanks E. Bradbury and the other, anonymous, reviewer(s) for their contribution to the peer review of this work.
Publisher's note Springer Nature remains neutral with regard to jurisdictional claims in published maps and institutional affiliations.
Integrated supplementary information
Supplementary Information
About this article
Cite this article
Palmisano, I., Danzi, M.C., Hutson, T.H. et al. Epigenomic signatures underpin the axonal regenerative ability of dorsal root ganglia sensory neurons. Nat Neurosci 22, 1913–1924 (2019). https://doi.org/10.1038/s41593-019-0490-4
Received:

Accepted:

Published:

Issue Date:

DOI: https://doi.org/10.1038/s41593-019-0490-4