Abstract
Neuropathic pain can be a debilitating condition with both sensory and affective components, the underlying brain circuitry of which remains poorly understood. In the present study, a basolateral amygdala (BLA)–prefrontal cortex (PFC)–periaqueductal gray (PAG)–spinal cord pathway was identified that is critical for the development of mechanical and thermal hypersensitivity after peripheral nerve injury. It was shown that nerve injury strengthens synaptic input from the BLA onto inhibitory interneurons located in the prelimbic medial PFC, by virtue of reduced endocannabinoid modulation. These augmented synaptic connections mediate a feedforward inhibition of projections from the PFC to the ventrolateral PAG region and its downstream targets. Optogenetic approaches combined with in vivo pharmacology reveal that these BLA–PFC–PAG connections alter pain behaviors by reducing descending noradrenergic and serotoninergic modulation of spinal pain signals. Thus, a long-range brain circuit was identified that is crucial for pain processing and that can potentially be exploited toward targeting neuropathic pain.
Access options
Subscribe to Journal
Get full journal access for 1 year
$209.00
only $17.42 per issue
All prices are NET prices.
VAT will be added later in the checkout.
Rent or Buy article
Get time limited or full article access on ReadCube.
from$8.99
All prices are NET prices.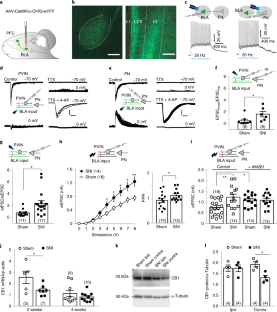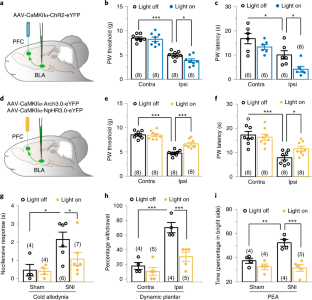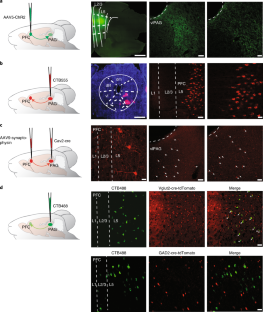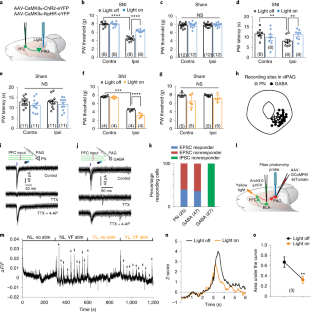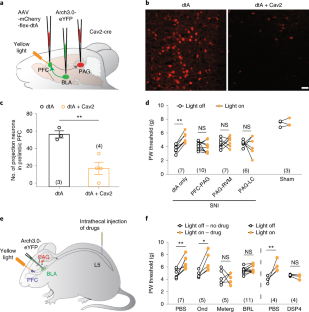 Data availability
Data for analysis of in vivo calcium measurements will be made available upon reasonable request. The data that support the findings of this study are available from the corresponding author upon request.
Code availability
The code for analysis of in vivo calcium measurements will be made available upon reasonable request.
References
1.

Lorenz, J., Minoshima, S. & Casey, K. L. Keeping pain out of mind: the role of the dorsolateral prefrontal cortex in pain modulation. Brain 126, 1079–1091 (2003).

2.

Apkarian, A. V. et al. Chronic back pain is associated with decreased prefrontal and thalamic gray matter density. J. Neurosci. 24, 10410–10415 (2004).

3.

Devoize, L., Alvarez, P., Monconduit, L. & Dallel, R. Representation of dynamic mechanical allodynia in the ventral medial prefrontal cortex of trigeminal neuropathic rats. Eur. J. Pain. 15, 676–682 (2011).

4.

Seminowicz, D. A. & Moayedi, M. The dorsolateral prefrontal cortex in acute and chronic pain. J. Pain 18, 1027–1035 (2017).

5.

Taylor, J. J., Borckardt, J. J. & George, M. S. Endogenous opioids mediate left dorsolateral prefrontal cortex rTMS-induced analgesia. Pain 153, 1219–1225 (2012).

6.

Seamans, J. K., Lapish, C. C. & Durstewitz, D. Comparing the prefrontal cortex of rats and primates: insights from electrophysiology. Neurotox. Res. 14, 249–262 (2008).

7.

Zhang, Z. et al. Role of prelimbic GABAergic circuits in sensory and emotional aspects of neuropathic. Pain Cell Rep. 12, 752–759 (2015).

8.

Lee, M. et al. Activation of corticostriatal circuitry relieves chronic neuropathic pain. J. Neurosci. 35, 5247–5259 (2015).

9.

Little, J. P. & Carter, A. G. Synaptic mechanisms underlying strong reciprocal connectivity between the medial prefrontal cortex and basolateral amygdala. J. Neurosci. 33, 15333–15342 (2013).

10.

McGarry, L. M. & Carter, A. G. Prefrontal cortex drives distinct projection neurons in the basolateral amygdala. Cell Rep. 21, 1426–1433 (2017).

11.

Cheriyan, J., Kaushik, M. K., Ferreira, A. N. & Sheets, P. L. Specific targeting of the basolateral amygdala to projectionally defined pyramidal neurons in prelimbic and infralimbic cortex. eNeuro 3, https://doi.org/10.1523/ENEURO.0002-16.2016 (2016).

12.

Collins, D. P., Anastasiades, P. G., Marlin, J. J. & Carter, A. G. Reciprocal circuits linking the prefrontal cortex with dorsal and ventral thalamic nuclei. Neuron 98, 366–379 (2018).

13.

Cheriyan, J. & Sheets, P. L. Altered excitability and local connectivity of mPFC-PAG neurons in a mouse model of neuropathic pain. J. Neurosci. 38, 4829–4839 (2018).

14.

Woodhams, S. G., Chapman, V., Finn, D. P., Hohmann, A. G. & Neugebauer, V. The cannabinoid system and pain. Neuropharmacology 124, 105–120 (2017).

15.

Fortin, D. A. & Levine, E. S. Differential effects of endocannabinoids on glutamatergic and GABAergic inputs to layer 5 pyramidal neurons. Cereb. Cortex 17, 163–174 (2007).

16.

Caballero, A. & Tseng, K. Y. Association of cannabis use during adolescence, prefrontal CB1 receptor signaling, and schizophrenia. Front. Pharmacol. 3, 101 (2012).

17.

Song, J. et al. Crucial role of feedback signals from prelimbic cortex to basolateral amygdala. Sci. Adv. 5, eaat3210 (2019).

18.

Reynolds, D. V. Surgery in the rat during electrical analgesia induced by focal brain stimulation. Science 164, 444–445 (1969).

19.

Basbaum, A. I. & Fields, H. L. Endogenous pain control systems: brainstem spinal pathways and endorphin circuitry. Annu. Rev. Neurosci. 7, 309–338 (1984).

20.

Samineni, V. K. et al. Divergent modulation of nociception by glutamatergic and GABAergic neuronal subpopulations in the periaqueductal gray. eNeuro 4, https://doi.org/10.1523/ENEURO.0129-16.2017 (2017).

21.

Hardy, S. G. & Leichnetz, G. R. Frontal cortical projections to the periaqueductal gray in the rat a retrograde and orthograde. Neurosci. Lett. 23, 13–17 (1981).

22.

An, X., Bandler, R., Ongür, D. & Price, J. L. Prefrontal cortical projections to longitudinal columns in the midbrain periaqueductal gray in macaque monkeys. J. Comp. Neurol. 401, 455–479 (1998).

23.

Ferreira, A. N., Yousuf, H., Dalton, S. & Sheets, P. L. Highly differentiated cellular and circuit properties of infralimbic pyramidal neurons projecting to the periaqueductal gray and amygdala. Front. Cell Neurosci. 9, 161 (2015).

24.

Franklin, T. B. et al. Prefrontal cortical control of a brainstem social behavior circuit. Nat. Neurosci. 20, 260–270 (2017).

25.

Rozeske, R. R. et al. Prefrontal-periaqueductal gray-projecting neurons mediate context fear discrimination. Neuron 97, 898–910 (2018). e896.

26.

Kim, J. H. et al. Yin-and-yang bifurcation of opioidergic circuits for descending analgesia at the midbrain of the mouse. Proc. Natl Acad. Sci. USA 115, 11078–11083 (2018).

27.

Ossipov, M. H., Dussor, G. O. & Porreca, F. Central modulation of pain. J. Clin. Invest. 120, 3779–3787 (2010).

28.

Nam, H. & Kerman, I. A. Distribution of catecholaminergic presympathetic-premotor neurons in the rat lower brainstem. Neuroscience 324, 430–445 (2016).

29.

Craig, A. D., Bushnell, M. C., Zhang, E. T. & Blomqvist, A. A thalamic nucleus specific for pain and temperature sensation.pdf. Nature 372, 770–773 (1994).

30.

Johansen, J. P., Fields, H. L. & Manning, B. H. The affective component of pain in rodents: direct evidence for a contribution of the anterior cingulate cortex. Proc. Natl Acad. Sci. USA 98, 8077–8082 (2001).

31.

Bliss, T. V., Collingridge, G. L., Kaang, B. K. & Zhuo, M. Synaptic plasticity in the anterior cingulate cortex in acute and chronic pain. Nat. Rev. Neurosci. 17, 485–496 (2016).

32.

Ohara, P. T., Vit, J. P. & Jasmin, L. Cortical modulation of pain. Cell. Mol. Life Sci. 62, 44–52 (2005).

33.

Barthas, F. et al. The anterior cingulate cortex is a critical hub for pain-induced depression. Biol. Psychiatry 77, 236–245 (2015).

34.

Jahn, A., Nee, D. E., Alexander, W. H. & Brown, J. W. Distinct regions within medial prefrontal cortex process pain and cognition. J. Neurosci. 36, 12385–12392 (2016).

35.

Weizman, L. et al. Cannabis analgesia in chronic neuropathic pain is associated with altered brain connectivity. Neurology 91, 1285–1294 (2018).

36.

Chen, T. et al. Top-down descending facilitation of spinal sensory excitatory transmission from the anterior cingulate cortex. Nat. Commun. 9, 1886 (2018).

37.

Liu, Y. et al. Touch and tactile neuropathic pain sensitivity are set by corticospinal projections. Nature 561, 547–550 (2018).

38.

Ji, G. et al. Cognitive impairment in pain through amygdala-driven prefrontal cortical deactivation. J. Neurosci. 30, 5451–5464 (2010).

39.

Roy, M. et al. Representation of aversive prediction errors in the human periaqueductal gray. Nat. Neurosci. 17, 1607–1612 (2014).

40.

Tinnermann, A., Geuter, S., Sprenger, C., Finsterbusch, J. & Büchel, C. Interactions between PFC-PAG-spinal cord mediate value effects in nocebo hyperalgesia. Science 358, 105–108 (2017).

41.

Penzo, M. A. et al. The paraventricular thalamus controls a central amygdala fear circuit. Nature 519, 455–459 (2015).

42.

Allen, W. E. et al. Thirst-associated preoptic neurons encode an aversive motivational drive. Science 357, 1149–1155 (2017).

43.

Beyeler, A. et al. Divergent routing of positive and negative information from the amygdala during memory retrieval. Neuron 90, 348–361 (2016).

44.

Zhang, F. X., Gadotti, V. M., Souza, I. A., Chen, L. & Zamponi, G. W. BK potassium channels suppress Cavalpha2delta subunit function to reduce inflammatory and neuropathic pain. Cell Rep. 22, 1956–1964 (2018).

45.

Brenner, D. S., Golden, J. P. & Gereau, R. W. A novel behavioral assay for measuring cold sensation in mice. PLoS One 7, https://doi.org/10.1371/journal.pone.0039765.g001 (2012).

46.

Sestakova, N., Puzserova, A., Kluknavsky, M. & Bernatova, I. Determination of motor activity and anxiety-related behaviour in rodents: methodological aspects and role of nitric oxide. Interdiscip. Toxicol. 6, 126–135 (2013).

47.

Simone, K., Fuzesi, T., Rosenegger, D., Bains, J. & Murari, K. Open-source, cost-effective system for low-light in vivo fiber photometry. Neurophotonics 5, 025006 (2018).

48.

Huang, J. et al. Targeting the D series resolvin receptor system for the treatment of osteoarthritis pain. Arthr. Rheumatol. 69, 996–1108 (2017).
Acknowledgements
This work was supported by a Foundation Grant to G.W.Z. from the Canadian Institutes of Health Research, and by the Canada–Israel Health Research Initiative, jointly funded by the Canadian Institutes of Health Research, the Israel Science Foundation, the International Development Research Centre and the Azrieli Foundation. G.W.Z. is a Canada Research Chair in Molecular Neuroscience. V.M.G. is supported through the Vi Riddell Program in Pediatric Pain of the Alberta Children's Hospital Research Institute. S.H. is supported by a studentship from Alberta Innovates and a University of Calgary Eyes-High studentship. We thank T. Fuzesi and the Cumming School of Medicine Optogenetics facility for technical assistance with fiber photometry.
Ethics declarations
Competing interests
The authors declare no competing interests.
Additional information
Peer review information: Nature Neuroscience thanks C. Woolf and the other, anonymous, reviewer(s) for their contribution to the peer review of this work.
Publisher's note: Springer Nature remains neutral with regard to jurisdictional claims in published maps and institutional affiliations.
Integrated supplementary information
Supplementary information
About this article
Cite this article
Huang, J., Gadotti, V.M., Chen, L. et al. A neuronal circuit for activating descending modulation of neuropathic pain. Nat Neurosci 22, 1659–1668 (2019). https://doi.org/10.1038/s41593-019-0481-5
Received:

Accepted:

Published:

Issue Date: