Abstract
Activity-driven transcription plays an important role in many brain processes, including those underlying memory and epilepsy. Here we combine genetic tagging of nuclei and ribosomes with RNA sequencing, chromatin immunoprecipitation with sequencing, assay for transposase-accessible chromatin using sequencing and Hi-C to investigate transcriptional and chromatin changes occurring in mouse hippocampal excitatory neurons at different time points after synchronous activation during seizure and sparse activation by novel context exploration. The transcriptional burst is associated with an increase in chromatin accessibility of activity-regulated genes and enhancers, de novo binding of activity-regulated transcription factors, augmented promoter–enhancer interactions and the formation of gene loops that bring together the transcription start site and transcription termination site of induced genes and may sustain the fast reloading of RNA polymerase complexes. Some chromatin occupancy changes and interactions, particularly those driven by AP1, remain long after neuronal activation and could underlie the changes in neuronal responsiveness and circuit connectivity observed in these neuroplasticity paradigms, perhaps thereby contributing to metaplasticity in the adult brain.
This is a preview of subscription content
Access options
Subscribe to Journal
Get full journal access for 1 year
$59.00
only $4.92 per issue
All prices are NET prices.
VAT will be added later in the checkout.
Tax calculation will be finalised during checkout.
Rent or Buy article
Get time limited or full article access on ReadCube.
from$8.99
All prices are NET prices.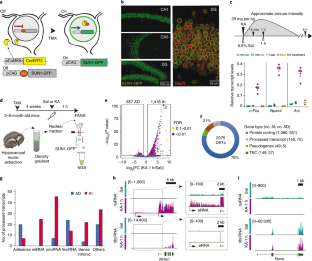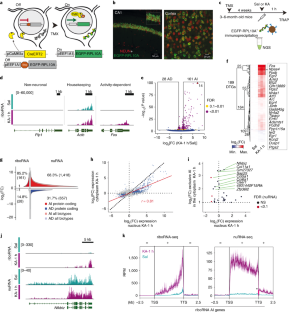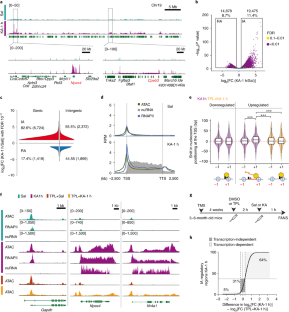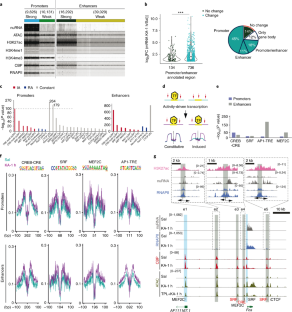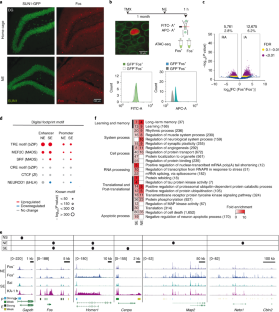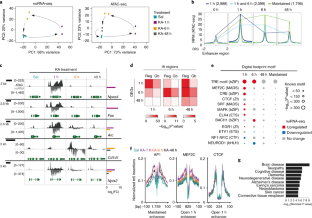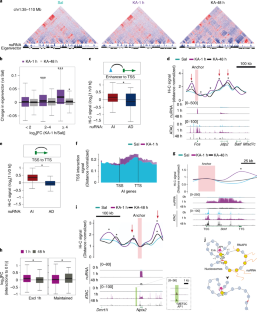 References
1.

Yap, E. L. & Greenberg, M. E. Activity-regulated transcription: bridging the gap between neural activity and behavior. Neuron 100, 330–348 (2018).

2.

Benito, E. & Barco, A. The neuronal activity-driven transcriptome. Mol. Neurobiol. 51, 1071–1088 (2015).

3.

West, A. E. & Greenberg, M. E. Neuronal activity-regulated gene transcription in synapse development and cognitive function. Cold Spring Harb. Perspect. Biol. 3, a005744 (2011).

4.

Eagle, A. L., Gajewski, P. A. & Robison, A. J. Role of hippocampal activity-induced transcription in memory consolidation. Rev. Neurosci. 27, 559–573 (2016).

5.

Sweatt, J. D. The emerging field of neuroepigenetics. Neuron 80, 624–632 (2013).

6.

Lopez-Atalaya, J. P. & Barco, A. Can changes in histone acetylation contribute to memory formation? Trends Genet. 30, 529–539 (2014).

7.

Kim, T. K. et al. Widespread transcription at neuronal activity-regulated enhancers. Nature 465, 182–187 (2010).

8.

Savell, K. E. et al. Extra-coding RNAs regulate neuronal DNA methylation dynamics. Nat. Commun. 7, 12091 (2016).

9.

You, X. et al. Neural circular RNAs are derived from synaptic genes and regulated by development and plasticity. Nat. Neurosci. 18, 603–610 (2015).

10.

Crepaldi, L. et al. Binding of TFIIIC to sine elements controls the relocation of activity-dependent neuronal genes to transcription factories. PLoS Genet. 9, e1003699 (2013).

11.

Madabhushi, R. et al. Activity-induced DNA breaks govern the expression of neuronal early-response genes. Cell 161, 1592–1605 (2015).

12.

Cho, J. et al. Multiple repressive mechanisms in the hippocampus during memory formation. Science 350, 82–87 (2015).

13.

Mauger, O., Lemoine, F. & Scheiffele, P. Targeted intron retention and excision for rapid gene regulation in response to neuronal activity. Neuron 92, 1266–1278 (2016).

14.

Mo, A. et al. Epigenomic signatures of neuronal diversity in the mammalian brain. Neuron 86, 1369–1384 (2015).

15.

Ben-Ari, Y. & Cossart, R. Kainate, a double agent that generates seizures: two decades of progress. Trends Neurosci. 23, 580–587 (2000).

16.

Elliott, R. C., Miles, M. F. & Lowenstein, D. H. Overlapping microarray profiles of dentate gyrus gene expression during development- and epilepsy-associated neurogenesis and axon outgrowth. J. Neurosci. 23, 2218–2227 (2003).

17.

Huang, Y., Doherty, J. J. & Dingledine, R. Altered histone acetylation at glutamate receptor 2 and brain-derived neurotrophic factor genes is an early event triggered by status epilepticus. J. Neurosci. 22, 8422–8428 (2002).

18.

Tsankova, N. M., Kumar, A. & Nestler, E. J. Histone modifications at gene promoter regions in rat hippocampus after acute and chronic electroconvulsive seizures. J. Neurosci. 24, 5603–5610 (2004).

19.

Crosio, C., Heitz, E., Allis, C. D., Borrelli, E. & Sassone-Corsi, P. Chromatin remodeling and neuronal response: multiple signaling pathways induce specific histone H3 modifications and early gene expression in hippocampal neurons. J. Cell Sci. 116, 4905–4914 (2003).

20.

Taniura, H., Sng, J. C. & Yoneda, Y. Histone modifications in status epilepticus induced by kainate. Histol. Histopathol. 21, 785–791 (2006).

21.

Dougherty, J. D. The expanding toolkit of translating ribosome affinity purification. J. Neurosci. 37, 12079–12087 (2017).

22.

Schott, J. et al. Translational regulation of specific mRNAs controls feedback inhibition and survival during macrophage activation. PLoS Genet. 10, e1004368 (2014).

23.

Yamazaki, S., Muta, T., Matsuo, S. & Takeshige, K. Stimulus-specific induction of a novel nuclear factor-κB regulator, IκB-ζ, via Toll/interleukin-1 receptor is mediated by mRNA stabilization. J. Biol. Chem. 280, 1678–1687 (2005).

24.

Behrens, G. et al. A translational silencing function of MCPIP1/regnase-1 specified by the target site context. Nucleic Acids Res. 46, 4256–4270 (2018).

25.

Buenrostro, J. D., Giresi, P. G., Zaba, L. C., Chang, H. Y. & Greenleaf, W. J. Transposition of native chromatin for fast and sensitive epigenomic profiling of open chromatin, DNA-binding proteins and nucleosome position. Nat. Methods 10, 1213–1218 (2013).

26.

Su, Y. et al. Neuronal activity modifies the chromatin accessibility landscape in the adult brain. Nat. Neurosci. 20, 476–483 (2017).

27.

Wang, S. et al. Target analysis by integration of transcriptome and ChIP-seq data with BETA. Nat. Protoc. 8, 2502–2515 (2013).

28.

Saha, R. N. et al. Rapid activity-induced transcription of Arc and other IEGs relies on poised RNA polymerase II. Nat. Neurosci. 14, 848–856 (2011).

29.

Schep, A. N. et al. Structured nucleosome fingerprints enable high-resolution mapping of chromatin architecture within regulatory regions. Genome Res. 25, 1757–1770 (2015).

30.

Wang, Y., Lu, J. J., He, L. & Yu, Q. Triptolide (TPL) inhibits global transcription by inducing proteasome-dependent degradation of RNA polymerase II (Pol II). PLoS One 6, e23993 (2011).

31.

Jonkers, I., Kwak, H. & Lis, J. T. Genome-wide dynamics of Pol II elongation and its interplay with promoter proximal pausing, chromatin, and exons. eLife 3, e02407 (2014).

32.

Creyghton, M. P. et al. Histone H3K27ac separates active from poised enhancers and predicts developmental state. Proc. Natl Acad. Sci. USA 107, 21931–21936 (2010).

33.

Malik, A. N. et al. Genome-wide identification and characterization of functional neuronal activity–dependent enhancers. Nat. Neurosci. 17, 1330–1339 (2014).

34.

Hardingham, G. E., Pruunsild, P., Greenberg, M. E. & Bading, H. Lineage divergence of activity-driven transcription and evolution of cognitive ability. Nat. Rev. Neurosci. 19, 9–15 (2018).

35.

Guzowski, J. F. et al. Mapping behaviorally relevant neural circuits with immediate-early gene expression. Curr. Opin. Neurobiol. 15, 599–606 (2005).

36.

Lacar, B. et al. Nuclear RNA-seq of single neurons reveals molecular signatures of activation. Nat. Commun. 7, 11022 (2016).

37.

Tai, X. Y. et al. Hyperphosphorylated tau in patients with refractory epilepsy correlates with cognitive decline: a study of temporal lobe resections. Brain 139, 2441–2455 (2016).

38.

Halder, R. et al. DNA methylation changes in plasticity genes accompany the formation and maintenance of memory. Nat. Neurosci. 19, 102–110 (2016).

39.

Rowley, M. J. & Corces, V. G. Organizational principles of 3D genome architecture. Nat. Rev. Genet. 19, 789–800 (2018).

40.

Bonev, B. et al. Multiscale 3D genome rewiring during mouse neural development. Cell 171, 557–572.e524 (2017).

41.

Rao, S. S. et al. A 3D map of the human genome at kilobase resolution reveals principles of chromatin looping. Cell 159, 1665–1680 (2014).

42.

Xiao, M. F. et al. NPTX2 and cognitive dysfunction in Alzheimer's disease. eLife 6, e23798 (2017).

43.

Fernandes, D. & Carvalho, A. L. Mechanisms of homeostatic plasticity in the excitatory synapse. J. Neurochem. 139, 973–996 (2016).

44.

Hampsey, M., Singh, B. N., Ansari, A., Laine, J. P. & Krishnamurthy, S. Control of eukaryotic gene expression: gene loops and transcriptional memory. Adv. Enzym. Regul. 51, 118–125 (2011).

45.

Laine, J. P., Singh, B. N., Krishnamurthy, S. & Hampsey, M. A physiological role for gene loops in yeast. Genes Dev. 23, 2604–2609 (2009).

46.

DeNardo, L. & Luo, L. Genetic strategies to access activated neurons. Curr. Opin. Neurobiol. 45, 121–129 (2017).

47.

Maurano, M. T. et al. Large-scale identification of sequence variants influencing human transcription factor occupancy in vivo. Nat. Genet. 47, 1393–1401 (2015).

48.

Vierbuchen, T. et al. AP-1 transcription factors and the BAF complex mediate signal-dependent enhancer selection. Mol. Cell 68, 1067–1082.e1012 (2017).

49.

Del Blanco, B. et al. CBP and SRF co-regulate dendritic growth and synaptic maturation. Cell Death Differ. https://doi.org/10.1038/s41418-019-0285-x (2019).

50.

Scandaglia, M. et al. Loss of Kdm5c causes spurious transcription and prevents the fine-tuning of activity-regulated enhancers in neurons. Cell Rep. 21, 47–59 (2017).

51.

Erdmann, G., Schutz, G. & Berger, S. Inducible gene inactivation in neurons of the adult mouse forebrain. BMC Neurosci. 8, 63 (2007).

52.

Stanley, S. et al. Profiling of glucose-sensing neurons reveals that GHRH neurons are Activated by hypoglycemia. Cell Metab. 18, 596–607 (2013).

53.

Fiorenza, A. et al. Blocking miRNA Biogenesis in adult forebrain neurons enhances seizure susceptibility, fear memory, and food intake by increasing neuronal responsiveness. Cereb. Cortex 26, 1619–1633 (2016).

54.

Vogel-Ciernia, A. et al. The neuron-specific chromatin regulatory subunit BAF53b is necessary for synaptic plasticity and memory. Nat. Neurosci. 16, 552–561 (2013).

55.

Heiman, M., Kulicke, R., Fenster, R. J., Greengard, P. & Heintz, N. Cell type-specific mRNA purification by translating ribosome affinity purification (TRAP). Nat. Protoc. 9, 1282–1291 (2014).

56.

Lopez-Atalaya, J. P., Ito, S., Valor, L. M., Benito, E. & Barco, A. Genomic targets, and histone acetylation and gene expression profiling of neural HDAC inhibition. Nucleic Acids Res. 41, 8072–8084 (2013).

57.

Martin, M. Cutadapt removes adapter sequences from high-throughput sequencing reads. EMBnet J. 17, 10–12 (2011).

58.

Li, H. et al. The Sequence Alignment/Map format and SAMtools. Bioinformatics 25, 2078–2079 (2009).

59.

Quinlan, A. R., & Hall, I. M. BEDTools: a flexible suite of utilities for comparing genomic features. Bioinformatics 26, 841–842 (2010).

60.

Ramirez, F. et al. deepTools2: a next generation web server for deep-sequencing data analysis. Nucleic Acids Res. 44, W160–W165 (2016).

61.

Thorvaldsdottir, H., Robinson, J. T. & Mesirov, J. P. Integrative Genomics Viewer (IGV): high-performance genomics data visualization and exploration. Brief. Bioinform. 14, 178–192 (2013).

62.

Kim, D., Langmead, B. & Salzberg, S. L. HISAT: a fast spliced aligner with low memory requirements. Nat. Methods 12, 357–360 (2015).

63.

Liao, Y., Smyth, G. K. & Shi, W. featureCounts: an efficient general purpose program for assigning sequence reads to genomic features. Bioinformatics 30, 923–930 (2014).

64.

Love, M. I., Huber, W. & Anders, S. Moderated estimation of fold change and dispersion for RNA-seq data with DESeq2. Genome Biol. 15, 550 (2014).

65.

Bauer-Mehren, A., Rautschka, M., Sanz, F. & Furlong, L. I. DisGeNET: a Cytoscape plugin to visualize, integrate, search and analyze gene-disease networks. Bioinformatics 26, 2924–2926 (2010).

66.

Queralt-Rosinach, N., Pinero, J., Bravo, A., Sanz, F. & Furlong, L. I. DisGeNET-RDF: harnessing the innovative power of the Semantic Web to explore the genetic basis of diseases. Bioinformatics 32, 2236–2238 (2016).

67.

Langmead, B. & Salzberg, S. L. Fast gapped-read alignment with Bowtie 2. Nat. Methods 9, 357–359 (2012).

68.

Zhang, Y. et al. Model-based analysis of ChIP-Seq (MACS). Genome Biol. 9, R137 (2008).

69.

McLean, C. Y. et al. GREAT improves functional interpretation of cis-regulatory regions. Nat. Biotechnol. 28, 495–501 (2010).

70.

Ye, T. et al. seqMINER: an integrated ChIP-seq data interpretation platform. Nucleic Acids Res. 39, e35 (2011).

71.

Siepel, A. et al. Evolutionarily conserved elements in vertebrate, insect, worm, and yeast genomes. Genome Res. 15, 1034–1050 (2005).

72.

Pollard, K. S., Hubisz, M. J., Rosenbloom, K. R. & Siepel, A. Detection of nonneutral substitution rates on mammalian phylogenies. Genome Res. 20, 110–121 (2010).

73.

Piper, J. et al. Wellington: a novel method for the accurate identification of digital genomic footprints from DNase-seq data. Nucleic Acids Res. 41, e201 (2013).

74.

Durand, N. C. et al. Juicer provides a one-click system for analyzing loop-resolution hi-C experiments. Cell Syst. 3, 95–98 (2016).

75.

Ay, F., Bailey, T. L. & Noble, W. S. Statistical confidence estimation for Hi-C data reveals regulatory chromatin contacts. Genome Res. 24, 999–1011 (2014).
Acknowledgements
The authors thank E. Herrera, T. Ferrar, J. P. Lopez-Atalaya and Y. Ruan for their critical reading of the manuscript, and R. Olivares, N. Cascales, A. Caler and the personnel of the sequencing facility at the CRG (Barcelona, Spain) and HudsonAlpha (Alabama, USA) for technical assistance. J.F.-A. and M.T.L.-C. are recipients of fellowships from the Spanish Ministry of Science and Innovation (MICINN, SVP-2014-068387 and BES-2017-081298, respectively). The research of A.B. is supported by grants SAF2017-87928-R and SEV-2017-0723 from the MICINN co-financed by the ERDF, PROMETEO/2016/026 from the Generalitat Valenciana and RGP0039/2017 from the Human Frontiers Science Program Organization (HFSPO). M.J.R. is supported by the National Institutes of Health (NIH) Pathway to Independence Award K99/R00 GM127671. The research of V.G.C. is supported by the US Public Health Service Award (R01) GM035463 from the NIH. The content of the article is solely the responsibility of the authors and does not necessarily represent the official views of the NIH. The Instituto de Neurociencias is a "Centre of Excellence Severo Ochoa".
Ethics declarations
Competing interests
The authors declare no competing interests.
Additional information
Peer review information: Nature Neuroscience thanks Schahram Akbarian, Michael Greenberg, and the other, anonymous, reviewer(s) for their contribution to the peer review of this work.
Integrated supplementary information
Supplementary information
About this article
Cite this article
Fernandez-Albert, J., Lipinski, M., Lopez-Cascales, M.T. et al. Immediate and deferred epigenomic signatures of in vivo neuronal activation in mouse hippocampus. Nat Neurosci 22, 1718–1730 (2019). https://doi.org/10.1038/s41593-019-0476-2
Received:

Accepted:

Published:

Issue Date: