Abstract
Comorbid depressive symptoms (CDS) in chronic pain are a common health problem, but the neural circuit mechanisms underlying these symptoms remain unclear. Here we identify a novel pathway involving 5-hydroxytryptamine (5-HT) projections from the dorsal raphe nucleus (5-HTDRN) to somatostatin (SOM)-expressing and non-SOM interneurons in the central nucleus of the amygdala (CeA). The SOMCeA neurons project directly to the lateral habenula, an area known involved in depression. Inhibition of the 5-HTDRN→SOMCeA pathway produced depression-like behavior in a male mouse model of chronic pain. Activation of this pathway using pharmacological or optogenetic approaches reduced depression-like behavior in these mice. Human functional magnetic resonance imaging data showed that compared to healthy controls, functional connectivity between the CeA-containing centromedial amygdala and the DRN was reduced in patients with CDS but not in patients in chronic pain without depression. These findings indicate that a novel 5-HTDRN→SOMCeA→lateral habenula pathway may mediate at least some aspects of CDS.
Access options
Subscribe to Journal
Get full journal access for 1 year
$59.00
only $4.92 per issue
All prices are NET prices.
VAT will be added later in the checkout.
Tax calculation will be finalised during checkout.
Rent or Buy article
Get time limited or full article access on ReadCube.
from$8.99
All prices are NET prices.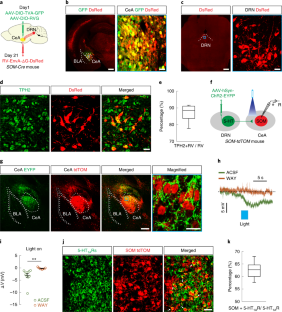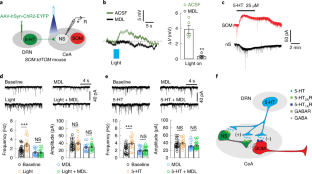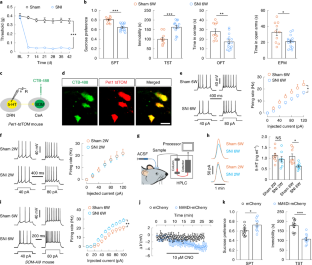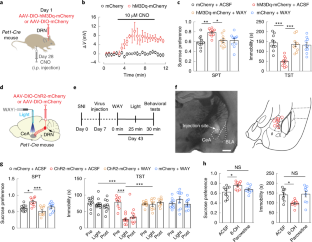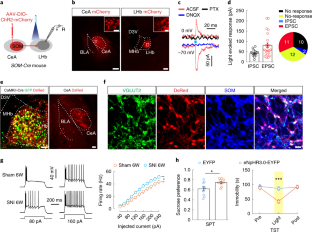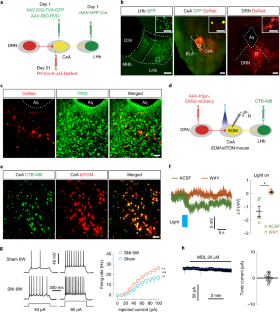 Data availability
The data that support the findings of this study are available from the corresponding author upon request.
References
1.

Bair, M. J., Robinson, R. L., Katon, W. & Kroenke, K. Depression and pain comorbidity: a literature review. Arch. Intern. Med. 163, 2433–2445 (2003).

2.

McWilliams, L. A., Goodwin, R. D. & Cox, B. J. Depression and anxiety associated with three pain conditions: results from a nationally representative sample. Pain 111, 77–83 (2004).

3.

Simon, G. E., VonKorff, M., Piccinelli, M., Fullerton, C. & Ormel, J. An international study of the relation between somatic symptoms and depression. New Engl. J. Med. 341, 1329–1335 (1999).

4.

Arnow, B. A. et al. Comorbid depression, chronic pain, and disability in primary care. Psychosom. Med 68, 262–268 (2006).

5.

Goyal, M. et al. Meditation programs for psychological stress and well-being: a systematic review and meta-analysis. JAMA Intern. Med. 174, 357–368 (2014).

6.

Turk, D. C. & Gatchel, R. J. Psychological Approaches to Pain Management: A Practitioner's Handbook (Guilford Publications, 2018).

7.

Campbell, L. C., Clauw, D. J. & Keefe, F. J. Persistent pain and depression: a biopsychosocial perspective. Biol. Psychiatry 54, 399–409 (2003).

8.

Strigo, I. A., Simmons, A. N., Matthews, S. C., Arthur, D. & Paulus, M. P. Association of major depressive disorder with altered functional brain response during anticipation and processing of heat pain. Arch. Gen. Psychiatry 65, 1275–1284 (2008).

9.

Martin, S. L. et al. 5-HT modulation of pain perception in humans. Psychopharmacology 234, 2929–2939 (2017).

10.

Kuner, R. Central mechanisms of pathological pain. Nat. Med. 16, 1258–1266 (2010).

11.

Kim, Y. S. et al. Central terminal sensitization of TRPV1 by descending serotonergic facilitation modulates chronic pain. Neuron 81, 873–887 (2014).

12.

Lee, Y. C., Nassikas, N. J. & Clauw, D. J. The role of the central nervous system in the generation and maintenance of chronic pain in rheumatoid arthritis, osteoarthritis and fibromyalgia. Arthritis Res. Ther. 13, 211 (2011).

13.

Basbaum, A. I., Bautista, D. M., Scherrer, G. & Julius, D. Cellular and molecular mechanisms of pain. Cell 139, 267–284 (2009).

14.

Bushnell, M. C., Ceko, M. & Low, L. A. Cognitive and emotional control of pain and its disruption in chronic pain. Nat. Rev. Neurosci. 14, 502–511 (2013).

15.

Ren, J. et al. Anatomically defined and functionally distinct dorsal raphe serotonin sub-systems. Cell 175, 472–487 (2018).

16.

Commons, K. G. Ascending serotonin neuron diversity under two umbrellas. Brain Struct. Funct. 221, 3347–3360 (2016).

17.

Hamilton, J. P., Siemer, M. & Gotlib, I. H. Amygdala volume in major depressive disorder: a meta-analysis of magnetic resonance imaging studies. Mol. Psychiatry 13, 993–1000 (2008).

18.

Amat, J. et al. Medial prefrontal cortex determines how stressor controllability affects behavior and dorsal raphe nucleus. Nat. Neurosci. 8, 365 (2005).

19.

Tye, K. M. et al. Amygdala circuitry mediating reversible and bidirectional control of anxiety. Nature 471, 358–362 (2011).

20.

Li, H. et al. Experience-dependent modification of a central amygdala fear circuit. Nat. Neurosci. 16, 332–339 (2013).

21.

Neugebauer, V., Li, W., Bird, G. C. & Han, J. S. The amygdala and persistent pain. Neuroscientist 10, 221–234 (2004).

22.

Han, S., Soleiman, M. T., Soden, M. E., Zweifel, L. S. & Palmiter, R. D. Elucidating an affective pain circuit that creates a threat memory. Cell 162, 363–374 (2015).

23.

Penzo, M. A. et al. The paraventricular thalamus controls a central amygdala fear circuit. Nature 519, 455–459 (2015).

24.

Haubensak, W. et al. Genetic dissection of an amygdala microcircuit that gates conditioned fear. Nature 468, 270–276 (2010).

25.

Hieronymus, F., Lisinski, A., Nilsson, S. & Eriksson, E. Efficacy of selective serotonin reuptake inhibitors in the absence of side effects: a mega-analysis of citalopram and paroxetine in adult depression. Mol. Psychiatry 23, 1731–1736 (2017).

26.

Barbui, C., Furukawa, T. A. & Cipriani, A. Effectiveness of paroxetine in the treatment of acute major depression in adults: a systematic re-examination of published and unpublished data from randomized trials. CMAJ 178, 296–305 (2008).

27.

Gonchar, Y., Wang, Q. & Burkhalter, A. Multiple distinct subtypes of GABAergic neurons in mouse visual cortex identified by triple immunostaining. Front Neuroanat. 1, 3 (2007).

28.

Scott, M. M. et al. A genetic approach to access serotonin neurons for in vivo and in vitro studies. Proc. Natl Acad. Sci. USA 102, 16472–16477 (2005).

29.

Madisen, L. et al. A robust and high-throughput Cre reporting and characterization system for the whole mouse brain. Nat. Neurosci. 13, 133–140 (2010).

30.

Marcinkiewcz, C. A. et al. Serotonin engages an anxiety and fear-promoting circuit in the extended amygdala. Nature 537, 97–101 (2016).

31.

Mogil, J. S. Animal models of pain: progress and challenges. Nat. Rev. Neurosci. 10, 283–294 (2009).

32.

Dworkin, R. H. et al. Pharmacologic management of neuropathic pain: evidence-based recommendations. Pain 132, 237–251 (2007).

33.

Decosterd, I. & Woolf, C. J. Spared nerve injury: an animal model of persistent peripheral neuropathic pain. Pain 87, 149–158 (2000).

34.

Shabel, S. J., Proulx, C. D., Piriz, J. & Malinow, R. Mood regulation. GABA/glutamate co-release controls habenula output and is modified by antidepressant treatment. Science 345, 1494–1498 (2014).

35.

Li, B. et al. Synaptic potentiation onto habenula neurons in the learned helplessness model of depression. Nature 470, 535–539 (2011).

36.

Knowland, D. et al. Distinct ventral pallidal neural populations mediate separate symptoms of depression. Cell 170, 284–297 e218 (2017).

37.

Hikosaka, O. The habenula: from stress evasion to value-based decision-making. Nat. Rev. Neurosci. 11, 503–513 (2010).

38.

Tervo, D. G. et al. A designer AAV variant permits efficient retrograde access to projection neurons. Neuron 92, 372–382 (2016).

39.

Bzdok, D., Laird, A. R., Zilles, K., Fox, P. T. & Eickhoff, S. B. An investigation of the structural, connectional, and functional subspecialization in the human amygdala. Hum. Brain Mapp. 34, 3247–3266 (2013).

40.

Amunts, K. et al. Cytoarchitectonic mapping of the human amygdala, hippocampal region and entorhinal cortex: intersubject variability and probability maps. Anat. Embryol. 210, 343–352 (2005).

41.

Ehnvall, A., Mitchell, P. B., Hadzi-Pavlovic, D., Malhi, G. S. & Parker, G. Pain during depression and relationship to rejection sensitivity. Acta Psychiatr. Scand. 119, 375–382 (2009).

42.

Howland, R. H. et al. Factors predicting reduced antidepressant response: experience with the SNRI duloxetine in patients with major depression. Ann. Clin. Psychiatry 20, 209–218 (2008).

43.

Cortes-Altamirano, J. L. et al. Review: 5-Ht1, 5-Ht2, 5-Ht3, And 5-Ht7 receptors and their role in the modulation of pain response in the central nervous system. Curr. Neuropharmacol. 16, 210–221 (2018).

44.

Savitz, J., Lucki, I. & Drevets, W. C. 5-HT1A receptor function in major depressive disorder. Prog. Neurobiol. 88, 17–31 (2009).

45.

Asmundson, G. J. & Katz, J. Understanding the co-occurrence of anxiety disorders and chronic pain: state-of-the-art. Depress. Anxiety 26, 888–901 (2009).

46.

Pascual-Leone, A., Rubio, B., Pallardo, F. & Catala, M. D. Rapid-rate transcranial magnetic stimulation of left dorsolateral prefrontal cortex in drug-resistant depression. Lancet 348, 233–237 (1996).

47.

Taghva, A. S., Malone, D. A. & Rezai, A. R. Deep brain stimulation for treatment-resistant depression. World Neurosurg. 80, S27 e17–24 (2013).

48.

Wickersham, I. R. et al. Monosynaptic restriction of transsynaptic tracing from single, genetically targeted neurons. Neuron 53, 639–647 (2007).

49.

Wall, N. R., Wickersham, I. R., Cetin, A., De La Parra, M. & Callaway, E. M. Monosynaptic circuit tracing in vivo through Cre-dependent targeting and complementation of modified rabies virus. Proc. Natl Acad. Sci. USA 107, 21848–21853 (2010).

50.

Zhang, Z., Cai, Y.-Q., Zou, F., Bie, B. & Pan, Z. Z. Epigenetic suppression of GAD65 expression mediates persistent pain. Nat. Med. 17, 1448 (2011).

51.

Hamilton, M. A rating scale for depression. J. Neurol. Neurosurg. Psychiatry 23, 56–62 (1960).

52.

Melzack, R. The short-form McGill pain questionnaire. Pain 30, 191–197 (1987).

53.

Treede, R.-D. et al. A classification of chronic pain for ICD-11. Pain 156, 1003 (2015).

54.

Murphy, K., Birn, R. M., Handwerker, D. A., Jones, T. B. & Bandettini, P. A. The impact of global signal regression on resting state correlations: are anti-correlated networks introduced? Neuroimage 44, 893–905 (2009).

55.

Saad, Z. S. et al. Trouble at rest: how correlation patterns and group differences become distorted after global signal regression. Brain Connect. 2, 25–32 (2012).

56.

Jenkinson, M., Bannister, P., Brady, M. & Smith, S. Improved optimization for the robust and accurate linear registration and motion correction of brain images. Neuroimage 17, 825–841 (2002).
Acknowledgements
We thank X. Yu and Y. Yang for providing Ai9 (RCL-tdT) mice. We thank F. Xu and T. Xue for technical support. All data are available in the main text or the Supplementary Data. Support for this study was provided by the National Natural Science Foundation of China (grant nos. 81870877, 91732303 and 91849119 to Z.Z.); the National Key Research and Development Program of China (grant no. 2016YFC1305900 to Z.Z.); the Strategic Priority Research Program of the Chinese Academy of Sciences (grant no. XDB02010000 to Z.Z.) and the National Natural Science Foundation of China (grant no. 31600851 to W.T. and grant no. 81600964 to Y.J.).
Ethics declarations
Competing interests
The authors declare no competing interests.
Additional information
Peer review information: Nature Neuroscience thanks Rohini Kuner, Manuel Mameli and the other, anonymous, reviewer(s) for their contribution to the peer review of this work.
Publisher's note: Springer Nature remains neutral with regard to jurisdictional claims in published maps and institutional affiliations.
Integrated supplementary information
Supplementary information
About this article
Cite this article
Zhou, W., Jin, Y., Meng, Q. et al. A neural circuit for comorbid depressive symptoms in chronic pain. Nat Neurosci 22, 1649–1658 (2019). https://doi.org/10.1038/s41593-019-0468-2
Received:

Accepted:

Published:

Issue Date: