Abstract
Nervous system function relies on complex assemblies of distinct neuronal cell types that have unique anatomical and functional properties instructed by molecular programs. Alternative splicing is a key mechanism for the expansion of molecular repertoires, and protein splice isoforms shape neuronal cell surface recognition and function. However, the logic of how alternative splicing programs are arrayed across neuronal cells types is poorly understood. We systematically mapped ribosome-associated transcript isoforms in genetically defined neuron types of the mouse forebrain. Our dataset provides an extensive resource of transcript diversity across major neuron classes. We find that neuronal transcript isoform profiles reliably distinguish even closely related classes of pyramidal cells and inhibitory interneurons in the mouse hippocampus and neocortex. These highly specific alternative splicing programs selectively control synaptic proteins and intrinsic neuronal properties. Thus, transcript diversification via alternative splicing is a central mechanism for the functional specification of neuronal cell types and circuits.
Your institute does not have access to this article
Relevant articles
Open Access articles citing this article.
Dunhui Li

,

Craig Stewart McIntosh

…

May Thandar Aung-Htut

Translational Neurodegeneration Open Access 20 May 2021

Patricia M. Gordon

,

Fursham Hamid

…

Corinne Houart

Nature Communications Open Access 26 March 2021

Anoushka Joglekar

,

Andrey Prjibelski

…

Hagen U. Tilgner

Nature Communications Open Access 19 January 2021
Access options
Subscribe to Nature+
Get immediate online access to the entire Nature family of 50+ journals
Subscribe to Journal
Get full journal access for 1 year
$59.00
only $4.92 per issue
All prices are NET prices.
VAT will be added later in the checkout.
Tax calculation will be finalised during checkout.
Buy article
Get time limited or full article access on ReadCube.
$32.00
All prices are NET prices.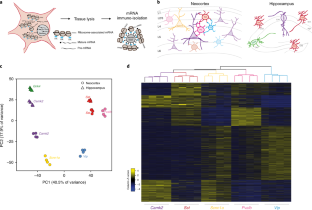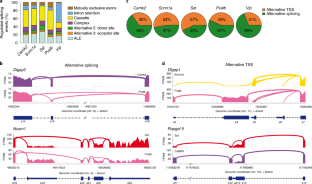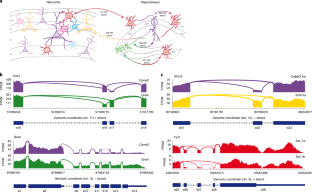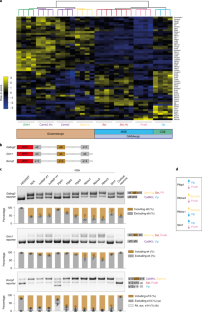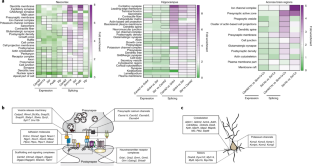 Data availability
Detailed analyzed data are included as supplementary material. Raw sequencing data were deposited at GEO (accession code: GSE133291). Differential gene expression and splicing data for individual genes are provided on the freely available SpliceCode website (https://scheiffele-splice.scicore.unibas.ch). All renewable reagents and detailed protocols will be made available upon request.
Code availability
Data analysis used standard software packages, which are cited in the Methods. The FastDB database for quantitative splicing analysis is a proprietary database accessible through Genosplice Technology (http://www.genosplice.com/).
References
Ramón y Cajal, S. Histology of the Nervous System of Man and Vertebrates (Oxford Univ. Press, 1995).

Kepecs, A. & Fishell, G. Interneuron cell types are fit to function. Nature 505, 318–326 (2014).

Zeng, H. & Sanes, J. R. Neuronal cell-type classification: challenges, opportunities and the path forward. Nat. Rev. Neurosci. 18, 530–546 (2017).

Barbosa-Morais, N. L., Irimia, M., Pan, Q. & Blencowe, B. J. The evolutionary landscape of alternative splicing in vertebrate species. Science 338, 1587–1594 (2012).

Tapial, J. et al. An atlas of alternative splicing profiles and functional associations reveals new regulatory programs and genes that simultaneously express multiple major isoforms. Genome Res. 27, 1759–1768 (2017).

Aoto, J., Martinelli, D. C., Malenka, R. C., Tabuchi, K. & Südhof, T. C. Presynaptic neurexin-3 alternative splicing trans-synaptically controls postsynaptic AMPA receptor trafficking. Cell 154, 75–88 (2013).

Traunmüller, L., Gomez, A. M., Nguyen, T.-M. & Scheiffele, P. Control of neuronal synapse specification by highly dedicated alternative splicing program. Science 352, 982–986 (2016).

Beffert, U. et al. Modulation of synaptic plasticity and memory by Reelin involves differential splicing of the lipoprotein receptor Apoer2. Neuron 47, 567–579 (2005).

Yap, K., Xiao, Y., Friedman, B. A., Je, H. S. & Makeyev, E. V. Polarizing the neuron through sustained co-expression of alternatively spliced isoforms. Cell Rep. 15, 1316–1328 (2016).

Taliaferro, J. M. et al. Distal alternative last exons localize mRNAs to neural projections. Mol. Cell 61, 821–833 (2016).

Calarco, J. A. et al. Regulation of vertebrate nervous system alternative splicing and development by an SR-related protein. Cell 138, 898–910 (2009).

Wang, E. T. et al. Transcriptome-wide regulation of pre-mRNA splicing and mRNA localization by muscleblind proteins. Cell 150, 710–724 (2012).

Quesnel-Vallieres, M. et al. Misregulation of an activity-dependent splicing network as a common mechanism underlying autism spectrum disorders. Mol. Cell 64, 1023–1034 (2016).

Vuong, C. K. et al. Rbfox1 regulates synaptic transmission through the inhibitory neuron-specific vSNARE Vamp1. Neuron 98, 127–141.e7 (2018).

Lee, J. A. et al. Cytoplasmic Rbfox1 regulates the expression of synaptic and autism-related genes. Neuron 89, 113–128 (2016).

Wamsley, B. et al. Rbfox1 mediates cell-type-specific splicing in cortical interneurons. Neuron 100, 846–859.e7 (2018).

Zheng, S. & Black, D. L. Alternative pre-mRNA splicing in neurons: growing up and extending its reach. Trends Genet. 29, 442–448 (2013).

Darnell, R. B. RNA protein interaction in neurons. Annu. Rev. Neurosci. 36, 243–270 (2013).

Furlanis, E. & Scheiffele, P. Regulation of neuronal differentiation, function, and plasticity by alternative splicing. Annu. Rev. Cell Dev. Biol. 34, 451–469 (2018).

Saito, Y. et al. Differential NOVA2-mediated splicing in excitatory and inhibitory neurons regulates cortical development and cerebellar function. Neuron 101, 707–720.e5 (2019).

Zhang, Y. et al. An RNA-sequencing transcriptome and splicing database of glia, neurons, and vascular cells of the cerebral cortex. J. Neurosci. 34, 11929–11947 (2014).

Weyn-Vanhentenryck, S. M. et al. Precise temporal regulation of alternative splicing during neural development. Nat. Commun. 9, 2189 (2018).

Zhang, X. et al. Cell-type-specific alternative splicing governs cell fate in the developing cerebral cortex. Cell 166, 1147–1162.e15 (2016).

Zhang, M. et al. Axonogenesis is coordinated by neuron-specific alternative splicing programming and splicing regulator PTBP2. Neuron 101, 690–706.e10 (2019).

Tress, M. L., Abascal, F. & Valencia, A. Alternative splicing may not be the key to proteome complexity. Trends Biochem. Sci. 42, 98–110 (2017).

Weatheritt, R. J., Sterne-Weiler, T. & Blencowe, B. J. The ribosome-engaged landscape of alternative splicing. Nat. Struct. Mol. Biol. 23, 1117–1123 (2016).

de la Grange, P., Dutertre, M., Correa, M. & Auboeuf, D. A new advance in alternative splicing databases: from catalogue to detailed analysis of regulation of expression and function of human alternative splicing variants. BMC Bioinformatics 8, 180 (2007).

Pal, S. et al. Alternative transcription exceeds alternative splicing in generating the transcriptome diversity of cerebellar development. Genome Res. 21, 1260–1272 (2011).

Reyes, A. & Huber, W. Alternative start and termination sites of transcription drive most transcript isoform differences across human tissues. Nucleic Acids Res. 46, 582–592 (2018).

Irimia, M. et al. A highly conserved program of neuronal microexons is misregulated in autistic brains. Cell 159, 1511–1523 (2014).

Tushev, G. et al. Alternative 3' UTRs modify the localization, regulatory potential, stability, and plasticity of mRNAs in neuronal compartments. Neuron 98, 495–511.e6 (2018).

Cembrowski, M. S. et al. Spatial gene-expression gradients underlie prominent heterogeneity of CA1 pyramidal neurons. Neuron 89, 351–368 (2016).

Sommer, B. et al. Flip and flop: a cell-specific functional switch in glutamate-operated channels of the CNS. Science 249, 1580–1585 (1990).

Brakebusch, C. et al. Brevican-deficient mice display impaired hippocampal CA1 long-term potentiation but show no obvious deficits in learning and memory. Mol. Cell. Biol. 22, 7417–7427 (2002).

Shen, K. & Scheiffele, P. Genetics and cell biology of building specific synaptic connectivity. Annu. Rev. Neurosci. 33, 473–507 (2010).

Takahashi, H. & Craig, A. M. Protein tyrosine phosphatases PTPdelta, PTPsigma, and LAR: presynaptic hubs for synapse organization. Trends Neurosci. 36, 522–534 (2013).

De Wit, J. & Ghosh, A. Specification of synaptic connectivity by cell surface interactions. Nat. Rev. Neurosci. 17, 22–35 (2016).

Coetzee, W. A. et al. Molecular diversity of K+ channels. Ann. NY Acad. Sci. 868, 233–285 (1999).

Miura, S. K., Martins, A., Zhang, K. X., Graveley, B. R. & Zipursky, S. L. Probabilistic splicing of Dscam1 establishes identity at the level of single neurons. Cell 155, 1166–1177 (2013).

Kise, Y. & Schmucker, D. Role of self-avoidance in neuronal wiring. Curr. Opin. Neurobiol. 23, 983–989 (2013).

Iijima, T., Iijima, Y., Witte, H. & Scheiffele, P. Neuronal cell type-specific alternative splicing is regulated by the KH domain protein SLM1. J. Cell Biol. 204, 331–342 (2014).

Nguyen, T. M. et al. An alternative splicing switch shapes neurexin repertoires in principal neurons versus interneurons in the mouse hippocampus. eLife 5, e22757 (2016).

Schreiner, D. et al. Targeted combinatorial alternative splicing generates brain region-specific repertoires of neurexins. Neuron 84, 386–398 (2014).

Fuccillo, M. V. et al. Single-cell mRNA profiling reveals cell-type-specific expression of neurexin isoforms. Neuron 87, 326–340 (2015).

Mayer, C. et al. Developmental diversification of cortical inhibitory interneurons. Nature 555, 457–462 (2018).

Mi, D. et al. Early emergence of cortical interneuron diversity in the mouse embryo. Science 360, 81–85 (2018).

Lim, L. et al. Optimization of interneuron function by direct coupling of cell migration and axonal targeting. Nat. Neurosci. 21, 920–931 (2018).

Vuong, C. K., Black, D. L. & Zheng, S. The neurogenetics of alternative splicing. Nat. Rev. Neurosci. 17, 265–281 (2016).

Sanz, E. et al. Cell-type-specific isolation of ribosome-associated mRNA from complex tissues. Proc. Natl Acad. Sci. USA 106, 13939–13944 (2009).

Hippenmeyer, S. et al. A developmental switch in the response of DRG neurons to ETS transcription factor signaling. PLoS Biol. 3, e159 (2005).

Taniguchi, H. et al. A resource of Cre driver lines for genetic targeting of GABAergic neurons in cerebral cortex. Neuron 71, 995–1013 (2011).

Tsien, J. Z. et al. Subregion- and cell type-restricted gene knockout in mouse brain. Cell 87, 1317–1326 (1996).

Nakazawa, K. et al. Hippocampal CA3 NMDA receptors are crucial for memory acquisition of one-time experience. Neuron 38, 305–315 (2003).

Madisen, L. et al. A robust and high-throughput Cre reporting and characterization system for the whole mouse brain. Nat. Neurosci. 13, 133–140 (2010).

Heiman, M., Kulicke, R., Fenster, R. J., Greengard, P. & Heintz, N. Cell type-specific mRNA purification by translating ribosome affinity purification (TRAP). Nat. Protoc. 9, 1282–1291 (2014).

Dobin, A. et al. STAR: ultrafast universal RNA-seq aligner. Bioinformatics 29, 15–21 (2013).

Liao, Y., Smyth, G. K. & Shi, W. featureCounts: an efficient general purpose program for assigning sequence reads to genomic features. Bioinformatics 30, 923–930 (2014).

Love, M. I., Huber, W. & Anders, S. Moderated estimation of fold change and dispersion for RNA-seq data with DESeq2. Genome Biol. 15, 550 (2014).

Katz, Y., Wang, E. T., Airoldi, E. M. & Burge, C. B. Analysis and design of RNA sequencing experiments for identifying isoform regulation. Nat. Methods 7, 1009–1015 (2010).

Mi, H., Muruganujan, A., Casagrande, J. T. & Thomas, P. D. Large-scale gene function analysis with the PANTHER classification system. Nat. Protoc. 8, 1551–1566 (2013).
Acknowledgements
The authors are grateful to F. Doetsch, O. Mauger and L. Xiao for constructive comments on the manuscript, and to members of the Scheiffele Lab for discussions, in particular to T. M. Nguyen for setting up the protocol for RiboTRAP purifications and C. Bornmann for expert help with fluorescence in situ hybridizations. They are grateful to S. Hrvatin and M. E. Greenberg for sharing detailed data from single-cell sequencing studies for comparison with our dataset, and to B. Rico for sharing data at an early stage of this project. They thank P. de la Grange, N. Robil and A. Jolly at Genosplice for help with analyses, and F. Ambrosetti for occasional support with coding. Part of the calculations were performed at the sciCORE (http://scicore.unibas.ch/) scientific computing center at the University of Basel, with support by the SIB (Swiss Institute of Bioinformatics). Sequencing and library preparations were performed with support from the Life Science Training Facility and the Quantitative Genomics Facility Basel. L.T. was supported by a Fellowship from the Boehringer Ingelheim PhD Fonds and the Doris Dietschy Stiftung. This work was supported by funds to P.S. from the Swiss National Science Foundation, a European Research Council Advanced Grant (SPLICECODE), and the Kanton Basel-Stadt.
Ethics declarations
Competing interests
The authors declare no competing interests.
Additional information
Publisher's note: Springer Nature remains neutral with regard to jurisdictional claims in published maps and institutional affiliations.
Integrated supplementary information
Supplementary information
About this article
Cite this article
Furlanis, E., Traunmüller, L., Fucile, G. et al. Landscape of ribosome-engaged transcript isoforms reveals extensive neuronal-cell-class-specific alternative splicing programs. Nat Neurosci 22, 1709–1717 (2019). https://doi.org/10.1038/s41593-019-0465-5
Received:

Accepted:

Published:

Issue Date:

DOI: https://doi.org/10.1038/s41593-019-0465-5